How to Compress Big AVI Files without Losing Quality on Windows
If you have ever recorded videos in AVI format, you'll be surprised at how big the AVI video is. You can easily find a user online complaining that several minutes of an AVI video takes up to GBs. This makes problems if you need to share the AVI recordings on YouTube, TikTok, Instagram, or other platforms, as the AVI videos are way bigger than their maximum upload sizes. There are so many reasons that you want to reduce AVI file size. In this post, we'll show you how to free compress AVI videos on Windows without losing quality.
Part 1 Why is my AVI files so large?
An AVI file uses less compression or no compression to store files and is usually larger than many other video formats like MPEG and MOV. The lossless compression of the AVI file makes it ideal for storing videos in raw form and for editing applications. But that comes at the price of immensely larger file sizes — approximately 2-3 GB per minute of video. As AVI files will not lose quality over time, regardless of how many times you open or save the file, AVI is a recognized standard for storing movies and other media archives.
But due to the large file size, AVI files are rarely used for video streaming websites or portal devices. If you compress AVI files for YouTube, Instagram, TikTok, or emails, etc., it can easily result in the loss of video quality. Given that modern viewers now are using screens capable of HD, Ultra HD, and 4K, it's harder to tolerate this loss of video quality.  
Then you will want to make the AVI file size significantly smaller yet keep the quality. And that's what we're talking about below.
Part 2 How can I Compress AVI Videos without Losing Quality?
WinX HD Video Converter Deluxe is the best AVI video compressor you may need. It's designed to convert, edit, and compress HD, 4K, and raw videos. It offers both lossless and lossy AVI compression methods, allowing you to reduce AVI file size without quality loss, or compress the large AVI videos to more efficient formats. The compress engine lets you reduce the AVI size by 40%-90% based on the compression method you select, yet with maximum quality reserved.
Method 1 - How to Compress AVI Videos without Quality Loss

Free download the AVI compressor on your Windows computer, install, and open it. Then click the Add video button to load the AVI videos. To compress an AVI video losslessly without losing quality, there are several ways:
# Trim the video and split long AVI into shorter pieces: Click the Edit/scissor icon to open up the edit window. Click on the Trim tab, check the Enable Trim box, and enter the video length you want to save. You can do it but drag the triangle icon on the progress bar.
# Crop unwanted block bars: This is the most conservative way to compress AVI video without losing quality by cutting the unnecessary parts off, remaining less video content with the original high quality, or cropping out the annoying black bars for playback video in full screen. Click on Crop & Expand, check the Enable Crop box and enter the size of the video.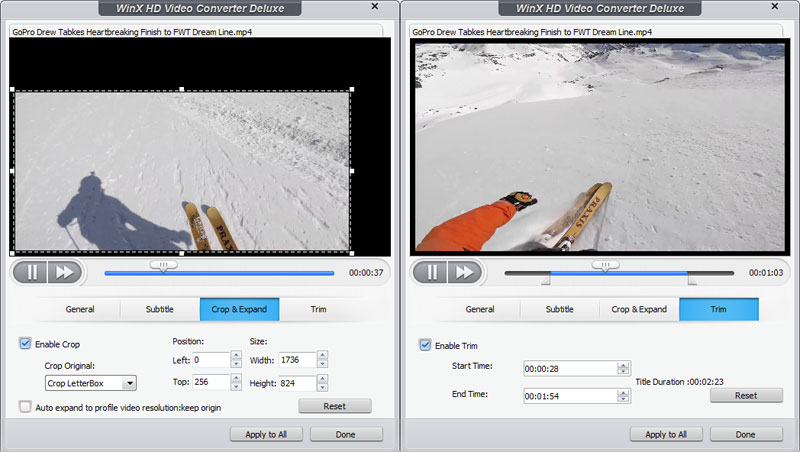 Method 2 - How to Compress AVI Videos to More Efficient Files
# Lower Resolution: The higher video resolution (width x height) is, the larger the AVI video will be ( of course with other parameters unchanged). Thus you just change the resolution to a lower one, like from 1920x1080/1280x720 to 640x480.
# Lower Bit rate: The higher bit rate a video owns, the larger video size and better video quality you will get. But don't make it too low, otherwise, the image quality can be really bad.
# Convert AVI to more efficient codecs: The video codec of AVI often lies in Divx/XviD, and the audio codec lies in AAC/AC3/MP3. You can convert/re-encode AVI to MP4 (MPEG4/H.264) or HEVC H.265 to make the AVI videos smaller. If you'd like to upload a large AVI to YouTube, sending it to someone via email, FLV format is considerable.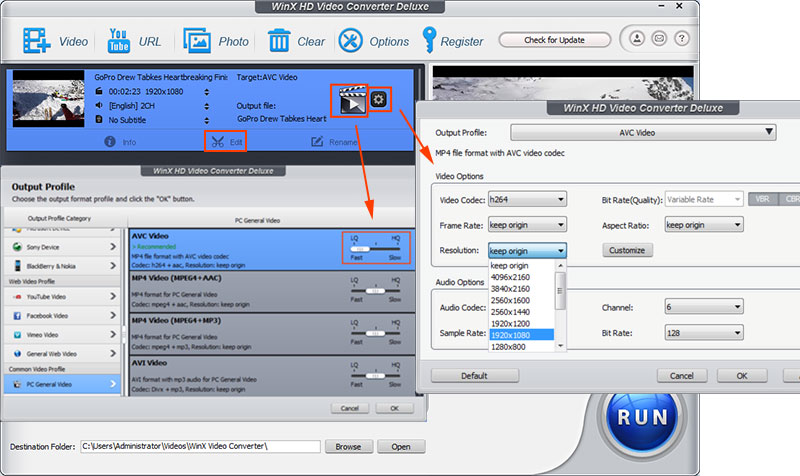 Part 3 Other Free Ways to Reduce AVI File Size
HandBrake
Handbrake is a versatile video transcoder which also offers the ability to free compress an AVI video without much quality loss. There are a various settings to help you make the AVI videos smaller. For example, you can compress AVI to MP4, adjust the video bit rate, other settings, select the encoding mode, modify the output quality, etc. Users can change the output size for AVI videos freely. But the variuos confusing settings make it more suitable for advanced users.
How do I compress AVI with Handbrake?
Step 1: Free download Handbrake on Windows 10 PC and run it. Load the AVI video to it.
Step 2: In the Preset, select a specific preset for general, web, devices, etc. Each profile comes in different sizes. If you don't know how to select it, just leave it as default.
Step 3: Under Summary, select to compress AVI to MP4 video. Then click on the Video tab to make the AVI videos smaller.
First, if the AVI is in high resolution with a high bit rate, select H.265 codec.
Enter an Average Bitrate (kbps) for the video between 5,000-10,000 (higher bitrate results in a bigger file size).
Lower the RF by 1-2 to produce smaller files (19-23 for 720p, 20-24 for 1080p, 22-28 for 2160p)
Step 4: Click on the Dimensions to crop any unwanted parts from the video. And you can also lower the resolutions here. All the adjustments can reduce the AVI file size. Once finished, click Start Encode.
Here are best free video compressors >>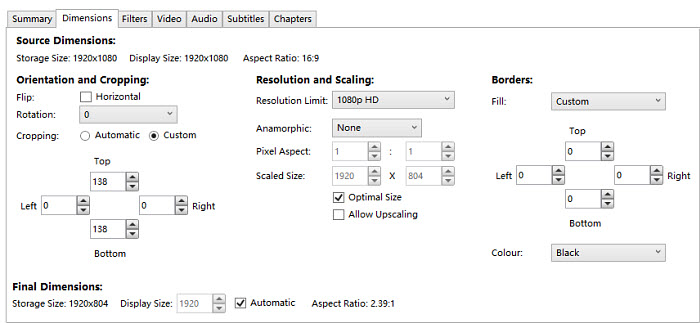 Windows 10 Photos App
The Windows 10 Photos app has a built-in editor to let you add subtitles, apply filters, add music, adjust aspect ratio, and freely compress AVI videos. It allows Windows 10 users to free reduce AVI files size without losing quality by cutting out a part from a long AVI video, splitting long AVI videos into shorter clips, and cropping off the black bars. You don't need to spend money or install complicated third-party tools. It's the perfect free choice for quick and lossless AVI compression on Windows PCs.
How do I shrink AVI videos in Windows Photos?
Step 1: Open Photos and click the Video Editor tab. Click the New video project button and name it. Then click OK.
Step 2: Under the Project Library section, click the Add button to load the AVI videos. Drag and drop the AVI video to the Storyboard.
Step 3: There are 3 methods to compress AVI videos without losing quality:
Make AVI videos shorter: Click the Trim button from the toolbar and use the controls to choose the trim section.
Split long AVI videos into shorter clips: Click the Split button and use the slider to choose the length of the clip. You need to repeat the steps if you want to split the video into multiple clips.
Remove black bars with the resizing tool on the toolbar.
Step 4: Once finished, click Finish video. It will ask you to choose output video quality (compress 4K avi to 1080p, 720p, or 540p). If you want to further reduce the AVI size, select a lower output resolution.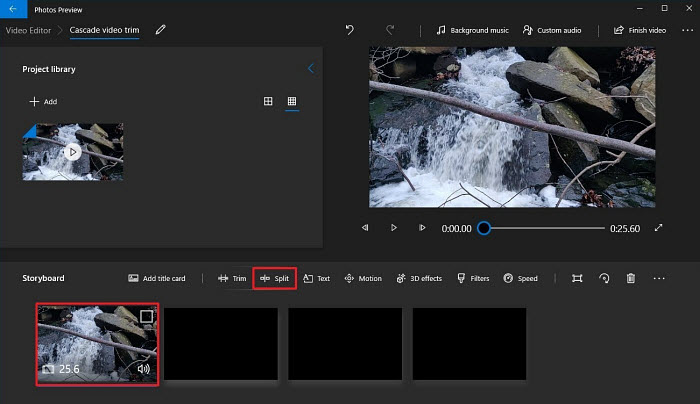 Avidemux
Avidemux is a free video editor for Windows, macOS, etc. Among a wide range of video editing options, you can use a particular Encoding Mode for a desired size, crop the video, adjust the resolutions with a swsResizer, compress AVI to MP4, HEVC, and split a long AVI video, etc. It's able to reduce the AVI file size but still with good output video quality. Avidemux is the best when you need to compress an AVI video to a specified size for YouTube, Instagram, Whatsapp, etc.
How do I compress an AVI video in Avidemux?
Step 1: Download the free AVI compressor on Windows 10 PC. Open it and click on the blue folder button to load the AVI video.
Step 2: To shrink the AVI size, you need to select another video and audio output. You're suggested to compress AVI to HEVC x265 or MPEG 4 AVC, AAC (Faac) codec, and MP4 Muxer. Then click Configure to adjust the video settings.
Step 3: Click on drop-down menu next to Encoding Mode located under the Rate Control. Choose Video Size (Two Pass) for smaller AVI size. Once selected, you can enter the desired size for the compressed AVI in the box next to Target Video Size.
Step 4: You can click the Save Video icon to start the compression. Or further reduce an AVI file size via the editing features and filters:
Split long AVI videos with the letter A and letter B icons below the toolbar.
Click Video on the top toolbar > Filters > Transform and find the Crop filter and swsResizer. You can use them to remove unnecessary parts from a video, lower the resolutions.
VLC
VLC is a popular media player among Windows users. In addition to playing media, it's able to adjust the video settings, resize, cut, and convert videos. All the features can help compress an AVI video to a smaller size free on Windows. However, compressing AVI in VLC will result in some quality loss. If you want to compress a couple of AVI videos on your Windows PC, try VLC before you download other third-party AVI programs from the internet.
How do I reduce the size of an AVI video in VLC?
Step 1: Download and install VLC free on Windows. If you have installed it, just open it. Click Media in the menu section, scroll down and select Convert/Save. Then click Add on the next window to load in the AVI video.
Step 2: In the new window, select a profile under Settings > Convert > Profile. You can compress AVI to H.264, H.265, YouTube SD, Video for YouTube HD/SD, Video for iPod SD, and many more.
Step 3: Click the edit button beside the selected profile. Find Video codec, then you can adjust the video codec, bit rate, resolution, etc.
Step 4: The VLC recording lets you cut a long AVI video into smaller clips. Click on Menu > View Menu > Advanced Controls. Play the AVI video and click the Record button. Select the length by stopping it. The recorded/trimmed AVI video will be stored automatically in Library > Videos on Windows 10 PCs. Check detailed steps to compress video with VLC >>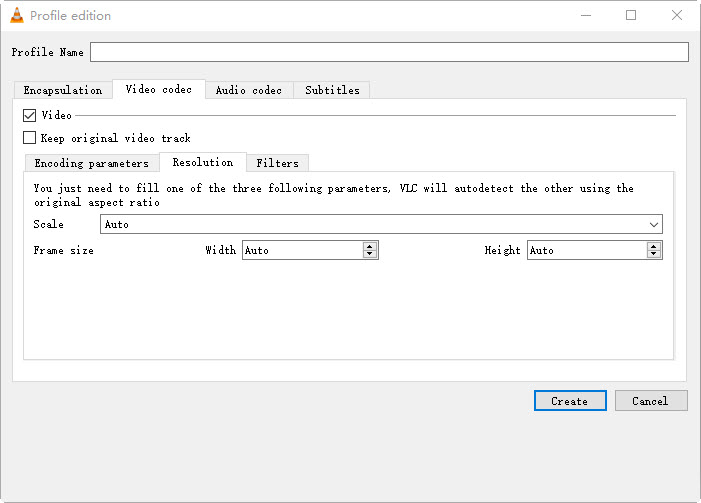 Clideo
Though desktop programs have obvious benefits over free online AVI compressors, such as faster speed, better compression results, more settings & outputs, no size limits, etc., online tools are still a good way when you need to compress several relatively small AVI videos right away. There are many AVI video compressors free online, Veed, Clideo, YouCompress, Zamar, to name a few. They have several things in common: there is a size limit (e.g., 500MB in Clideo, 10 minutes and 50MB with watermark in Veed), and uploading a large AVI takes quite a long time. Anyway, if you need to reduce AVI file size online, we take Clideo as an example to show you how:
How do I compress an AVI video online?
Step 1: Open the Clideo site, click the big blue "Choose file" button to upload your AVI video from your local windows PC. The AVI video should be less than 500MB. And the larger the AVI video is, the longer uploading and compression time it takes.
Step 2: Once the AVI video is uploaded, you can adjust the video parameters like resolutions, bit rate, etc. to make the AVI smaller.
Step 3: Then download the compressed AVI video to your PC.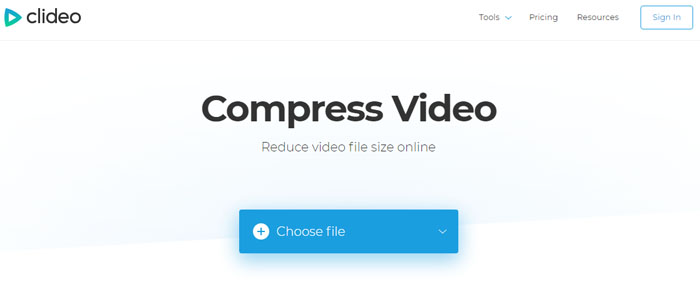 All the above methods can reduce the size of AVI and other videos, but they are for different compression needs. If you want to compress AVI quickly on Windows 10, Windows 10 Photos app and VLC are the way to go. If you want a comprehensive solution to compress AVI without losing quality, WinX HD Video Converter Deluxe, Handbrake, and Avidemux are the best choice. Don't want to install any other software on a PC, try the Photos app or online tools.