How to Convert MPG Files to MP4 without Losing Quality
Have some old and large MPG files that want to convert MPG to MP4 format for playback on mobiles or big screens? What you need is a MPG to MP4 converter that will not be restricted by video file size like online video converters and not be bothered with quality loss issue. Here we find an excellent MPG to MP4 converter indeed. Let's check what makes it superior, and how to use it to convert MPG to MP4 on Windows (11/10/8/7) and Mac. Part 1. WinX HD Video Converter Deluxe - Your First Choice for MPG to MP4 Conversion
WinX HD Video Converter Deluxe is an excellent MP4 converter well-known for its fast speed and high quality output. It can do more than you imagine:
Accept any kinds of videos, no matter where it comes from or what file size it is. It is a good choice to convert large MPG file to MP4.
Batch convert MPG to MP4, H.264, WMV, AVI, iPhone, iPad, Android, PS4, Plex, HDTV and 420+ preset profiles.
Retain vivid image and original audio with High Quality Engine and Auto Copy feature.
Deliver fast speed, up to 47x realtime faster with Hyper-threading, multi-core CPU utility and hardware acceleration tech.
How to Convert MPG to MP4 on Windows (11/10/8/7) and Mac with WinX HD Video Converter Deluxe
Better yet, you can transcode MPG to MP4 with WinX HD Video Converter Deluxe within 3 steps. It doesn't require any learning curve. Even the novice can easily convert MPG to MP4 by following the on-page instructions. Here we go!
Before everything,

Download WinX HD Video Converter Deluxe on your computer, take Windows version for example. Double click the .exe file, follow the setup wizard and finish the installation. Then launch the program.
Step 1. Load your MPG video file
Click "+ Video" in the top left corner and browse to add the MPG source video. Or just drag and drop the file into the main interface, which will be auto loaded here.
Step 2. Set "MP4" as the output format
The Output Profile window will auto pop up after the file loading, you can find "MP4 Video (Recommended), Codec: h264+aac" in "General Profiles" and then click OK.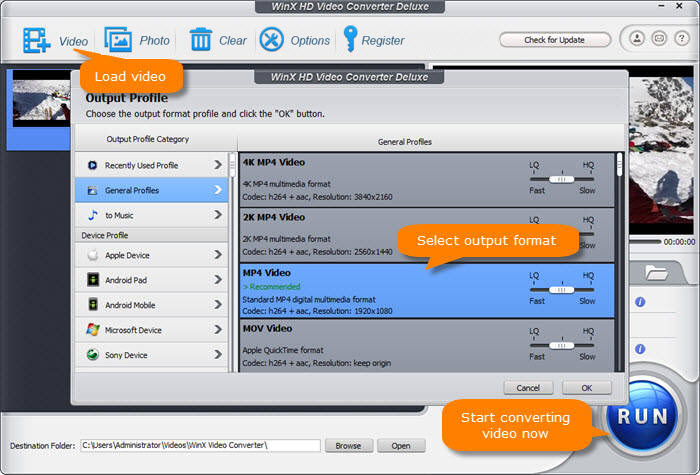 Step 3. Convert MPG to MP4 video
Browse to set your preferred destination folder. Press button "RUN" to start converting MPG to MP4. Later you can directly find the re-encoded file by clicking "Open".
[Optional] Editing features
If you want to convert MPG to MP4 while keeping a good view quality, please slide to HQ when choosing MP4 Video (Recommended), which would take a little bit more time
Also checking "High Quality Engine" on the main interface will help you achieve this.
If your computer allows, you can convert MPG to MP4 at a comparatively much faster speed by using hardware accelaration Intel QSV or Nvidia CUDA/NVENC.
Multiple editing functions are all available for you to trim video clips, cut off black borders, change aspect ratio, merge several videos into one, add subtitles, etc.
Part 2. How to Convert MPG to MP4 Using VLC?
VLC is famous as a well-rounded media player capable of playing almost any media file. But beyond that, it can also convert video files to MP4, AVI, MOV, FLV, WebM, and more. Can VLC accept MPG and convert it to MP4 format? Yes. Now let me show you how to do this.
Step 1. Download and install VLC on your computer. It is a free and open source cross-platform tool, so just feel free to use it.
Step 2. Open VLC, click Media, and then select Convert/Save.
Step 3. Now you should see a small window named Open Media. What you need to do know is to click the + Add button to select the MPG files you want to convert to MP4. Once done, click the Convert/Save button at the bottom right.
Step 4. Then, you will see the Convert window where you will see the path of the source file and where you need to choose an MP4 profile and specify destination file.
VLC comes with an array of output profiles. Head to Profile, click the drop down arrow, and now you'll see a list of all profiles as shown below. Each file can be deleted and edited. And if you can't find a desired profile, you can create one.
Step 5. Click the Start button when you have done all settings.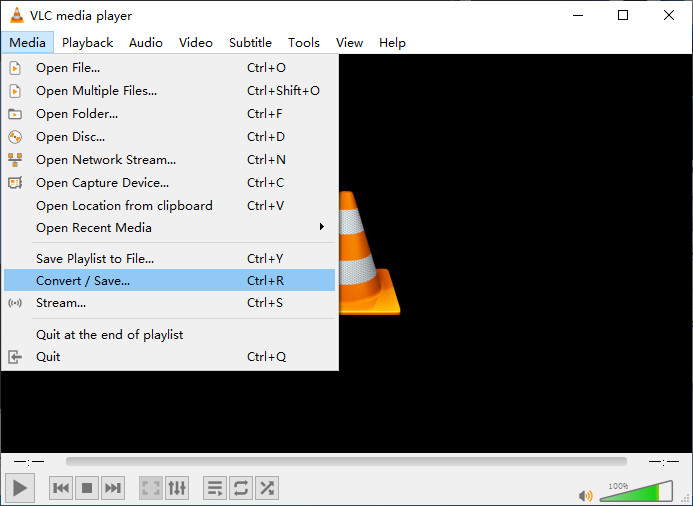 Part 3. How to Convert MPG to MP4 with FFmpeg?
We've introduced FFmpeg in many of our articles. It is a popular choice when users need to convert media. Now let's check how to convert MPG to MP4 with FFmpeg.
Step 1. First of all, you need to download FFmpeg.
Step 2. When the download completes, extract the contents of the Zip archive you just downloaded, select all of the files, create a folder in C drive and name it as FFmpegTool and then paste all the files in this folder. Step 3. Open the Run application, type in cmd and press the Enter key, and then you'll see a command line window. Now enter cd\. Next, enter cd FFmpegTool which will allow you to enter into the FFmpegTool folder. Now, enter cd bin which will allow you to access the content in the bin folder. At last, enter ffmpeg.exe. It will take a while to execute the command. If you see text lines written on your screen (as shown below) then it means FFmpeg is working correctly.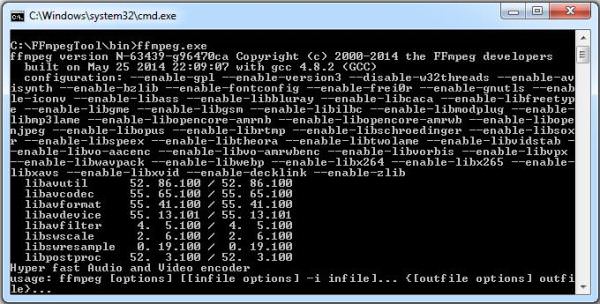 Step 4. Copy the MPG file in the bin folder on which you'll perform the operations.
Step 5. Enter this command: ffmpeg -i yourvideoname.mpg -c:v libx264 outputfilename.mp4
Part 4. Is There Any MPG to MP4 Converter for Android/iPhone?
Yes. Browsing the Google Play and App Store, we find an application called Video Converter, Compressor (named Video Converter and Compressor on App Store) can convert MPG to MP4 on Android/iPhone. As of writing this, there have been more than 10 million downloads and it received a 4.7-star rating on Google Play. With this tool, you can convert MP4, MKV, AVI, 3GP, MOV, MTS, MPEG, MPG, WMV, M4V, VOB, FLV etc. Apart from changing file format, it can also reduce file size, adjust parameters like bitrate, and make some basic edits like trim and merge. You can give it a try. Part 5. Can I Convert MPG Files to MP4 Online?
Certainly, there are quite a few users that don't want to download and install any software on their computer for conversion. They're willing to convert MPG to MP4 online. Of course,  it's doable. There are a great many online converters available, such as Convertio, Zamzar, CloudConvert, FreeConvert etc. All of them are easy-to-use, allowing you to achieve the conversion in one click. Take CloudConvert as an example, all you need to do is to: Select a MPG file > Make sure MP4 is set as the output > Convert.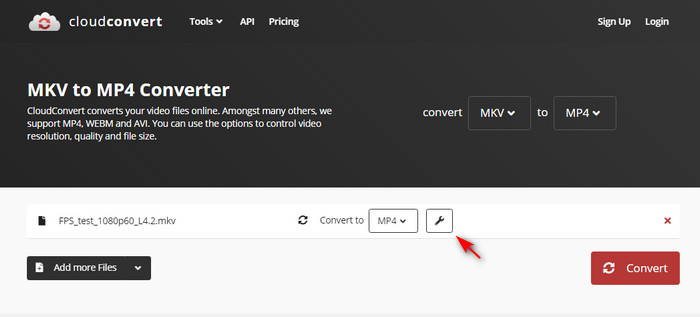 Given that online video converters are able to convert MPG to MP4, why you're still recommended to use WinX HD Video Converter Deluxe? Then we have to talk about the security, privacy and the size limit of the online MPG to MP4 converters. Even though such online services claim that no one except you will ever have access to your files, some users still worry about the data security and privacy. Not to mention that online ones only allow limited size of videos.
Briefly, online video converters have a strict limits for large video conversion, and there are risks of security and privacy. Here is a simple comparison of online video converters and WinX HD Video Converter Deluxe.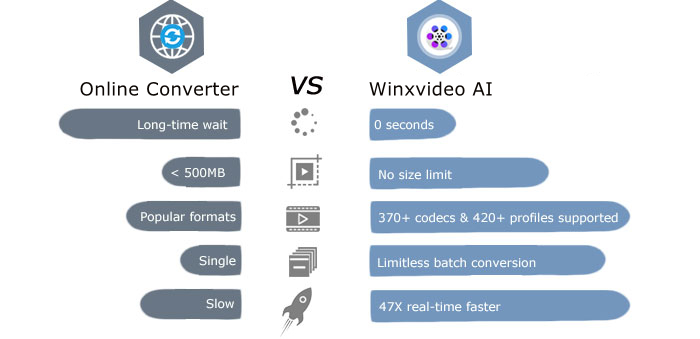 Part 6. To Know More about MPG, MPEG and MP4
As everyone knows, MP4 has better compatibility than MPG, which is the main reason why you need convert MPG to MP4. But this is not all. And stiil, some of have a smattering knowledge of MPG, MPEG and MP4. No worries. Here are more details about MPG (MPEG) and MP4.
.MPG File Extension
Popularity:

★★★☆☆

Developer: MPEG | Category: Video file extension
Video container: MPEG Video File | Video coding formats: MPEG-1, MPEG-2
Natively supported by: Windows
MPG file, or rather .mpg, is one of the file extensions for MPEG-1 and MPEG-2 files. It does not stand for media container or video/audio formats. What sounds more familiar to you might be MPEG, which has limits in compatibility for playback. For example, you can't play MPG on iPhone.
MP4 Video File
Popularity:

★★★★★

Developer: MPEG | Category: Video container formats
Video coding formats: HEVC/H.265/MPEG-H Part 2, MPEG-2 Part 2, MPEG-4 ASP, H.264/MPEG-4 AVC, H.263, VC-1, Dirac and others
Natively supported by: Windows, Mac, iOS, Android, etc
Due to its unique high compression algorithm and wide compatibility, MP4 has long been the first option to most medias for streaming online. And people prefer to download movies in MP4 for playing on iPhone, iPad, Android, PC, Mac, TV, etc. Also they reencode videos into MP4 for uploading and sharing for its best balance between quality and file size, which of course requires you a best MPG to MP4 converter software - WinX HD Video Converter Deluxe.