How to Convert AVCHD M2TS to MP4 with High Quality
Advanced Video Codec High Definition (AVCHD) is a recording format jointly developed by Panasonic and Sony for recording high-definition video to media such as recordable DVD media, hard disk drives, and memory cards. It usually ends with .m2ts or .mts which is made to multiplex audio, video and other streams in high definition.
However, you may encounter problems when you try to watch your AVCHD M2TS videos on a computer or mobile device, upload them to the internet or edit them in video editing apps. Actually, a M2TS file recorded by AVCHD camcorder is not quite friendly to regular computers, and not compatible with most video editors and players either. In this case, you need to convert AVCHD to MP4 format for better compatibility.
Part 1. How to Convert AVCHD to MP4 with Highest Quality
There are many factors to consider when choosing an AVCHD to MP4 converter, such as the ability of conversion, the output quality, the conversion speed, ease-of-use and more. Across the video converting software as a whole, WinX HD Video Converter Deluxe is one of the best AVCHD to MP4 converter which meets all these criteria and is able to do more.
Convert AVCHD to MP4 (H264, MPEG-4, H265...), as well as MOV, M4V, MKV, AVI, FLV, WebM, SWF, 3GP, etc. NO input size limit!
Convert 1GB, 10GB AVCHD to iPhone iPad Apple TV, iMovie, 420+ optimized presets with the best balance of quality, size and speed.
Auto Copy mode enables you to 1:1 remux AVCHD to MP4 if both input and output codecs are identical, no decoding/re-encoding.
47X faster conversion speed with the support of Intel QSV/Nvidia/AMD GPU acceleration.
Built-in video editor to trim, crop, merge, rotate videos and add subtitles or watermark for your videos.
How to (Bulk) Convert AVCHD M2TS to MP4 on Windows (11) and macOS (12)
Step 1. Click "+Video" button to load one or multiple .m2ts files. If you have a folder full of AVCHD M2TS videos which are needed to convert to MP4, click "+Video Folder" to import all files. No limits on single input file size or video quantity per day!
Step 2. Move to the bottom of the window and select "Video" tab. Choose "MP4 H264" - the most compatible format with any popular device - as output format. Also, you can click "Target Format" to get full list of output profiles and select desired MP4 format from it.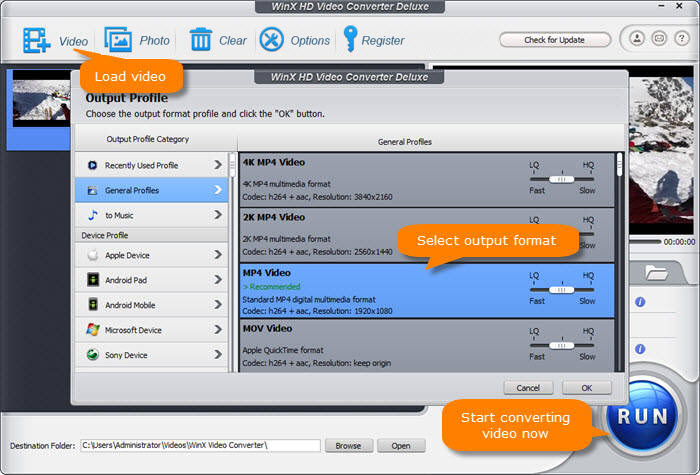 Note: manually tick Auto Copy mode at the lower right corner of the main interface, which helps you remux video from AVCHD to MP4 with 1:1 original quality (once AVCHD and MP4 have the same video codec), no transcoding, best quality and fastest quality (10x faster)!
Step 3. Click "Browse" button to set a destination folder. At last, click "RUN" button to start converting AVCHD M2TS to MP4 format.
When all is done, the output MP4 video will get a better compatibility on more media players and a wilder range of video editing software. Also, you're able to play M2TS video on mobile and upload AVCHD videos to the web freely.
Part 2. How to Free Decode AVCHD to MP4 Offline
On top of WinX, there are still other fantastic options available to decode AVCHD to MP4 offline for free, including Handbrake, freemake. Both of them also bring you an output MP4 file with visually original quality. Give them a try if they have their installation packages on your PC.
Handbrake enables you to convert AVCHD to MP4 with H264, H265, MPEG-4 or MPEG-2 codec. Beyond that, other parameters relevant to MP4 format can be well adjusted to better suit your device or platform, including frame rate, bit rate, quality, resolution, H264 profile/level, etc.
Follow the below instructions to free transcode video from AVCHD to MP4:
Step 1. Click Source button to load a single AVCHD video or a batch of AVCHD files via Folder option.
Step 2. Select MP4 as output file format under Output Settings catogory.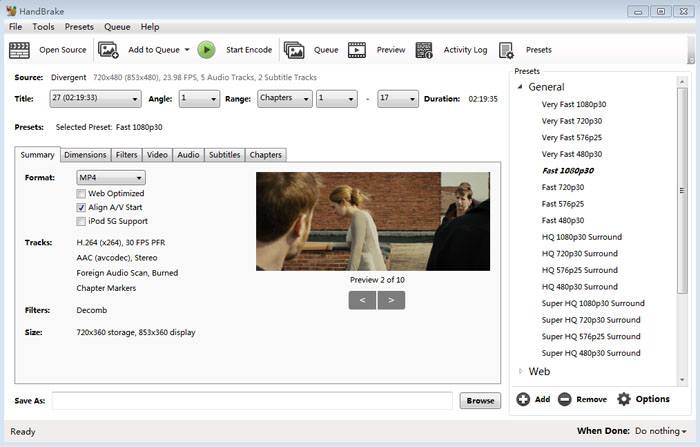 Step 3. Move your mouse to the lower half of the UI > tap Video > opt for the specific video codec you need, 5 options here. Generally, you're suggested to choose H264 (x264) with quality and compatibility better balanced. H264 (Intel QSV) or H264 (Nvidia NVEnc) are also recommended if you wanna utilize Intel QSV or Nvidia GPU hardware acceleration to enhance conversion speed.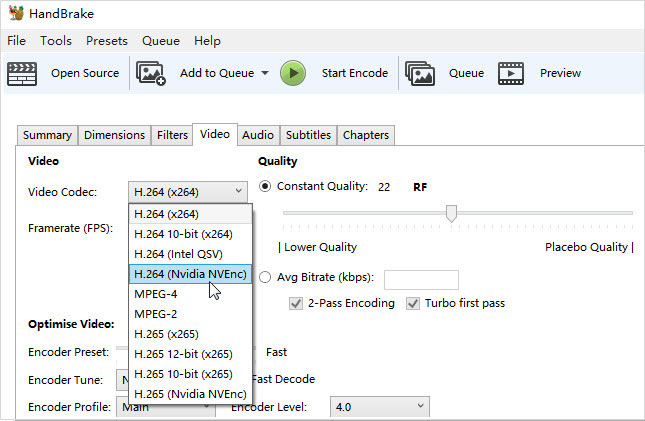 Optionally:
1. To convert AVCHD MTS to MP4 with highest quality, keep the default setting Constant Quality. Cuz constant quality setting is to tell Handbrake putting quality at the first place and file size comes second. Average bitrate does the opposite, giving you full control over the size, not the quality. And RF 0 means no compression, lossless quality kept. The smaller RF value is, the better quality is. You can properly lower the RF value to get highest possible quality you want. 2. To make resulting MP4 playable on most devices and platforms, you'd better lower down its playback threshold, not only the common resolution, frame rate, bit rate, but also video profile and level.
You're suggested to change MP4 H264 profile from High to Main or baseline profile and change H264 level from 5.1 to 3.1 to get better compatibility.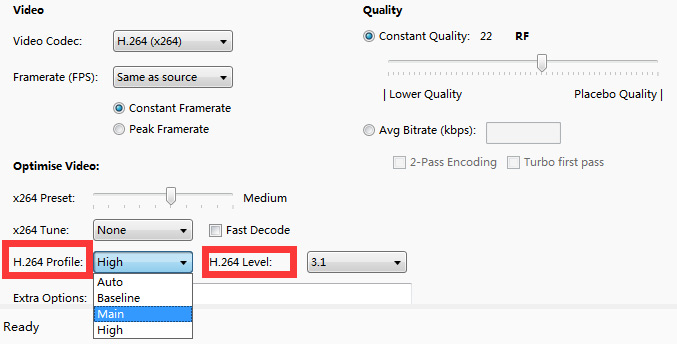 Step 4. Click Browse button to choose a destination folder for output MP4 file storage. Then hit Start Encode button at the top banner to begin converting AVCHD M2TS MTS file to MP4 without visually quality degradation.
After you download and install Freemake video converter, you'll find that it's an all-in-one toolkit, with other programs built-in, as well. And the pop-up special offer message keeps greeting you. Yet, don't worry. You can still use freemake video converter feature without purchase. It's free to use. When the installation is finished, begin converting your AVCHD:
Step 1. Tap Video button at the top menu to import your AVCHD to freemake.
Step 2. Select "to MP4" at the bottom of the interface. More output formats are included here, as well. MPEG, AVI, WMV, DVD, MP3 and 3GP are all at your disposal. Note: "Join Files" option is at the top right corner of the home screen to help you combine AVCHD clips into one. Also batch conversion and subtitle conversion are accessible, too.
Step 3. Click Convert button to commence AVCHD to MP4 conversion process.
Part 3. How to Convert AVCHD to MP4 Online for Free
Besides desktop AVCHD M2TS to MP4 converter, you can also convert AVCHD to MP4 online for free. There are many online video converters available to do that, such as Convertio, videoconverter.com, OnlineConverter and so on. Take Convertio and videoconverter.com as an example, you're able to convert AVCHD M2TS to MP4 within 3 steps.
Step 1: Visit Convertio official site. Click "Choose File" button to load your AVCHD video from computer, Dropbox, Google Drive or URL. You can add more than one file for batch conversion.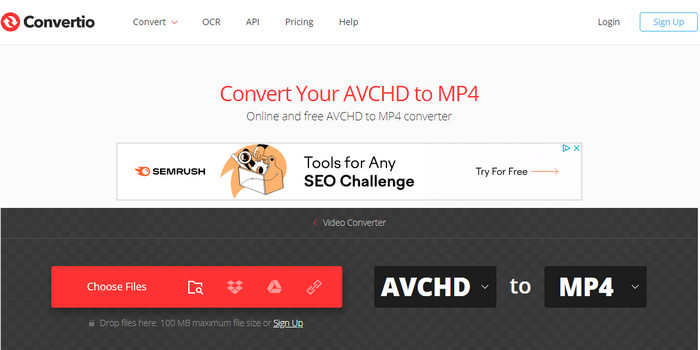 Step 2: Make sure MP4 is chosen as the output format. You can adjust the quality, codec and more on this page.
Step 3: Click "Convert" button to start conversion.
It's pretty easy, right? But there is a problem that if your video is larger than 100MB, you can't fulfil the conversion at all. Certainly, as a registered member, you can unlock larger file size, but it's not without limits. However, AVCHD footage itself usually means big size. Thus, what you need more is a M2TS to MP4 converter with file size limit, like WinX HD Video Converter Deluxe.
Videoconverter.com is another online AVCHD to MP4 converter website. It's very similar to convertio, easy to use and limited input file size. You can also load your AVCHD file from Dropbox, google drive besides local computer drive.
Step 1: Open this online converter tool > tap "Add Your Media" button to load your AVCHD MTS files. Batch conversion is supportive.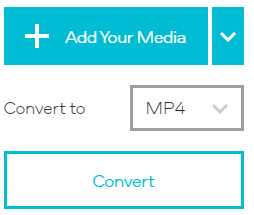 Step 2: Choose video settings for your MP4. The default output video is MP4. So you have no need to manually select output format again. On the pop-up windows, adjust your video resolution, audio quality and video length at your willing. The default setting is "As Source".
Step 3: Tap Convert button to begin transcoding video from AVCHD to MP4 online free after the setting adjustment is accomplished.
Note: the online converter industry standard also appears on this AVCHD to MP4 converter website. That is limited input file size, maxmumly 100MB for free usage per video. Upgrade to $9.95 per month to convert videos (smaller than 1GB per video) to roughly 40+ output file formats. As for AVCHD video at 4K 2160p with larger file size, desktop video converter sounds better.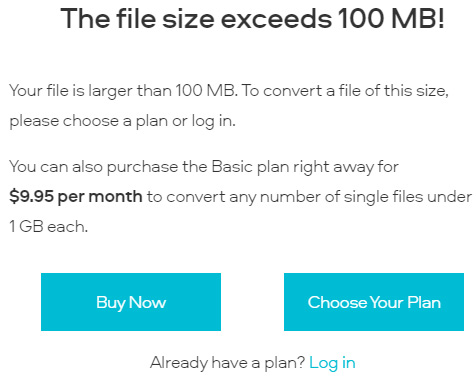 Part 4. FAQ about AVCHD M2TS to MP4 Conversion
Q1: How to play AVCHD videos on Windows PCs and Mac?
An AVCHD M2TS player is essencial to play AVCHD videos on Windows 10 or Mac. One of the easiest and the most accessible way is using VLC media player. It's avaiable on both Windows and Mac for playing many file format, including AVCHD. Just click the Media button and choose Open files to browse the AVCHD file you want. All done.
Q2: AVCHD vs MP4, which format is better?
It depends. AVCHD owns the better video quality, but has relatively large file size and the format support is limited. While MP4 enjoys smaller file size, better compression and can be played on almost every device. Thus, if you don't have strict requirements on video quality, MP4 is better than AVCHD.
Q3: Can I Upload AVCHD video directly to YouTube?
Yes. Some AVCHD videos can be upload to YouTube or the like successfully. While sometimes you may also find problems when uploading AVCHD to YouTube. Comparing AVCHD, MP4 or WebM is more acceptable for YouTube. Thus converting AVCHD to MP4 or WebM is always better than directly uploading AVCHD to YouTube.