How to Convert MP4 to MPEG2 for Free [Desktop and Online]
Are you on the hunt for a tool to convert MP4 to MPEG-2 file? Despite MP4 is the most commonly used multimedia container format allowing for efficient storage and streaming, MP4 can be a pain when it comes to DVD burning or playback. Thank goodness for MP4 to MPEG-2 converter, which enables you to take your MP4 videos and export them in the format MPEG2, a standard widely used in over-the-air digital television broadcasting and in the DVD-video standard.
Here is a roundup of the best MP4 to MPEG2 converter (free and online), along with a step-by-step guide to transcode video from MP4 to MPEG-2.
Related guide: how to burn MP4 to DVD, free DVD burning software recommended
Part 1. How to Convert MP4 to MPEG2 on Windows (10/11)?
#1. WinX Video Converter
If you need to change video format from MP4 to MPEG2 on Windows 10/11 PC, there is one desktop video converter that rises above the rest, by the name of WinX Video Converter that can freely convert MP4 video, whether it is from your local hard drive or camera footage, to MPEG-2 format without a glitch.
The free MP4 video converter is built in 370+ video/audio codecs, making it hassle-free to transcode MP4 video codec, be it is MP4, H.264, HEVC, or AV1, and output file in MPEG2, as well as other file like DivX, Xvid, VP8, MKV, MOV, WMV, etc. You can also adjust the video parameter settings, cut, merge and crop video. On top of that, by taking advantages of level-3 hardware acceleration, it makes even the large 4K MP4 to MPEG2 conversion as fast as possible, without burdening your computer CPU. You can free download the program compatible with the latest Windows 11/10 and have a try.
Guide to Convert MP4 to MPEG2 on Windows 10/11 with WinX Video Converter
Step 1. Add MP4 file(s) to the converter software.
After you free download and install WinX Video Converter, launch it and select one or more MP4 file(s) you want to convert by click the +Video button. You can also drag and drop the MP4 video file in the main interface.
Step 2. Choose MPEG2 as the output format.
To convert MP4 to MPEG-2 file, you can go to PC General Video in the pop-up Output Profile Window > MPEG2 Video (MPEG2+MP2) or MPEG2 Video (MPEG2+AC3) as the output format according to your needs. Alternatively, WinX Video Converter also offers direct DVD profile like NTSC or PAL DVD format encoded in MPEG2, which is widely used for burning into DVD.
Step 3. Edit output MPEG2 file (optional).
Click the scissor-shaped icon to enable the basic editing feature. WinX Video Converter facilitates you with more features like trim unwanted clips, merge files into one, adjust video aspect ratio to 16:9, 1:1, and more, add external SRT subtitles, and more. You can also tweak the video resolution to 4K/HD, change video bitrate, frame rate, codec as per your needs, too.
Step 4. Start converting MP4 to MPEG2 video.
Press Browse button to save the converted file in a desired folder, and tap RUN to initiate the video conversion process. Generally, the hardware acceleration is enabled by default, which can accelerates the whole transcoding process. Pros:
Support 4k video conversion.
47X real-time MP4 conversion by the power of multi-threaded GPU acceleration.
420+ readymade profiles for Apple, Android, game console, etc.
Intuitive interface.
Cons:
No feature available for MP4 to DVD burning.
#2. Handbrake
If you are looking for an open-source video transcoder to do the task of encoding MP4 to MPEG2, Handbrake is second to none. Despite Handbrake convert video format into majorly 3 container formats MP4, MKV and WebM, you can still change the output video codec into MPEG2 before transcoding, thanks to its powerful customizable video transcoding engine.
However, you have to bear in mind that the additional bells and whistles, especially in terms of dimensions, video, audio, subtitles, and chapters sections, achieve at the expense of deep learning curve, especially if you are not good at the obscure codec, encoding and decoding. But you can still follow the tutorial below to do the MP4 to MPEG2 conversion with Handbrake.
How to Convert MP4 to MPEG2 on Windows 10/11 with Handbrake
Step 1. Launch Handbrake on your Windows PC, click the File at the left panel of the interface to load a single MP4 video file. You can also load one or more MP4 file via the Folder section or drag and drag one or more MP4 videos here. It will take a few seconds to scan the title, depending on the size and length of your file.
Step 2. To convert MP4 into MPEG-2 file, please go to the Video tab, choose the video codec MPEG-2 from the drop-down list of the Video Encoder section. If you value quality conversion, you can check the box 2-pass Encoding, set the constant quality at 20-23 for high-quality MP4 sources. But this will lead to lengthy conversion and bigger MPEG-2 file size.
Step 3. Click the Browse button to set the video path and save the output MPEG2 file.
Step 4. Click Start Encoding button. This will begin encoding MP4 into MPEG2 content.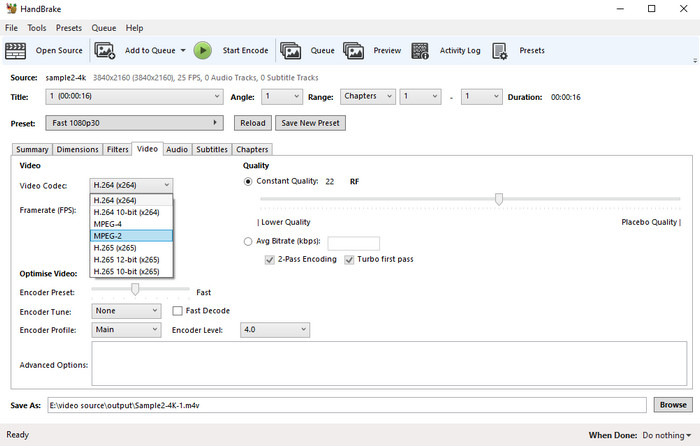 Pros:
Open-source and 100% free to use.
Customizable video settings.
Cons:
It is a bit of learning curve to get the hang of transcoding.
Transcoding takes over 90% CPU usage.
#3. Easeus Video Converter
Easeus Video Converter is an up-rising star with basic video convert features. If you are just meant to change video format from one to another, e.g. MP4 to MPEG2, Easeus definitely fits your bill. With it you can effortlessly convert your video or audio to 500+ optimized profiles, including MP4, MPEG-2/4, AVI, MOV, MKV, MPG, AIFF, M4A, and more. All the conversion tasks can be done within a clean and straightforward interface.
Easeus offers a trial version for you to freely convert MP4 to MPEG-2 or other file with a limited conversion length. You can spend $9.95 to break the limitation and enjoy high-speed GPU accelerated video conversion with its full version.
Step-by-Step Guide to Convert MP4 to MPEG2 with Easeus
Step 1. Open Easeus video converter. Click Video Converter > Choose Files to import MP4 video(s). You can also click Add Folder to import a folder containing multiple MP4 files.
Step 2. Click Settings to choose the output format, quality and resolution. Here you can click Edit to change the video parameters, including the quality, video encoder, resolution, frame rate, bitrate, audio sample rate and more. Here choose the video encoder MPEG-2 as the output format. And press Create to confirm the settings.
Step 3. Go back to the main interface, change the video path next to Save to, and click Convert button or Convert All to start the MP4 to MPEG2 conversion task. After the conversion, you can view the converted file, play, rename or delete it easily. Pros:
Intuitive interface and easy to use.
Support video resolution up to 8K.
Cons:
Video editing feature is limited.
No disc burning feature available.
Part 2. How to Convert MP4 to MPEG2 on Mac?
#1. Cisdem Video Converter
If you want to keep your entire video library in one format in your Mac's hard drive or change a video file to something more shareable, Cisdem Video Converter gets the jobs done at your fingertips. As a Mac-focused video converting program compatible with macOS 10.10 and above, it enables you to convert MP4 H264/H265+AAC) to MPG (MPEG2+AC3) or other video file on your Macbook Pro/Air, iMac, and more without a hassle.
How to Convert MP4 to MPEG2 on Mac with Cisdem
Launch Cisdem Video Converter on your Mac computer, drag one or more MP4 files into this program.
Go to General Video and choose the output format such as MPEG Video (mpg, mpeg2video, ac3, auto), or MPEG HD Video (mpg, mpeg2video, ac3, 1280x720).
Optionally, you can click the gear-shaped icon to adjust the video parameters like quality, codec, resolution, frame rate, bitrate, etc in the Advanced Settings Window. Higher resolution, bitrate, frame rate will give rise to big MPEG2 file size and longer MP4 to MPEG2 transcoding time. In addition, you can trim, crop, rotate, add effects or subtitles to the video.
Click the Convert Button to start the video encoding process. Pros:
Support batch conversion.
Also a DVD ripper, video editor and downloader.
Cons:
There is no Windows version available.
Converting speed is slow when it comes to 4K video.
#2. MacX Video Converter Pro
As its name suggests, MacX Video Converter Pro is specialized in converting 4K/HD/SD video files on Mac platform with over 10 years of experience. Praised by authorities like MacWorld, Cult of Mac, MacUpdate, it is skilled in transcoding one format to another, and therefore fix all playback errors related to video file in whatever video resolution, codec, format, bitrate or frame rate successively. Along with conversion of file formats, you can even turn big video into smaller ones, choose to edit them, record screen, and so on.
You can enjoy a 5-minute trial version or explore the prices, from one-year annual plan, lifetime license to the 3-in-1 bundle. Now have a try and begin converting MP4 to MPEG2 file.
How to Convert MP4 to MPEG2 with MacX Video Converter
Launch MacX Video Converter Pro and click +Video button in the top-left corner to load the MP4 file you want to convert.
After the loading, the app asks you to choose an output profile. It has dozens of ready-made profiles, covering iPhone, iPad, Apple TV, iMovie, Windows PC, Android mobile. Here you can choose MPEG2 as the output format and click Done.
Optionally, you can choose to adjust video settings, edit video as per your needs.
Make sure to check the hardware Encoder box to take advantage of GPU acceleration, check the High Quality Engine and Deinterlacing to ensure high output MPEG2 quality.
Click RUN and begin converting an .mp4 video to an .mpg video. Pros:
A user-friendly interface that makes newbies easy to navigate the conversion.
Give you control over the video size.
Cons:
Limited editing possibilities.
Part 3. How to Free Convert MP4 to MPEG2 Online?
#1. Convertio.co
Convertio.co is an online file converter that has been processing over 1.5 billion files, covering video, audio, image, archive, presentation, font, document and ebook. If you have some MP4 files saved locally or in your Dropbox or Google Drive, and just want to convert them into MPEG2 freely and easily, you can rely on Convertio.co to do the job.
However, like many other online video converter that sets file size limit on the video source, only when the MP4 file is smaller than 100 mb can Convertio.co upload and convert it successfully, without any uploading stuck error. Or else, you have to upgrade to its Light, Basic, or Unlimited version to enjoy more file size and concurrent conversions and get rid of ads.
Step-by-Step Guide to Convert MP4 to MPEG2 with Convertio
Select or drag and drop MP4 video from your computer, iPhone, or Android. Or you can also load the file from Google Drive or Dropbox.
Choose the output format MPEG from 37 video format list.
Click the gear-shaped icon to customize the settings like cut, resize, rotate, flip, resolution, quality, aspect ratio, and more.
Click the button Convert to process.
Once your video is converted into MPEG file, you can download it to your Windows, Mac, or mobile device. Or you can save the file to Google Drive, Dropbox. Pros:
Convert MP4 to MPEG2 without downloading external software.
Easy to use.
Cons:
File size is limited to 100mb.
Ads contained.
#2. Anyconv.com
AnyConv.com has a Dutch interface and supports a number of formats from audio, video, image, document, CAD, etc and makes the conversion as easy as possible without download any third-party software. This tool is 100% free to use and there is not even a paid version. On top of that, you can convert MP4 to MPEG2 online without watermark at all.
This online MP4 to MPEG2 converter is brimming with ads. Be careful of them. Plus, the MP4 file size can be up to 100 Mb. If you have some large MP4 files to be converted, please turn to other MP4 to MPEG-2 transcoder.
Step-by-Step Guide to Convert MP4 to MPEG2 with AnyConv
Click Choose File button to load an MP4 file on the computer.
Click Convert to start conversion.
It will be deleted after 1 hour. So download the converted MPEG2 file when the conversion process is finished.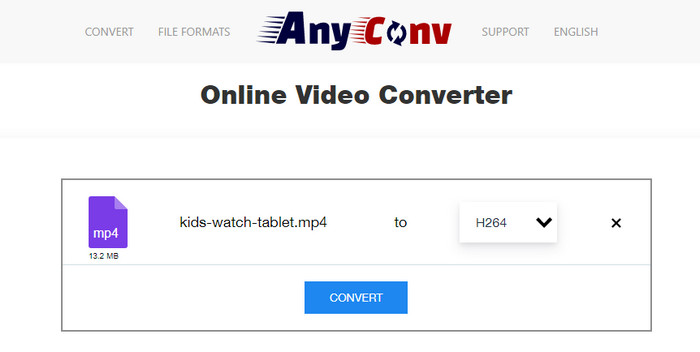 Pros:
Online video converter no watermark.
No need to download software.
100% free.
Cons:
No additional customizable features.
File size is limited to 100 Mb.
Ads contained.
FAQs about MP4 and MPEG2
1. MP4 vs MPEG2: Is MPEG2 and MP4 same?
No. Both MP4 and MPEG2 are developed by Moving Pictures Expert Group (MPEG). The former is a container format used for storing video, audio, together with other data like subtitles and still images, and supports many video codecs including H263, H264, H265, etc. The latter is a coding standard, which is capable of handling video streams from DVDs and cable broadcasts. Compared with MP4, MPEG2 struggles with portable devices and internet streaming due to its large file size. While MP4 utilizes higher compression efficiency codec to ensure smaller file size and is widely recognized by media player, mobile, computer, game system.
2. Can VLC convert MP4 to MPEG2?
YES. The open-source VLC media player also works as a video converter that helps to convert .mp4 to MPEG-2 or PS. You can follow the guide and learn how to convert MP4 to MPEG2 using VLC.
Open VLC > go to Media > Convert / Save.
Click +Add… button to import your MP4 file. Click Convert / Save to open the Convert window.
Select Video – MPEG-2 + MPGA (TS) from the drop-down list next to Profile.
Click the Setting icon next to the drop-down list > MPEG-PS under the Encapsulation tab > click Save.
Press Browse button to choose a destination folder where you want to save the mpeg file.
Press Start to begin the conversion.