How to Free Download VP8 Encoder for HTML5/Chromecast (WebM)
VP8, a video compression format, is widely used for internet videos, especially HTML 5 videos and has been supported by mainstream browsers (Firefox, Chrome, Opera and Internet Explorer 9 with installing proper codec) and YouTube. Like its formidable rival H.264, VP8 has high compression ratio and outputs high video quality with small size. This article enlists the best VP8 encoder for free download to encode videos to VP8 for HTML5 and Chromecast.
Encode and Decode VP8 (WebM) Videos without Quality Loss
Download WinX HD Video Converter Deluxe, a popular VP8 encoder & decoder to encode whatever video/resolution to VP8, be it VP9, MP4, MOV, M4V, AVI, FLV, WMV, WebM, MTS, H264, H265 with support for hundreds of video audio formats. Thanks to De-interlacing and High Quality Engine, you can get encoded VP8 videos with 98% quality kept after transcoding. The support for hardware acceleration promises the fastest VP8 encoding speed. The VP8 encoder works on Windows and macOS.
Table of Contents:
Part 1. Top VP8 Encoder to Free Download
Sometimes, a VP8 encoder is needed to generate WebM videos for HTML5/Chromecast. The following VP8 encoders are reliable and good choices. You can also get a VP8 converter (VP8 encoder & decoder) to transcode among tons of video formats, covering VP8 codec.
libvpx
libvpx is an open, royalty-free VP8 encoder based on x264 framework. In order to make this VP8 encoder to fit with different requirements, it offers variable parameters, for example, frame rate, encode speed, bitrate options (VBR and CBR). In the latest stable version 1.3.0 of libvpx, VP9 codec is introduced with incompletely features allowing VP8 existing users to use but no editing. Now, you can free download libvpx library of latest version from WebM project on Google code.
VFW
VFW(Google VP8 Video For Windows codec) is a VP8 encoder specially designed for Win32 users to generate VP8 encoded videos with high quality for free and available under GNU Public License Version 2 for it is derived from Xvide codec. Download the current version 1.2.0 of VFW for Win32 and create WebM videos for HTML5 and Chromecast.
Related: Free Download VP9 Encoder
VP8 Encoder & Decoder
Substitution of VP8 encoder, it is much more convenient for taking advantage of a free VP8 video converter/transcoder to create WebM (VP8 encoded) videos for HTML5/Chromecast. WinX Free Video Converter is a totally free and stand-alone tool capable of getting VP8 (WebM) videos from MP4/AVI/WMV/MPEG etc, and free converting VP8 (WebM) videos to those mainstream video formats and portable devices such as iPhone, iPad Air, Samsung, Xbox One/360, PS3/PS4 and so on. And, the built-in High Quality Engine and Multi-core CPU support enables to output possible highest video/audio quality and deliver a high speed.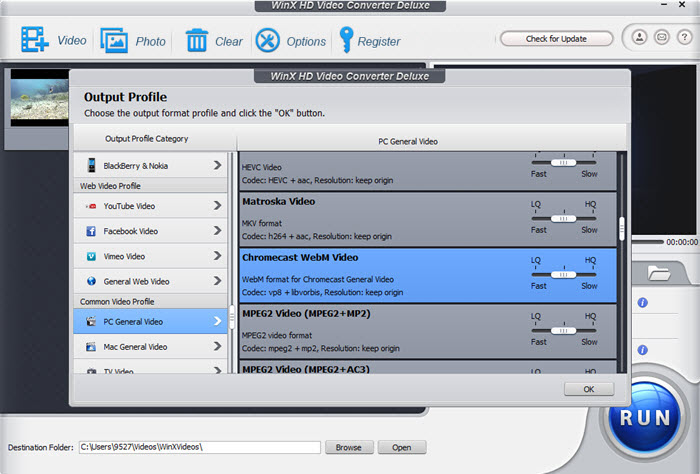 Part 2. Something You Need to Know about VP8 Encoder
Beyond everything, let's learn some knowledge about VP8 as its related format WebM and well-known encoders.
VP8 Related Format
Launched on 19 May, 2010, WebM is known as an open-source video container which holds VP8 video and Vorbis audio for HTML 5/Chromecast videos. Besides supported by FireFox, Opera, Google Chrome, YouTube allows users to upload WebM in resolutions of 360p/480p/720p/1080p and uses WebM video codec for Nintendo Wii YouTube app. Another VP8 related format is WebP developed by Google on September 30, 2010. It's an image format on the Chromium blog. WebP uses VP8 intra-frame coding.
VP8 Encoder
VP8 was developed by On2 Technologies on September 13, 2008 and released by Google as an open-source format under Creative Commons Attribution 3.0 license in May 2010. Google also released first version of VP8 encoder libvpx under BSD license. In addition, Google VP8 video for Windows(VFW) codec using FOURCC VP80 is specially pushed out for Windows 32.
Part 3. FAQs about VP8 Encoder
What is VP8 encoding?
VP8 is an open and royalty-free video compression format , the successor of VP7 format and a replacement for the GIF. It's used for encoding and decoding high definition video and a format for short looped animations. Web browsers, such as Chrome, Firefox, Opera, and Chromium support VP8 video playback in HTML5 video tag.
VP8 encoder parameters?
There are many different encoder controls available in VP8, including the basic parameters for codec selection, setting image dimensions, output frame rate, speed profile, bitrate. It also includes basic speed control parameters more advanced rate control parameters and 1-pass vs. 2-pass encoding. For more detailed VP8 encoder parameters, please refer to VP8 Encode Parameter Guide from WebM Project.
Is VP8 a codec?
VP8 is a video codec, the successor of VP7 codec. VP8 codec format was announced by On2 Technologies in 2008. It is open and free from royalties on compression algorithms. VP8 codec format is supported by different operating system and can be encoded with MKV and WebM container formats.