Free Download VP9 Encoder to Create VP9 Codec Video
What is VP9? How to encode/decode VP9 videos? Get answers below.
VP9 was initially released on December 13, 2012. And now it is widely accepted by YouTube, and browsers like Chrome, Firefox and Opera, thanks to VP9 codec bringing better quality without increasing bandwidth usage. In this article, you will learn:
How to Decode/Convert WebM VP9 Videos?
Use WinX HD Video Converter Deluxe /for Mac. It can convert WebM VP9 HD/4K/8K videos to MP4, H.264, HEVC, MOV, AVI, 3GP, etc, for playback on Apple/Android/Windows devices smoothly.
Part 1: What Is VP9?
VP9[wiki] is an open and royalty free video coding format developed by Google. VP9 can reduce the bit rate by 50% compared to its predecessor VP8 while having the same video quality. What's more, its successor AV1 codec observes an average bitrate reduction of 13% compared to VP9 and 17% compared to HEVC (H.265). Thanks to the royalty-free feature, VP9 is widely applied to YouTube. After encoding YouTube videos in VP9, people can stream HD and even 4K UHD high-quality video at half the bandwidth used by other codecs. Nowadays, VP9 already accounts for a large percentage of YouTube videos delivered. Additionally, Microsoft Edge browser, along with Chrome, Firefox and Opera, have added the support for popular WebM VP9 codec.
If you have a VP9 video that is not accepted by your media player VLC or other program, you can download K-Lite Mega Codec Pack 10.10 which supports for decoding VP9 video. Besides, you can also convert VP9 video to your player friendly format.
Part 2: Best VP9 Encoder Download
Nowadays, VP9 encoders are very limited. SUPER standing for Simplified Universal Player Encoder and Renderer is claimed to be able to encode WebM with VP9 video codec and Vorbis audio codec, owing to the use of encoding tools including FFmpeg, MEncoder, MPlayer, x264, MusePack, Monkey's audio, Shorten audio, TAK audio, True audio, WavPack, the libavcodec library and the theora/vorbis RealProducer's plugIn. But when you plan to download and install this VP9 encoder, you should note that it is ad-supported and only available in Windows version.
Part 3: Convert WebM VP9 Video to MP4, AVI, WMV, MOV and More with VP9 Converter
We need VP9 encoder, and sometimes we also need VP9 decoder that can decode/convert VP9 video to MP4, AVI, WMV, MOV or other format for special use. With regards to VP9 converter, WinX HD Video Converter Deluxe is a good option. With this tool, you can decode/convert VP9 video in 720p/1080p/4K 2160p on Windows 10, 8.1, 7, XP and lower. And its Mac version allows VP9 decoding on Mac OS X 10.6 or later including macOS Big Sur. In three simple steps only (load VP9 video -> specify output profile -> begin converting), you can:
Decode/convert VP9 to video audio formats, like MKV, HEVC, MP4, AVI, WMV, 3GP, FLV, MOV, WebM VP8, VOB, MP3, AAC, etc;
Decode/convert VP9 to device, such as, iPhone 11/XR/Xs, iPad Pro/mini 4/Air 2, Apple TV/4, Samsung Galaxy S10, Surface, Amazon Kindle Fire HD, Chromecast, PS4, PSP, etc;
Decode/convert VP9 to web sites, for example, Viemo and Facebook;
Decode/convert VP9 to video editing software, like iMovie, Final Cut Pro and iDVD.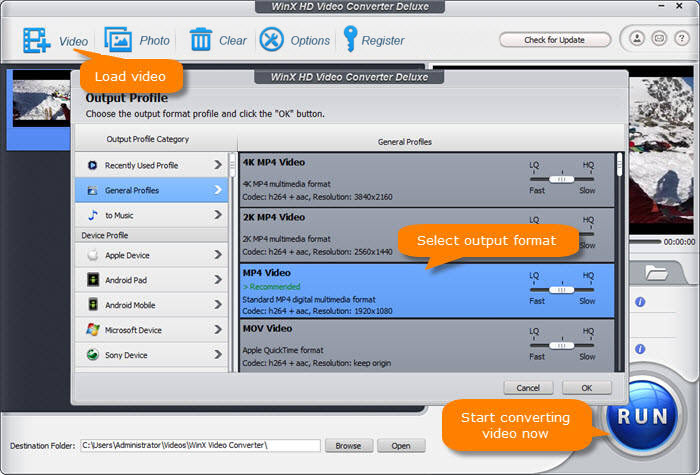 Optionally, it also enables you to edit VP9 video by cropping, expanding, trimming and adding extra subtitles, and modify video audio parameters like bit rate, frame rate, sample rate, etc.
Tip: WinX HD Video Converter Deluxe will soon add VP9 output profile, offering users an easy-to-use VP9 encoder.
Apart from converting VP9 videos, WinX HD Video Converter Deluxe/for Mac can free download VP9 codec videos from video-sharing sites with the built-in online video downloader.