Lossless DVD Rip with Uncompressed Video & no Quality Loss
"I'm in the process to convert my DVD collection in an effort to get the best quality possible. I want to keep them in the same quality (including Dolby digital sound) so I can archive a matching digital movie library on my hard drive. I use Handbrake to rip DVD to MKV only to get just over 80% quality. How to rip DVD without losing quality? "
Physical discs seem obsolescent in the face of cables, broadcast, and digital streaming. For better use, you may want to extract the 8.5GB, MPEG-2 @ 30fps Dolby Digital/DTS audio to rebuild a digital library (learn how to convert DVDs to digital copies). When you're turning DVDs into digital videos, you may want to extract the video files from the DVD as-is. But why does Handbrake rip DVD to MKV in bad quality? Which is the best way for lossless DVD rip? That's what this post is going to talk about.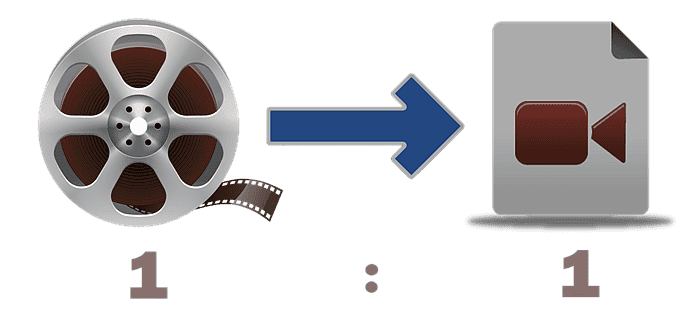 >> Skip backgrounds and learn how to rip DVD with 100% original quality <<
Lossless DVD rip using Handbrake, possible?
No, it's impossible to rip DVD without quality loss using Handbrake.
Handbrake will always re-encode (compress) the videos so you will lose quality no matter what settings you choose. What you should note is, DVDs are encoded in the lossy and compressed MPEG2 codec for video, and either AC3 or DTS for audio. Whatever you transcode them to will result in additional loss. But you can use Handbrake to transcode the DVD for a good tradeoff between quality and space. For example, transcoding (with proper settings) to HEVC video and 5.1 AAC audio will reduce an 8GB DVD down to around 2GB with no perceptible quality loss. Check Handbrake settings for best quality >>
The only possible way to rip DVD with lossless quality using Handbrake is to adjust the constantly quality down to RF0 with X264. But this setting is really used for any uncompressed video sources and most hardware players will not play lossless x.264. To understand why Handbrake lossless DVD rip is not going to happen, see how DVD transcoding works below.
Why does DVD Transcoding Produce Quality Loss?
To address the large file size of videos which contain a lot of data, we use codecs to compress them. The most common codec is H.264, along with many others like MPEG-2, H.265, AV1, XVid, etc. When you transcode a DVD, it refers to a process of taking the MPEG-2 video out of the DVD and re-encoding it with a different codec or different settings.
There are three types of transcoding: lossy-to-lossy, lossless-to-lossless, and lossless-to-lossy. Once the quality loss happens, you can get back the original quality again. So there is no loss-to-lossless transcoding. As DVDs are encoded in the inefficient MPEG2 codec (lossy codec), you're left with no choice but lossy-to-lossy transcoding, which will decrease the quality to degrade even further. This is why you can't rip DVD losslessly with Handbrake. What you need is to rip DVD without transcoding with a proper tool.
How to Rip DVD without Losing Quality?
The lossless DVD ripper you can rely on is WinX DVD Ripper Platinum. It offers four modes to rip DVDs in 100% original quality:
Four Modes to Rip DVD without Transcoding

DVD to ISO image

Create an exact 1:1 replica of a DVD on the hard drive. It contains all the menus, extras, and everything in a DVD, both data and format. You can play ISO file on VLC as if it was an actual DVD or burn ISO image to a new disc without further setting.

DVD to Video_TS folder

Video_TS folder is almost the same as ISO image, except that it holds all the DVD structure files and you have more flexibility to manipulate it, e.g., you can remove the unwanted trailers, extra menus, comments, or cutting it right down to the main film.

DVD full title to MPEG2

The video content in a DVD is divided into different titles and menus. This mode will rip all the titles to MPEG2, including all the lossless video, 5.1 Channel AC3/DTS Dolby audio, and subtitles.

DVD main title to MPEG2

It only extracts and rips selected audio/video tracks to MPEG2 losslessly without extra material, intros or similar. This mode can rip the main movie of a DVD in 5 minutes only.
Extra benefits: In addition to lossless DVD rip, the software will also rip DVDs in the best quality to MP4, HEVC, H.264, MOV, AVI, WMV, more formats and devices. Any protected, new, and old DVDs are supported.
Free download WinX DVD Ripper Platinum to rip DVD without quality degrade.
Please DO NOT use WinX DVD Ripper to rip rental DVDs.
For Windows and Mac only. If you are a mobile user, please click here
[Steps] How to Rip DVD without Quality Loss?
Download, install, and run the DVD ripper on your computer:

Free download the Windows version (Windows 10 and earlier)


Free download the macOS version (Mojave and earlier)
Step 1: Insert your DVD into the disk drive and click the Disc button on the software. It will automatically load the info and find the correct DVD title. Any 99-title discs, Disney movies, region-coded DVDs, other discs are supported.
Step 2: Then a format window will pop up asking you to select an output format. Click DVD Backup and any format under that column will deliver untouched quality. You may have some minor confusion about the best format to rip DVD for quality, check below: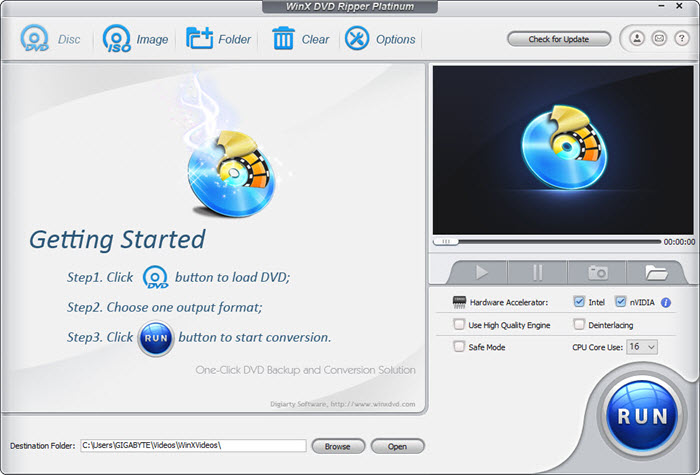 Lossless DVD rip - ISO Image or MKV?
"Is there any reason to make a MKV instead of just ripping to ISO?"
When it comes to maintaining quality in DVD, many users don't know if they should do lossless DVD to MKV or copy DVD to ISO, especially when MakeMKV makes it so easy to copy DVD video files into MKV with no quality loss. ISO file is 1:1 copy of a DVD, with full movies, menus, and extras. MKV can either be large (1:1 or same quality audio/video as what's on the disc), or you can re-encode DVD to a smaller file size MKV. MKV has much lower container overhead than ISO, about 1GB or 5% difference. It won't be an issue for several tracks, unless you have hundreds of DVDs to rip. But considering hard drive prices are getting cheaper, always get as best quality and full data as possible. Plus, MKV has many issues with forced subtitles, etc.
Rip DVD with Best Quality & Smallest Size
"I want the highest quality possible or the same quality as the original DVD and the size less than 1GB (prefer 200-400MB)."
A related demand to the lossless DVD rip is how to rip DVD with high quality and small file size. Convert DVD to MP4 for better compatibility and to H.265 for smallest size. You will lose some quality in the picture, but you can hardly spot the quality loss.
[Check full guide on best format to rip a DVD]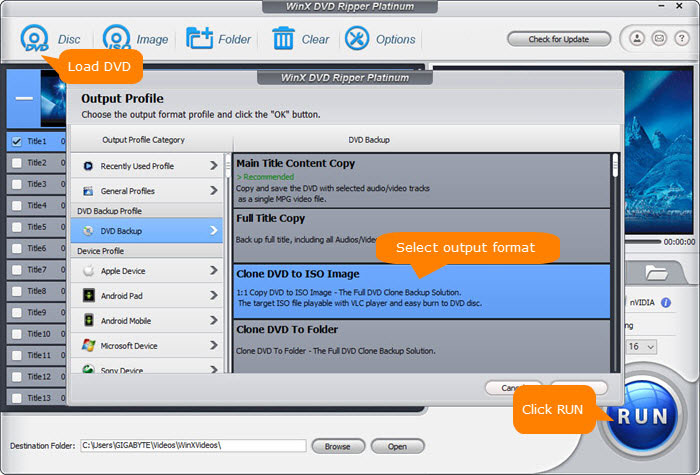 Step 3: Click Browse to set where you want to save the output video.
Step 4: Clik Run to start the conversion. The time of DVD rip depends on the output format you select. Normally, rip DVD lossless to ISO image or Video_TS folder takes longer as the formats contains full DVD data. If you don't care about the extras, you can rip DVD full title to MPEG2 without quality loss, which can be done in 5 minutes.
Disclaimer: Digiarty Software does not advocate ripping commercial DVDs for any illegal purpose. You're suggested to refer to the DVD copyright laws in your country before doing so.