How to Copy ISO Files to USB Drive Conveniently
Copying ISO to USB can be categorized into two cases.
1. Convert DVD ISO image to USB supported formats for easier storing and playing on PC, TV, mobile and more. Click for detailed guide.
2. Burn ISO to USB drive with Windows USB/DVD Download tool to make your drive bootable. Just click the links above to jump to the segments you need. Click for thorough tutorial.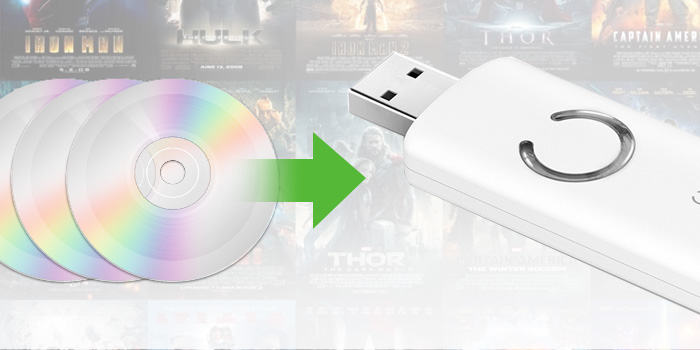 Case 1: How to Convert ISO Image to USB Friendly Format for Storing/Playing Purpose
Some people opt to back up DVD as ISO file to save physical space and protect DVD disc from damage. Afterwards, they would choose to copy ISO files to USB drive in such a way to back up movies, carry the movie library with them while away from home, and play them on smart HDTVs, other computers, laptops, tablets or other USB-compatible devices via USB thumb drive.
However, you may fail to copy large ISO file to USB drive because the flash drive is formatted with the FAT32 file format, a large amount of memory will be occupied (an ISO file always takes up several gigabytes). What's more, almost all devices can't play ISO files from USB drive natively. So, the best way to copy ISO file to USB drive is to convert ISO file to a USB flash drive friendly file format and a widely-accepted format, like MP4.
It is an easy work if you have an ISO converter in hand. If you don't have one, WinX DVD Ripper Platinum could be a good option. This software can convert ISO file to MP4, ISO to MKV (on Mac), AVI, WMV, MOV, 3GP, MPEG, HEVC, FLV and more popular file formats on Windows 2000 and later, including Windows 7, 8, 8.1, and Windows 10. It features No. 1 fast converting speed thanks to Multi-core CPU use, optimal configuration for newest CUDA and i5 i7 CPU, Super Encode Engine based on MMX- SSE & 3DNow! and Hyper-threading technology. No need to worry about quality loss, since the built-in High Quality Engine ensures crisp videos.
Please DO Not use WinX DVD Ripper to rip rental DVDs.
The steps are very easy to follow. You don't need to scale the learning curve and copy ISO image from DVD to USB with untouched structure and quality. Download and install it on your computer. Then, launch this tool and do as follows.
Please note that ISO file that follows in the steps refers to DVD image file with the file extension .iso on Windows OS, or the file extension .CDR on macOS. Unlike burning Windows 10 ISO USB, you don't have to boot from it. If you choose to burn the ISO image in a sector-by-sector manner, the copy speed matters because a 90-minute DVD ISO file will have 5 to 7.9 Gigabytes of file size, approximate to the original DVD.
Merits:
1. The resulting file can be re-burned into an optical disc easily since the DVD structure, such as menu and subtitle tracks, is not changed.
2. The resulting ISO file on USB flash drive is so quality-oriented that it can be watched on big screen (e.g. HDTV) with a USB port.
Requirement:
You USB drive needs to have sufficient free space, regularly about 8GB to hold the image file of an intact movie.
How-to:
Step 1: Tap the ISO Image button to load the ISO file you want to convert and transfer to USB. This software will import it quickly, and at the same time tick the main title for you and pop up the Output Profile panel automatically.
Step 2: Select the output profile. In general, MP4 format is preferred.
Step 3: Set the destination folder to store the converted ISO file. You can insert the USB flash drive into one of your computer's USB ports, and then specify the USB drive as the location. You may also be interested in: Copy DVD to hard drive >>
Step 4: When all settings are done, you can hit RUN to begin converting and copying ISO file to USB drive. After that, you can watch the ISO file on any USB-supported devices via the USB drive.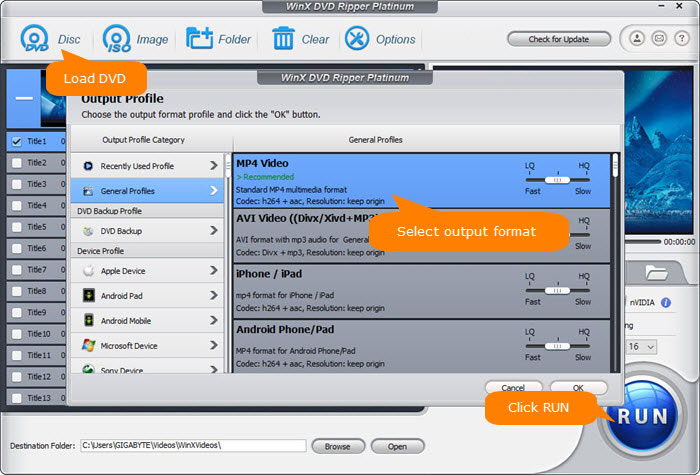 Optional: Convert and compress ISO/CDR to MP4 File to Save Space on USB Stick
Just as what we said, image file is always large in file size. Converting ISO/CDR to MP4 will enable you to save more DVD movies on just one pen drive, or make room for other documents.
Merits:
1. Converting a DVD ISO/CDR image to MP4 file will reduce roughly 80% of file size (a 5 to 1 size reduction).
2. The output file will basically reserve the original high quality, since MP4 has high compression ratio.
3. MP4 format is more compatible to most playing devices and media, so you can play it unrestrainedly.
Limitation:
1. The resulting file does not contain DVD menu or the similar thing.
2. If you want to burn the MP4 file to a DVD, you have to rely on a DVD burning tool, such as Freemake and DVD Author.
Important tip: Most DVD movies, either in the form of disk, folder or archive file, are encrypted with complicated keys. This is to prevent illegal use like piracy. If you are desired to burn / convert a copy-protected DVD or ISO image for home use, you need to recur to a powerful ripper.
Disclaimer: Digiarty Software does not advocate ripping/copying copy-protected DVDs for any commercial purpose and suggests referring to the DVD copyright laws in your countries before doing so.
Case 2: How to Create Bootable USB Drive from ISO with Windows USB/DVD Download Tool
Having an ISO file transferred and burned onto a USB flash drive is also one good reason to make the USB bootable. To be specific, you can make a copy of your computer, whether it is on Mac, Windows or Linux before you update your desktop or laptop. Windows USB/DVD Download Tool is just the one with such an eloquent name working with Windows 10 flawlessly. It is almost sublimely simple and comparable only to ISO to USB. Be sure to use a drive with a minimal capacity of 8GB. Windows 10 Fall creator update ISO size is 4.4GB.
To burn ISO to USB drive, launch it, choose ISO file from the Browse button, click Next, then choose the media type, say USB device, you would like to use to create the backup, just insert the USB flash drive into the drive, and click begin copying.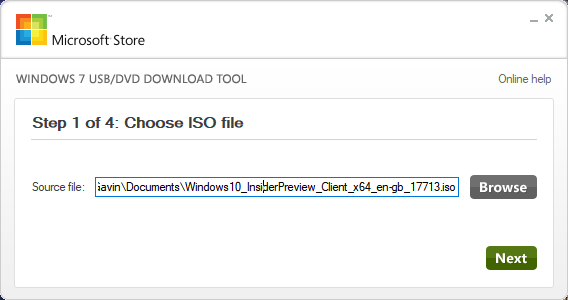 Related Q&A:
1. Does copying a DVD ISO to MP4 need booting?
A: No. Different from burning ISO of an entire operating system to a USB drive, burning a DVD ISO image to USB does not require booting,
2. Will it has a risk of erasing everything on the drive?
No. Burning a DVD ISO image to a USB drive is just like copy and paste. It will not erase content on your USB flash drive! Before continuing, please make sure your USB drive has enough free space to save the file.
3. Can I Us WinX DVD Ripper to burn ISO image to DVD disc?
No, but you can go to WinX DVD Copy Pro, which is a professional DVD copy program. It can mount ISO image (and create a virtual drive), and burn ISO image or VIDEO_TS folder to DVD disc.
Related External Source:
ISO image[wiki]: An ISO image is an archive file of an optical disc, a type of disk image composed of the data contents from every written sector on an optical disc, including the optical disc file system....