What is ISO
ISO is the abbreviation of International Organization for Standardization originated from Greek "ISOS" which means "Equal". Though non-governmental, ISO is still a very important global organization. In reference to video, ISO refers to a file format of an optical disc such as CD, DVD or Blu-ray Disc. ISO actually owned its name from the ISO 9660 file system and is used together with CD-ROM media.
What is ISO Image
ISO image, or called an ISO file, is the image of an entire CD or DVD, the whole contents of which can be completely duplicated and contained in a single ISO file. ISO image is an image file produced by copying all information in an optical disc. Therefore, ISO image is qualified to be the genuine digital copy of the original. It usually has a file extension of .iso and might contain a UDF (ISO/IEC 13346) file system. One can create ISO image from optical disc, or further create optical disc using specific software.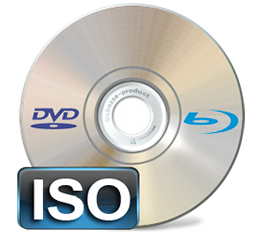 ISO image file can be played by 5KPlayer, VLC, MPlayer, KMPlayer, SMplayer, and Splayer, etc.
Under Windows OS,
* ISO image file can be read by: WinRAR, WinMount, WinRAR3.0 or above
* ISO image file can be operated only by: WinISO, WinImage, Daemon Tools, Alcohol 120%, and WinMount, etc.
The Usage of ISO Image
* Replicate CD/DVD by use of CD/DVD mastering programs, namely, further create a CD/DVD disc therefrom;
* Write the disc image to hard drive once, and record the same several times to different CD/DVDs to save processing time. Simply speaking, it is only necessary to duplicate the CD/DVD once before creating DVDs from ISO file as many times as possible;
* Create a disc image file to be written to CD/DVD on another system (UNIX, Macintosh);
* Backup CD/DVD data. More actually, all data and contents can be copied such that ISO file can be taken as a backup;
* Act as a virtual CD/DVD drive. ISO image file can be mounted to a virtual drive as if a physical disc was loaded in the drive or treated as a regular Compact Disc inside a computer while maintaining the original structure of CD/DVD, which is convenient for further DVD burning;
* Transfer CD/DVD images over the Internet.
More about ISO Image

The Advantages of ISO Image

Uncompressed
One single file merged with multiple files
Easy to burn
Virtual disc acting like a physical one

The Disability of ISO Image

Unable to store and recreate CD-Audio discs
Unable to be mounted to a USB flash drive
Need to convert DVD to ISO or convert ISO to other formats?
Use WinX DVD Ripper Platinum. The No.1 DVD ripping software enables you to convert ISO Image to MP4, AVI, MP3, playing DVD content on Android/iOS/Windows phones and pads, PSP, Xbox, TV etc.
Free download WinX DVD Ripper Platinum.
For PC and Mac only. Go to mobile page.
Please DO NOT use WinX DVD Ripper to rip rental DVDs.
Related External Source
ISO Image[wiki] - An ISO image is a disk image of an optical disc. In other words, it is an archive file that contains everything that would be written to an optical disc, sector by sector, including the optical disc file system...
UDF[wiki] - Universal Disk Format (UDF) is a profile of the specification known as ISO/IEC 13346 and ECMA-167[5] and is an open vendor-neutral file system for computer data storage for a broad range of media...