How to Convert DVD ISO to MKV without Quality Loss?
"I've ripped my DVD collection to ISO files at 1:1 ratio. But now I want to convert ISO to MKV, for the sake of playing on Plex, and also to release space for my computer. The file size of an ISO image is as big as the source disc. An ISO file will eat up a few gigabytes. So, my question is how I can convert ISO files to MKV format. Which software should I use?"
Ripping DVD discs to ISO images can maintain full contents and original quality of the discs, but we might need to do conversion because of compatibility, space occupying or other issues as mentioned in the quotes above. So, this article covering 3 most popular ways will suggest you to convert ISO to MKV, the best video formats for DVD files.
Part 1. Why Convert DVD ISO to MKV Videos?
1. ISO is large in size and not widely supported: ISO is an image of a disc (Blu-ray, DVD or CD) which contains an identical copy of data found on the optical disc. The ISO images are often used for backing up source Blu-ray/DVD/CD discs, and contain all the written contents of discs including Chapters, subtitles, audio tracks, descriptions and menus. So, an ISO file usually owns a large file size – almost the same file size as the original DVD or Blu-ray disc. Besides, ISO is not a popular video format that a few players can play it.
2. MKV is the best format to reserve all DVD/Blu-ray contents: MKV is a royalty-free format that anyone can use it to contain DVD contents. It is as of now the best choice to keep all the features a DVD especially the Blu-ray disc have including Chapters, subtitles, audio, descriptions, menus, etc. while also provide better compatibility than ISO image. Besides, the same content MKV files are about 10% smaller than DVD files and roughly 40% smaller than Blu-ray files, so a 10GB ISO DVD file can be saved in a 1GB MKV video without quality loss.
Accordingly, ISO to MKV conversion is necessary when you want to store DVD files on computer without occupying much space, play with media player or stream DVD to Plex, Xbox One or Roku. So, below are best 3 ISO to MKV converters to help rip DVD ISO to MKV videos.
Part 2. How to Convert ISO Files to MKV?
Way 1. Convert ISO to MKV with All Tracks Reserved via WinX DVD Ripper
WinX DVD Ripper is available to convert ISO to MKV with all/selected video, audio, subtitles tracks, as well as rip DVD discs and DVD VIDEO_TS folder to MKV, MPEG2, MP4, H.264, MOV, M4V, AVI, iPhone, iPad, and more. And, it can convert ISO to MP4. There're more than 350 output presets for you so that you can save your DVD discs in different media formats. More copy mode options are also available, including 1:1 clone DVD to MPEG-2 file, backup DVD with main/full titles.
Step 1. Free download WinX DVD Ripper, install and launch it. Once done, open it and follow our guide below to make MKV files from ISO images.
Step 2. Click "ISO" button and browse to add your ISO movie from your computer hard drive or from an external storage device. WinX DVD Ripper will automatically check the main title. To convert more titles, check them manually. Also, copy-protected files are supported as well.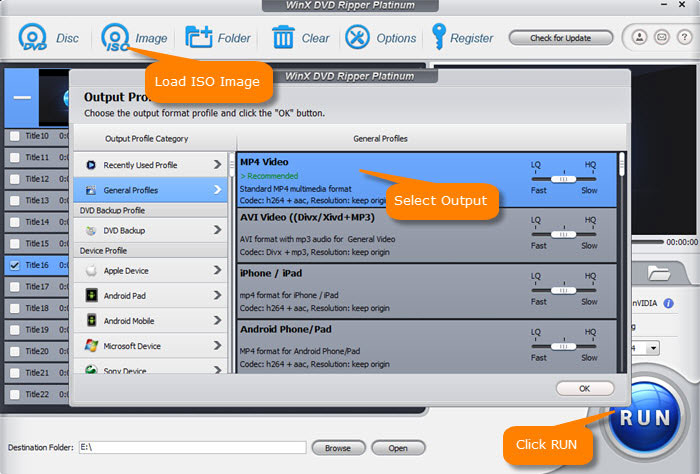 Step 3. On Output Profile window, go to "DVD Backup" and choose "Backup full title to MKV".
Step 4 (optional). Check Intel/AMD/Nvidia (which can boost speed by utilizing GPU hardware acceleration), Use High Quality Engine, Deinterlacing (which is designed to change interlaced video to progressive scanning video), Safe Mode (which is very helpful when the source file is strictly encrypted), and specify how many CPU cores you want to use.
Step 5. Click "Browse" to specify destination folder and tap "RUN" to start conversion from ISO to MKV. Thanks to GPU hardware acceleration, multi-core CPU and Hyper-threading technology, you just need to wait about 5 minutes for the whole conversion process to complete.
Way 2. Convert DVD ISO to MKV with Open Source HandBrake
HandBrake is an open-source video transcoder as well as a DVD ripper with only 2 output formats supported: MP4, MKV. It happens to convert ISO file to MKV on Windows, Mac, and Linux. Of course, you're required to make sure that your ISO image is not copyright protected, for this free open source DVD ripper is unable to handle severely encrypted DVDs even under the help of libdvdcss library. Or, you'll still get the message like no valid source found, similar to DVD disc detection.
After your ISO image source is checked to be acceptable by Handbrake, let's walk you through how to convert ISO to MKV with HandBrake.
Step 1. Download and install HandBrake. Launch it when you finish installation.
Step 2. Load target ISO file to HandBrake. You can drag it to HandBrake or click "File" option under "Source Selection" to browse and open the ISO file you want to convert to MKV file. Note: HandBrake doesn't support copy-protected files.
Step 3. Choose title and chapters.
Step 4. Choose a MKV preset. HandBrake lists many MKV presets under Matroska category. Simply choose one based on your own needs. Since DVD resolution is 720x480 or 720x576, you're not suggested to choose a MKV preset that is designed with a resolution higher than your original DVD's resolution.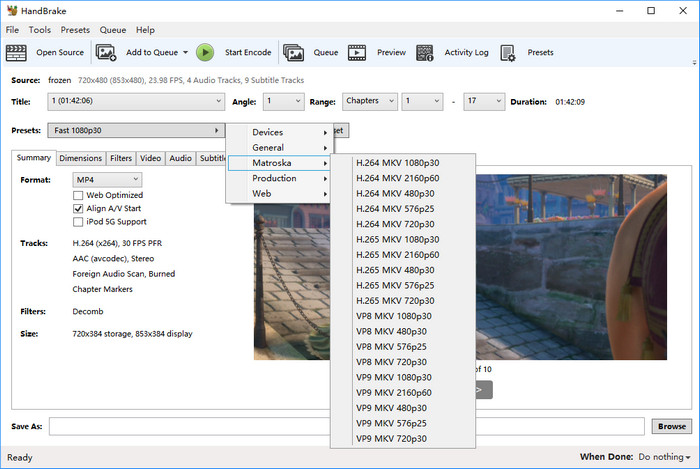 Step 5. Click the "Browse" button at the bottom right to specify which save path and output file name.
Step 6. Click "Start Encode" on the top menu bar and then HandBrake will begin transcoding ISO image to MKV format.
Way 3. How to Convert ISO to MKV with MakeMKV
MakeMKV is another ISO to MKV converter we want to introduce here. It comes with somewhat old-fashioned interface, but it works well. When converting DVD ISO files, it will turn proprietary discs into a set of MKV files while preserving most informat.
Step 1. Download MakeMKV for your Windows or Mac computer. Then, install and open it.
Step 2. Click "File" -> "Open files" or press "Ctrl + O" to browse and import target ISO file. MakeMKV will take some time to process titles and decrypt data.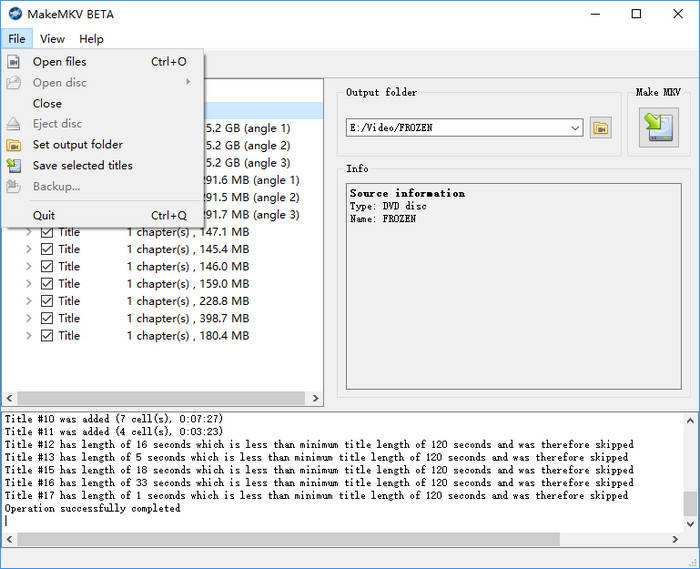 Step 3. When ISO is loaded, you will see titles, video, audio, and subtitle tracks in a tree structure. What you need to do here is to select desired titles and tracks.
Step 4. Set output folder and then click "Make MKV". Then, simply wait for the process to finish.
Sum up: Hope the above-mentioned free ISO to MKV converter software be helpful for you in ISO to MKV conversion. You're warmly welcomed to share with us your user experience if you've used other applications like mkvtoolnix, VLC, FFMPEG.
Part 3. Frequently Asked Questions
1. How do I convert ISO to MKV?
Out the market, there are 3 most popular ways to rip ISO to MKV, say WinX DVD Ripper, HandBrake and MakeMKV. Only 3 steps, you can convert ISO file to MKV video.
Import ISO file to WinX DVD Ripper.
Choose MKV as the output format.
Click RUN to start ISO to MKV conversion.
2. Can Handbrake convert ISO to MKV?
Yes. HandBrake can convert DVD ISO to MKV.
Load the ISO file to HandBrake you want to convert to MKV.
Choose title and chapters.
Choose a MKV preset in 720x480/720x576 or lower.
Click Start Encode to start converting ISO file MKV video.
3. Can an ISO file to be converter to MP4?
Yes. Besides MKV, you can also convert DVD ISO images to MP4 videos with any ISO to MKV converter like WinX DVD Ripper, HandBrake, MakeMKV, etc.