How to Fix Missing Codec 0xc00d5212 Error When Playing Video?
Q: I've an .mov recording to play on my Windows 10 PC. Upon opening up the video file, I get an error message "Missing codec. This item was encoded in a format that's not supported. 0xc00d5212". After I close the message, the file plays with audio only but no video.
Users expect enjoying video playback experience to the fullest, yet this isn't always possible. Even when watching video files on the reliable Windows 10 operating system, encountering a few annoyances along the way is practically inevitable.
One of those annoying errors is linked with the missing codec 0xc00d5212. What does it mean? According to numerous users, they are frequently informed of an error message "Missing codec. This item was encoded in a format that's not supported. 0xc00d5212". When you open a video file in "Movies & TV" or "Windows Media Player" app on Windows 10 PC, be it AVI, MKV, MOV, or MP4, they will be end up with nothing but audio only. If you are overwhelmed with the format not supported error and cannot figure it out, stay on the page and learn how to fix the error 0xc00d5212.
Related guide: How to Fix This File Isn't Playable 0xc10100be Error
Part 1. What Causes the Missing Codec 0xc00d5212 Error?
The specific error is usually caused by the absence of codecs required to play media files. Besides, outdated display adapters, unsupported video format that cannot be recognized by the media player, video from external APFS SSD, accidental computer shut down, improper installation, malicious virus or spyware that leads to file corruption are also responsible for the 0xc00d5212 error.
In order to properly play media files on your windows 10/11 computer, we come up with a few solutions from which you can use.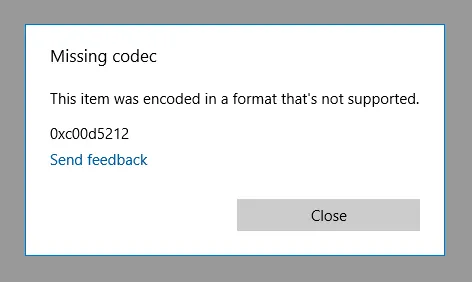 Part 2. How Do I Fix Missing Codec Error 0xc00d5212?
The missing codec issue doesn't have a unique solution to apply since many factors need to be taken into consideration. But you can take a look at the most feasible fixes and how you can easily resolve it in the following part. plus, the workarounds methioned below also solve the similar unsupported format error code 0xc00d36c4.
Solution 1. Try updating your Video Device Driver from Device Manager.
Updating driver can fix 0xc00d5212 code error in some situation. Here is the steps.
Press Windows + R keys to open RUN dialog, input devmgmt.msc in the box and click OK to open Device Manager. Or you can type Device Manager in the Windows and press Enter to open the Device Mangaer.
Find the Display adapters and double-click it > right click the graphic driver on your computer > choose Update driver.

Choose the Search automatically for updated driver software from the pop-up window.
Follow the instruction to finish the installation. Restart your computer and check if the missing codec 0xc00d5212 error is solved.
Solution 2. Install missing codec or codec pack.
There are many circumstances that your system doesn't have the supported codec preinstalled on it by default. For example, Microsoft Windows 10 asks you to install HEVC codec extension or AV1 codec extension additionally for proper playback of some MP4, WebM, or MKV file that may be encoded with the video codec. QuickTime player for Windows can't recognize your DNxHD files on Windows 10 PC.
If your computer doesn't preinstall the codec or codec pack, you are likely to see a missing codec 0xc00d5212 error. To resolve the problem, you can configure Windows Media Player to download codecs automatically. How do I install codecs into windows 10? Here are the steps.
Click on Tools menu > select Options.
Select the Player tab in Windows Media Player.
Check the box Download codecs automatically, and then click OK.
Reopen the video file in Windows Media Player. If you're prompted to install the codec, select Install. This will install the missing codec on your system. Then you can play the video file again and see if the 0xc00d5212 error is fixed. For users who are using QuickTime player on Windows 10, you can also install AVID Codec LE to fix AVID DNxHD video not playing with QuickTime on Windows 10 issue and install K-Lite Codec to tackle QuickTime missing codec error in MOV video playing on Windows 10. But you need to be aware that codec pack tends to install way more stuff than you need, which greatly increases the possibility of crashes and impacts your computer performance. So just be careful.
Solution 3. Try another media player.
If playing video file is still a failure with Windows Media Player, you can try some other software such as VLC or 5KPlayer. Both programs are preloaded with various video and audio codecs, including HEVC, H.264, VP9, VP8, Xvid, DivX, MTS, MKV, MKV, MPEG4, MPEG2, and more. So you can feel free to play any media file without worrying about the missing codec 0xc00d5212 issue.
You may be also interested in: MP4 player, HD video player, MKV player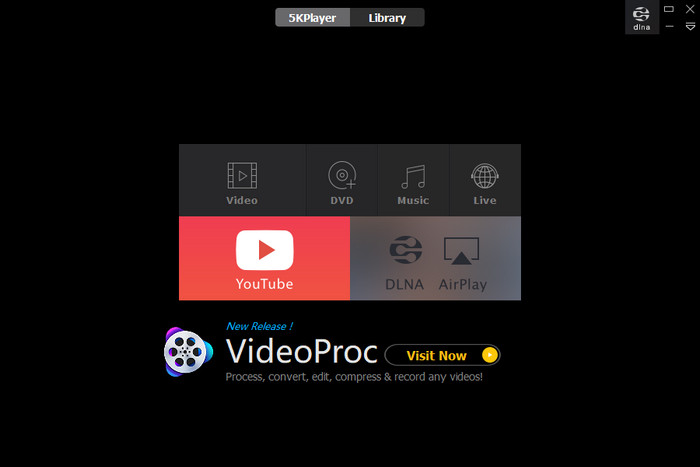 Solution 4. Convert the Video File to another Format [Highly Recommended]
Videos taken from cameras, smartphones or downloaded from streaming sites can be possibly encoded in a diversified of formats or codecs. For example, there can be an obscure file saved in XAVC HS format that your media player cannot recognize. Or maybe the downloaded MP4 video is encoded in AV1 codec that VLC cannot handle correctly. It's the reason that you cannot play video correctly and end up with the missing codec 0xc00d5212 error or can't play issue.
A robust solution is to convert the video file from one format to another. And the task can be done with WinX HD Video Converter Deluxe, a professional video converter with over 15-year experience.
You can follow the steps to convert unsupported video format to another:
Free download and install the video converter on Windows 10/11. Load the faulty video file by click Add Video button on the main interface after you launch the software.
Choose an output format from the pop-up window. For a flawless video playing experience, we highly recommend you to choose MP4 H.264 as the output format.

Click Browse button to specific the output folder, and tap RUN to begin the video conversion.
After the transcoding, you can import the converted file into your media player and check if the missing codec 0xc00d5212 error is resolved.
Note: Apart from the 4 solutions we mentioned, you are highly suggested to scan your system and remove virus or malware with an antivirus program. This will ensure your data stay safe against corruption. If your video is unfortunately damaged, the 0xc00d5212 code error will also appear. And you can rely on some video repair tool such as Stellarinfo, Remosoftware, and more to cope with the faulty video codec error.
Wrap Up
Video playback is inevitably bogged down with various errors. Besides the codec missing or the 0xc00d5212 code error we mentioned above, there are some other issues such as video format not supported, codec unavailable, audio not supported, and more. These are all responsible for the format incompatibility issues. A once and for all solution is to resort to the solution 4 and convert the video file to another that is optimized for your device.