Download MKV Codec for Windows Media Player to Play MKV Files
"I got error message while playing .mkv file in Windows Media Player, saying 'Windows Media Player cannot play the file. The player might not support the file type or might not support the codec that was used to compress the file.' Is there a codec out there that works and will let me watch this video on Windows?"
Microsoft gives native MKV support on Windows 10/11. MKV codec for Windows Media Player on Windows 10 has already installed so that theoretically you can play MKV files on Windows 10 without downloading extra MKV codec. Howevers, you may still encounter MKV not playing in WMP issue. Worse still, Windows Media Player on Windows 8.1/8/7 can't play MKV natively. So, we need to download MKV codec for Windows Media Player.
So in this article we list the best free MKV codecs for Windows Media Player which you can download on Windows 11/10/8/7 to play MKV video files successfully.
Recommended: 5 Best Free Video Player for Windows 11 >>
Decode MKV Codecs for Windows Media Player on Windows 11/10/7
WinX Video Converter – 100% Free MKV video codec decoder for Windows 11/10/7. Decode MKV codecs in HEVC, H.264, AV1, VP9/VP8, etc. for Windows Media Player, other players (devices) and convert MKV videos to MP4, AVI, WMV, WebM, MOV, etc. Support VFR/CFR MKV videos in 8K/4K/HD/SD. No extra MKV codecs required.
Part 1: Best Free MKV Codecs for Windows Media Player to Free Download
MKV is not on the list of the video formats supported by Windows Media Player. You must install supplementary MKV video codecs in Windows to let Windows Media Player play MKV videos. So what are reliable and free MKV codecs for Windows Media Player? Here we list the top best free MKV video codecs you can use for Windows Media Player. Simply select and download an MKV codec on Windows 11/10/7, double click the .exe setup file and follow the instructions to install. Then you should be able to open and play MKV videos in Windows Media Player smoothly.
It is a versatile codec pack for Microsoft Windows Media Player, containing overall modern video/audio file types (MKV included, as well). The latest version 4.5.6 is compatible with 32 & 64 bit Windows 11, 10, 8.1, 8, 7, Vista, XP, 2000, 2008, & 2003.
Open www.mediaplayercodecpack.com and tap Download button on the homepage to get MKV codec for Windows Media Player 12, 11 & 10.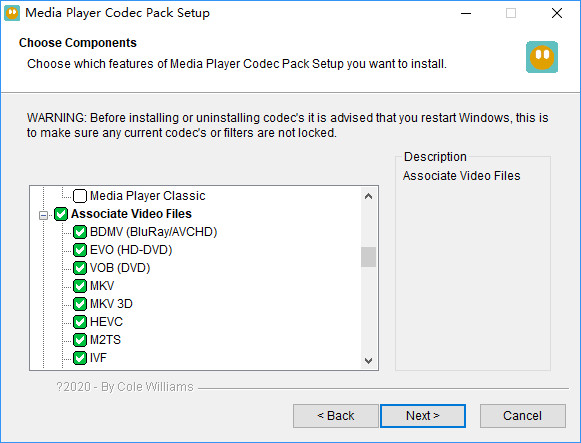 Originally designed for anime video playback, CCCP now is developed as a simple but all-sided video compression filter for Windows 11, 10, 8, 7, XP and Vista. With the support for various video formats, it is capable of playing MKV animations in Windows Media Player trouble-free. It is suggested to download the newest pack from the official site.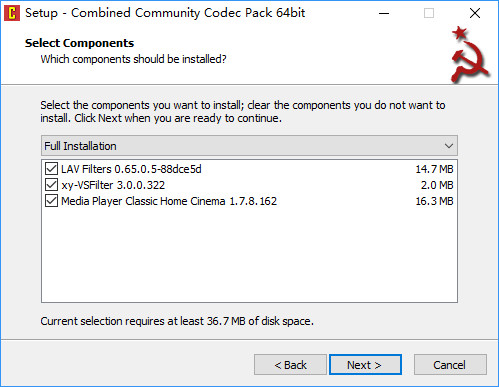 ffdshow is a DirectShow filter and Video for Windows codec based on FFMPEG library, which is mainly used to decode H.264/DivX/Xvid videos as well as supports a wide range of video and audio formats, for example MKV. Note that it doesn't support MKV videos in codecs like HEVC. After installation of ffdshow, the compatible Windows Media Player can automatically use its decoder for playing MKV files. It is available for Windows XP and later systems.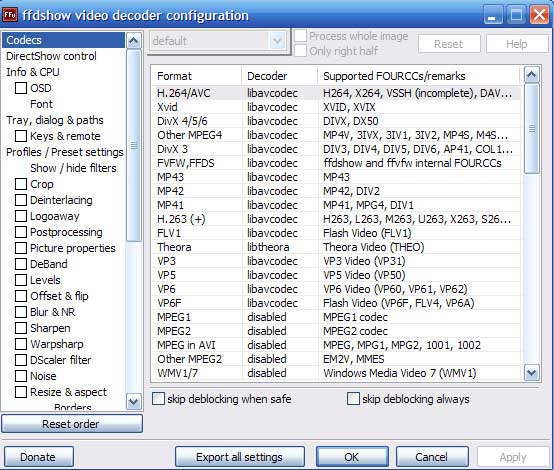 K-Lite Codec Pack is a popular free video codec pack for Windows. It's free and works with Windows Media Player and other DirectShow players on Windows 10/8/7 to play MKV, AVI, M2TS, and almost all codecs. There are four versions and you can select the version based on your needs. Note that the codec pack is bundled with toolbars and homepage changer. So don't keep clicking the "Next" blindly when you install it.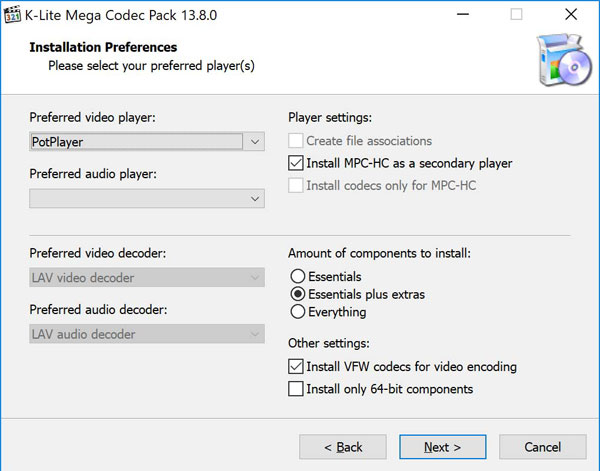 Haali Media Splitter (or Haali Matroska Splitter) is a DirectShow filter, which is included in many codec packs. It's designed to extract the inputs from MKV, MP4, and AVI and decode them into separate video, audio, and subtitle streams. It supports almost all Matroska elements as well as containers MP4, AVI, OGG/OGM, and MPEG TS. With this free WMP MKV codec, you can play MKV videos in Windows Media Player and other DirectShow based media players like Media Player Classic (MPC-HC). It's included in many other player codecs such as K-Lite and ffdshow.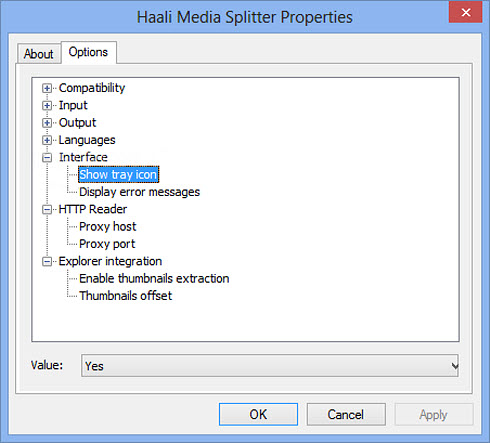 If trying a standalone MKV codec for Windows Media Player is too exhuasting for you, consider Matroska Pack Full. This free WMP MKV codec pack, as its name sugguests, consists of a set of audio and video codecs to help play MKV videos. This pack contains: Haali Media Splitter, MatroskaMuxer, Matroska Shell Extension, VSFilter, TTA, CoreWavpack, CoreFLAC, ffdshow, RealMediaSplitter, MPEG2 Decoder, and MatroskaDiag. You simply need to select the codec you want when you install the pack.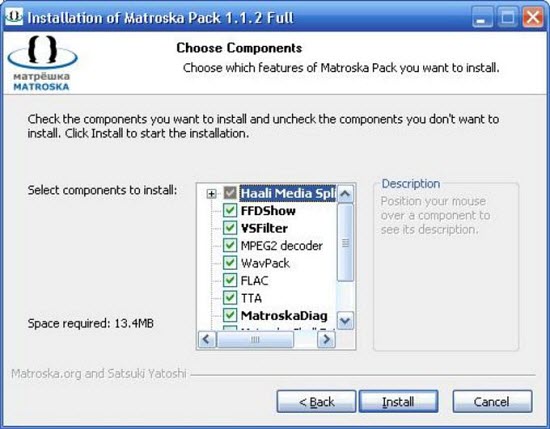 Other MKV codecs for Windows Media Player:
For your reference, there are also Lav Splitter, MadVR renderer, Gabest, Reclock,ffdshow, or mkvtoolnix.
Part 2: Windows Media Player MKV Playback Issues with MKV Codec Installed
Even with MKV codecs installed for Windows Media Player, some users still encounter playback errors. For example:
MKV playback is jerky and choppy with e randomly dropping frames. It happens with MKV files in 4K or higher resolution, especially MKV videos with HEVC codec.
Subtitles are missing while playing MKV files using Windows Media Player.
The MKV files have only video but no audio. Check fixes to MKV no sound error on Windows
MKV videos won't load into the Windows Media Player with a black screen or no video.
The video is out of the sync with the audio.
What to do now? Two ways. The first is to try an alternative to Windows Media Player to play your MKV file, another is to download a MKV converter. Next, we'll recommend two powerful tools for you.
Part 3: Convert 4K MKV Videos for Window Media Player
If the above free MKV codecs won't work with Windows Media Player, you can convert the incompatible MKV to MP4 (H.264)/AVI/WMV for Windows Media Player with installing extra codecs.
WinX HD Video Converter Deluxe can help convert MKV files for Windows. It supports MKV videos in HEVC, H.264, VP9/VP8, MPEG4, AV1, and more in HD, 4K, and higher resolutions. It can utilize Intel, AMD, NVIDIA hardware acceleration to speed up video decoding, processing, and encoding. So, MKV (even 4K HEVC codec) conversion won't take forever to process, no CPU overuse/overheating, laptop lagging issues. And importantly, no visible quality loss.
Free download to have a try. You can convert MKV to Windows Media Player supported format in 3 simple steps: load target MKV -> choose WMP playable format -> hit RUN to start converting.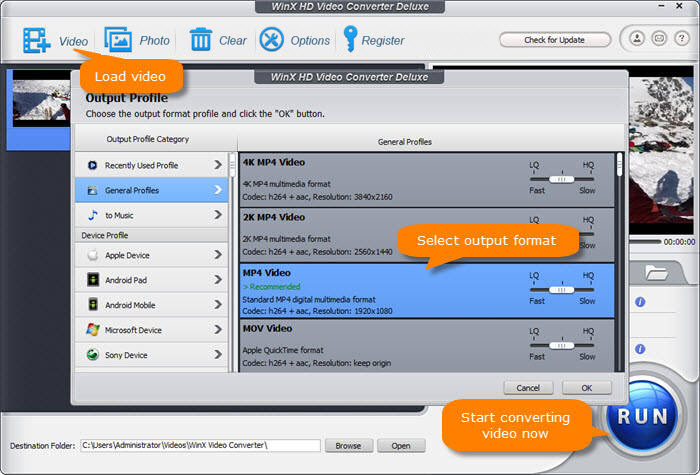 Part 4: Best Windows Media Player Alternative to Play MKV without Installing MKV Codecs
Some people get used to Windows Media Player and would rather download codec pack for playback more WMP incompatible video formats, like MKV, FLV, WebM, VOB, HD camcorder videos (MOD, TOD etc.). But with a third-party best free MKV player, you don't need to bother with MKV codec installing and setting for Windows Media Player and start to play the MKV files immediately. Below are some best free video players you can use instead of Windows Media Player without MKV or other codecs installed.
VLC Media Player
5KPlayer
KMPlayer
GOM Player
PotPlayer
Part 5: FAQs
Q1. Can you play MKV files on Windows Media Player?
It depends. In theory you can play MKV on Windows Media Player after Windows 10 or earlier with the appropriate codec packs.
Q2. Why windows media player cannot play MKV?
The main causes could be:
The necessary codec is not provided with your Windows Media Player.
The resolution of your MKV file is too high to open properly.
The MKV file is corrupted.
Q3. How to play MKV files on windows 10/11?
Generally speaking, Windows 10/11 can play MKV natively. But if you fail, try the following solutions:
Install MKV codec on your Windows 10/11.
Download a MKV player, such as 5KPlayer, VLC.
Convert MKV to Windows 10 supported format.
Q4. What codec do I need to play MKV files?
You can download Media Player Codec Pack, CCCP, ffdshow, or K-Lite Codec Pack to help play MKV video files.
External Sources from Wiki:
MKV (Matroska Multimedia Container) - an open standard free container format, a file format that can hold an unlimited number of video, audio, picture, or subtitle tracks in one file…
Video Codec - an electronic circuit or software that compresses or decompresses digital video, thus converting raw (uncompressed) digital video to a compressed format or vice-versa…