How to Open And Play MKV Videos on PC, Mac & Mobile [SOLUTION]
If you download movies from the Internet on the regular basis, there is a great possibility to come accross MKV files especially in case you save HD movies. MKV format is not as popular as MP4, AVI or MOV format. Thus, users often are caught into troubles like MKV not opening or playing. Even then, they have no idea what MKV is and how to play it. Anyway, this article will help you make it all clear.
Part 1. What Is An MKV File?
MKV is actually a multimedia container format. An MKV file can incorporate audio, video and subtitles into a single file, even if those elements use different types encoding. For example, you could have an MKV file with H.264 or H.265 video files, AAC/MP3/OGG audio format and couple of SRT subtitle files.
Besides, MKV stores lossless multimedia contents. This is one fo the reasons that HD movies are saved in MKV formats. Also, MKV container is designed to be future proof, which means that the files would not be outdated. Matroska developers did it with the help of certain features like support for Chapter, menu, and metadata along with compatibility for online streaming, subtitle support, error recovery, and more.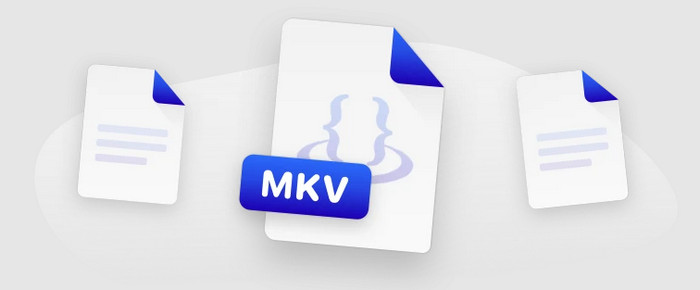 Part 2. How Can You Open MKV Files?
The biggest defect of MKV is the compatibility. There are high chances that you can't open MKV files direcly on Windows, Mac and mobile. You need take one more step no matter you choose a professional MKV player, install MKV codec or convert MKV to MP4 format. Let's dive deep for how to open and play MKV files.
Option 1. Use Professional MKV Players (Windows, Mac and Mobile)
MKV player always wins top priority for playing MKV files. However, Windows Media Player and QuickTime cannot open MKV files. You need a professional MKV player to open .mkv files. There are many choices available on the market. 5KPlayer and VLC could be popular choices. Let's take a closer look.
1. 5KPlayer
5KPlayer is a free MKV player available on Windows 11/10/8/7, MacOS Ventura and eariler. It allows you to play whatever video formats, including MKV, MP4, MOV, AVI, HEVC, H.264, DVD, MP3 and more. Users don't have to install media codec pack for opening MKV video files. It also supports MKV file encoded with 4K HEVC or H.264 with the help of NVIDIA CUDA®, Intel® QSV, DXVA 2.0 & AMD Hardware-acceleration. It ensures you a smooth playback without choppy and stuttering.
How to Open MKV Files with 5KPlayer?
Step 1. Download 5KPlayer from its official page. Then install and open it on your Windows PC, or launch it on MacOS computer, depending on what os you're running.
Step 2. Add your MKV files to 5KPlayer through the Video button or drag-n'-drop option. Your MKV video will be opened and played smoothly.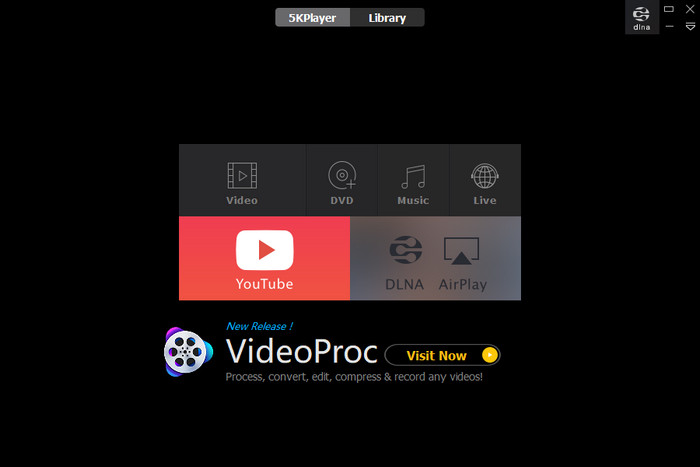 2. VLC
VLC is an open-source video player that works on all popular platforms, including Windows, macOS, iOS and Android. It supports for most video and audio streams you'll find in an MKV container, be it HEVC/H.264 video streams, AAC/MP3 audio streams and SRT subititle tracks etc. As a video player surpassing 3.8 billion downloads worldwide, VLC is currently the most popular media player to play video, music, DVD, live streams and so on. It also supports to open MKV video files up to 4K thoough sometimes there are flaws.
How to open MKV files with VLC?
Step 1. Download VLC media player from VLC official page, APP Store, or Google Store. Then install it on your PC, Mac, iPhone, or Android as per your needs.
Step 2. Drag and drop your MKV file to VLC.
Step 3. Click Play. Alternatively, you can locate on your MKV file and right-click on it, choose VLC Media Player from the Open with drop-down list.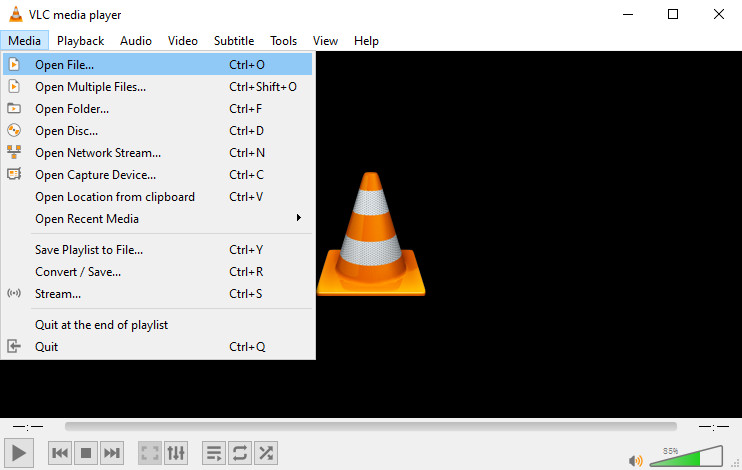 You can also set VLC as the default media player for opening and playing MKV files. Simply right-click on the MKV file, move to Open With option, and then click Choose Another App, select VLC Media Player and enable the Always use this app to open MKV files option. When you're done, click OK button to make the changes valid. After then, you can double-click any MKV files to open them in VLC directly.
Option 2. Download MKV Media Codecs to Play MKV (Windows & MacOS)
If you insist on using the build-in media player, namely Windows Media Player or QuickTime, to play MKV files instead of downloading third-party MKV players, you can install MKV media codecs. There are a lot of free codecs online that you can use for this scope. They all have their pros and cons.
Pros of Media Codecs:
Make your media player available to play all kinds of video files.
Provide you an option to reproduce a variety of video and audio files that you can come across online.
Cons of Media Codecs:
Usually come with adware and even malware that might harm your PC.
They might steal space from your hard drive since the codecs support a huge number of multimedia files.
What codec pack to choose to play MKV on Windows and Mac? On Windows-based PCs, you're recommended to install Combined Community Codec Pack (CCCP) or K-Lite Codec Pack. Mac users are suggested to play MKV files in QuickTime Player with the help of K-Lite Codec Pack.
Related article: Download MKV Codec for Windows Media Player
Option 3. Convert MKV to MP4 Format (Windows & Mac)
If you want to eliminate the MKV not opening problem at its root, you can convert MKV to a more compatible format such as MP4. This will not only make the MKV files playable on any devices/platforms, but also reduce the video size of it, making it easier for storage and uploading.
WinX HD Video Converter Deluxe provides a solid solution to convert MKV to MP4, AVI, MKV, WMV, MOV, HEVC, and more without an error. Thanks to the unique hardware acceleration tech, you can process the MKV to MP4 conversion with drastically improved speed, without any quality loss.
How to Convert MKV to MP4 with WinX HD Video Converter Deluxe?
Step 1. Download and install the MKV converter on your computer. It's available both on Windows and MacOS.
Step 2. Click the + Video button to load MKV file(s). Alternatively, you can drag and drop the file directly into the main interface.
Step 3. In the automatically popped up profiles window, just choose a desired format you want to convert to. Profiles range from general PC format, general Mac format, web format, iPhone, iPad, Android, gaming system, etc. Usually, you can choose MP4 H.264 for wider compatibility and smaller file size.
Step 4. Click Browse to save the converted file in a destination folder and tap RUN to begin converting MKV file to MP4. After the conversion, you can open the converted MKV file on your computer, mobile, or any media player.
Related articles: Click more tools to convert MKV to MP4 >>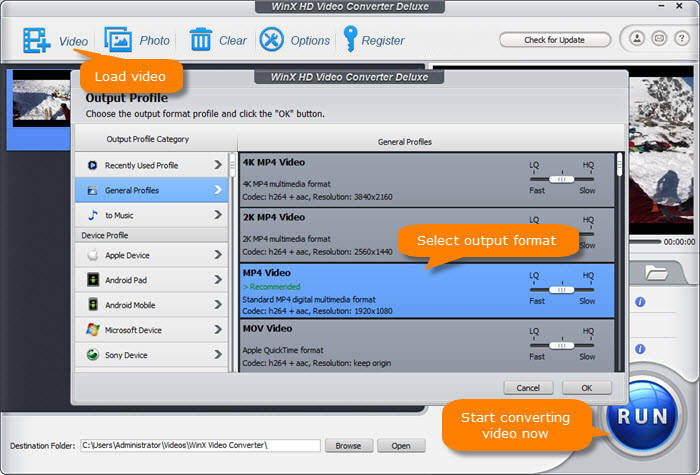 Part 3. Frequently Asked Questions
1. Is MKV A Better Format than MP4?
MKV is known for storing the converted DVD and Blu-Ray discs into HD video files. While MP4 is a more widely supported format for any platforms and devices. Each one is better for certain uses while not as good for others.
2. Does Converting MKV to MP4 Lose Quality?
It depends on how you convert MKV to MP4. Most video converters only support lossy conversion. A few MKV converters support to convert MKV to MP4 without encoding. This means you can only convert the container format from MKV to MP4 without changing the underlying codec. In this case, there is no quality loss after converting MKV to MP4.