Apple Devices Don't Support AV1 Videos, Why and How?
Apple joined the Alliance for Open Media (AOM) quietly without any official announcement made, and now Apple is a founding member listed in AOM, a consortium which is organized for developing a brand new open-source standard - AV1 codec. Doubtlessly, this move could significantly have an influence on the future of the codec landscape and broadcasters' workflows, but we don't know yet what Apple's plans are for the AV1 technology for apple has not commented on the news. However, by joining the open media alliance, Apple has sent a strong message that their devices will be very likely to support the AV1 technology.
Part 1. Does Apple Add the Support of AV1 Codec?
Obviously, that will have a decisive impact on the worldwide movement of the AV1. AV1 videos will become more and more popular if Apple devices support AV1 videos given the impact of Apple devices all over the world, and there will be a lot of people who will play, make and download AV1 videos. In short, people are going to be doing a lot more with AV1. But Apple's devices are not supporting AV1 videos right now while HEVC is not a worldwide admitted. Then, something goes wrong.
• AV1 videos are unplayable on MAC or other Apple devices right now
Although Chrome, Firefox, or any other browser, and media player such as VLC gradually add AV1 codec support, the relatively new AV1 encoding standard cannot be recognized and decoded by an older standard while the relatively old HEVC and h.264 codes are currently used on MAC, so the AV1 videos cannot be played on MAC. Meanwhile, HEVC videos are also unavailable due to its small scale of audience resulting from high royalties. To change that, Apple is likely to add support for AV1 to its products and streaming services in the next few years. See difference between AV1 and HEVC >>
• Watching 4k/8k AV1 videos for long periods of time can overwhelm your hardware.
Did you have the experience that after watching a movie by your phone, then the phone became very hot? This is caused by poor compatibility. The playback process need hardware acceleration when you watch a 4k/8k video, That is to say, your hardware may be overloaded when you're unconscious. However, the interaction between hardware and software is one of the most important performance of the compatibility. Whichever side breaks down, compatibility will be greatly affected.
A once opened app, for instance, may be never able to be open again due to the hardware loss time after time. Scientists have confirmed that the order of hardware load from large to small when doing decoding acceleration is AV1, HEVC, and h.264.A computer may be in better shape for its cooling fan than a phone, and therefore it's not that hot. But, your phone won't be so lucky to escape from burning out. Think about the scene that a special troop sniper lurks in the humid tropic of Vietnam for long and is being covered by all kinds of zigzag leaves while insects bite everywhere of his body.
Part 2. How to Play AV1 Videos in Your Apple Devices
Although HEVC requires high for hardware acceleration, this kind of coding can balance quality and size. But, if your hardware is not that strong, then, converting AV1 videos to less hardware-hungry and primarily used H.264-encoded videos is a smart move. All can be easily solved by downloading WinX HD Video Converter Deluxe. Its output profile nearly supports all of the mainstream Apple devices. When you open the software and need Codec convert, you can greet the following steps.
Step 1: Import your AV1, unplayable videos, select an output profile, and click the gear icon in the upper right corner. When you select the output profile, you will see the codec of the counterpart device.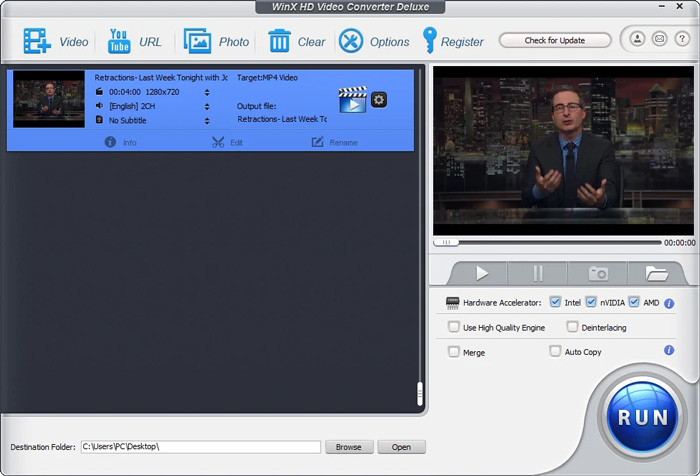 Step 2: Check the destination folder and run.
Tips: Depending on where you want to play your output videos (players/browsers in PC, smart phone or tablet), there are different codec standards(VP8,VP9,HEVC,H.264 etc.) which are designed to be best compatible with your electronic devices. On the Settings interface, you can also adjust some other parameters in video and audio options. By the way, the top stuff (Output Profile) is clickable if you are not satisfied with H.264 codec.
What You May Also Interested In: What's AV1 Codec & How to Encode AV1 Video