Does WinX Video Converter Degrade Video Quality
When Compressing 4K Video from GB to MB
For a long time, quality degradation is rooted in improper video compression. This is particularly obvious during a heavy compression of hugely sized 4K 2160p or higher frame video up to 60/120/240fps. To be specific, the image turns out to be pixilated, garbled and unwatchable. Technically, it's impossible to avoid loss of data during the process. But there's room for manoeuvre. Quality loss will be avoided VISUALLY when the video is compressed in a proper way. This explains why users have the questions as below:
Question: Can I compress 4K Video from GB to MB with quality unaffected visually.
Answer: WinX HD Video Converter Deluxe has the knack for reducing video size by 90% with perfect balance among size, quality & speed.
This is never exaggeration. Instead of a dizzying array of words, let the data speak for itself. The following data-centric page proves why WinX's professional-level video compression kernel and techs manage to balance the size, quality and speed to the utmost extent.
Part 1. Why WinX Compresses Video by 90% at Fast Speed with Visually No Quality Loss?
Prior to the explanation, take a moment to notice the visual quality mentioned beforehand. General video compressor boasts to keep 100% original quality when compressing a 4K video. Beneath the bombast, the output quality is untenable and even ruin the experience after a test. But WinX objectively maximizes the image quality with just pixel-level variances, which are visually imperceptible to naked eyes, whereas it reduces video size at admirable compression ratio with speed accelerated by leaps and bounds, owning to its advanced and unique techs. Check the workflow and explanations to have a better understanding how WinX works.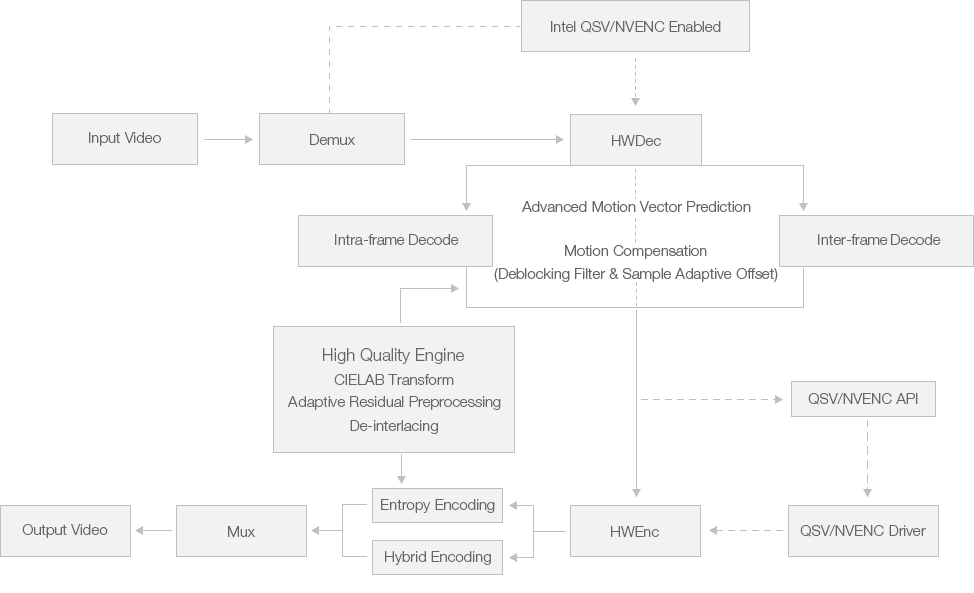 • Advanced Compression Kernel: WinX innovatively applies intra/inter frame predictions to detect spatial/temporal redundancy in advance, calls upon one intra-frame compression and multiple inter-frame compressions alternately to compact current frame & remove neighboring frames alike. Thereafter entropy and hybrid encodings come into play to measure the amount spatial & temporal similarity and difference, in such a way to avoid distortion after motion compensation or losing any information.
Plus, Advanced Motion Vector Prediction, Deblocking Filter, and Sample Adaptive Offset are typically used for HEVC coding to reclassify the images in a more compact way, meant to reduce image distortion and avoid data dependency issue. This results in a dramatic size reduction of 90% without perceptible degradation of video quality.
• Hybrid Design of Quality Engines: To keep quality loss at a minimum (at least no perceivable visual change), WinX tactfully combines High Quality Engine & "Yadif Double Frames" De-interlacing Engine, wherein Motion Compensation, CIELAB Transform, Adaptive Residual Preprocessing & Deinterlacing take effect to identify high variance region with frame-to-frame differences, synthesize frames accurately and generate even lines, meant to avoid perceptible degradation of video quality even when heavy 4k 12/10/8bit video compression is conducted.
• Level-3 Hardware Acceleration: Superior to other compressors with software encoding or level 1-2 hardware acceleration only, WinX uniquely pushes hardware acceleration to Level 3. Specifically, hardware decoding + hardware processing + hardware encoding go all out during the whole process, leading to an average gain of 47X in real-time speed. This makes possible to compress compute-intensive 4K 50/60FPS video with aplomb without perceptible degradation.
Part 2. 4K Video Compression Test with WinX HD Video Converter Deluxe
WinX HD Video Converter Deluxe accepts whatever 4K video source, be it recorded by GoPro, DJI, HD camera, handheld devices like iPhone Android, surveillance equipments or downloaded from YouTube/Dailymotion. Here we have a GoPro 4K footage, YouTube 4k clip and The Revenant movie tested with genuine data, focusing on proving how WinX's advanced techs help balance the file size, quality and speed during compression.
Test Conditions:
Computer System:Windows 10 (64 bit)
CPU Processor: Intel® Core(TM) i7-8700K CPU @ 3.70GHz 3.70 GHz;
GPU: NVIDIA GeForce GTX 1080
RAM: 16GB
Test Result - File Size
To rest assure a good and accurate test environment, we close all the other software except WinX HD Video Converter Deluxe. And three genuine tests are conducted one by one via choosing WinX's one-click preset profiles, with no other video cropping, cutting or resizing.
Test 1:
Source Video: GoPro 4K footage
Output Profile: HEVC 1080p

File Size

Length

Codec

Resolution

Frame Rate

Format

Input

81.5MB

10 seconds

H264 + AAC LC

3840x2160p

30fps

MP4

Output

8.87MB

10 seconds

HEVC + AAC LC

1920x1080p

30fps

MP4
• Compression ratio in test 1: over 90%!!!
Test 2:
Source Video: The Revenant AVI video
Output Profile: MP4 HEVC

File Size

Length

Codec

Resolution

Frame Rate

Format

Input

2.05GB

2h 26min

XVID

720x304p

23.97fps

AVI

Output

231MB

2h 26min

HEVC

720x304p

23.97fps

MP4
• Compression ratio in test 2: 89%
Test 3:
Source Video: GoPro 4K footage
Output Profile: YouTube H.264 4K Profile

File Size

Durating

Codec

Resolution

Frame Rate

Format

Input

81.5MB

10 seconds

H264 + AAC LC

3840x2160p

30fps

MP4

Output

19.5MB

10 seconds

H264 + AAC LC

3840x2160p

23.97fps

MP4
• Compression ratio in test 3: 76%
What conclusions can you draw from the table tests?
1. WinX achieves 76% size off after 4K video compression if you pick out the YouTube profile with only frame rate reduction.
2. WinX yields the resulting file with 89% size off in case you choose MP4 HEVC format without no other adjustment.
3. Downscale resolution from 4K to 1080p & change codec from H264 to HEVC. The final file has been shrinked to 8.87MB, over 90% off.
Note: Video compression ratio varies with preset profiles offered by WinX, the codec of the source file also plays an essential role in the final compression result. In terms of H264 (AVC) codec, the output file will be much more slim after re-encoding to HEVC x265. Comparatively speaking, the VP9 resulting file doesn't look so evident as H264 in weight loss, for VP9 is born with nigh on the same high compression ratio as HEVC. But WinX's unique compression kernel still gets the output file with up to 79% size off if you compress 4K VP9 to 1080p HEVC.
Test Result - Quality
Theoritically, any video compression once it's related with video decoding and encoding process will ruin certain quality. The above-mentioned output 4K footage quality will be also affected by WinX Video Converter after compression. The difference lies in that it minimizes the quality loss to 2% or even less that is unnoticeable with human eyes, big thanks to HEVC codec profile, advanced compression kernel, High Quality Engine, De-interlacing tech and HW acceleration. Check the similarity and difference between the original source and the compressed file below.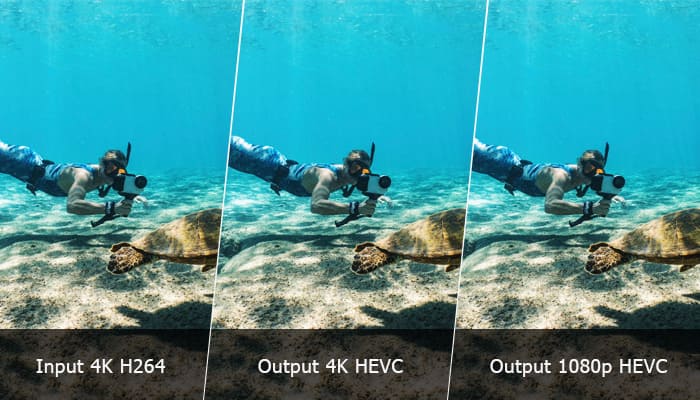 Certainly, you may wonder how it could be possible to keep quality untouched after parameters adjustment esp., resolution 4K to 1080p. Truth to be told, the resolution reduction won't cause visually loss in video image. See, the 4K video is usually color-sampled with YUV420, which can yield YUV422 1080p Full HD video after compression.
In YUV, Y stands for the luminance (brightness) component while U and V are the chrominance (color) components. Therefore, the output 1080p video is almost identical to the original 4K video in brightness except for the chrominance. You don't feel even see difference with your bare eyes. The below picture is more intuitive for your understanding.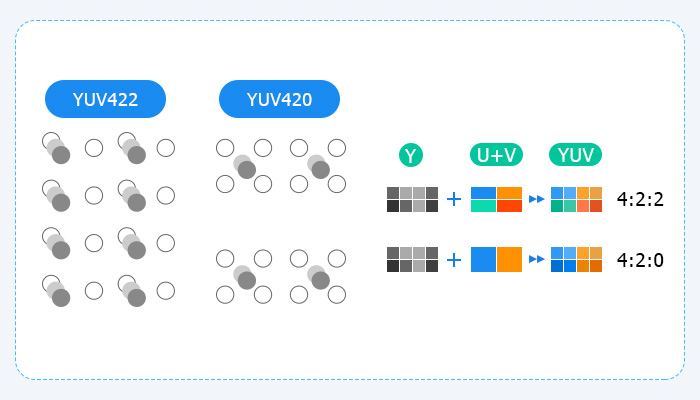 Test Result - Speed
4K video, roughly 4 times as many pixels as 1080p file, consumes more computer power. As for the aging computer or low-end desktop, you'll definitely be annoyed by the off-putting lagging, computer overheating, up to 94% CPU usage, let alone software half-crash issue during 4K video compressing. Even you're free from these issues, there is a high likelihood for you to suffer the snail's pace in 4K reduction.
WinX Video Converter's Level-3 hardware acceleration is the silver bullet to save you out of all the mentioned troubles, for it can activate the Intel QSV/Nvidia/AMD GPU on your computer and utilize them to accomplish the 4K video compression job on the powerful chips. Thus, both the stability and speed get guaranteed. Accordingly, the GPU HW Accel. enabled compression is up to 47X real-time faster and 16X faster than the software/CPU encoding.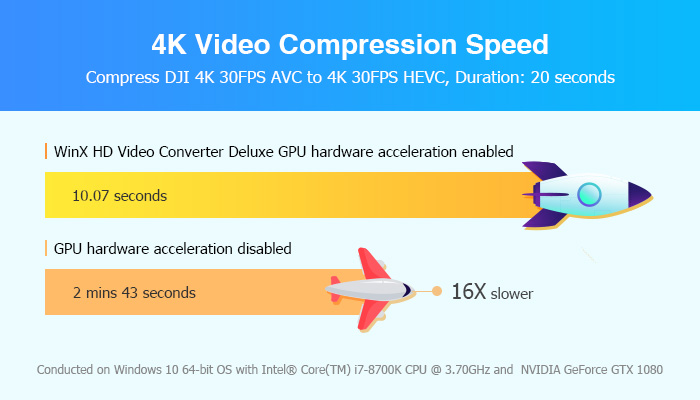 One thing worth a mention is that the GPU hardware acceleration also helps to cool down your computer temperature from 55° to 28-30°. And the CPU usage also varies a lot, from the 90% usage down to 16% usage.
Beyond the hardware acceleration tech, another factor that also places a high impact on compression speed is the original input video codec and frame rate (in other words, the original video compute complexity). See the below test results:
Output 1:
4K 30FPS HEVC

Output 2:
1080p 30FPS HEVC

Output 3:
4K 23.97FPS YouTube H264

Source video 1:

GoPro 4K 30FPS H264

(Duration: 30 seconds)

Compression time

26.86 seconds

18.01 seconds

22.18 seconds

CPU usage

16%

15%

18%

Source video 2:

GoPro 4K 60FPS HEVC

(Duration: 30 seconds)

Compression time

42.49 seconds

36.95 seconds

41.66 seconds

CPU usage

18%

18%

15%

* The whole test is conducted on a Windows 10 (64-bit) powered computer, with Intel® Core(TM) i7-8700K CPU @ 3.70GHz 3.70 GHz and NVIDIA GeForce GTX 1080 . During the test, there is no other programs running at the background except for 4 webpages being opened.
* Both Intel Quick Sync Video and Nvidia NVENC GPU hardware acceleration are enabled for 4K video decoding and encoding.
* What conclusions can you draw from the table tests?
1. Comparing H264 with H265, you will find that H265 trounces H264 with much higher coding efficiency. However, this comes at the expense of increased computational complexity, which requires 10x more compute power than H264 in 4K video compression. And thus, you can clearly see that the GoPro 4K HEVC video consumes 1.6X-2X more time than GoPro 4K H264 in video compression based on the above table.
2. Generally speaking, 4K video encoded by HEVC would cost more time than the one encoded by H264, no matter you only adjust the frame rate (from 30FPS to 23.97FPS or 60FPS to 30FPS) or lower resolution 4K to 1080p plus codec conversion.
3. The shortest compression time, for both source 1 and source 2, is the 4K to 1080p conversion. Consequently, if you're itching to finish the 4K video reduction mission as soon as possible, just downscale the resolution. By the way, no worries about the quality. You can't tell the difference with your unaided eyes. Trust me!
Learn More on How to Compress Video without Losing Quality [Video Tutorial]
Free Download WinX HD Video Converter Deluxe to Compress 4K Now!