Mobile Transfer: Transfer Data from Mobile to Windows 10 PC Effortlessly
Mobile Transfer

Windows 10

Posted by Estrella H.| Last Updated: April 28, 2017
Mobile Data Transfer Software Free Download | How to Transfer Data from Mobile to Windows 10 PC
"I caught the last chance to free upgrade to Windows 10. But like Windows 7/8, this new OS still can't meet my needs to transfer iPhone files despite of the built-in Photos app and File Explore. So, I wonder if there's a more powerful program that can transfer files (photos, videos and also music) from my iPhone to Windows 10."
Almost all people need to make mobile transfer to computer for making a copy of mobile data, freeing storage on mobile, or some other reasons. But data transfer from mobile to computer is not an easy thing for Apple mobile users, despite that they are working on a Windows 10 computer. The built-in Photos and File Explorer of Windows 10 allow iPhone users to copy images and videos only. Meanwhile, these two programs are reported not working sometimes. Luckily, every problem has a solution. In this post you will get the best solution to process mobile transfer to Windows 10 PC -- iPhone file transfer to Windows 10, to be exact.
Any Mobile Data Transfer Software Available for Windows 10?

- Transfer data from iPhone iPad iPod to Windows 10 PC or vice versa.
- Feature the world's No.1 fast transfer speed.
- Fully compatible with Windows 10 or earlier like Windows 7/8/8.1.
Explore More Features about the First-class Mobile Data Transfer Software for Windows 10
WinX MediaTrans is one of the top 5 mobile transfer software/apps. It is the newest one in the list, but receives rave reviews since released. It enables Apple users to transfer files from mobile to Windows 10 computer quickly and easily.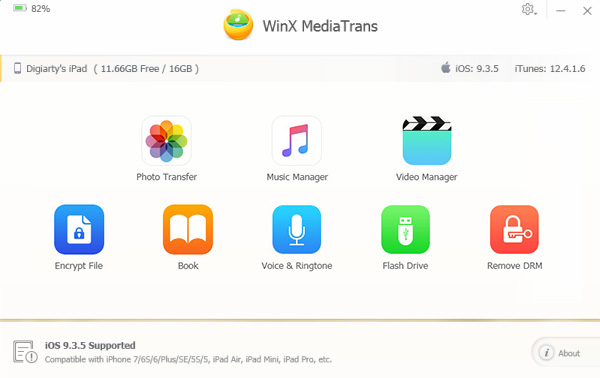 Detailed WinX MediaTrans reviews:
Pros:
1. It is a piece of mobile transfer software fully compatible with Windows 10 32 bit & 64 bit.
2. Supported mobile devices include iPhone 8, 7/Plus, SE, 6s, 6, 6s/6 Plus, 5s, iPad Air/mini/Pro, iPod touch and so on.
3. Superior to Photos app and File Explorer, it can transfer photos, videos, music and more from mobile to Windows 10, be the music downloaded online, purchased on iTunes, or ripped from CD/DVD.
4. In addition to mobile to PC transfer, it is also available to conduct PC to mobile transfer without erasing data on your iPhone iPad iPod. Two unique and practical features you will love when transferring videos from PC to iPhone are auto convert and auto rotate. Auto convert means it will convert iPhone unsupported videos to MP4, and auto rotate means it will rotate videos from vertical to horizontal automatically. Besides, auto-convert is available when transferring music from Windows 10 PC to iOS mobiles, converting any music format to MP3 or AAC.
5. WinX MediaTrans is built with straightforward interface, thus anyone can handle it without guesswork or support from others.
6. Fast transfer speed is guaranteed. For instance, 8 seconds is enough to transfer 100 4k pictures from iPhone to Windows 10 and 40 seconds is sufficient to transfer 1GB 720P MP4 movie from iPhone mobile to Windows 10 PC.
7. It is available to remove DRM from movies, music and audio books puchased from iTunes Store.
Cons:
1. It supports Apple devices only. Android mobiles and Windows phones are not compatible yet.
2. Currently, it lacks the ability to transfer other mobile data, such as phone numbers, messages.
How to Transfer Mobile Data to Windows 10 Computer?
Before any further, you should free download mobile transfer software - WinX MediaTrans on your Windows 10 computer. And then install as instructions. After that, it's time to transfer mobile files to Windows 10 following the steps below.
Free Download the Best Mobile Data Transfer Software for Windows 10 and iPhone Users
WinX MediaTrans is worthy to download for data transfer from iPhone to Windows 10 PC. It can copy single/multiple/all photos, videos, songs, eBooks and more from iPhone to Windows 10 PC easily and quickly. And conversely it is able to transfer files back to iPhone. Moreover, it excels in removing DRM from iTunes purchases including movies, music and audio books. And the Flash Drive feature gives you the option to make iPhone as a movable flash drive saving all kinds of files like images, documents, excels.