4. Features
Feature is one of the most important parts when we review a piece of software. And there's no exception for WinX MediaTrans review. Let's see what features come along with MediaTrans.
1). Photo Transfer
WinX MediaTrans arrives with the most important and basic feature - photo transfer. It enables users to transfer iPhone photos to PC with ease. HEIC is also supported. When transferring HEIC from iPhone to PC, you can keep the original format or convert HEIC to JPG. In addition to camera roll, pictures from third-party apps will be loaded for further transfer. You're free to select all photos or specify one or multiple images for transfer. To make you single out target photos quickly, it allows you to preview by double-clicking, group images by day, by month, by year, and view images by large icon or by small icon. Another useful option is Refresh. If you take a few photos after plugging in iPhone, you just need to hit "Refresh" to load newly shoot images without plug-out and plug-in.
It is also worth mentioning that photos can be password-protected if "Export with Encryption" option is checked. Check how to how to password protect iPhone photos >>
Besides, it is available to add photos from PC to iPhone, delete photos, and create/delete photo album on iDevice, which are absent in many similar programs in the market.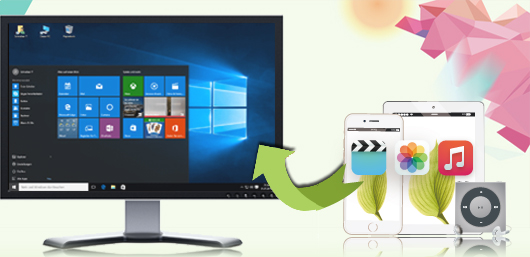 2). Music Manager
WinX MediaTrans allows you to transfer music from iPhone to PC and from PC to iPhone. In addition, it is also a music editor allowing you to edit meta information such as title and artist, a music manager permitting creating playlist and deleting music on iPhone, and a music converter which can convert any audio format to MP3 or AAC during transferring. And Refresh option is available to load new files from iPhone in real time.
3). Video Manager
It is also a two-way function. Apart from regular options (export iPhone video, add video to iPhone, delete video and refresh), WinX MediaTrans is also built with three useful features - auto convert, auto rotate and export with encryption. Thanks to auto convert function, you can convert iPhone incompatible videos like MKV, AVI and AVCHD to iPhone playable MP4 format during transfer. Auto rotate means it will rotate vertical video to horizontal video for perfect playback on iPhone during PC to iPhone transfer. When "Export with Encryption" is selected, you will be able to encrypt your iPhone iPad videos while transferring them to PC.
4). Encrypt Photo and Videos on PC
"Encrypt File", coming with version 5.5, empowers users to encrypt the photos and videos in PC with personalized password. What it adopts are the military-grade 256-bit AES, 1024-bit RSA, PBKDF2, Argon2 encrpytion tachniques.
5). eBook Transfer
EPUB, PDF and audio books are supported to be transferred between iOS devices and computer. Besides, it is able to export EPUB book to PDF, TXT and HTML.
6). Ringtone, Voice Memos, iTunes U, and Podcast
Hit Voice & Ringtone, and then you will be able to make custom ringtones for iPhone, transfer Voice Memos from iPhone to computer, and transfer iTunes U and Podcast between Apple mobiles and computers.
7). Flash Drive
This is a function that helps users to take their iPhone as a flash drive. Surprisingly, it is free to use. You can import all kinds of files to iPhone for storage with zero cost.
8). Remove DRM
Want to play DRM-ed movies, audio books and music purchased from iTunes Store on more media players flexibly? This took can help remove the DRM without hassle. However, you're not allowed to kill DRM for any improper use.