Best 5 Photo Transfer Apps for PC Mac: Transfer Photos Between iPhone and Computer
Transfer App

Photo App

Last Updated: January 8, 2019
List of 2019 top 5 photo transfer apps | photo transfer app free download and review
Endowed with a first-rate camera, iPhone has become the preferred weapon to capture beautiful meaningful moments in your daily life. So does iPad. Before long, much space of your iPhone or iPad has been eaten by those photos, thus leaving little space for you to install new apps, download new movies or songs, etc. Then, to make iOS device slim, you should get photos off iPhone or iPad to PC or Mac computer or other locations. Since transferring iPhone iPad photos is not as easy as transferring Android pictures, a photo transfer app is a must-have. So, which is the best app to send pictures for iPhone, iPad? iTunes? No. The top 5 photo transfer apps for Windows (10) PC and Mac are introduced below with free download buttons and features reviews.
5 Best Photo Transfer Apps/Software for PC/Mac
1. WinX MediaTrans
Platform: Windows
WinX MediaTrans is a snappier photo transfer app for iPhone, iPad and iPod, available to run on Windows 10, 8.1, 8, 7, Vista. Any generation of iOS device is allowed to connect with computer for single/multiple/all pictures transfer. This tool is badly easy to use, thanks to straightforward interface and layout. Also importantly, it features super fast transferring speed, capable of exporting 100 photos in 4K within 8 seconds only. Unregistered users can free transfer 30 images per day. >> Check WinX MediaTrans Review
Other highlights:
* In addition to Camera Roll, it can display pictures albums saved from third-party apps for later transfer.
* You can group photos by year, by month, or by day to quickly pick out target items. It is also available to display photos by large or small icon.
* HEIC photo preview is permissible. Also you can use it as HEIC converter to export HEIC to JPEG.
* Dragging-and-dropping photos to PC folder directly makes it easier.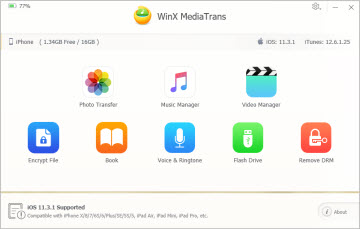 * Apart from severing as an picture transfer app to transfer photos from iPhone to PC and iPad to PC and add photos from PC to iOS devices, it is also able to transfer music, videos, ringtones, ebooks, iTunes U and Podcasts between iOS devices and PC, encrypt photos and videos of iPhone iPad and those in PC, remove DRM from iTunes purchases, make iPhone ringtone, create/delete music playlists, send voice memos to PC, free turn iPhone as a flash drive to store all kinds of files, say, PPT, PDF, DOC.

2. iMazing
Platform: Windows, Mac
iMazing, previously called DiskAid, is the second top photo transfer app to backup iPhone photos and those from iPad/iPod. It supports iPhone 6s and other iPhone, iPad and iPod models, compatible with both Windows and Mac. It allows you to transfer pictures in Camera Roll, Photos albums and iCloud Shared Albums of iPhone, iPad, iPod to computer via USB or WiFi. iMazing developers apply iPhone icons into interface, offering users the convenience to find wanted function speedily.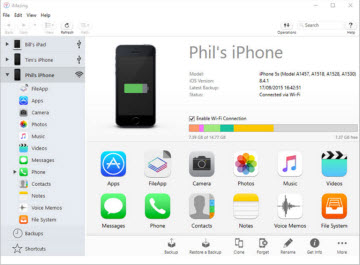 Other highlights:
* It ships with 10 interface languages to benefit people in different territories.
* It is also available to manage music, videos, contacts, apps, and so on.
* It comes with clone feature, helping users copying data from one iPhone to another.
3. iExplorer
Platform: Windows, Mac
iExplorer is a photo transfer app whose interface is a bit similar to that of iTunes. However, it is superior to iTunes in many aspects. It simplifies image transfer from iPhone, iPad, iPod to computer: download iExplorer, then install and launch it -> connect your device such as iPhone to computer via USB cable -> reject to sync iPhone -> click Photos to load pictures -> select wanted items and hit Export button. The steps are much alike those of the No.1 image transfer app - WinX MediaTrans.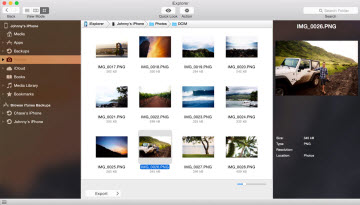 Other highlights:
* Support transferring music, movies from iOS device to computer.
* Export iPhone text messages, voicemails, calendar events, etc.
* Directly access files and folders on your iDevice and for browsing its files in existing iTunes backups.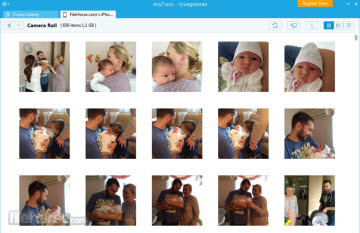 4. AnyTrans
Platform: Windows, Mac
Next best photo transfer app comes to AnyTrans - a desktop app to transfer and manage photos on iPhone and iPad. It also features a clear-cut interface and simple transfer steps. It displays photos based on albums, which is exactly the same as on iPhone, and allows you to transfer all those photos from all iPhone, iPad models to PC or Mac computer. Furthermore, it is accessible to create, delete music and rename an album if necessary.


Other highlights:
* 8 interface languages are preloaded.
* Other files can also be exported to computer, such as music and videos. Computer to iDevices is also supported.
* It adds a feature for transferring (photo) content between two Apple devices.
* It can load iTunes library and export wanted items to computer or iOS device.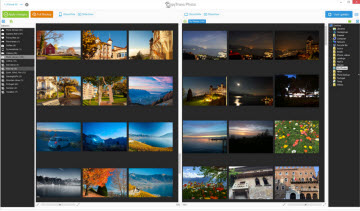 5. CopyTrans Photo
Platform: Windows
CopyTrans Photo is a two-way photo transfer app for Windows 10, 8, 7, Vista and XP only. It enables you to transfer pictures in JPG, JPEG, BMP, GIF, PNG, TGA and PCX from iPhone iPad to PC, and send pictures from PC to iOS device through a drag-and-drop gesture. To find desired photo easily, you are free to create iPhone iPad albums and organize pictures with CopyTrans Photo. Besides, this app has slideshow features, thus you can share your favorite pictures with friends in a modern way.
Other highlights:
* Besides photos, CopyTrans Photo is also designed for video transfer and management.
* Preview option is set for both photos and videos. Additionally, detailed photo information will be displayed as well, for instance, geolocation, altitude, photo size and format.
* "Full Backup" option provides you an easy way to copy all your iOS shots and albums to computer hard drive or an external drive.