How to Get Photos off iPhone onto Mac/PC
iPhone

Photo Transfer

Posted by Estrella H.| Last Updated: September 11, 2019
Catch the Best Way to Get Photos off iPhone to MacBook/Air/Pro, iMac, Windows (10, 8.1, 8, 7) PC, etc.!
"My iPhone storage is almost full. When I checked the usage and found that photos took up the majority space of my iPhone. So, I wonder if I can get photos off iPhone to my computer without iTunes."
We carry our iPhone everyday for timely contact with others, movie music enjoyment on the move, and also taking photos with the super good camera. Before long, our iPhone will be full with photos, leaving little storage for new stuff. At this point, getting photos off iPhone pops into our mind. But how? At first glance, this should be a simple task but doesn't always turn out that way. Despite that PC and Mac offer options to process photo transfer, but these tools are not easy to use and have limited functions. To make it easy, we will show you how to get photos off iPhone to computer with the best iPhone manager.
How to Get Photos off iPhone to Mac or PC Easily?

You Need Photo Transfer Software - WinX MediaTrans
- Take single, multiple or all photos off iPhone to computer.
- Fast photo transfer speed. Moving 100 4k pics needs 8 secs only.
- Convert HEIC to JPG when exporting. Encrypt photos with password.
Best Way to Get Photos off iPhone to Computer
The best way to get photos from iPhone to computer is WinX MediaTrans. It claims as the best choice for the following highlights:
◆ Whether your computer is powered by Windows or Mac OS, it can do you a favor. Windows version can take photos off iPhone to Windows 10, 8.1, 8, 7, Vista, etc; while Mac edition is able to transfer photos from iPhone to Mac powered by macOS Mojave and lower.
◆ MediaTrans is badly easy to operate. Complicated settings don't come with it. Even rookies can do this job without guess work.
◆ MediaTrans offers you more choices. Get off a single picture, move multiple pictures, or take off all of them at once? It's up to you.
◆ Super fast photo transfer speed is a plus. No WiFi connection is required, thus not restricted by bandwidth. Connect iPhone to computer, and later you can get off 100 4K pictures from iPhone to computer within 8 seconds only.
◆ Photos from third-party apps like Facebook can also be removed off iPhone to Mac/PC.
◆ Equipped with an inbuilt HEIC converter, it helps convert HEIC photos to JPG format when getting HEIC photos off iPhone. Preview is allowed before converting or transferring.
◆ If needed, you can also use this tool to password-protect your photos.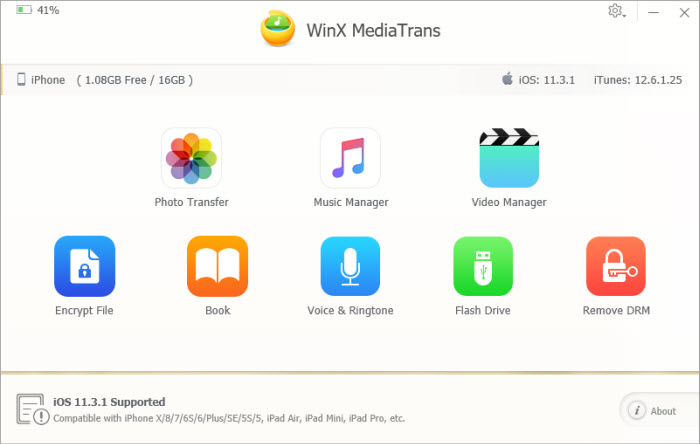 How to Get Photos off iPhone to Mac, PC Computer?
First of all, download and install proper version of MediaTrans on your computer. Here, let's take MediaTrans for Mac as an example to illustrate how to get photos off iPhone to Mac. Windows edition users can perform this job in the same way.
WinX MediaTrans is a powerful iPhone file manager, better than iPhoto, Image Capture, iCloud, AutoPlay and the like. It allows you to get photos (incl. HEIC) , music, videos and more off iPhone, iPad, iPod to computer easily, as well as works well in the opposite way. Moreover, it is integrated with Flash Drive function which is a free option enabling users to use their iDevice as a flash drive to save all kinds of files.
Unregistered users can get off dozens of items from iPhone for free per day!
If you think the post useful, please kindly share it!
If you still have problems about getting photos off iPhone to Mac or PC, feel free to Email us >>