Transfer Photos from iPhone to Flash Drive with/without Computer
One of the universal activities people use iPhone for is taking digital photos full of memories from a memorable birthday party to high school prom. However, those pictures can be accidentally deleted or lost. They may even consume your limited storage space especially when your iPhone has insufficient memory. At this point, you will undoubtedly want to transfer photos from iPhone to a flash drive so they can be stored and shared.
It seems to be a daunting task to do the task since Apple offers no easy way for iPhone users to save iPhone photos onto USB flash drive. Fortunately, you can follow the easy-to-email guides below to get pictures from your iPhone to your flash drive and make sure your digital memories will be saved and no longer use up your iPhone's storage space.
Easily Transfer iPhone Photos to USB Thumb Drive
Get WinX Mediatrans giveaway copy to quickly transfer iPhone photos to USB drive.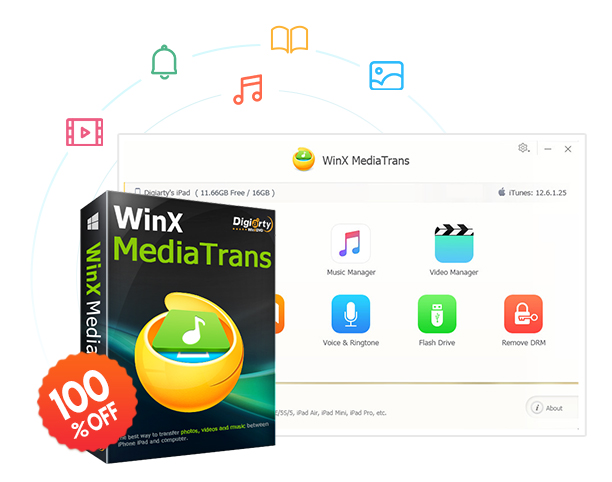 Giveaway
WinX MediaTrans
Back up all photos like camera roll, live photos, burst, etc.

Fast speed. It takes just 8 secs to transfer 100 4K photos.

Auto convert HEIC to JPG for older device.

Transfer other data like videos, music, voice memos, etc.
Part 1. How to Transfer Photos from iPhone to USB Flash Drive with Computer?
Way 1. WinX MediaTrans
Supported OS: Windows and Mac
WinX MediaTrans is an iPhone management app that is extremely straightforward and doesn't require much effort from the user's end. With it you can transfer and backup an unlimited number of 4K HDR photo, ProRaw picture, app photo, burst photo, live photo, and more in whatever format, be it HEIC, RAW, JPG, or PNG. It is known for lightning fast speed, capable of transferring 100 pieces of 4k photos in 8 seconds. You can even manage your photos in chronological order, and delete unwanted images as per your needs. In addition, WinX MediaTrans also features transferring music, videos, voice memos, ebooks, etc within clicks.
Note: Apple started using HEIC format for shooting photos on iDevice since iOS 11. Although it is widely compatible with many devices, HEIC can be still problematic on older Mac and Windows. You may need to open and view HEIC photos on Windows 10 and convert HEIC to JPG format or others. WinX MediaTrans features a converter that is able to convert picture formats while transferring large space-consuming photos from iPhone to flash drive. So don't worry. Now download WinX MediaTrans and follow the step-by-step guide below.
How to Transfer Photos from iPhone to USB Flash Drive on Windows PC and Mac?
Connect your iPhone to computer first.
Trust your computer when prompted.
Then launch WinX MediaTrans.
Go to Photo Transfer.
In the sidebar, check out the type of photos you want to transfer. For instance, you can browse through all your selfies, screenshots. Pick the photos on iPhone you want to transfer to computer.
Next click Export. It just takes a few seconds to move all the photos.
Then you can choose your flash drive to be export and click Save to start moving iPhone photos to your thumb drive.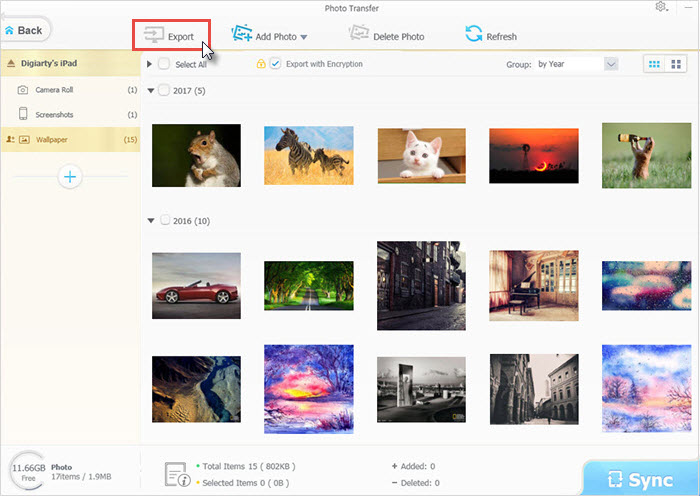 Way 2. with Photos app
Supported OS: Mac
If you are hunting for software to go about getting photos from your iPhone to flash drive on your Mac computer, Apple's Photos is probably the easiest way to do the job. It is the default app installed on your Mac and is pretty easy to use. You can export photos from iPhone to flash drive on your Mac without a hassle. However, Photos just enables you to transfer Camera Roll photos from iPhone to Mac. If you are willing to backup other photos like iCloud sharing photos, synced ones, live photos or more, please resort to other photo transfer tool.
One thing need to be mentioned that the process of exporting pictures from iPhone to Mac can be different, based on your macOS. Here we take transferring photos from iPhone to macOS Monterey and then saving them to your flash drive.
How to Get Photos off iPhone to Mac in macOS Monterey?
Plug your iPhone into your Mac computer or laptop using a USB cable, unlock your iPhone.
Kick off the Photos app on your Mac. Your iPhone is selected by default on the left side. If not, please select your iPhone.
Select the photos you want to save from your iPhone into your flash drive.
Click Import button at the top.
Then you can transfer the iPhone photos from Mac to flash drive. Just plug in your flash drive to the Mac. Find your external drive from the Finder. Open another Finder window, find and open Pictures, drag the library to the external flash drive.
That's all. You can also take advantages of AirDrop or iCloud to transfer iPhone photos if you'd like to move photos to flash drive without a cable.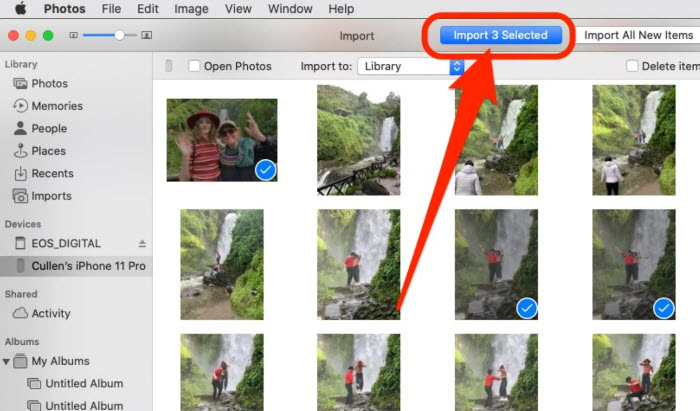 Way 3. With Windows Explorer
Supported OS: Windows
Windows File Explorer is a built-in feature of a Windows PC, with which you can view and manage files including your pictures in your devices and drives. Now, you can follow the steps below and transfer pictures from iPhone to a thumb drive easily.
How to Manually Copy and Transfer Images from iPhone to USB Drive in Explorer?
To do this, please make sure your iPhone is connected to your computer with a lightning-to-USB cable.
If you are asked to trust your computer or allow access to your photos and videos, please tap "Trust" or "Allow" to give your computer access to your photos in iPhone. Please make sure have your iPhone unlocked.
Check if your iPhone appears as a new device under "This PC" in File Explorer on Windows 10 or "Computer" in Windows Explorer on Windows 7. If yes, double-click it. If you cannot see the iPhone, unplug and plug your unlocked iPhone again.
Double-click the "DCIM" folder inside your iPhone. Here you can see your photos and videos stored in a 100APPLE folder, 101APPLE, 102APPLE, etc if you are taking photos with your camera roll, or 100Cloud, 101Cloud, etc if you are using iCloud to store photos.
Warning: You cannot access any other photos rather than camera roll photos on your iPhone here.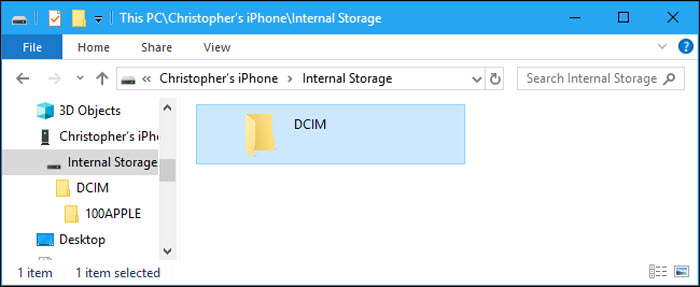 Important Notice:
USB flash drive is generally formatted with FAT32 file system. If you are transferring a file or folder larger than 4GB, you may get a "file too large" error. But don't worry, follow the troubleshooting steps to fix file too large for the destination file system error.
Part 2. How to Transfer Photos from iPhone to Flash Drive without Computer?
Way 4. with USB stick
If you're looking to back up your iPhone photos onto a flash drive and then save some space, having a flash drive working with your iPhone is a wise choice. With it you can directly transfer your iPhone photos to USB stick without computer. There are numerous flash drives online, here we just list top 3 flash drives to get photos off iPhone directly.
No.1 iDiskk 128GB Photo Stick (Price: $39.79)
The photo stick offers a huge space of up to 128GB of external storage. It offers easy and speedy way to transfer photos from iPhone to USB stick without computer in just 20 seconds. You can even take and store photos directly into the flash drive by using the iDiskk Max app each time you connect the device to the App camera. It also supports video formats like MKV, WMV, MP3, etc and makes viewing photos and watching videos directly from the photo stick no longer a hassle.
No.2 SanDisk iXpand Flash Drive (Price: $40)
iXand is a good iPhone accessory that is compact and speedy, adding up to 128GB of storage to your iPhone. You can back up data including photos and videos from your iPhone to flash drive and view them well. However, some people complain that it cannot hold files larger than 4GB, maybe due to the FAT32 format. So if your video file is larger than 4GB, please split and compress it first.
No.3 Sttarluk photo Stick USB 3.0 Pen Drive for iPhone (Price: $28.98)
Sttarluk offers 1TB storage space you can use to store iPhone photos, videos, audios, documents, etc in various formats. Due to the up to 80mb/s reading speed and 40 mb/s writing speed, you can transfer photos from iphone to memory stick without a computer fast each time you plug in the USB flash drive. Then you don't worry about losing photos.
Way 5. via Email
Another way to transfer photos from iPhone to USB flash drive without computer is via Email. Email is widely used for backing up and transferring iPhone files like photos, videos, music, etc, which is especially helpful when there is something wrong with the iPhone-to-computer connection, or you don't have a lightning-to-USB cable.
As long as you don't go over the size limit, mostly 25MB, your photos will be attached to emails using iPhone and then transferred and saved to your USB drive when connected to your computer. So if you don't need to transfer a large number of iPhone photos to flash drive, Email will be a good option.
How to Save iPhone Photos to USB Stick without a Computer?
Open the Photos app on your iPhone and choose the photos you want to transfer.
Tap Share > Mail and log into your email account. Send the email.
Enter the same email account on your computer, find the email and download the attached photos to your computer.
Connect the flash drive to the computer and transfer the downloaded photos to it.
Sum up
All the above-mentioned methods are feasible to transfer pictures from iPhone to flash drive easily and successfully on your Windows or Mac, or even without a computer. If you don't want to install anything on your computer, use Windows or Mac's default feature or app like File Explorer or Photo. If you want to try backup iPhone photos without a computer, get a USB stick instead. But if you are willing to move photos from iPhone to flash drive and get the hang of more professional features without too much effort, WinX MediaTrans is absolutely the best choice.