How Do You Add/Transfer Photo from PC to iPhone without iTunes without Data Loss?
Photo Transfer

iPhone/iPad

Last Updated: December 1, 2017
This article is about how to add photos from a PC to your iPhone without data loss. There is a way to transfer photos to iPhone and also move photos from iPhone to computer without using iTunes.
This is no strange thing when talking about transferring photo from iPhone to computer, which has always been a great demand, because people used to take the big hardware memory for granted while comparing with the small iPhone storage that has great possibility to be flooded and jammed with new photographs every day. But things change slightly after the release of Apple iPhone 7 that comes with the skyrocket of internal storage. The maximum memory of iPhone 7 Plus reaches 256GB storage, absolutely on a par with that of a computer disk.
Successively, people begin to go in quest of adding photos from PC to iPhone. Why? Some mobile phone changer who have photos backup onto computers from the old phone need to reload them to the new iPhone, the other might have the need to copy special pictures from hard drive to iPhone X/8/7/6S/6/5S, etc to facilitate sharing with friends by some third-party chat apps or uploading to SNS online such as Facebook, Twitter, Intagram and Flickr.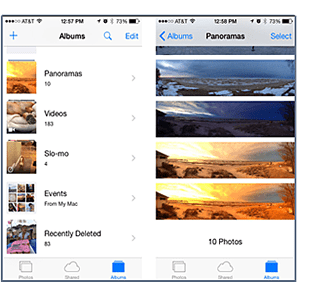 But it's easier said than done. You'll find that nearly all the iPhone managers do not support computer to iPhone transfer perfectly enough when dealing with photos. The theoretical explanation stresses on the pimping demand of users attributed to the lack of mobile memory. The unbeknown fact, however, is mainly involves in the technical level: it is difficult to realize accessing a default app of iPhone and adding foreign things into it because of Apple's strict closeness and exclusiveness. For instance, occasional crashes happen on AnyTrans after spending ten minutes on adding just one photo to phone, and even the well-known MobileGo will prompt that "this operation may cause the photo lost". Without attention, errors are likely to happen: the photos that finally been deleted have the great chance to be the ones that you did not chose and did not intend to remove. Therefore, the opposite is the case and you will lose some important images.
All in all, unlike exporting iPhone photos, the photo importing operation will be somewhat unstable. But WinX MediaTrans can add photos from computer or hard drive to iPhone SE/5/5S/6/6S/7/8/X (Plus included).
Fed up with transferring photos from PC to iPhone?

- Copy photos from PC to iPhone or vice versa.
- Transfer music, videos, e-Books between iDevice and PC.
- Create ringtone, manage Voice Memos; use iDevice as USB.
How to Add Photo from PC to iPhone without iTunes?
If you need to add photo files or folders from your computer to the Apple iPhone without any worries on data loss independent of iTunes, WinX MediaTrans is a premium choice. It allows establishing self-defined photo albums in which you can add, export and delete the newly added photos at free will. The imported photos in the new albums will exist on your iPhone after syncing. Please follow the instruction below:
Step 1. Connect iPhone onto computer via USB cable.
1. Download the safe iPhone photo manager, install it on your computer and launch on demand.

2. Connect your iPhone with computer via an original USB cable, and make sure to trust this computer on the screen of iPhone. Please note that you still have to install iTunes on your computer currently (but no need to use it).
Step 2. Create a new photo album.
1. Click on "Photo Transfer" button and wait all photos to be loaded in a flash.
2. Tap the "+" icon on the left to establish a new photo album and input some words to edit the album name. You can create several albums at one time.
Step 3. Add photos from computer to iPhone without iTunes.
When checking the new album, click "Add Photo" on the top and choose between "add photo" and "add folder". Then browse in your hard drive and choose the proper image file(s) and/or folder(s) that have some pictures inside. WinX MediaTrans accepts .jpg, .jpeg, .png, .gif, .bmp and .tiff photo formats.
Note:
1. You can add files and folders (even with subfolders) together. The software will recognize pictures only and display the pictures only.
2. You are enabled to delete any photos after adding.
3. The "Fresh" button allows to take in new photos that are just shot by iPhone or to return to the original state. But the operations of new album creating and new photo adding will be restored if you click "Fresh" before sync.
Step 4. Sync new photos from PC to iPhone.
After adding the photos, hit "Sync" button on the right bottom to sync the items. The newly added photos can be found on your mobile then. In this way, you won't lose any picture on your iPhone.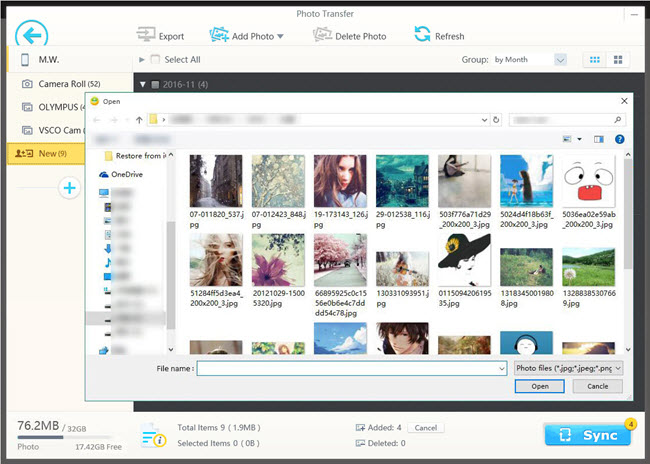 If you still have problems about how to add and transfer photos between iPhone and PC using WinX MediaTrans, feel free to Mail Us >>
Home | About | Site Map | Privacy Policy | Agreement | News | Contact Us | Resource

Copyright © 2018 Digiarty Software, Inc. All rights reserved
iPhone®, iPod®, iPad®, iTunes®, Mac® are trademarks of Apple Inc., registered in U.S. and other countries. This website is not owned by or affiliated with Apple Inc.