[Windows 11] Transfer Snapchat Photos/Images from iPhone to PC
"Can I Save Snapchat photos from iPhone to PC?"
Snapchat will destroy our photos and messages after sending to others, which protects sensitive or important messages from disclosing over the internet. This feature - however - makes great photos disappear permanently. In order to preserve meaningful images, some users require saving Snapchat photos, not only on mobiles, but on hard drive for a further backup.
How to transfer Snapchat photos from iPhone to PC? That's what we want to discuss here.
Must-have Photo Transfer Software
Smart, Safe and Easy-to-use - WinX MediaTrans
Transfer any photo in Snapchat, WhatsApp, or Camera Roll from iPhone to Windows (11) PC without data loss! Selective transfer is allowed! Bulk sync and copy photos, HDR pictures, 4K images from any 3rd party apps to Windows/macOS and safeguard pictures with password.
What You Should Know Before Transferring Snapchat Photos from iPhone to PC
Snapchat introduced "Memories" in 2016 empowering you to save snaps (photos& videos) into a private archive in the server where all your snaps can be organized, edited and shared to friends or families. With Memories, you can hold old Snapchat photos, videos and stories. Also, you can save Snapchat photos and videos in Camera Roll for keeping them on iPhone.
Next, let's learn how to save Snapchat photos to Camera Roll.
Open Snapchat and tap the profile icon in the top-left of the screen.
A gear icon appears in the top-right of the screen. Click it.
Scroll down and click Memories > Save To…

There are 3 options for you: Memories, Memories & Camera Roll and Camera Roll Only. Depending on your needs, select Memories & Camera Roll or choose Camera Roll Only.
Return to Snapchat home screen and capture a photo.
Click Save button in the bottom-left corner of the screen.
After saved, an album named Snapchat will appear in Photos app on iPhone (13/12/Pro/Max). This album will store all photos downloaded from Snapchat.
Also read: How to Fix Snapchat Not Sending Videos
Notice: Your photos should be saved to Camera Roll before sending to others.
Yes, you may have saved photos from Snapchat to Camera Roll. But, if you want to transfer Snapchat photos from iPhone to PC for freeing up storage or other purposes, how to do?
How to Transfer Snapchat Photos from iPhone to PC
WinX MediaTrans is an expert to sync media files between iPhone and PC. Photos, both in Camera Roll or other albums (Snapchat, WhatsApp, customized albums and more), can be quickly transferred to PC. It allows you to transfer a single photo, multiple photos or all photos. Crushing or not working errors will never happen during batch transfer. Independent from network, it performs photos syncing via a USB cable helping you escape from interruption or security problem caused by poor internet connection.
Next, let's transfer Snapchat photos from iPhone to PC with WinX MediaTrans. Download WinX MediaTrans on your computer.

System Requirements: Windows 11/10 (32 & 64 bit) or lower; iOS 7.0 or later.
Then, follow the steps to transfer Snapchat photos from iPhone to PC.
Step 1. Plug in iPhone into PC and launch WinX MediaTrans.
If your iPhone is successfully connected to PC, iPhone name, storage and power info will be shown in the top-left corner.
If "Not connected" still appears, get a solution from "Fix iPhone Not Connecting to Computer".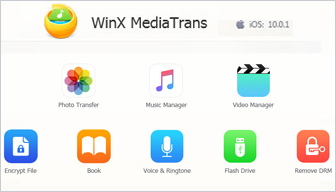 Step 2. Click Photo Transfer button on the main interface.
Step 3. A new page pops up. On the left sidebar, albums are listed. Move to Snapchat album and all photos saved from Snapchat will be presented. Select photo(s) you want to copy to PC and click Export.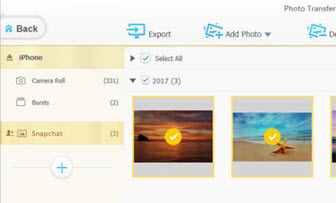 After all selected photos are transferred, the destination folder will automatically pop up. You can check your Snapchat photos here and move them to another collection for better organization.
Tip: WinX MediaTrans allows you to copy 30 photos from iPhone to PC for free every single day.
Related External Referrence:
1. Snapchat: Snapchat is an image messaging and multimedia mobile application created by Evan Spiegel, Bobby Murphy, and Reggie Brown,[6] former students at Stanford University, and developed by Snap Inc., originally Snapchat Inc.
2. About Memories: You can always save the Snaps and Stories you want to hold onto. Just add them to Memories with a tap!
If you think the post useful, please kindly share it!
If you still have problems about transferring Snapchat photos/images from iPhone to PC, just feel free to Email us >>