Best 3 Ways to Transfer Photos from iPhone to PC without iTunes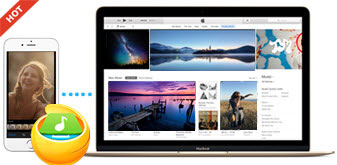 Transfer a hundred 4K pics in 8s only!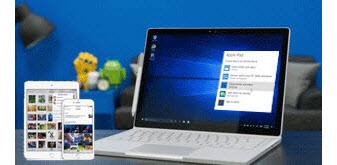 Use AutoPlay/Photo on Windows 10/7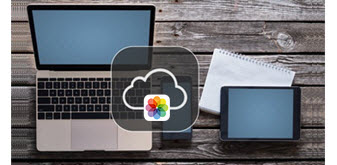 iCloud Photo Library made by Apple
Method 1 - Transfer Photos from iPhone to PC with WinX MediaTrans
If iTunes is more of a nightmare to you, then the biggest reason for using WinX MediaTrans will be that it is a stand-alone iPhone file manager that requires no iTunes. To be precise, it is the ONLY software in the market that allows you to ditch iTunes and its components all together while transferring files between iOS devices and PC.
Checklist of What WinX MediaTrans Can Do:

Transfer photos from iPhone to PC; sync pictures from PC to iPhone.


Support photo transfer in JPG/PNG/GIF/BMP/TIFF/HEIC (HEIF) formats.


Manage pictures in day/month/year; transfer photos selectively.


Export HEIC to JPEG; sync videos, music, eBook, ringtone, etc.
How to Transfer Photos from iPhone to Windows PC with WinX MediaTrans?
Step 1: Download WinX MediaTrans .exe file on your Windows 10/8/7 computer and install this photo manager iPhone X (iPhone Xs/Xs Max/Xr/8/7) by checking the "End User License Agreement" box and clicking "Install" directly. Or you can choose "Custom Installation", browse to set the file location and "Install Now".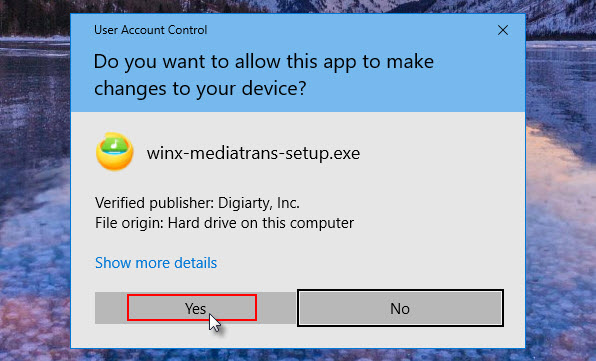 Step 2: Connect your iPhone to PC, better using an original Apple iPhone USB cable. There pops out an alert box, suggesting you to adjust iTunes settings to prevent data erasing automatically.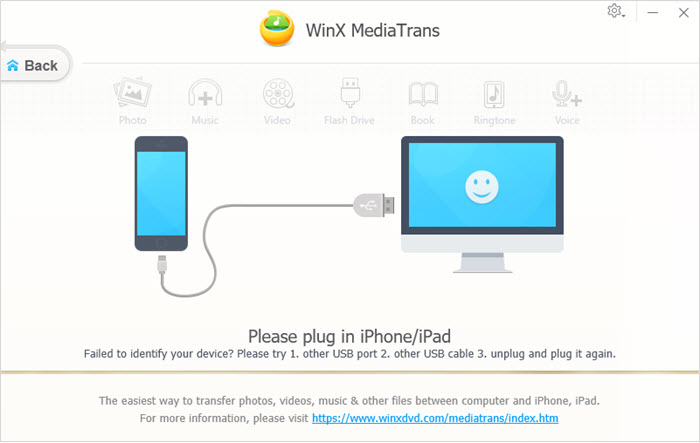 Step 3: Click into Photo Transfer on the WinX MediaTrans main interface and you will see all photos on your iPhone grouped by day, month or year (totally up to you). Select photos you want to sync to PC, click Export, and it's done in a wink.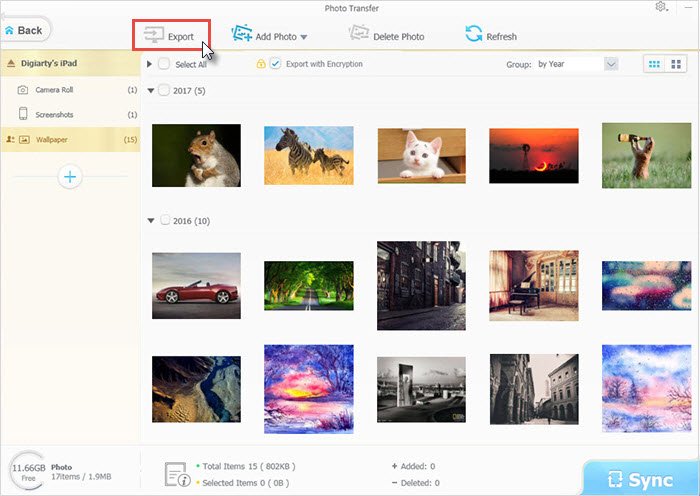 • No matter how many photos you are transferring from iOS devices to PC, the syncing speed of this iPhone to PC transfer software is blazingly fast. Tests show that transferring 100 4K iPhone pictures takes only 8s.
• Better still, it supports transferring videos, music, ringtone, ebook, Podcasts, etc from iPhone to PC and vice versa. Video conversion capability embedded in this iPhone photo manager software is really a big surprise and will surely facilitate you a lot.
how to add photos from PC to iPhone >>
Method 2 - Transfer Photos from iPhone to PC with Windows Default Settings
Windows 7 - An AutoPlay box will appear the minute you connect your iPhone with PC. There you can choose "Import pictures and videos", adjust the location path or not, and then transfer all photos from iPhone to PC Windows 7. Note that there is no option for selecting photo folders.
How to transfer photos from iPhone to Windows 10?
1. Connect your iPhone with Windows 10 PC through USB cable.
2. "Photos" app would pop up automatically.
3. Remember to unlock your photo to allow data access. All photos will be loaded, and you just need to scroll down to select pictures.
4. Press "Import Selected" button to start transferring photos to Windows 10 PC.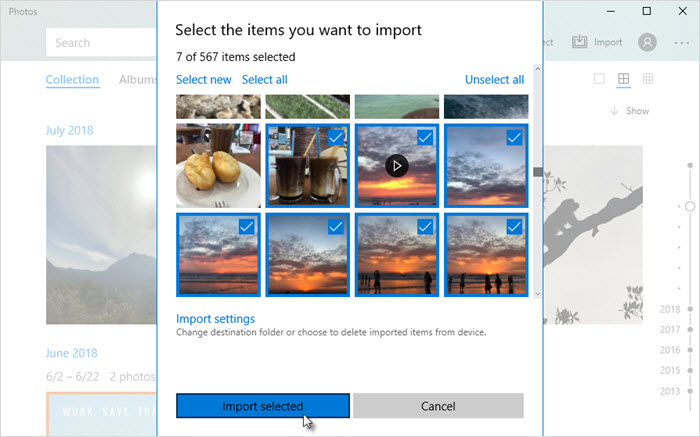 If the Photos app doesn't auto pop up, then:
1. Type and search "Photos" app in Windows 10 Cortana and click to open it.
- Or search and click into "Phone Companion" in Cortana and click "Import photos and videos" in the bottom left corner.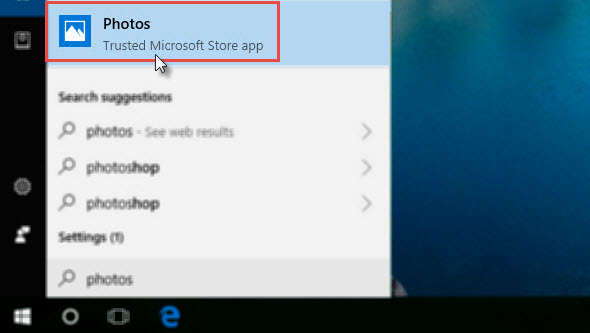 2. Go to "Import" in the top right corner. Click it and you will see two options in the drop-down menu. Choose "From a USB device" and it starts auto loading photos on your iPhone for transferring.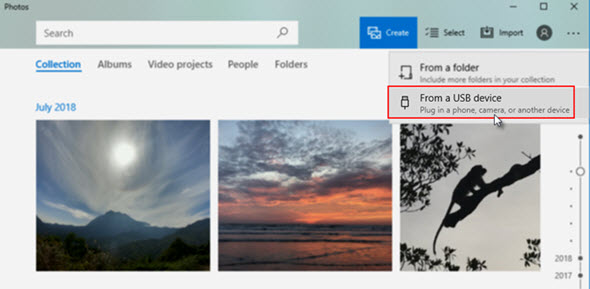 Method 3 - Transfer Photos from iPhone iPad to PC with iCloud
Compared with iTunes, iCloud is much better for iPhone photo backup and transferring to PC. The whole backup process is done almost unconsciously anytime there is wireless network or you charge the phone. Using WiFi, you can transfer photos from iPhone Xr/Xr Max/8/7 to iCloud Photo Library with no efforts, and then access icloud.com and download iPhone photos to PC.
How to Transfer photos from iPhone (iOS 10.3 or later) to PC via iCloud?
1. Go to "Settings" and click your name to get into Apple ID interface.
2. Find "iCloud" and click to move on.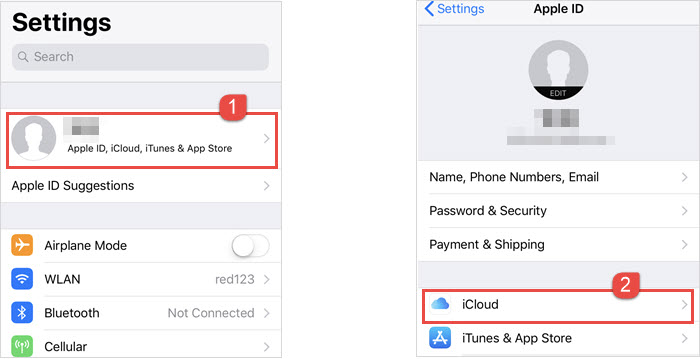 3. Click "Photos" under "APP USING ICLOUD".
4. Then turn on "iCloud Photo Library".
Note: When backup and transfer iPhone photos to PC via iCloud, don't disable iCloud Photo Library on a whim, which may erase all your pictures. If you go to "Settings -> Apple ID -> iCloud -> Storage -> Manage Storage -> iCloud Photo Library -> Disable and Delete" on iPhone, then your photos backed up to the cloud will be deleted as well.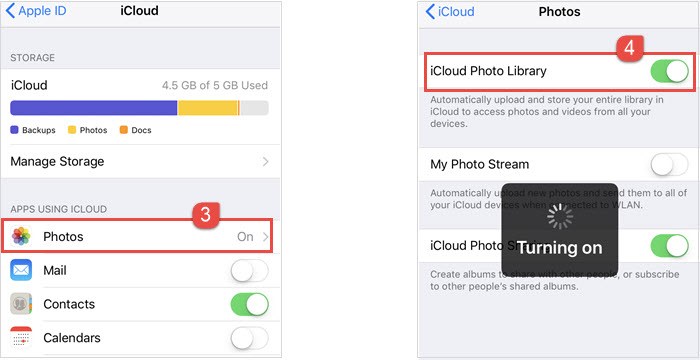 iCloud Photo Transfer Limits
• 5GB free backup storage. 5GB is far from enough to backup UHD photos in 4K resolution or large raw file, let alone music and 4K videos. You do have a plan B - pay to get more storage monthly: $0.99/m for 50G and $2.99/m for 200G.
• iPhone photo to PC transfer only happens when you have an internet connection.
• iCloud Photo Library is more like a syncing service than a backup method. You delete a photo from iPhone, then it will also be removed from iCloud. It seems like there is no backup.
WinX MediaTrans vs. iCloud on Photo Transfer
People are worried about things like "if I disable iCloud photo library on my iPhone, will it remove all photos on other iDevices?" Everytime you transfer photos from iPhone to PC or disable iCloud photo library, you may think about it over and over again to prevent photo loss. If you have such troubles, WinX MediaTrans is the best alternative to avoid such errors and make safe photo backup.
WinX MediaTrans: iPhone-----directly transfer photo via cable to-----> PC
iCloud: iPhone------wirelessly stream photo to-----> iCloud-----manually download photo to-----> PC
iTunes: The Least Tolerable Choice of Windows Users
iTunes has been used to sync datas between iDevice and computer for a long time. Surely, it can be counted as a good music manager, which, however, is absolutely not a preferred option for iPhone photo backup to PC for the following reasons:
1. iTunes errors happen all the time on Windows PC
For example: iTunes runs slow, iTunes keeps crashing, iPhone won't connect to iTunes on Windows PC, etc. You can imagine that transferring photos from iPhone to PC using iTunes would be full of twists and turns.
2. Transfer photo from iPhone to PC is not permitted
There is no problem to import pictures from PC to iPhone with iTunes, which however doesn't allow you to download photos from iPhone to PC probably for privacy protection. FYI, photos downloaded from PC to iPhone can't be deleted, which is not convenient for managing photos on iPhone and will eat up space.
3. Complicated and time-consuming
It is so complicated and time-consuming for noobs of tech things to find out where the iPhone backup photos are stored on PC. And you cannot open the file even if you find it, because there is no file extension, and your engine can't figure out what app should be used to open it.