How to Delete Photo Album from iPhone (12/11)
iPhone

Photo Management

Posted by Estrella H.| Last Updated: Sept. 15, 2020
Can't Delete Photo Album from iPhone (incl. iPhone 12/11)? Here's a Fix!
When getting a depleted iPhone memory, we should take some measures to free up storage space, for example removing unnecessary or backed up photo albums from iPhone. Photos app on iPhone brings a perfect solution to organize photos. It embeds Edit feature helping us delete some albums effortlessly while lacks "Delete" option on other special albums? What kind of photo album we cannot delete? Why? And, if we want to delete those photos albums from iPhone, how to do? Answers will come out in this post.
How to Manage (Sync, Add, Delete) Photos on iPhone?

The Best iPhone Photo Manager - WinX MediaTrans
Export (HEIC) photos from iPhone to computer and vice versa.
Delete iPhone photo albums imported from computer with ease.
Support iOS 7.0 or later, including the latest iOS 14.
Why We Cannot Delete Some Photo Albums from iPhone
Photos will never prevent you from deleting photo albums which you create on iPhone. But, it gives no response if you want to remove some special albums.
1. Default Photo Albums Created by iOS
Camera Roll is the default album to store photos and videos shot by iPhone camera, while some other albums (Videos, Slo-mo, Panoramas) will be automatically generated by iOS as well if using iPhone camera to take those types of video and picture. In addition, Recently Deleted album exists to temporarily keep deleted photos from Camera Roll allowing us to recover them later. Well, something new comes to the latest iOS 14. People and Places are added as built-in albums in Photos. Indeed, nobody can delete the above-mentioned photo albums from iPhone.
2. Photo Albums Imported from Computer
Sometimes, we need to transfer photo albums existing on computer to iPhone via iTunes or other third-party file transfer software. Once we apply synchronization, we lost the chance to delete the photo album on iPhone.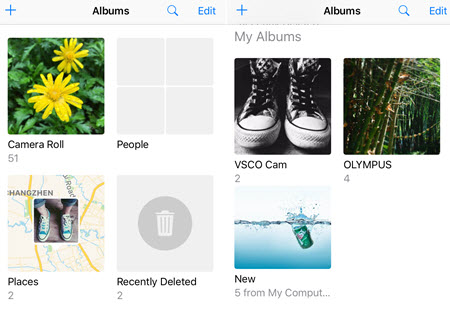 How to Delete Photo Albums from iPhone
It is seemingly impossible to delete iOS automatically generated photo albums from iPhone but we have some methods to handle synced iPhone photo albums on computer.
1. Delete Synced Photo Album from iPhone via iTunes
1. Create a new folder with no picture in it.
2. Connect your iPhone to computer and launch iTunes.
3. Hit the device icon to access to iPhone information.
4. Select Photos from the list on left sidebar and then check Sync Photos.
5. Move to the option "Copy photos from:" and choose a new created folder with no picture.
6. Click "Apply" and the message to ask you to remove photos synced from this computer pops up. Hit Remove and Sync. Then you can get the synced photo albums deleted from iPhone.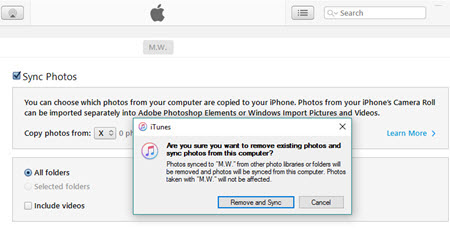 Notice: iTunes doesn't allow us to delete certain photo albums from iPhone. All synced photos are probably removed at once.
2. Delete Synced Photo Album from iPhone via WinX MediaTrans
WinX MediaTrans is a highly-recommended photo manager. It runs well to transfer photos between iPhone and computer as well as delete synced photo albums from iPhone. Compared with iTunes, it is much easier to use and enables users to freely delete single, multiple or all synced photo albums from iPhone.
1. Download and install WinX MediaTrans on your PC (Windows 10 and lower).
2. Plug in iPhone to PC via USB cable and launch WinX MediaTrans. Once iPhone is connected, main interface of WinX MediaTrans will appear.
3. Click Photo Transfer module to enter photo page.
4. From the left sidebar we can get several photo albums. Select the synced photo album and all photos in this album will be loaded. Select all photos in this album and click Delete Photo.
5. Move mouse to the photo album on left sidebar again. Click "X" symbol and then hit "Delete" and this synced photo album will disappear from album list.
6. Click "Sync" button to completely delete photo albums from iPhone.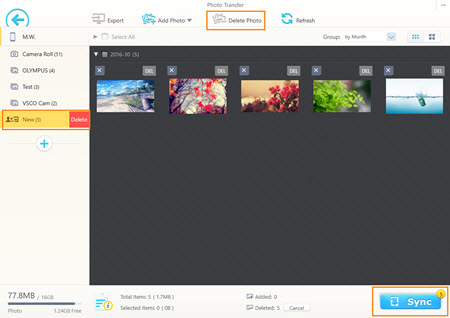 Besides Photo Manager, WinX MediaTrans Is Versatile File Transfer Software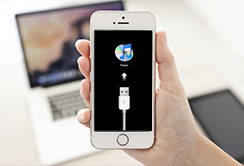 Music organizer
• Sync music between iPhone and computer
• Edit music metadata (title, artist, album, year, composer)
• Create/Delete playlist, songs on/from iPhone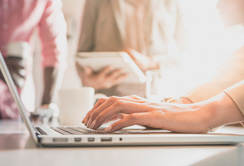 Video Transfer
• Export videos from iPhone to computer
• Add videos to iPhone with auto-converting format to iPhone playable one
• Delete videos from iPhone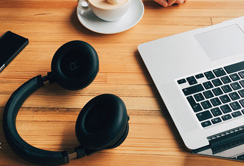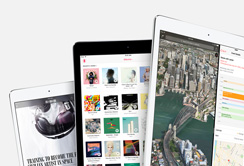 Book/Voice Memos Transfer
• Transfer e-books (EPUB, PDF, Audiobook) between iPhone and PC/Mac
• Delete e-books from iPhone
Still have some trouble about how to delete photo album from iPhone? Please feel free to Mail Us >>