Safely Transfer Photos from Hard Drive to iPhone on Windows 11/10
Need to transfer photos from internal or external hard drive to iPhone on Windows (11/10)? The photo transferring tool involved in this post will make it super easy, with no data loss.
iDevice owners usually backup their iOS photos by transferring photos from iPhone to PC or copying photos from iPhone to external hard drive. Is it possible to transfer photos from hard drive to iPhone, either internal or external hard drive? Actually, this hard-drive-to-iPhone demand is much lesser than iPhone-to-hard-drive, it does exist sometimes, for example to move photos on PC to iPhone for wallpaper defining, import the meaningful (camera-shoot) images stored on hard drive to iPhone for aftertaste at times, or just upload some crucial photo materials from hard drive to iPhone for working needs.
Best Tool to Transfer Photos from Hard Drive to iPhone
WinX MediaTrans [100% Secure] - All-in-one iPhone file manager to transfer photos between iPhone and hard drive.
- Two-way transfer photos between hard drive and iPhone (iPad).
- Support transferring all or certain photos or even a single one.
- Custom new photo album, and delete iPhone photos at will.
● Apple products like iTunes and iCloud
All iPhone holders can sync photos between iTunes library/iCloud (5GB free space for each) and iPhone with the same Apple ID logged in. That's to say, it's workable to add photos from hard drive to iTunes/iCloud first and then sync them to iPhone. But to those green hands, like the one changing Android to iOS phone, transferring photos from hard drive to iPhone through the medium of iTunes/iCloud is a little bit complicated. Moreover, many uncertain photos not syncing errors would appear every since the iTunes, iOS or Windows is updated.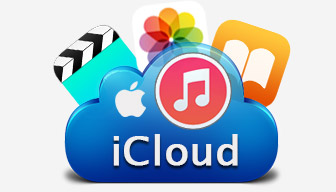 ● Wi-Fi-powered external hard drive
Some external hard drives from Seagate, Kingston and more are equipped with Wi-Fi file transferring function, by which the photos in the wireless storage can be sent to iPhone with the same network connected.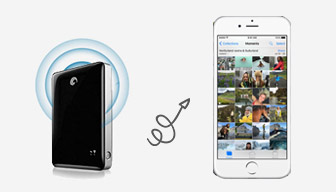 ● Other online services, like Email and other online cloud storage
This path needs network connection on both computer and iPhone. The steps is quite simple, you just need to mail the photos from hard drive or upload photos to DropBox, One Drive or Google Photos from desktop, and then access to the email or cloud account on iPhone via app or directly in browser, download the photos to iPhone wirelessly. Email seems to be more suitable, for nearly all phone users have at least one email account while only a part of them are used to backup photo to the cloud.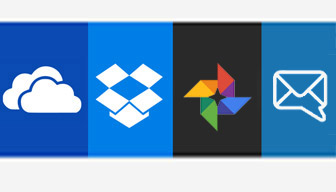 But overall, to transfer photos from hard drive to iPhone by online services is not advisable if one happens to duplicate a wealth of photos from hard drive to iPhone, because it will be much faster and more straightforward using a third-party iPhone manager tool, like WinX MediaTrans.
How to Transfer Photos from Hard Drive to iPhone with WinX MediaTrans on Windows 11/10
WinX MediaTransis an all-around iPhone photo transfer app, which delivers the fastest way to transport a specific photo or a brunch of photos from hard drive to iPhone and vice versa. It's also endowed with photo deleting and new photo album customizing ability for more personalized photo managing. Let's walk through the steps to transfer photos from internal hard drive to iPhone on Windows 10 below. (If it's the external hard drive, remember to connect it to PC first.)
Step 1: Download WinX MediaTrans .exe file on your Windows 11/10 computer, double click it to open and run this file, and then click Install and Launch to have its interface appear. Please note that WinX MediaTrans is only workable when iTunes is or was installed on your computer.
Step 2: Plug in your iPhone to PC with workable Apple-branded USB cable. Then the software would automatically access to the main UI.
Step 3: Click "Photo Transfer" blue box to pop up the related operation window, where all photos on your iPhone are grouped by day, month or year (depends on your settings) in the middle part. The photo folders are also listed in the left area. Create a new photo album by click big "+" icon for adding new images into. Then click "Add Photo" on the top left to select a picture or photos from hard drive, and Open it or them to load to folder.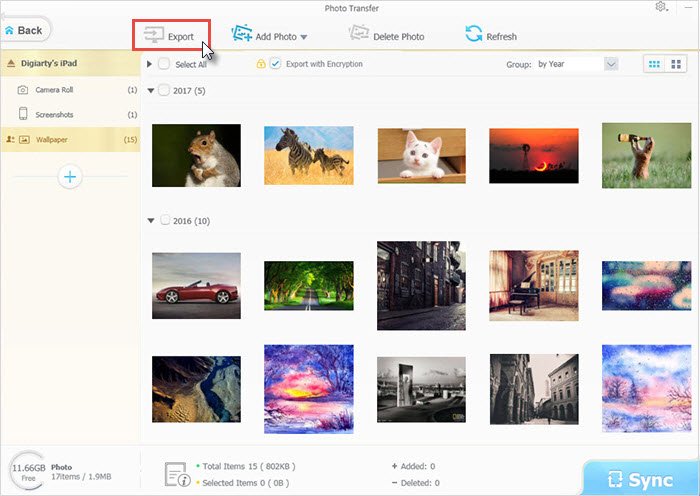 Step 4: The photo(s) would not be automatically transferred from hard drive to iPhone until you press the "Sync" tab. As the fastest iPhone manager, it only takes 8 seconds to add 100 4K photos from PC through real testing. Of course the time varies from computers with different specs. In addition, the high safety and stability make it superior to other competitors. No data will be damaged or lost during the transferring process.