Rotate Video iPhone 7 | How to Rotate iPhone Video Easiest Guide
Rotate Video

iPhone Video

Last Updated:November 22, 2016
How to Rotate iPhone 7 Video Easiest Guide
I want to rotate iPhone 7 video that I mistakably shot sideway. It played well on iPhone, yet as long as I upload it to Twitter, the video looks upside down. How to rotate video on iPhone 7 (Plus) iOS 10? Take it easy, now you're going to see 3 effective ways to rotate video iPhone 7 Plus/6s/6s Plus.
Easily rotate iPhone videos to play in full-screen

Superfast rotate video iPhone without wait!
- Smartly rotate iPhone videos before uploading to Facebook
- No video length limits, flip & rotate long video iPhone
- Superfast rotate with Hardware Acceleration technology
iPhone 7 (Plus) and iPhone 6s (Plus) can be the most portable and lightweight video recorder to take with where you go. Capturing interesting moments, important talks can be handy and fast. But if you just fail to hold the camera in the right direction, or forget to turn off the iPhone portrait mode. You'll need some external help to rotate iPhone 7 videos, such as iPhone screen rotation to watch it in full-screen mode correctly. But how to rotate video on iPhone 7 (Plus)/6s (Plus)? Find out your answers below!
# 1 Way: Rotate Video iPhone 7 (Plus) Easiest Way - WinX MediaTrans
This method rotates video iPhone via your Windows PC/Mac. If you run a Windows computer, get WinX MediaTrans directly, or if you have a Mac computer, garner the Mac version of this iPhone video rotate tool instead. Directly free download, install and launch it below:
Step 1: (After WinX MediaTrans is launched) Connect iPhone and computer with an USB cable.
Note: Your computer will have to install the latest version of iTunes 12.5.3 beforehand, yet you can uninstall it at any time.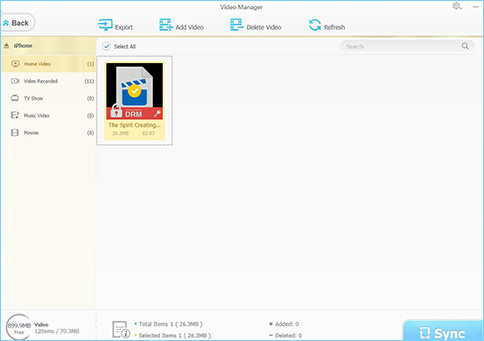 [To rotate a video recorded by iPhone]
Step 2: Click the "Video" button at the main interface of the rotate video iPhone tool, under "Video Recorded" button in the left sidebar, check the video to rotate, then click "Export".
Step 3: Then click the "+ Add Video" button, choose the video you just exported to computer, then hit "Sync" at the bottom-left.
After the 3 steps, you'll find the video on iPhone rotated appropriately and able to play in full-screen.
[To rotate a movie from computer to iPhone 7 iOS 10]
Step 1: Also USB connect iPhone to computer after you install and launch WinX MediaTrans.
Step 2: Hit "Video" on the main interface, which takes you to the video library of iPhone, choose "+ Add Video" and choose the movie on computer which won't rotate on iPhone self-reliantly, then hit "Sync".
Have you got your videos appropriately rotated on iPhone 7 (Plus) iOS 10 already? You may also have discovered that compared to other iPhone to PC transfer software, WinX MediaTrans bolsters much faster transfer speed, and behaves rather steady even if with longer video clips, thanks to its robust video processing kernel.
If any of the occasions below applies to you, the first method could be a sleek way out to rotate video iPhone:
"You recorded a video with iPhone vertically, with all the necessary images captured, but it just fails to play in full-screen when uploaded to twitter."
"When you want to transfer a movie from computer to iPhone 7, you'd better rotate the video first." To free download the iPhone video rotate & flip tool, click the button below.
#2 Way: How to Rotate Video on iPhone 7 with iMovie Directly?
Another handy option you can rely on is the iPhone 7 APP - iMovie. As a native iPhone APP, iMovie can finish iPhone video rotate task just as fast, follow the steps below: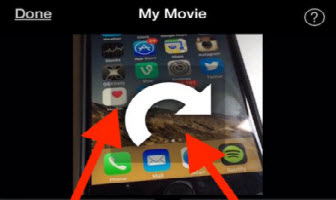 Step 1: Open iMovie on iPhone, navigate to "Projects", click "+" to create a new project
Step 2: With your project open, move your finger and thumb clockwise, or anticlockwise over the image of a video to rotate on iPhone, incrementally switch until it reaches the perspective you need.
Tips:
1. As an iPhone video may contain a handful of frames, you may need to manually rotate the images until all frames reach the orientation you want.
2. iMovie may shut down with full-length movies. In that case, WinX MediaTrans delivers relatively more stable performances.
# 3 Way: Rotate iPhone 7 Video via an 3rd-Party APP - Video Rotate & Flip
Search for "rotate video iPhone" in AppStore and you'll find this chart-topping APP to rotate iPhone videos. Just like WinX MediaTrans, the APP Video Rotate & Flip can intelligently flip videos in 90-degree increments, clockwise or anticlockwise to play in full-screen on iPhone.
It's downright easy to process videos with Video Rotate & Flip following its Wizard.
Alright, have you found your own most favorable way to rotate iPhone videos? WinX MediaTrans comes most recommended as it's more than a bare-bone video rotating tool - but a multi-purpose iPhone manager that can transfer videos, music, or even photos across iPhone and computer.
You may well go with iMovie as an one-time solution, if you don't need to rotate a lengthy video. The APP video Rotate & Flip, however, can meet your demands to rotate video iPhone as well, yet compared to WinX MediaTrans, it's a little uni-functional.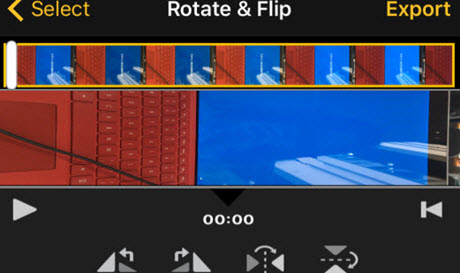 Home | About | Site Map | Privacy Policy | Agreement | News | Contact Us | Resource

Copyright © 2016 Digiarty Software, Inc. All rights reserved
iPhone®, iPod®, iPad®, iTunes®, Mac® are trademarks of Apple Inc., registered in U.S. and other countries. This website is not owned by or affiliated with Apple Inc.