[Solved] iPhone Software Update Server Could Not Be Contacted
Apple WWDC 2022 kicked off on time and announced the next generation of iPhone OS – iOS 17. At present, iOS 17 is already available to download and install. If you plan to upgrade your iPhone to the newest iOS via iTunes with jumping pulse but are discouraged by the error prompt "The iPhone software update server could not be contacted." or something similar, don't worry, this guide will help you every time you want to update your iPhone to the newest version or restore iPhone with iTunes.

Backup iPhone before Updating to iOS 17 without iTunes
In case of data loss during iOS updating, you are highly suggested to back up the important data on iPhone to computer. For example, the selfies you saved in Photos and party videos you recorded. And WinX MediaTrans can help you.
How to Solve the iPhone Software Update Server Error?
The popup message has asked you to "Make sure your network settings are correct and your network connection is active, or try again later." Obviously, it means your iPhone can't connect to the Internet so as to contact the Apple server for the update. Also, the update server could not be contacted issue happens in high possibility when there are too many people updating their iPhones at the same time.
Besides, some configurations or antivirus software might block iTunes from contacting the server. Whatever, you can follow this guide to find solutions to solve iPhone update server could not be contacted issue.
[Note!] Backup your iPhone in case of any data loss due to the improper operation when fixing the issue.
Method 1. Check Your Network Settings and Network Connection
First thing first, poor or broken network will prevent your iPhone from connecting to Apple update server. So, you need a strong network and also make sure it is working properly.
Restart your WiFi router. Just turn off the WiFi router and restart it minutes later to see whether the problem gets resolved or not.
Also, check the network connection condition. You can use your browser to launch a website like YouTube and play a video to see if the network is working or not.
Method 2. Quit and Relaunch iTunes to Try Again
Sometimes, iTunes temporarily stops responding due to unknown errors. So, you can try to quit iTunes and then restart it again. Most of time, this method can help solve the iPhone software update server cannot be contacted error.
It is also recommended to close all the background apps on your iPhone before starting the iOS update on your iPhone.
Method 3. Download the Latest Version of iTunes
Sometimes when the error occurs, chances are that you are using the old version of iTunes. Simply check for update in iTunes or download the newest version from Apple official site to upgrade your iTunes. And then update or restore iPhone with iTunes.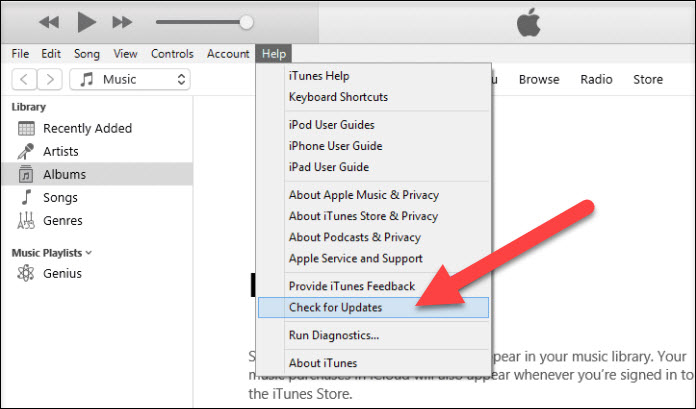 Method 4. Disable Firewall and Antivirus
Some cases has proved that firewall and antivirus could isolate iTunes from the computer system, and also iTunes is treated as a threat to the PC. So, there is problem connecting iPhone to the update server. Under such circumstance, you can temporarily stop the firewall and antivirus when updating iPhone with iTunes.
Method 5. Update iPhone Software over the Air
You need iTunes to update or restore your iPhone if you forgot your password and are locked out, or if your iPhone is in recovery mode. If it is not the case, updating iPhone to new iOS without iTunes is available as you can achieve this on your iPhone handset. Also, backup your iPhone using iCloud or your computer.
Plug your iPhone into power and connect it to the WiFi internet.
Go to Settings on your iPhone > tap General.
Tap Software Update, and your iPhone will automatically start checking for update for you.
If you see two software update options available, choose the one that you want to install.
Tap Install Now. If you see Download and Install instead, tap it to download the update, enter your passcode, then tap Install Now.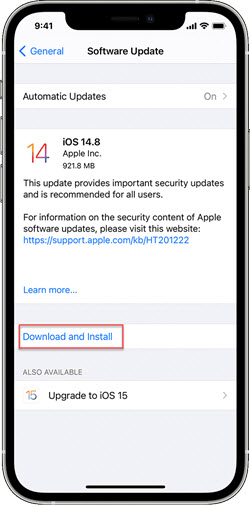 Note: When planning to update your iPhone, you should check if your iPhone storage is full or not as the new OS update will occupy some storage space of your iPhone. If the iPhone storage is not enough, the update won't be successful.
Method 6. Reset the Hosts File
The hosts file might also block access to the software update server. Here is how to solve it.
On Mac:
In Finder, select Applications > Utilities > Terminal from the menu bar.
In the Terminal application, type the following command and press Enter to open the hosts file: sudo nano /private/etc/hosts
When prompted, type your user password. Note that nothing appears in the Terminal window when you type the password.
Use the arrow keys on your keyboard to move through the hosts file.
If any line includes apple.com, add a number sign (#) and a space character to the beginning of the line.
To save the hosts file, press Control-O.
At the filename prompt, press Enter.
To exit, press Control-X.
If you are using Windows computer, you can check how to reset hosts file on Windows 10, 8.1 and 7.
Method 7. Manually Update iPhone with IPSW File
This is a bit complicated solution, but it is workable for your "iPhone software update server could not be contacted" issue. You can follow the detailed steps below to learn how to.
Download an IPSW file for your iPhone update.
Connect your iPhone to your computer and launch iTunes on your PC.
Go to Summary, and press Shift Key (for Windows) or Options Key (for Mac). Then click Restore iPhone.
A pop-up window will pop out and now you have to select the IPSW file that you have already downloaded.
A message will pop up saying that iTunes will erase and restore your iPhone. Press Restore and proceed.
Wait till it finishes and then you can enjoy newly updated iOS on your iPhone.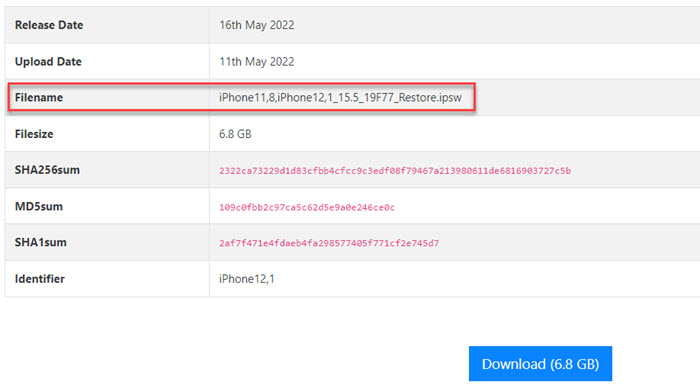 To sum up:
Once there is iTunes could not contact the iPhone software update server when updating or restoring iOS device, you should consider if it is caused by the error of internet, iTunes itself, antivirus or hosts file. And you can try to solve the error by reconnecting the internet, restarting iTunes, updating iTunes, disabling firewall and antivirus, updating iOS over the air, resetting host files, etc.