Backup iPhone to Computer or iTunes Most Safely in 3 Ways
3 tools and ways to backup iPhone to computer, external hard drive, iTunes...
This non-official instruction on iPhone backup, distinct from Apple Support, will push out several ways together with the best programs in the digital realm based on the backup of iPhone or even the new iPhone 15 Pro (Max) running iOS 17.
Why Do People Backup Their iPhones for Good?
I bet you can name a longer laundry list of reasons why you want to move the content and data from your iPhone to a computer, USB, iCloud, etc. But roughly the most cases are:
Guard against being stolen or loss of the mobile phone.
Maintain the information safety and individual privacy.
Change old iPhone for a new iPhone (e..g from iPhone 14 to iPhone 15).
Backup data and then remove personal information from your iPhone before you trade in your old iPhone.
No matter what your purpose is, making backup of your iPhone files can be a snap.
The Most Exquisite iPhone iPad iPod Backup Tool Is Here:
Backup Media Files with WinX MediaTrans
Transfer photos (by day, in whole or at random) from iPhone in seconds to free up space.
Move music/songs from iPhone to external hard drive.
Backup videos from iPhone to Windows 10/11/8/7 PC without data loss.
Most Useful Channels of iPhone Backup
For different demands from the basic to the under-the-hood, content from mobile phone can be exported by differed implementation methods. Here we've rounded up several ways so that you can choose from, considering that each may have pluses and minuses.
#1: Backup iPhone through Apple iCloud or iTunes
It makes sense that Apple Inc., as the developer, always has tutorials on tap for its gadgets customers. Likewise, it offers that of backing up iPhone/iPad/iPod touch using either iCloud or iTunes.
As easy as A-B-C, users seemingly accomplish the entire iCloud backup, including iPhone library, accounts, documents, Health data and settings just through "Tap Settings > iCloud > Storage > Manage Storage" while ensuring Wi-Fi connection. >>See Apple Support
However, one has to remember its password until the very end of life, because there's no way to recover the iTunes backup without password, which will be extremely a big trouble for some people who are good at forgetting passwords or even other things.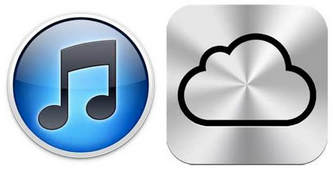 User Ratings: ★★★★
Range of Application: Apple-only backup; non-selectable sync; iPhone to iDevice transfer
Pluses: Original formula, perfect match. Support all the in-depth default data.
Minuses: Limited to Wi-Fi connection and password remembering; strictly formatted (for audio video as examples); iTunes does not allow users to selectively backup iPhone data; easy to get non-iTunes music and other data lost during the slow media sync. You'll find more iCloud iTunes backup disadvantages.
#2: Complete Phone-to-Phone Backup
Wondershare MobileTrans Phone Transfer is a professional phone to phone transfer software app. Between different operating systems, like iOS and Android, it supports transferring data from iPhone to iPhone, Android to iPhone, BlackBerry, Symbian, Winphone, Kies, etc. The brands of smartphones and tables range from Apple and Samsung to HTC, LG, Sony, Google, HUAWEI, Motorola, ZTE, and the like.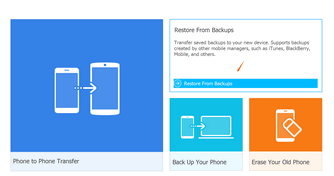 User Ratings: ★★★★
Range of Application: Users who want to change their mobile phones and go for a new one, e.g. replace iPhone 12 with iPhone 13
Pluses: Comprehensive backup features. One click solution for the entire phone data backup and recovery. Almost all mobile devices supported regardless of make, model or carrier.
Minuses: 1. Only can import the pictures that have been backed up, for example, to iCloud, rather than from image folders; 2. the "Photo Delete" operation may cause unexpected photo loss under iOS 8.3 and above
#3: [Fastest] Just Move Media Files from iPhone without iTunes
Shown by thousands of voluntary mobile users, three things that take up most percents of iPhone storage are videos, photos and music files.
So if your goal is to upgrade to iOS 17, or install more iPhone apps, exporting, rather than deleting, the redundant and needless media files would be enough.
WinX MediaTrans will transfer such media files (say, music, photos and videos) from your iPhone and backup the most cherished moments for you in a way more flexible, cosy and exquisite. >> How to Backup iPhone to Computer In whole or in part, you can transfer any of your media files, including the recorded 4K UHD videos, collected Blu-ray/DVD videos or the movies purchased online; backup only some of the music or playlists while managing the songs information; export daily photos to free up more space. It even makes your iPhone a privacy-based USB flash drive that can transport all kinds of files and documents (including PDF, Excel and PowerPoint) with the built-in USB feature.
User Ratings: ★★★★★
Range of Application: Music/movie obsessed fellows or shutterbugs who need to transfer and manage media files at free will; iOS upgrade; more app installations.
In all, WinX Mediatrans, although the function has yet to be complete, is a must-try easy and delicate software for the backup and transfer of photos, music and video files.