How to Password Protect iPhone Photos in Two Ways | iOS 17 & Windows 10
Want to lock some of your photos shot by iPhone with passcode in case they fall into the wrong eyes? Here you will find two ways to go.
People like taking photos with iPhone, that's why Apple is always making efforts to offer better photography experience by upgrading camera setup annually. The most recent iPhone 15 with revolutionary Portrait Mode is a good example. If you are one of the iPhone photographers and want to encrypt some of your private, sensitive, awkward or sexy pictures with password, you've came to the right place.
To begin with, we just want to remind you of the easiest way to keep some certain photos from others with no password, and that's exactly hiding them on iPhone. Apple has introduced photo hiding feature to iPhone machine since iOS 8. The only thing you should do is to select certain piece image you wish to hide under Photos app, then choose and confirm to hide it at the action menu. It does really conceal iPhone photos, while those hidden photos can still be seen in the newly created hidden album. Therefore, the best way to safely store your private iPhone photos is encrypting them with password.
- "I'm looking for a quick way or using an app to encrypt picture using the iPhone or an app."
- "I sometimes use my phone to take pictures that are adult oriented and I rather not have my kids come across them when they play on my phone or iPad. Is there anyway to password protected them so only I can access them? Seeing that everything is synced, they go to my iPad and Mac Mini too."
WinX MediaTrans -
Lock Protect Your Private iPhone Photos for Your Eyes Only
Export whatever iPhone photos to hard drive with password-protection.
Encrypt and decrypt whatever iPhone photos located on computer.
Also offer the same data security feature to iPhone videos.
Way 1. How to Encrypt and Decrypt iPhone Photos Stored on iPhone
iOS platform is born with superior security technology and features to meet different security needs. Speaking of keeping certain iPhone photos off-limits, you can directly make it happen with the help of iPhone's Notes app. You can add photo libriry images to note via Notes app or do as follows:
Step 1. Enter into Photos app, check the photo you'd like to encrypt to move on.
Step 2. Tap share, choose "Add to Notes" to insert it to any note or create a new one.
Step 3. Click "Save" to input photo to note at once.
Step 4. Open the note and lock it with password or fingerprint or face ID. Don't forget the password, because only right password empowers you ability to decrypt and access locked notes. Even Apple can do nothing for you if you lose the code.
Step 5. Remember to delete the personal photo and empty the trash.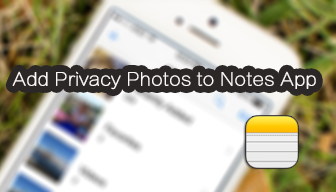 [Apple Support on] How to Use Notes on your iPhone
[Apple Support on] How to Keep your iPhone Notes Secure with Password-protection
In the Apple ecosystem, iTunes plays an important role for music listening and file backup, which allows you to backup the whole iPhone and encrypt it to secure your data. Unfortunately, it backs up all camera roll photos with encryption, so it's impossible to attach encryption to certain photos. If you can't get enough from Apple on photo privacy just like most iPhoners do, you'd better turn to dedicate third-party applications on App Store by searching "iPhone app to encrypt photos". Alternatively, you can also try to export personal photos from iPhone to hard drive with encryption to safe guard them in double insurance.
Way 2. How to Export iPhone Photos to Hard Drive and Lock Them with Password
The best way to avoid your secret or embarrassing iPhone photos being seen by kids, friends or others is to move them off your mobile and store them anywhere else with encryption. Compared to transferring iPhone photos to online cloud services that may be attacked by hackers, outputting intimate photos from iPhone to hard drive is much safer and more convenient, especially when iPhone transferring software starts to bring about data security feature. WinX MediaTrans, one of the typical iPhone manager developed by Digiarty, combines the core security tech and features of iOS with its own policies and procedures to meet specific security needs of users. WinX MediaTrans v5.5 or later is equipped with photo encryption functionality in two ways. Below we will illustrate them respectively.
Please free download and install this iPhone photo syncing program on Windows or Mac desktop, and then connect your iPhone to computer to stand by.
Export Private iPhone Photos to PC with Encryption
As the best iTunes alternative for media file syncing, WinX MediaTrans does better than iTunes from the very beginning. With it, you can enjoy more flexible photo selecting, superfast thumbnail loading and (4K) image transferring speed. Most importantly, according to feedbacks from thousands of users and countless testing results from software engineers, WinX MediaTrans is 100% stable and secure with no unexpected data loss or not working error.
Step 1. Run WinX MediaTrans and click "Photo Transfer" to head to another window.
Step 2. Select one or multiple photos from any folder, camera roll, shcreenshots, selfies, whatsapp, just to name a few. And tick "Export with Encryption" option with a golden lock icon.
Step 3. Tap big blue "Export" to pop up a drop down menu and choose "Export" to have software work. You're also enabled to convert iPhone (iOS 17) HEIC to JPG here.
To encrypt iPhone photos for the first time, please set the password at 8 digits or longer.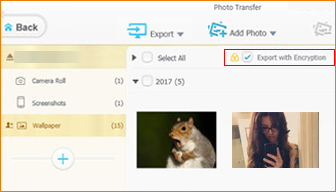 Encrypt Local Individual iPhone Photos Exported before with Password
Not only local photos exported from iPhone, but also those from any other smart phones/pads, digital camera, (GoPro) action cameras, (DJI) drones or downloaded online can be locked up with WinX MediaTrans.
Step 1: Run WinX MediaTrans and click "Encrypt File" to proceed.
Step 2: Under File Encryption panel, feel free to add photo files or folder you wish to hide.
Step 3: Press "Encrypt Now" to secure photos with password in seconds.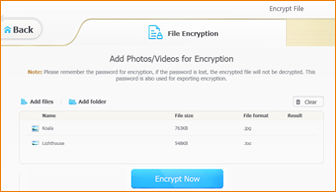 How to Decrypt Encrypted Photos: All locked content can only be decrypted via WinX MediaTrans under Encypt File -> File Decryption. If you forget the password, you cannot open encrypted iPhone photos at all. No one else, not even Apple, software developer, or password refixer can do any help.
WinX MediaTrans features encrypting and decrypting iPhone videos with password in the same workflow. See how to encrypt videos in iPhone/PC >>