Once your iCloud says there is not enough storage for iPhone or iPad, you are in a loop because it will repeat the alert like "iPhone backup failed" and "You do not have enough space in iCloud to back up this iPhone. Add iCloud storage to continue backing up" every day and never go away unless you take effective measures.
Solution 1: Delete photos and videos stored in iCloud to free up space
(Not Recommended)
The official Apple countermeasure against "not enough storage on iCloud iPhone" will always be managing iCloud settings. To edit or manage iCloud storage means to delete unnecessary things. The steps will be taken as: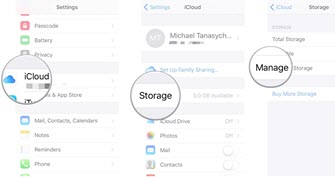 Step 1. Go to Settings on iPhone/iPad > General > Storage & iCloud Usage > See the "Used" storage and "Available" storage.
Step 2. Tap on Manage Storage, and see what items are the main culprits that are taking up too much space.
Step 3. Delete photos, videos, music or other media files, or delete the documents and data that are not useful and necessary at the moment.
This method is a first try, but not a highest recommendation, because it needs to be repeated as many as possible until there are sufficient iCloud storage. What's more awful, even if you have removed all the files and things that seem to be valueless, you might still have not enough space for all your iPhone/iPad backup and will still receive the "Not Enough Storage" error message. Other than turning off the items that you don't need to backup by toggling the switch next to the App to Off (under "iCloud" > "Manage Storage" > "CHOOSE DATA TO BACKUP"), what else can you do? What to do then if you do not want to delete files, data or apps in iPhone or iPad? Please go to the second solution:
Solution 2: Backup photos, video and audio files to PC (Your Go-to Solution )
There are causes for iCloud storage full issue. According to most iOS users, the biggest data hogs at the top are "photos" and videos (probably music as well, for others). iCloud may say something like, "You have xxx photos and x videos stored in iCloud. Your photos and videos are using x GB." By "Disable and delete" photo library and videos in iCloud, the content will be deleted and iCloud Photo Library will be turned off on all your devices.
Indeed, you don't have to worry about the loss of any photo, video or audio files at all, ONCE you have made the backup onto your computer or external hard drive. Therefore, the most recommended solving method for not enough iCloud storage problem is to get some or all photos, videos, music or other files off your iOS device.