iCloud Photo Sharing: What Is It? How to Use It?
iCloud

iCloud Photo Sharing

Posted by Estrella H.| Last Updated: September 21, 2018
3 Most Important Things About iCloud Photo Sharing
We have been used to sharing photos with our family and friends via iMessages, Mail app, WhatsApp, SNS like Facebook and Twitter, etc. All of them are good approaches. But here I'd also like to recommend another great method to share photos with others, namely iCloud Photo Sharing.
Best iCloud Alternative to Backup iPhone iPad iPod Files Safely

- Backup iPhone iPad iPod (HEIC) photos, music, videos, etc. to PC.
- Fast transfer speed. No network required. No data loss.
- All popular iOS (12) devices supported. Windows 10/8/7 supported.
What Are iCloud Photo Sharing Limits?
What file formats are supported by iCloud Photo Sharing? How many files can I upload to it? Now, we will answer these two questions here.
* Supported image formats: JPEG, RAW, PNG, GIF, TIFF.
* Supported video file types/formats: MP4 and QuickTime video file types, and H.264 and MPEG-4 video file formats. Video length should be no more than five minutes. And it will be delivered at up to 720p resolution.
* Tip: Files shot with slo-mo, time-lapse, 4K videos and Live Photos are also supported.
* Maximum number of photos and videos from a single contributor across all shared albums: 1000 per hour; 10,000 per day
* Maximum shared albums an owner can share: 100
* Maximum combined number of photos and videos from all contributors in any one shared album: 5000
How to Use iCloud Photo Sharing?
After realizing the power of iCloud Photo Sharing, you must want to have it a try, right? So here, we will explain how to use iCloud Photo Sharing step by step.
Part 1. How to turn on iCloud Photo Sharing?
You can enable iCloud Photo Sharing in iPhone, iPad, iPod, Mac, Windows PC, and Apple TV.
1. First of all, make sure iCloud Photo Sharing is available on your device.
2. Sign in to iCloud with your Apple ID on your device.
3. Turn on iCloud Photo Sharing:
On iPhone iPad iPod: go to Settings -> iCloud -> Photos -> switch on iCloud Photo Sharing.
On Mac: navigate to System Preferences -> iCloud -> -Options beside Photos -> tick iCloud Photo Sharing.
On your Windows PC: open iCloud control panel (if you don't have this tool, download it from Apple site) -> select Photos -> click the Options button to turn on iCloud Photo Sharing -> click Apply.
On your Apple TV: go to Settings -> iCloud -> iCloud Photos Settings -> turn on iCloud Photo Sharing.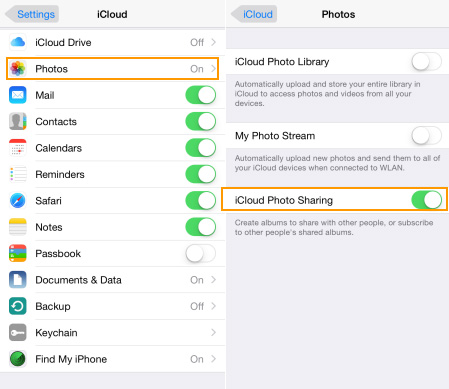 Thereafter, you can see your shared albums on all of these devices when you sign in to the same Apple ID.
Part 2. How to create a shared album?
1. Go to Photos app, hit Shared at the bottom, and then tap + icon at the top left corner or "New Shared Album".
2. Enter the name of this shared album, and then click Next.
3. Invite people via email addresses or iMessage phone numbers. Once finished, press Create button.
Read: What to Do When Not Enough iCloud Storage Is on Your iPhone/iPad?
Later, people who accept your invitations will get notifications when the Shared album has updates, and can get access to the Shared album, viewing your uploads, leaving comments and likes on what you share, saving the shared locally, and even adding their own photos and videos. And you can continue to add photos and videos to the shared album later by tapping "Add Photos or Videos..."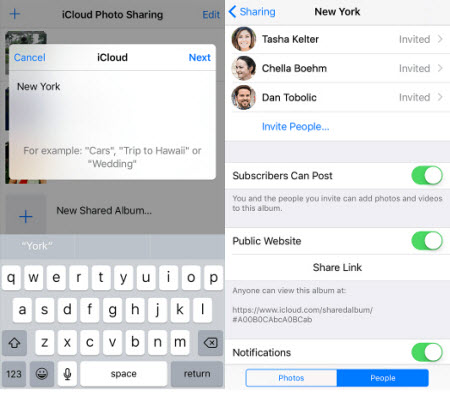 Tip: If you like a photo or video, you'd better save it locally in case you're revoked from the subscribers list or the file is deleted by the owner. On iPhone, iPad, or iPod touch, go to Photos app -> tap Shared -> tap the target photo ->

-> Save Image. On Mac, select the photo or video, control-click -> Import. You can only save shared videos to a Mac or PC.
If you have some problems while using iCloud Photo Sharing, kindly go to "get help using iCloud Photo Sharing and shared albums".
You May Need: Transfer Files Between iPhone iPad iPod and Computer
The best tool to do this job is WinX MediaTrans. With this software, you can:
* Get photos (HEIC, PNG, JPG etc.)/music/videos/ebooks/voice memos/ringtones/iTunes U/podcast off iPhone iPad iPod to computer to release space or for other reasons;
* Transfer music/videos/eBooks/ringtones/iTunes U/podcast from computer to iOS device for enjoyment anytime anywhere;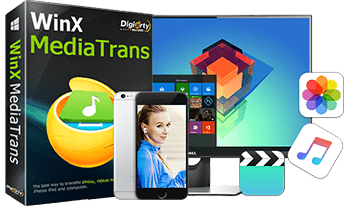 *
Remove DRM
from movies, music and audio books purchased from iTunes Store for playback on more device;
* Make custom iPhone ringtone; manage/edit music; mount the iDevice as flash drive to store all kinds of files;
* Auto convert/rotate videos for perfect playback on iPhone; auto convert music format to iDevice supported format.