[Solved] iCloud Photos Not Syncing Problems
iCloud is the best way of Apple to backup and restore iPhone, while iCloud Photo Library was introduced in iOS 8, macOS 10.10.3, tvOS 10, and is available to Windows 11/10/8/7. So any Apple devices with the eligible OS can access, upload, sync and edit the iCloud Photo Library with related iCloud account - Apple ID signed in. But iCloud photos not syncing problems happen at times. Typically, photos may failed to upload to iCloud or get misplaced. This guide will show methods on how to fix iCloud not syncing photos.
Frustrated of iCloud photo library not syncing on iDevice?
WinX MediaTrans helps solve iCloud photo sync error by:
Sync any photos from iOS to PC with no Internet or iTunes;
Fast sync photos from Win/Mac to iPhone iPad for special using;
100% secure and stable! No data loss at all!
OS: iOS 7 - iOS 15
Part 1. [Basic Fixes] iCloud Photos Not Syncing Errors
You can try the suggestions below if iCloud stops you from syncing photos.
Make sure you have a reliable internect connection. iCloud Photos may get stuck uploading when the internet is weak. Restart your WiFi router or switch to another internet if neccessary. You should know that iCloud Photos won't sync photos or videos when your device is on cellar data.
Sign out/in your iCloud account. Go to your Settings > find and tap Sign Out > then restart your device and go to Settings and sign into your account again. It goes the same on your PC/Mac.
Check if the iCloud status is OK. Go to Apple's System Status page and find Photos. If there is a red or yellow dot, instead of a green dot next to Photos, it means that something is wrong with it. You should have to wait until Apple solves iCloud photos not syncing error.
Check your Apple ID. If iCloud Photos is not syncing, it may be because you're using a different Apple ID on the devices.
Check iCloud Photos storage. Check if your disk have enough storage to save photos. iCloud won't sync photos if the location is full.
Part 2. How to Fix iCloud Photos Not Syncing to PC/Mac
Q: I've upgraded both iPhoto and OS on my devices to the latest versions. My iPhone and iPad can sync photos without problem via iCloud. But my Mac does not sync at all. I can take a picture on my iPhone and it appears on my iPad in 5 seconds while the iPhoto on my Mac just will not update at all. I have logged out of iCloud and logged back in several times to restart it. Not sure why but it is really frustrating. Any help will be appreciated!!!
Syncing photos to Mac with iCloud requires Apple ID. iCloud not syncing photos can be caused by the Apple ID. Sometimes, you cannot sync photos to Windows 10/11 or Mac simply because of your iCloud. Here are some suggestions to get your photos synced to Mac or Windows using iCloud, please connect your computer with a stable WiFi:
1. Enable iCloud photo library.
To make sure the iCloud Photo Library in turned on your Mac computer, then open Photos > Preferences > click on the iCloud table, and check iCloud Photo, this will start syncing photos stored in the Photos app to iCloud.
2. Log in with Apple ID
If you are experiencing the problem with iCloud photos not syncing to Mac, open the Accounts menu of the iCloud app, and check if the same Apple ID is logged in across your devices. If the Apple ID accounts are synced, the iCloud not syncing error will be fixed.
3. Update iCloud
Outdated iCloud is a root cause for the iCloud photos not syncing error, typically "cannot connect to iCloud" while syncing. To get the error fixed, go to the Apple's System Status and find Photos, check if there is a green dot, if so, leave it unchanged. If there is a red or yellow dot, wait until Apple fixes the error and update to the latest version. For Windows users, simply launch the Apple Software Update feature, select iCloud service and Install it to the latest version. Restart it and check if the error is fixed.
Note: iCloud photos not syncing to Windows 10/11 can be also attribute to the Apple Software update. If so, open it from the Start menu, install any available updates for iCloud or related Apple software programs such as iTunes. This can solve the iCloud not syncing photos error. News: On macOS 10.15 Catalina or later, Finder will take over the sync and other features that were on iTunes. Check how to sync iPhone iPad iPod with Finder >>
Part 3. How to Fix Photos Not Syncing to iCloud between iPhone, iPad and iPod
Q: iCloud not syncing photos! My iPhone 13 and iPad Pro are not syncing pics using the same Wi-Fi and iTunes account to iCould. Both devices have iCloud pic settings turned on. Thanks for your help!
Firstly, you must guarantee the iCloud Photo Library in turned on under Photos & Camera at Settings. Then you can try disabling photo stream on the iPhone and iPad (settings > iCloud), restarting your devices and then re-enabling photo stream. If it still fails, just reset the photo stream. Those steps are also available for resolving iCloud photos are not fully syncing problem.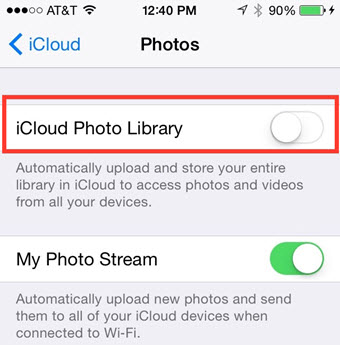 Secondly, keeping your system software and apps up to date is deemed as essential to get photos syncing to iCloud in track. If you are run into the photos not syncing to iCloud error with your iDevices, update to the latest versions on iPhone or iPad, here are the steps: Open the Settings on your device > tap General > Software Update > click press to Download and Install button. This will start updating iOS device.
Other Troubleshotting Guides iOS Users Are Searching:
Part 4. How to Fix iCloud Photo Library Not Syncing
iCloud Photo Library is available for users to manage and sync photos across multiple devices, which is also the culprit for iCloud photos not syncing issue. The error has some relationship with the internet connection and the storage plan. You can follow the suggestions to fix iCloud photos not syncing error.
1. Ensure a stable Internet connection.
Bad or unstable internet is blamed for incomplete iCloud syncing. Before syncing photos with iCloud, make sure to enable WiFI or cellular data. Here are the steps. Go to Settings on the iPhone > Photos > Wireless Data. Tap on it > choose WLAN & Cellular Data to allow iCloud to sync photos via WIFI or Cellular.
2. Update iCloud Storage.
iCloud offers 5GB of free storage to save photos and other files by default. If you exceed the limit, you may receive the error message "iCloud photo library not updating". To fix the iCloud syncing error, you'd better either to remove unnecessary files like apps, photos, videos, or so to free up some space or upgrade your storage plan for more storage space.
3. Turn off and on iCloud Photo Library
It is reported that turning off and on the iCloud Photo Library again is feasible to fix the iCloud not syncing photos issue. Here are the steps. Go to the Settings and tap on your Apple ID > press iCloud > Photos > toggle the iCloud Photos to the Off and then On to turn on it. Before doing this, make sure to connect your photo to WiFI.
Part 4. [Alternative] - Transfer Photos between iPhone iPad and Computer without iCloud
Each iOS user can enjoy 5GB free iCloud photo storage. If you don't want to pay for the upgrade plans (up to 1T), you can look for some unlimited cloud services like Google Photos, or directly transfer the photos from iDevice to local hard drive and upload photos from computer to iCloud when mobile to mobile not syncing trouble occurs. In reture, if your computer failed to upload photos to iCloud, it's also feasible to sync those photos to iPhone/iPad for smoothly syncing them to iCloud. Of course after this, you'd better delete the photos for more storage space.
Now download the best file sync software - WinX MediaTrans, install and then launch it on your computer. Unlike other software, it does not require intslling iTunes or related Apple services at all. We here take exporting iPhone photo to computer for demonstration.
Connect iDevice to computer via a USB cable to have WinX MediaTrans recognized it. (Tap "Trust" on thes screen if it's the first time to connect to PC.)
There are mainly 4 blue options on the main interface. Here you just need to click "Photo Transfer" section to switch to photo exporting screen.
Select photos or group(s) as you prefer. Photo group can be shown here by Day/Month/Year or None to check. "Export with Encryption" is free to tick.
Click "Export" to fast save those iPhone photos to local folder. When loading HEIC/HEIF photos, it will permite you to convert HEIC to JPEG.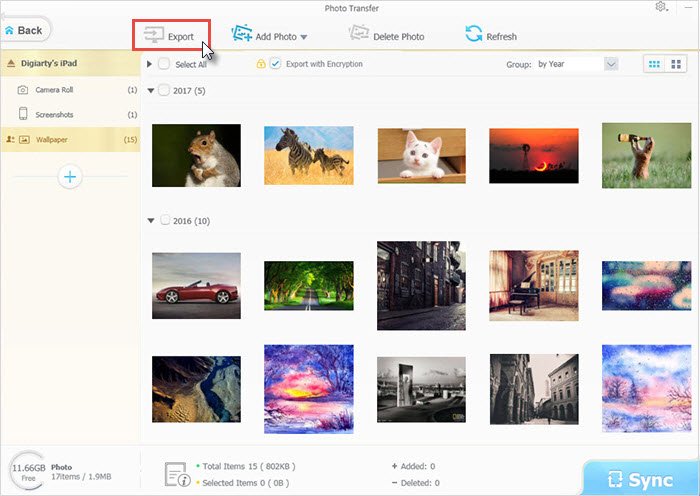 Still cannot sync photos between iPhone and iPad or so after trying the workarounds? It's worth a shot to search or ask question on Apple discussion community.
If you think the post useful, please kindly share it!
If you still have problems about how to solve iCloud photos not syncing problems on iOS and computer, feel free to Email us >>