Posted by Donna Peng - Contact Author

macOS: How to Sync iPhone iPad iPod with Finder

If Finder can't Sync on your macOS Catalina, click here: The solution most recommended by us [85%]
Tutorial to Sync Data to iPhone/iPad/iPod with Finder on macOS 10.15 Catalina
There's no iTunes in the upcoming macOS 10.15 Catalina. 3 separate apps - Apple Music, Apple Podcasts and Apple TV - will replace iTunes and handle its own specific type of content in the new OS (check full info on iTunes is going away). Then, people who are accustomed to using iTunes for syncing, backing up, updating and restoring, go into a panic and wonder whether they can still do those jobs after upgrading to macOS 10.15 Catalina. The answer is yes. Although iTunes is killed, iTunes's synchronization and other features are kept and you will find them in the Finder app. We've installed the macOS 10.15 Catalina beta version and now we'll show you how to sync data to iPhone iPad iPod with Finder on this operating system.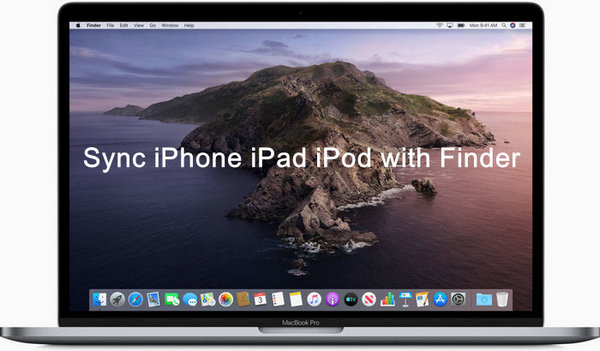 Guide to Sync iPhone iPad iPod with Finder on macOS Catalina
There're 4 steps to sync data to iOS device with Finder. The workflow is very similar to that of iTunes.
Step 1. Connect your iPhone/iPad/iPod with macOS Catalina powered computer using a workable lightning or USB-C cable.
Step 2. Launch the Finder app, and then at the left sidebar you should find your iDevice's name under Locations. Click it and then Finder will begin loading. Once done, you'll see a list of content types, including Music, Movies, TV Shows, Podcasts, Audiobooks, Books, Photos, Files and Info.
Tips: If you can't see your iPhone/iPad/iPod device, go to Finder Preferences -> Sidebar -> CDs, DVDs, and iPods. Then, check and uncheck, unplug and replug. It may work for you.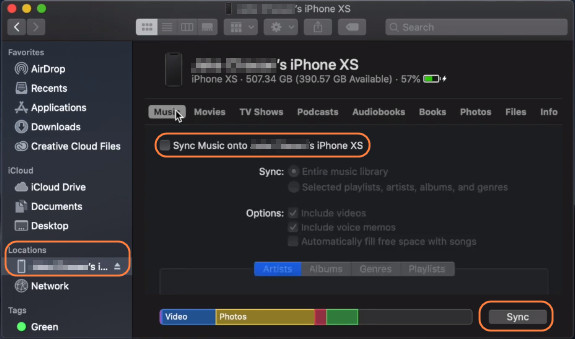 Step 3. Click the content type that you want to sync. Music? Movies? Or something else?
Here, we take syncing music file to iPhone as an example. Click Music and then check Sync Music onto xxx (your device name). Next, we can choose to sync entire music library or only selected items.
Step 4. Hit Sync button in the lower-right corner of the screen, and then Finder will start syncing for you.
What if Finder Cannot Sync Data to Your iPhone/iPad/iPod?
Some users have tried the syncing feature in Finder but experienced some troubles, such as Finder not syncing. If you have tried many fixes but still no luck, you can use MediaTrans as a workaround. MediaTrans is designed as an easy-to-use iTunes alternative for file transfer and management, and now you can still use it as an alternative to Finder.
What MediaTrans can do for you?
Sync photos, music, movies, TV shows, e-books, and more content types between iPhone/iPad/iPod and computer.
Remove DRM from iTunes/Apple music, movies, TV shows and audio books.
Make ringtones; create music playlists; auto convert music to iOS compatible format MP3/AAC.
Turn iDevice into a flash drive to save any file type, .doc, .xlsx, .pdf, etc.
Encrypt your photos and videos with customized password.

Download MediaTrans for Mac

to sync iPhone iPad iPad with macOS Catalina

Download MediaTrans for Windows

to sync iPhone iPad iPad with PC