Posted by Donna Peng - Contact Author

iTunes is Dead. Sync Data with iTunes Alternative for Catalina

Get the best iTunes alternative for macOS Catalina: The solution most recommended by us [85%]
Love it or hate it, Apple finally kills iTunes with macOS Catalina and splits it into three dedicated apps: Apple Music, Apple Podcasts, and the Apple TV app. While according to Apple, this move is to improve the way Mac users discover, enjoy, and manage their media, there's a side-subject that must be broached: how to sync, backup iPhone iPad with Mac when iTunes is dead? What's the iTunes alternative for macOS Catalina now?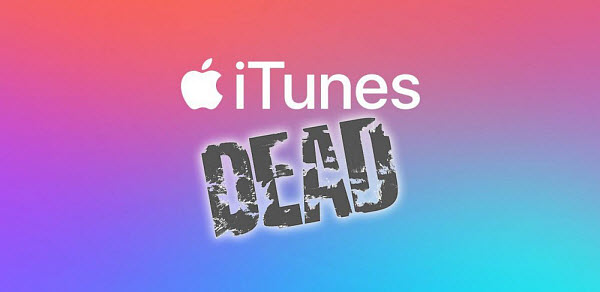 How to Sync Data on Catalina when iTunes is Killed off?
There are things to be clear with macOS Catalina:
* Where is the iTunes library: Since iTunes is divided into three apps, now users can find the previous iTunes library in the three apps separately. Specifically, the tracks ripped from CDs, music purchased from iTunes, mp3s, playlists, music videos, etc. are moved to Apple Music. And the same goes for the Apple TV and Apple Podcasts apps.
* How to sync on macOS Catalina: While iTunes is removed from macOS Catalina, it doesn't mean that users can't sync iPhone with the computer anymore. Apple won't kill such an important feature without providing an iTunes alternative. Now, users can still sync music, movies, and podcasts using a cable, but via the individual new entertainment apps. Plug the device iPhone iPad to the Mac, and options will show up in the Finder to sync, backup, and restore data (check how to sync with Finder on Catalina).
"So, I'm a little confused. Do I now have to go into three/four different apps to manage what syncs to my phone, or is that Info/Summary page what's migrating to the Finder? Hope this isn't another case of Apple taking away something without thinking it through." Apparently, not all users are happy with the death of iTunes. For users who use it to transfer data over time, it means the inconvenience to sync media via extra steps. Is there a place that users can manage the music, TV shows, videos, podcasts, etc. in one click? Check the best alternative to iTunes on Catalina.
Best iTunes Alternative for Catalina to Sync iPhone iPad with One Click
With iTunes gone, Mac users lose the way to manage media in one place. Luckily, there is a better iTunes alternative for macOS Catalina that won't require users to sync media one by one via different apps - WinX MediaTrans (see WinX MediaTrans vs iTunes for more details), a reliable solution to manage iPhone iPad in one click. In addition to the bonus features like no Apple ID required and no confusing settings, it delivers two-way data sync in an easier and faster way.
One-click Data Sync for Catalina - WinX MediaTrans
Sync and back up selected or whole photos, music, videos, podcasts, voice, ebooks, etc. between iPhone iPad and the computer via drag and drop.
It auto converts 32-bit codecs and videos not supported by QuickTime or iOS/macOS like WMV, DivX, Flash Video, etc. for iPhone iPad directly.
Full iPhone management features to let users remove DRM of songs/movies purchased from Apple TV, delete data, create ringtone/playlists, edit music info, mount iPhone iPad as hard drive, etc.
Superfast data sync speed - 30s to sync 1000 photos, 5-10x faster than others.

Download iTunes Alternative for Mac

to sync iPhone iPad to Catalina

Download iTunes Alternative for Windows

to sync data to PC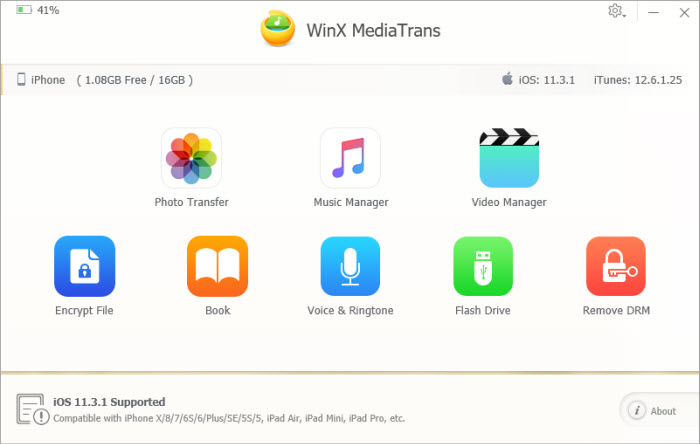 How to Sync Data on Catalina without iTunes?
Step 1:  Free download the iTunes alternative on macOS Catalina. Open the app and connect your iPhone or iPad to Mac via a USB cable.
Step 2: It will detect the device immediately and now you can see a window as shown above. Select the data you want to sync, for example, click "Music Manager" and it will load all your iPhone music. To back up iPhone to Mac Catalina, scroll down to choose the whole or multiple music songs and click Export; and to sync iPhone with Mac music library, select the songs from the local computer and drag them to the app or click Import and select the songs.
Step 3: After you add or export the songs, click the big blue Sync button to apply all the changes to the iPhone library. Then you can sync the photos, voice, videos, ebooks, etc. with similar steps.