Step-by-step Guide of Transfer Movies to iPhone without iTunes
For watching 720p or 1080p HD movies on iPhone, you can download movies to iPhone directly using some trusted movie apps on iOS. But since the film source for iPhone is quite limited, we suggest you transfer the videos existing on your computer or external hard drive to iPhone instead.
WinX MediaTrans is audience-proof Windows-based software that can both convert videos to iPhone formats and transfer different movies to iPhone. Please follow the guides below:
# How to Sync Hollywood/Bollywood Movies from Windows PC/Hard Drive to iPhone (11/Pro Max/XS/XR/X/7)?
To achieve this, you have to prepare the blockbuster movies firstly onto your HDD or hard drive. Full movies may generally be downloaded from best Hollywood or Bollywood movie sites or top 10 movie torrent sites.
1. Download movies to your hard drive by use of a video downloader that supports 4K and 3D movie downloads.
2. Download and install WinX MediaTrans on your PC. Launch the software, and plug in your iPhone to PC via the USB cable provided by Apple.
3. Click "Video" icon on the UI of the transfer software.
4. Pitch on "Home Video" or any other folder name listed on the left, other than "Movies" (Note: you're not enabled to add things into the default Apple "Movies" folder).
5. Tap "Add Video" on the top, browse in your computer and opt for the movie file(s) before clicking on "Opening". In such way, you can add one or more files into the file transfer software.
If the movies are saved in the USB flash drive, media server, thumb drive or other external hard drive, please connect it onto the USB port of your computer for moving adding. WinX MediaTrans allows you to choose files externally.
6. The movie video may be in the formats (e.g., AVI, WMV, FLV, MPEG, ISO, VOB) that are not natively supported by Apple. Whether you will click on the "Convert" button on listed file block or not, WinX MediaTrans will convert it for you to make any movies imported playable on your iPhone.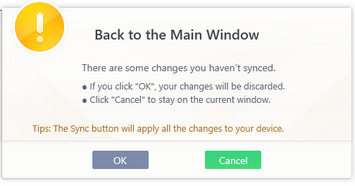 7. Go for "Sync" to transfer the movies from your hard drive to iPhone 5, iPhone 5S, iPhone SE, iPhone 6, iPhone 6S and iPhone 7 (Plus included).
Note: If you want to make some changes before syncing, the previous selections may be restored. Therefore, a pop-up window will remind you to make choice for preventing unexpected disoperation.