How to Transfer Movies to iPhone from Windows without iTunes?
This article will introduce a brand-new way of transferring movies to iPhone without iTunes at all.
Globally, the total shipments of computers (including laptops and desktop-PCs) are around 258 million in 2016, inclusive of all brands. Comparatively, about 211.88 million Apple iPhones solely have been sold in 2016. From very early on, people have kindly "abandoned" their computer at home imperceptibly and turned them into furnishings. Why? The most convincing reason may be the portability of mobile phone, which make it convenient to be carried everywhere, and turned on and off. Accordingly, "lazy" users are getting used to watching movies on iPhone.
Last year, Apple promoted the storage of new model of iPhone to 1TB maximally, making it more movie-saving-friendly. Supposedly, whopping 100 movies can be put into a 1TB iPhone. The giant screen is another factor that pleases movie addicts, but how to transfer movies to iPhone?
How to Sync HD Hollywood/Bollywood Movies to iPhone?
For adding movies to iPhone, the first thought pops up to one's mind would be "using iTunes". But ask yourself, does iTunes really a surefire gear for file transfer? Indeed, except for syncing the movies purchased from iTunes, it is not the best choice for most Apple users: vague instruction (not quite user friendly), superfluous pop-up windows, and tedious operations (especially for Windows users). Most of all, the auto sync will cause data loss on your iPhone easily. Also, please note that the pictures and videos that have been synced from computer to iOS device cannot be synced to computer again. An alternative is needed.
Sync Any Movies from Computer to iPhone without iPhone
Auto converts Apple unsupported formats to supported ones.
Syncs Disney movies, Hollywood/Bollywood movies from PC to iPhone.
Supports all video resolutions; optimize file size for iPhone.
Part 1. How to Sync Hollywood/Bollywood Movies from Windows/Hard Drive to iPhone?
For watching 720p or 1080p HD movies on iPhone, you can download movies to iPhone directly using some trusted movie apps on iOS. But since the film source for iPhone is quite limited, we suggest you transfer the videos existing on your computer or external hard drive to iPhone instead.
WinX MediaTrans is audience-proof Windows-based software that can both convert videos to iPhone formats and transfer different movies to iPhone. Please follow the guides below:
To achieve this, you have to prepare the blockbuster movies firstly onto your HDD or hard drive. Full movies may generally be downloaded from best Hollywood or Bollywood movie sites or top 10 movie torrent sites.
1. Download movies to your hard drive by use of a video downloader that supports 4K and 3D movie downloads.
2. Download and install WinX MediaTrans on your PC. Launch the software, and plug in your iPhone to PC via the USB cable provided by Apple.
3. Click "Video" icon on the UI of the transfer software.
4. Pitch on "Home Video" or any other folder name listed on the left, other than "Movies" (Note: you're not enabled to add things into the default Apple "Movies" folder).
5. Tap "Add Video" on the top, browse in your computer and opt for the movie file(s) before clicking on "Opening". In such way, you can add one or more files into the file transfer software.
If the movies are saved in the USB flash drive, media server, thumb drive or other external hard drive, please connect it onto the USB port of your computer for moving adding. WinX MediaTrans allows you to choose files externally.
6. The movie video may be in the formats (e.g., AVI, WMV, FLV, MPEG, ISO, VOB) that are not natively supported by Apple. Whether you will click on the "Convert" button on listed file block or not, WinX MediaTrans will convert it for you to make any movies imported playable on your iPhone.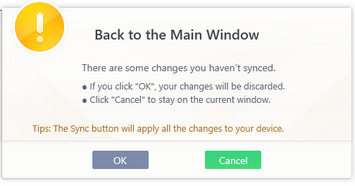 7. Go for "Sync" to transfer the movies from your hard drive to iPhone 14/Pro Max or older models.
Note: If you want to make some changes before syncing, the previous selections may be restored. Therefore, a pop-up window will remind you to make choice for preventing unexpected disoperation.
Part 2. How to Upload Home Movies from Windows (10) to iPhone without iTunes
You might have home movies that are shot by HD camera (such as Canon, JVC, Sony, Panasonic HD Camcorders) or a tablet/mobile phone, and created and processed by Windows Movie Maker and the like. In any case, WinX MediaTrans can transfer and add your home movies while optimally resizing and converting them for your iPhone. The operation is similar to and easier than transferring a commercial movie instructed above.
1. Create a home movie and save it to your computer.
2. Download, install and launch WinX MediaTrans on your computer. Plug in your iPhone to the PC via the USB cable provided by Apple.
3. Select "Video" button on the main interface.
4. Click "Home Video" on the left and hit "Add Video" on the top.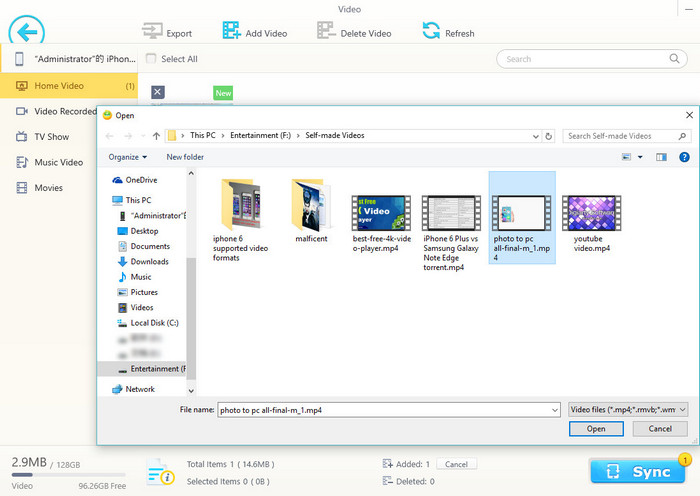 5. Browse in your computer or hard drive that has been connected to your computer, find the home video(s) needed to be transferred and click Open.
6. Go for "Sync" and let the software do the rest for you. Then you can find your home video in the "Home Video" folder of your iPhone.
Other Tips for Transferring Movies to iPhone via WinX MediaTrans
1. The "Refresh" icon on the top helps you reload new videos that might just be taken by your iPhone after being connected to computer. But refresh before "Sync" will make the added videos gone and you'll have to re-add them.
2. Some information related to file transfer will be shown on the bottom. For example, you can see the remaining space of your iPhone and calculate how many movies you can still load.
3. Under "Settings", you can set the default path of exported items from Disk C to other Disk. You can check or uncheck "Hardware acceleration", "Auto rotate video if necessary" and choose Auto convert music format to "MP3" or "AAC".