How to Transfer 4K UHD Video Files from iPhone (X/8/7/6S/6) to Windows 10 PC?
transfer 4K video

iPhone to Windows

Last Updated: September 4, 2017
Why Transfer 4K Video Recordings from iPhone to Windows 10 PC?
In these times, with the 4K capturing and recording feature introduced into iPhone 6s and iPhone 6s Plus, everybody turns into a photographer. However, the iPhone 4K video recording feature is turned off by default in all probability because of the noteworthy storage requirements that are necessary to capture and record 4K video(s) at 30 fps. 
According to iPhone, it will take about 375 MB for a 1-minute video recorded at 4K resolution. Videlicet, if you are an iPhone user, you have to make sure there is at least 400 MB free space to store the next UHD recording. Otherwise, exporting 4K videos to Windows 10 computer is your must-do.
Generally, a computer has 120GB to 2TB hard drive capacity (for mainstream, 500GB to 1TB). Computer itself is a good warehouse to store 4K UHD videos. The data will not lose easily unless the machine goes wrong. Furthermore, the monitor size of computer is way larger than an iPhone to truly manifest the superiority of 4K resolution. Therefore, it is more than necessary to transfer 4K videos from iPhone to Windows 10 PC with an iPhone storage saver.
Look for a User-friendly File Transfer Tool between iOS and Windows?

- Defeat iTunes by running smoothly on Windows 10 (32&64 bit) PC.
- Copy UHD and HD video files fast from iPhone to PC briskly.
- Also export photos and music files from iPhone.
What Would It Be Like to Watch 4K Videos on a Windows 10 PC?
The number of pixels across a 4K (more correctly, UHD) video file's horizontal dimension is around 4000. Its resolution, 4096X2160, is 4 times of the pixels that 'Full HD' (1920 x 1080 or 1080p) offers and 2.25 times of 'WQHD' (2560 x 1440). Watching 4K videos on Windows 10 computers means clarity and 'real estate'.
Guide: How to Transfer 4K Video Files from iPhone to Windows 10 PC ?
iTunes is the default file transfer app for iOS and Mac OS. But on Windows 10, iTunes runs extremely slowly, crashes frequently and even FREEZES your computer every day because of the automatic syncing. What's worse, both iTunes & iCloud cannot copy imported videos from iPhone to PC. Considering such iTunes Windows 10 shortcomings, WinX MediaTrans is the best replacement for transferring large 4K HEVC files on Windows OS (including Windows 10).
Strengths of WinX MediaTrans in Terms of 4K Video Backup:
- Support batch mode: select all or parts of HD/UHD video files from iPhone.
- Fast backup speed: it owns the fastest speed to read and export media files with the help of hardware acceleration tech.
Transferring 4K Videos to Windows 10 with WinX MediaTrans:
Before processing, please make sure you've downloaded and installed WinX MediaTrans on your PC (not on iPhone).

Step 1. Open WinX MediaTrans, plug in iPhone (6/7/8) to PC until the software get access to your iPhone successfully. (If not, go to find the solutions from the help page).
Note: Please check the "Prevent iPhone, iPad from automatic sync with this computer" before connecting in case media files been wiped out from iPhone.
Step 2: On the main interface of the iPhone manager, tap "Video" item to go on.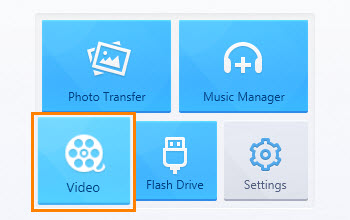 Step 3. After a second when all files have been read, choose in the left sidebar the destination folder where your recorded 4K videos are in, such as Home Video, Video Recorded, TV Show, Music Video and Movies.
Step 4. Select one or more 4K video items flexibly in any operating way in Windows (e.g. drag-n-drop), and click "Export".
Step 5. Hit "Sync" button and start transferring the 4K videos from iPhone 7/6s/6 (Plus) to Windows 10 PC.