How to Transfer 4K Video Files from iPhone to Windows PC?
Why Transfer 4K Video Recordings from iPhone to Windows 10 PC?
All the front and rear cameras on newer iPhone can now record videos at up to 4K 60FPS. However, the iPhone 4K video recording is not always exciting. According to iPhone, it will take about 400 MB for a 1-minute video recorded at 4K resolution 60PFS. That means, on your 64GB iPhone models, you can take 4k 60fps videos in 16 minutes! That's the first drive to transfer 4K videos from iPhone to Windows 10.
Second, while iOS 17 has provided some amazing video editing features, it's not a smooth experience to edit 4K videos on iPhone with the limited features. You may want to transfer 4K videos from iPhone to Windows 10/11 PC for better editing and later sharing. Anyway, if you need to transfer 4k (24FPS, 30FPS, 60FPS) videos from iPhone to Windows PC fast with no quality loss, check this post.
Look for a Fast 4K Video Transfer Tool between iPhone and Windows?
We Strongly Recommend - WinX MediaTrans
- Defeat iTunes by running smoothly on Windows 10/11 (32&64 bit) PC.
- Copy 4K 60FPS videos fast from iPhone to PC briskly.
- Export 4K videos from iPhone in original ultra-high quality.
- Trasnfer 4K videos, music, photos, etc. between iPhone and computer in a flash.
What Would It Be Like to Watch 4K 60FPS Videos on a Windows 10 PC?
The number of pixels across a 4K (more correctly, UHD) video file's horizontal dimension is around 4000. Its resolution, 4096X2160, is 4 times of the pixels that 'Full HD' (1920 x 1080 or 1080p) offers and 2.25 times of 'WQHD' (2560 x 1440). Watching 4K videos on Windows 10 computers means clarity and 'real estate'.
In most cases, the screen size of a desktop computer ranges from 15 to 19 inches. A 4K display can reach a resolution of 3840X2160 at 16:9 image ratio. Microsoft did make an effort to keep up with high-resolution displays in Windows 8.1, as it added scaling as high as 200 percent of the standard; in Windows 10, it has been improved to be smoother for Windows 10 ultraHD resolution display support to ensure the best experience at 4K resolutions and beyond. Besides, the MKV and HEVC/H.265 codecs have been added in Windows 10 to support 4K video playing.
Note: Some 4K display users are complaining about the reduced character captions. Actually, 4K display scaling is needed in Windows 10. A UHD video or image can be perfectly shown on Windows 10 by Settings > System > Display. You can select '100%', '125%', '150%', '175%', '200%', '225%', '250%', '300%' or '350%' among the scaling options. (See How to Manage 4K Display Scaling in Windows 10)
Guide: How to Transfer 4K 60fps Video Files from iPhone to Windows 10/11 PC ?
iTunes used to be the default file transfer app for iOS and Mac OS, but now it's Finder that will transfer data between iPhone and macOS later than 10.15 Catalina. Though iTunes still works on Windows 10, it runs extremely slowly to move iPhone 4K videos, crashes frequently and even FREEZES your computer every day because of the automatic syncing. What's worse, both iTunes & iCloud cannot copy imported videos from iPhone to PC. Considering such iTunes Windows 10 shortcomings, WinX MediaTrans is the best replacement for transferring large 4K HEVC files on Windows OS (including Windows 10).
Strengths of WinX MediaTrans in Terms of 4K Video Backup:

Support batch mode: select all or parts of HD/UHD video files from iPhone.
Fast backup speed: it owns the fastest speed to read and export media files with the help of hardware acceleration tech.
Transferring 4K 60fps Videos to Windows with WinX MediaTrans:
Before processing, please make sure you've downloaded and installed WinX MediaTrans on your PC (not on iPhone).
Step 1. Open WinX MediaTrans, plug in iPhone to PC until the software get access to your iPhone successfully. (If not, go to find the solutions from the help page).
Note: Please check the "Prevent iPhone, iPad from automatic sync with this computer" before connecting in case media files been wiped out from iPhone.
Step 2: On the main interface of the iPhone manager, tap "Video" item to go on.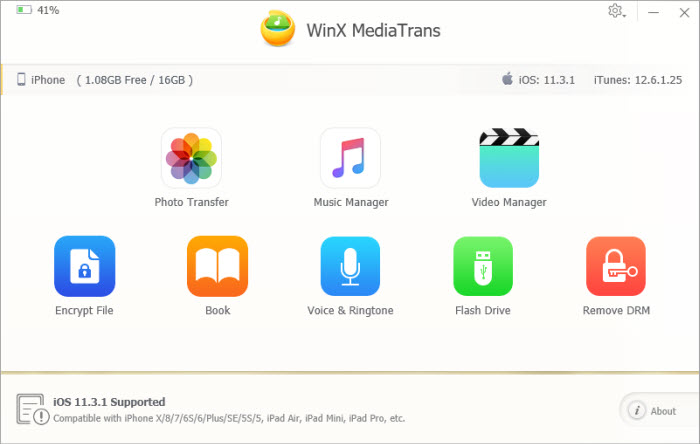 Step 3. After a second when all files have been read, choose in the left sidebar the destination folder where your recorded 4K videos are in, such as Home Video, Video Recorded, TV Show, Music Video and Movies.
Step 4. Select one or more 4K video items flexibly in any operating way in Windows (e.g. drag-n-drop), and click "Export".
Step 5. Hit "Sync" button and start transferring the 4K videos from iPhone to Windows PC.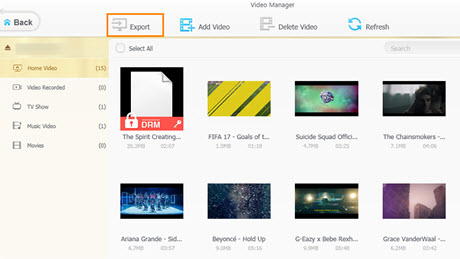 WinX MediaTrans - The new-generation iTunes alternative for Windows users to transfer 4K/HD videos/movies/TV shows as well as photos/music from iPhone to Windows 11/10/8/7 computer or hard drive at unmatchably fast speed. Besides, photos and music can be added from PC to iPhone.
It will support iOS 17 and iPhone 15 and the the latest iOS devices. The version running on Mac is also available.