Posted by Donna Peng - Contact Author

iTunes is Out - How can You Sync/Transfer iOS Data Now?

Sync/backup iPhone safely on macOS Catalina: The solution most recommended by us [85%]
When you want to upgrade iPhone to iOS 13, switch from old iPhones to iPhone 11, 11 Pro or Pro Max, you may need to create a safe backup on Mac only to find that the latest macOS 10.15 Catalina has removed iTunes from the latest system. iTunes has long been the primary hub to purchase, manage, sync, backup, and restore the iPhone, iPad, and the iPod. iTunes is out in macOS Catalina, which begs the question: How do you sync your iPhone or iPad with the Mac?
Related: iOS 13 download & update issues , iPhone 11/11 Pro must-know features
What happens to iTunes?
What's users concern most is whether the existing iTunes purchases are safe and where to access them when iTunes is shutting down. iTunes is going away in favor of three standalone apps - Apple Music, Apple Podcasts, and Apple TV app. (As iTunes is dead on macOS Catalina, it means that the change only affects Mac users. Nothing is changing for Windows users.)
Apple Music - After you upgrade to Catalina, your existing iTunes music will automatically be loaded into Apple Music app, including all of your playlists, ripped albums and purchased content. Though Apple Music is a paid music streaming subscription service, you can access your music collection without having to subscribe to the service.
Apple TV - This app will have all your TV shows, movies, and music videos purchased or rented from iTunes. This is where you make further purchases and rentals.
Apple Podcasts - iTunes podcasts will be moved to the Podcasts app, along with the subscriptions. Audiobooks will be transferred to the upgraded Apple Books app on Mac.
Though iTunes is out maybe an undue burden on Mac users, they can take solace that their libraries of music, movies, and other content are all safe. The other big question that's probably foremost for users who use iTunes instead of iCloud to sync their iPhones and Macs: how to sync iDevices when iTunes is discontinued?
How to Sync, Backup & Restore iPhone without iTunes on Catalina?
When iTunes goes way on macOS Catalina, you'll find the backup, update, sync, and restore functions available in the Finder. Below are the step-by-step guides.
How to sync iPhone on Catalina with Finder?
1. Connect an iDevice to Mac running macOS Catalina 10.15 or newer via a cable. Open Finder app on the Mac Dock and for the first connecting, it will ask you to pair the devices as it did with iTunes. Click Pair button and Trust the computer on the mobile and enter the passcode to authenticate the pairing.
2. Find your iPhone under Locations in the left-side menu.
3. You can see a menu on the right panel that is similar to iTunes, which including General, Music, Movies, TV Shows, Podcasts, and other content. Select the item you want to sync.
4. If you want to sync music to iPhone using Finder, click Music and you can make detailed settings.
5. You can sync your entire music library or selected songs, without or without videos, etc. After the settings, click Sync Music onto the device and then the Apply button. The same goes with other data sync using Finder when iTunes is dead.
Check the detailed guide to sync iOS data on Catalina >>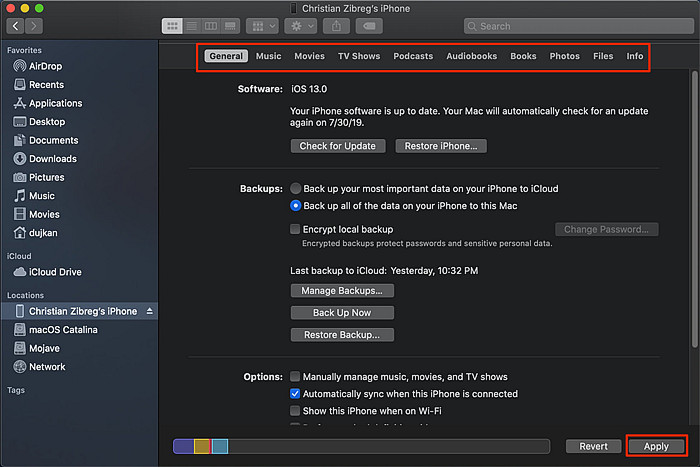 How to backup iPhone in macOS Catalina?
1. Open Finder and find your device under Locations.
2. To backup iPhone to Mac for iOS 13 upgrade using Finder, click General. Then you will see Backups option.
3. Select "Back up all of the data on your iPhone to this Mac". There are other settings about the backup. You can encrypt the backup just like iTunes, manage backups, back up the most important data to iCloud, etc.
4. Click Apply to start iPhone backup via Finder when iTunes is removed.
Check detailed guide on how to backup iPhone iPad via Finder >>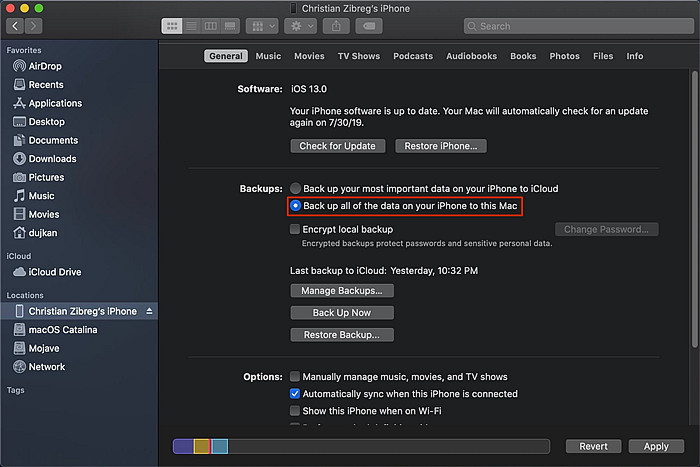 How to restore iPhone without iTunes?
1. Open Finder and find your device under Locations.
2. Similarly, go to General > under the Backups option > find the Restore Backup option.
3. Select the backup you want to restore to iPhone from backups on the Mac, and then click Apply. If the backup is encrypted, you will need to enter into the passcode to continue. The time to backup and restore via Finder depends on the size of data.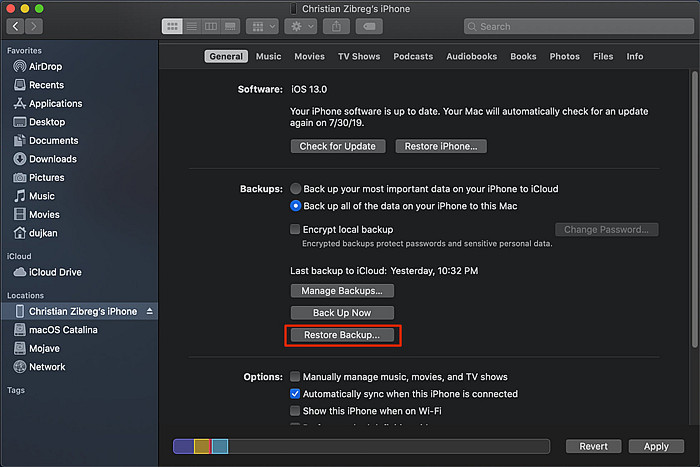 Finder is not perfect now...
iTunes going away into four apps is happening and will eventually be a welcome move. But this isn't to say the migration will be perfect - migrating to new versions of any software often has hiccups, especially at the beginning. Below are the complaints from Catalina users (besides the known and similar iTunes annoyances like endless freezes, long wait, ). Complete Finder not sync errors here >>
1. I CAN'T sync ringtones with Finder. Rintones sync is impossible on Catalina.
2. I was able to drag and drop music to iTunes. But I can't drag and drop in Catalina.
3. What about creating smart playlists on iDevices? I can't find an option.
4. My iPhone XS Max isn't syncing when I click sync in the Finder... is anyone experiencing this with Catalina?
5. I can no longer add music to my iPhone simply after iTunes is out. Finder always replaces everything on there!
6. When I plug my iPhone to Catalina, I can't find my device under Locations.
7. Updated to iOS 13 today. I get a Trust request error (0xE8000004) when pressing on trust this device button in finder sidebar. Any ideas?
8. How to get files off my iPhone? In iTunes there was a Save button but iTunes is dead and this is no longer here in iTunes.
A More Reliable Way to Sync, Backup and Restore iPhone without iTunes
Catalina is currently in its early stage and it is a giving that the Finder sync/backup/restore is filled with bugs and has stability and performance issues. For iDevices users who want to sync/backup iPhone iPad for iOS 13 update safely without getting into any trouble, there is a reliable iTunes alternative for Catalina to tide users over until Finder is optimized - MediaTrans.
Reliable iTunes Alternative for macOS Catalina - MediaTrans
Sync, backup, restore, and manage full/selected data between iPhone iPad and Mac/PC via one-click drag and drop.
Support all (ripped, downloaded, purchased, homemade)videos, music, photos, iTunes purchases, DRM content, ringtones, podcasts, books, etc.
Manage, delete files, create ringtone/playlists, remove DRM/encrypt, convert media, mount iPhone...
No.1 fast data sync speed - 30s to sync 1000 pictures, 5-10x faster than others.
Reliable performance on iOS 13 and macOS Catalina (and earlier versions).
No risk to erase existing data library or lose data, no Apple ID required, easy to use.

Download iTunes alternative for Mac

to backup iPhone iPad on Catalina

Download iTunes Alternative for Windows

to backup iPhone iPad to PC
How to Sync, Backup, and Restore iPhone on Catalina when iTunes is Phasing Out
Step 1: Download and run the iTunes alternative on macOS Catalina. Connect your device to Mac with a USB cable and it will detect the device immediately.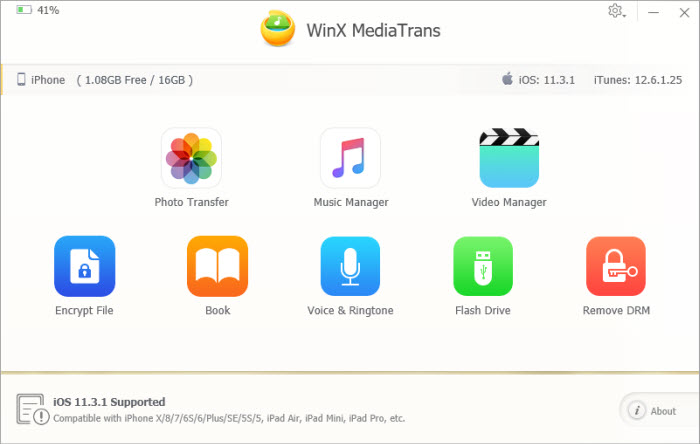 Step 2: As shown above, you can select to backup, restore and transfer iPhone photos, music, videos, books and many more. Then you will see the below window. To backup iPhone data to Mac Catalina, check the box Select All or select the files individually and then click Export. The files will be backed up to the destination on the computer.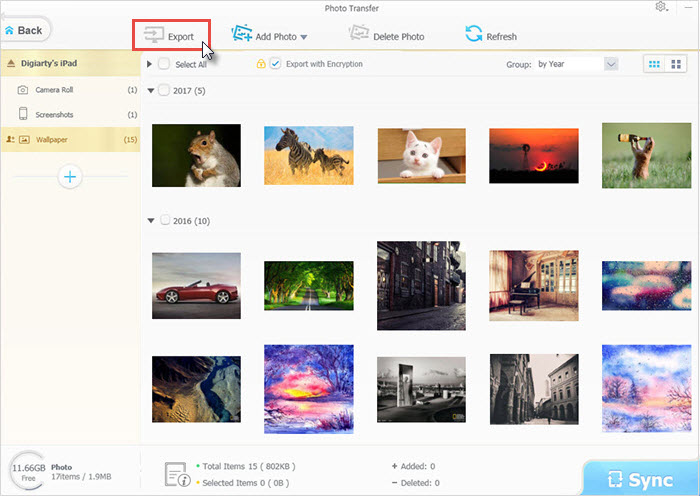 Step 3: To restore/add items to iPhone after iOS 13 update, click Add music/photos/video button on the top bar and select the backup data from the computer. Then click Sync and the added files will be transferred to your iPhone. Learn detailed steps to backup iPhone without iTunes >>
FAQ about iTunes Going Away
Apple is shutting down iTunes without detailed explanation. Here we have answers to the most common questions.
1. Why is MediaTrans a good alternative way when iTunes goes away?
In short, MediaTrans is easier and faster than iTunes. It's a light-weight tool designed specially to flexibly manage, backup, sync, and transfer iPhone data. It offers no media purchase options, but when it comes to data transfer/backup, it's an easy winner. Here is a detailed review on iTunes vs MediaTrans >>
2. What will happen if I don't upgrade to Catalina?
For macOS Mojave and earlier macOS as well as Windows systems, users can continue to use iTunes. If you need to download/install iOS 13 update on iPhone, you can update as previous. You can stay with the old systems until you're ready for the change. Or you can ditch the big and messy iTunes and use an iTunes alternative to manage iPhone data until Finder is perfect.
3. Is the iTunes Store gone away with iTunes? How to make a purchase?
No. Though iTunes is dead on macOS Catalina, the iTunes Store will not. You can access the iTunes store via the left panel inside the Apple Music, TV and Podcasts app. You buy stuff in different apps - music in Music, movies and TV shows on TV, and audiobooks in Books. And the iTunes Gift Cards? Don't worry, you can still use them to buy new content.
4. What about iTunes Match?
iTunes Match is used to get the non-iTunes tracks and purchases to the iCloud library. On macOS Catalina, iTunes Match will continue, but built-in Apple Music. If you upgrade to Catalina, all your iTunes Match songs will show up in Apple Music. If you don't want to switch, iTunes Match will continue to work.
5. Can I create smart playlists when iTunes is out?
No. Users are used to creating smart playlists based on genre, artist, star ratings, etc. But you can't do that on the iPhone version of Music.
6. Apple Music vs iTunes, what's the difference?
Simply put, iTunes is a freehub for iDevices data management while Apple Music is a music app. iTunes is for those who have their own library of imported songs. Sometimes, it's hard to import a CD and impossible to get Album Artwork, even for popular albums. Apple Music is a subscribe service for $10 per month, but you can find a song easily with album artwork.