Top 5 "iTunes Could Not Backup the iPhone" Errors & Fixing Tricks
Learn multiple reasons for iTunes not backing up iPhone (14/13/Pro Max) on computer, and also learn how to settle those iPhone not backing up to iTunes errors down fast.
Apple delivers iPhone users two approaches to free backup iPhone for space saving and data storage, in case the iPhone is lost, stolen or badly damaged:
1. Backup iPhone to iCloud wirelessly (only 5GB space for free)
2. Backup iPhone to computer with iTunes wirelessly or via an USB cable (as much storage as the computer has)
To backup iPhone regularly is a good habit. Obviously, making copies for all iPhone content into computer with iTunes is more practical for long-term iPhone backup. Because the available free space on computer is usually dozens or even hundreds times larger than that of iCloud. But during the iTunes backup iPhone process, it may bump into some "iTunes could not backup the iPhone" error messages for the iPhone disconnected, an error occurred and more. In the following part, we have picked 7 typical errors out, with related resolution tips.
Best iTunes Alternative to Backup All iPhone Files without Error
Top alternative to iTunes - WinX MediaTrans
Backup all files from iPhone (14/13/12/Pro/Max) to computer with clicks, including music, video, photos, eBooks, iTunes purchases...
Support removing DRM from iTunes purchases, convert M4V to MP4 and M4P to MP3 DRM-free file for legal personal enjoyment.
All-round music manager (edit song info, create playlist/ringtones, bulk delete songs...) and iPhone USB mounter.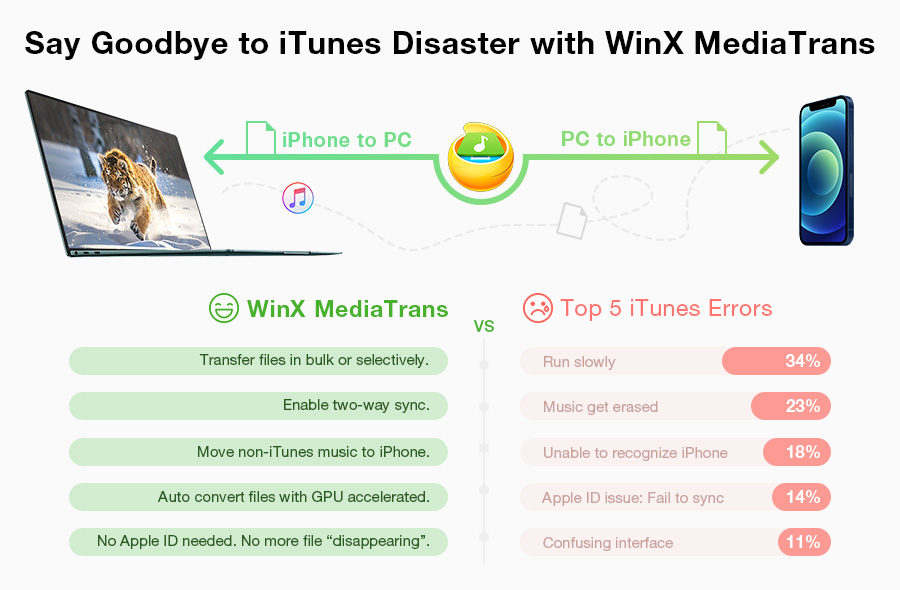 Common "iTunes could not backup the iPhone" Messages with Fixing Ideas
First off, several basic routes are must-dos for fixing any iTunes cannot backup iPhone errors:
If they all fail, please keep reading the following workaround collections of iTunes could not backup the iPhone because:
Top 5 "iTunes Could Not Backup the iPhone" Errors & Solutions
1. Fix iTunes could not backup the iPhone because the iPhone disconnected or an error occurred
As the most common iTunes error of "not backing up iPhone", it usually happens at the halfway or near the end of iPhone backup in iTunes. Due to the cause varies from specific situations, it's impossible to deliver a standard solution. You can only try each of useful tips brought up by actual users below one by one.
Check whether the USB cable/connector is workable by plugging it in another socket or try a different genuine lightening cable.
Clear null temporary file with cleaning apps.
Disable antivirus programs when syncing.
Alter the iPhone name, eject and reconnect it to iTunes.
Restore the phone to factory settings.
Turn off Wi-fi or reset network settings. Similarly, put iPhone into Airplane Mode works at times.

Turn off Background App Refresh for the backup moment, because much background apps may cause the "... the iPhone connected" message. If there're apps that you got outside of AppStore, you can delete those apps to try backup again.
Remove recent or all of iPhone backup files off the Backup folder and do the syncing again. Delete the folder with random characters here, or the plist file in /private/var/db/lockdown.
Change the iTunes Media folder to default position at Edit - > (Advanced) Preferences: Windows: C:\Users\12\Music\iTunes\iTunes Media ; Mac: Go > Home > Music > iTunes
Tick "Prevent iPods, iPhones, and iPads from syncing automatically" at "Edit->Preferences -> Devices" , and replug the iPhone, click Scan and Fix on the prompt, then Close it; Go back into iTunes, put the tick mark off "Prevent iPods, iPhones, and iPads from syncing automatically", click OK. Unplug and plug iPhone again to do the backup... >>iPhone iTunes Connect Errors and Fixes Roundup
2. Fix iTunes could not backup the iPhone because the backup was corrupt or not compatible with the iPhone
Delete Backup from Device Preferences under Edit menu;
Navigate to Backup folder and trash or move the folder named with your UDID to somewhere else; Windows: C:\Users\username\AppData\Roaming\Apple Computer\MobileSync\Backup Mac: ~/Library/Application Support/MobileSync Or, just to erase all of the backup files on computer;

Reset iPhone by clicking " Settings > General > Reset > Reset Setting".
Pause the programs of antivirus or malware detection.
Corrupted app is a possible inducement for this error, so it's suggested to go through all iPhone apps and drive the 3rd-party ones out.
3. Fix iTunes could not backup the iPhone because not enough free space is available on this computer
In this case, you have to make room for iPhone backup by deleting useless files under the current iPhone backup location, or changing the backup path to another bigger one. Removing trash files in recycle bin is also necessary to free up more additional space. 4. Fix iTunes could not backup the iPhone because the backup could not be saved on the computer
Some external hard drives from Seagate, Kingston and more are equipped with Wi-Fi file transferring function, by which the photos in the wireless storage can be sent to iPhone with the same network connected.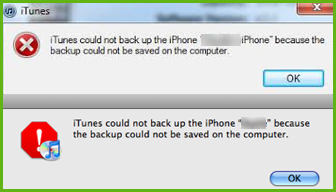 5. Fix iTunes could not backup the iPhone because the backup session failed
Restore iPhone to original status.
Update, disable or uninstall the security software, especially on Windows PC. P
Clean up the computer to throw the junk content away. If there's no feasible answer to solve your "iTunes could not backup the iPhone" problem, or if you still want to seek help for more iTunes backup troubles like iTunes could not backup the iPhone because the password was incorrect, please go to Apple Discussion Community.
People are also reading: How to Backup iPhone to Computer with iTunes or Without iTunes