Best Free Music Apps for iPhone Offline & No Ads
You don't have to buy individual songs, playlists or albums. Or, subscribe to a monthly subscription for streaming music songs on music streaming services. Instead, you can take free music apps for iPhone offline into consideration.
But have no idea which music app freeware is suitable without annoying ads? This review of 2023 Top free music apps for iPhone has get the comparison work for you. It helps you find out which one works best at one stroke, now find out!
Transfer MP3 AAC FLAC from PC to iPhone, and vice versa
Easiest Solution Must Be - WinX MediaTrans
Transfer music (songs/playlists) from iPhone to computer, and vice versa in a flash.
All music keeps original quality without compression during delivery.
Remove DRM from iTunes music and convert M4B/m4P to MP3 for iPhone.
Build and manage your own music library, edit music info on iPhone (15 incl.).
Top 10 Free Offline Music Apps for iPhone
Given the fact that a large number of music APPs for iPhone have been unlisted by AppStore to protect legal rights of musicians and artists, it's quite hard to find the best music APP for iPhone by typing "music APP" in iTunes store. But you won't need to worry, cause here we crank out the most in-depth review of best music APPs for iPhone so you can compare the nitty gritty details.
1. Apple Music App for iPhone
Integrating iTunes Radio and Beats Music, the Apple Music APP for iPhone is native to iOS 17. Though it's just a year since its debut, Apple Music delivers a total number of 30 million songs. In Apple Music APP for iPhone, you can create playlists, discover new singles in the "For You" category which recommends songs based on listening history, etc. Apple Music APP for iPhone offers 3 months of free trail, then you pay $9.99 for full content, or stay with Beats 1, Apple Radio and Apple Connect for free. 2. YouTube Music APP for iPhone 15
If you're an old YouTube subscriber, this YouTube music APP may just appeal to you more than other services. Featuring a music archive as large as Apple Music APP - with over 30 million MP3 AAC, and music videos, listeners can search for song titles, singers or albums to build up their own music station. Unlike other iPhone music APPs, which only provide official MP3 or MP4, YouTube Music APP for iPhone can meet your demand in a more casual way. A monthly fee at $9.99 can eliminate ads, play music offline with screen off. 3. Best iPhone Music APP for Workout - RockMyRun (Free)
As a special iPhone music APP designed for workout scenario, RockMyRun holds an exclusive music library featuring rhythmical tempo and energetic beats. This is a great music APP for workout scenarios. Additionally, pop is never the only music genre you can find on RockMyRun, with a complete gamut of music ranging from oldies, classical, hip-hop to dubstep, RockMyRun absorbs music from omnichannels. Put on your ear pods while playing music with this iPhone music APP, it can adjust the energy of music according to your pace or heartbeat. Runners can get up to 45 minutes of free music without paying anything, yet a premium subscription renders longer workout music without advertisement. 4. Spotify Music APP for iPhone
Need I say more about Spotify music APP for iPhone 15? Perhaps just not. Many people think of Spotify when it comes to online streaming music, and truth is that it indeed is a sleek Music APP offering high quality online streaming. ntegrated with Facebook and Twitter, listeners can not only soak in the up to 30 million tracks that Spotify holds, but also share their favorite tunes to SNS and discuss with friends.
There are already plenty of song titles in a free account of Spotify music APP for iPhone, but with a $9.99 monthly subscription, you'll be able to save the music for offline listening when there's no Wi-Fi access.
5. Jukebox iPhone Music APP (Dropbox Required)
Rather than any of the above-mentioned iPhone music APPs that hold their own music tank, Jukebox Music APP for iPhone pairs with your Dropbox APP to work.
If you are used to saving music to Dropbox, Jukebox is the best option that slurps up all tracks therein to let you access them just like they're in the music APP. Indeed Jukebox may be less convenient as it won't allow to start streaming or downloading music directly, it doesn't charge a penny as long as you get the music in Dropbox. Additionally, Jukebox look sleek and stylish, and always works in a good state. 6. Offline Music Downloader
Judging from its name, you can see this is a offline music downloader, as well as a music player for iPhone. You can get free music songs downloaded on your iPhone by dint of this free offline music downloader and free play songs anywhere anytime without online ads interruption.
That's not the whole story. You can utilize it to easily create, manage, repeat playlists at your will, without any connection to the internet. By the way, upgrade to its paid version if you wanna enjoy its more advanced features. It offers in-app purchases.
7. Napster
Similar to the above-mentioned iPhone offline music application, this one is also supporting offline playing music songs, playlists on your iPhone without network connection needed. Moreover, it features a great knack to create and load playlists from your favorite music streaming platforms. What's special to users is that you can connect your Apple Watch to iPhone and control & manage music songs via the Napster app, even offline. Thus, your iPhone and Apple Watch can reach out to each other in music playback and sharing. 8. Amazon Music
Most of user probably subscribe to Amazon Prime, but the Amazon Music service is probably less well known. If you're a member of Prime, there's a lot in the Amazon Music app to check out.
The service is ad-free and included in your Prime subscription. You can log into your Prime account and then stream a bunch of over 2 million songs, playlists, and radio stations. And most music songs will display lyrics as they play. Certainly, if you wanna download music songs for offline playing on iPhone, you need to upgrade to its full-fledged service Amazon Music Unlimited.
9. Qello Concerts Music APP for iPhone
Among all Music APPs for iPhone, Qello Concerts stands out among the rest as an expert in providing full-length concerts and musical documentaries. Type into the artist name to find out which concert you want to attend, but couldn't make it to the auditorium. Now with only one Music APP for iPhone, you can enjoy the music as if live at scene. Even without a full subscription at $7.99, Qello Concerts let its user scan a few tracks, yet the full-price service is indeed incredible fun, enabling you to watch concerts spanning through all musical genres through this iPhone music app. By and large, everyone of us downloads either a Spotify music APP for iPhone, or a Pandora APP, for that's where the most popular and latest songs are. But lesser-known iPhone music apps like Jukebox or Qello Concerts Music APP can take to you a totally different experience of music streaming. In fact, often times I myself can't choose one among them all so I'd just take two of them, say, Apple Music and Qello Concerts.
10. iHeart Radio (Free) Music APP for iPhone
The only Internet radio mode music APP for iPhone listed in our recommendation is iHeart Radio free music APP: Delivering a whole lot of 20 millions songs & soundtracks, together with the most popular AM and FM radio stations like Power 105.1 FM in New York City. That being said, a good integration of popular music and news makes this iPhone music aPP one-and-for-all for both entertaining and info-feeding demands.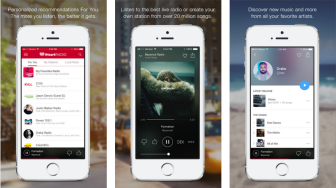 Another highlight of this iOS 17 music APP is that, you can always find the right music for special situations with the "Perfect For" mode. Open the APP and turn on a certain mode, then you'll find music streaming unlimitedly of a suitable scene, such as for a road trip, a summer workout routine, or for holiday celebration. Indeed there are plenty of radio built-in music apps for iPhone 15/15 Pro Max, but iHeart Radio stands out among the rest with its timely-updating library.
Some of the above mentioned top 10 music apps for iPhone are paid software while some are free to use. The main difference between free and paid iPhone music apps is their range of features and functions. Free music apps typically have a limited selection of music songs, playlists or radio channels, etc. Paid iPhone music apps usually come with more various customization tools, such as free music streaming, online sharing, music editing features, etc.
In short, free versions are great if you're looking for an easy way to enjoy music on iPhone without any extra bells and whistles; but if you need more control over your iPhone music management, then a paid version is likely worth the investment.