Best Free Music Editor for any iPhone to Edit Songs and Playlists
WinX Music Editor for iPhone enables you to edit iPhone music by renaming, modifying info. of music, artist, album and genre, also adding to or deleting from playlist...
iTunes do have music editing feature for music purchased from iTunes as follows, and the precondition is you have permission to read and write those music files:
• rename songs, albums, genre etc.
• adjust volume, reset start and stop time and more;
• add lyrics;
• convert selection music to MP3 format;
• add music to playlist;
• create ringtone... >> Modify/Edit Songs in iTunes
But, iTunes often comes up with bugs that may cause music files losing after metadata changing or iTunes upgrade. That's to say, iTunes is not so qualified to be a professional song editor application for its instability and limitation on music importing. Given this, a best free iTunes alternative program is much needed, and this is where WinX MediaTrans lies in.
Looking for a best free iTunes alternative to edit music?
100% stable music editor - WinX MediaTrans
Edit any information of a music file in a stable and secure way; Add, edit any music files downloaded online or ripped from CD/DVD;
Manage playlists, and make iPhone ringtone from music library easily.
Transfer more files between PC/Mac and iPhone iPad like music, audiobooks, iBooks, videos, photos, podcasts, iTunes purchases, etc.
Top Free Music Editors for iPhone
Given the fact that a large number of music APPs for iPhone have been unlisted by AppStore to protect legal rights of musicians and artists, it's quite hard to find the best music APP for iPhone by typing "music APP" in iTunes store. But you won't need to worry, cause here we crank out the most in-depth review of best music APPs for iPhone so you can compare the nitty gritty details.
Part 1. WinX MediaTrans - Best Free Music Editor for iPhone
To begin with, we have to tell that WinX MediaTrans have two versions for both Windows PC and Mac OS X, be it the newest Windows 10 and macOS Sierra, or any previous operation systems. As to compatibility for iPhone, this best music editor is fully friendly to iPhone 15/Pro Max, etc., and supports the new iOS 17 or lower.
Now, free download this iPhone music editor for installing on your computer, launch it, and then connect your iPhone to computer via a USB cable. WinX MediaTrans will automatically recognize and access your iPhone when it's connected to computer rightly. Then go ahead to the music editing steps below:
Note: To use this music editor app for iPhone on computer, iTunes must be installed here. But no need to open iTunes up.
Step 1: Click "Music Manager" to turn into the main interface for iPhone music editing and managing;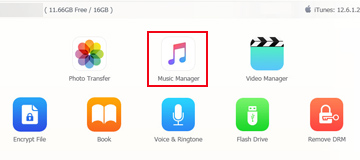 Step 2: Choose "All Music" option in the left top area, all of your iPhone music can be listed in the right section by general list or by artist.
Step 3: When check box is shown up in front of every music file, it's time for you to choose one or multiple music files to add to playlist, export to computer, edit music info. or delete. Target music selected, tap "Edit" icon to start editing task.
Other features:
Any music songs on computer can be added to your iPhone at will by clicking "Add Music" icon. And you can create music playlist(s) freely to help you listen to different music by situations, make iPhone ringtone with only a click here.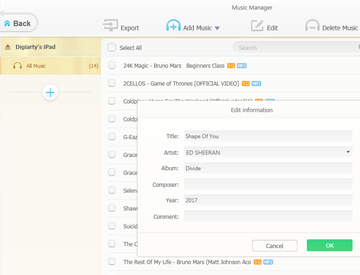 Step 4: Tap Sync to finish confirm and apply the music editing. Part 2. GarageBand
GarageBand is a free music creation & editing app (from Apple) for iPhone that provides you with a spate of virtual instruments, recording capabilities, and a built-in sampler. To free create R&B, Hip-Hop, EDM, or other live sounds, GarageBand will let you do that easy peasy. From AMP, guitar, drums, bass to keyboards sounds, GarageBand is a legit audio editor that enables you to edit music files in just a few minutes.
You can record your own sounds and vocals by dint of this app's built-in microphone or by connecting an external microphone to your device. Afterwards, further polish your creation by courtesy of its mighty loops and samples.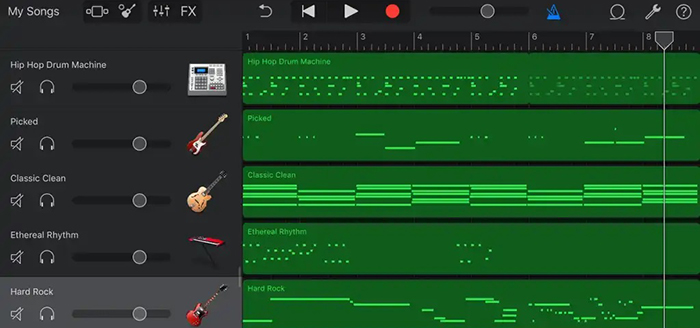 Another major reason that makes Garageband itself a respectable showing is its mind-blowing smart instruments, which are designed to be played by anyone, regardless of their musical skill level. This is really nice to newbies. No wonder everyone loves it!
Part 3. WavePad Music and Audio Editor
WavePad Music and Audio Editor is a digital audio editor for iPhone that is designed for professional audio and music production, and is used by musicians, producers, and audio engineers for a variety of purposes, including editing, mixing, and mastering audio.
Import your iPhone music clips (most formats supported like MP3, WAV, AIFF) into WavePad and then its trim, cut, copy and paste music features are activated for you to edit your audio tracks. Furthermore, audio effects such as reverb, echo, chorus, equalization, normalization and noise reduction are available for you to polish your iPhone music or audio files.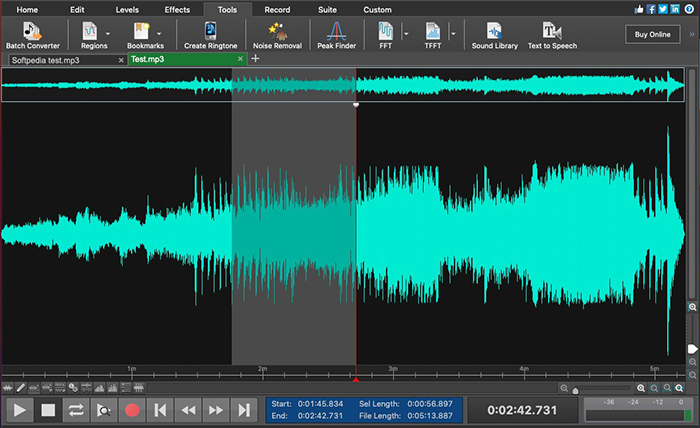 That's not the whole story. Take advantage of this top free iPhone music editor app to record audio sound directly into the app if needed. It has the knack to record your audio at best quality 128kbps to 320kbps.
Part 4. Soundtrap
This app is a cloud-based digital audio workstation that allows you to create, record and edit music from your iPhone. This top free music editor for iPhone contains a wide selection of mixing and mastering tools, such as equalization, compression, and reverb, that you can use to shape and enhance the sound of your iPhone tracks.
Meanwhile, a library of loops and samples are also covered by this all-round iPhone music editor application. You're allowed to use its loops and samples as the basis for your productions or as sound effects.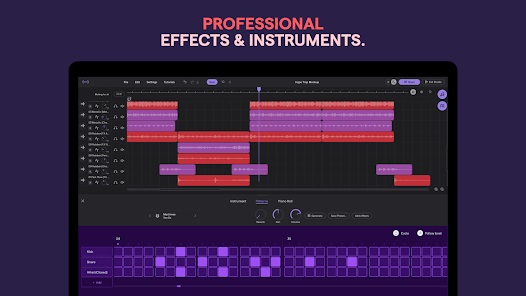 Beyond the above mentions, as we said before, Soundtrap also aims to help you create and record music on iPhone. It includes an expansive library of virtual instruments, such as drums, keyboards, and synthesizers, that you can use to create and play music. Record your own sounds and vocals using the app's built-in microphone, or you can import pre-recorded audio files from your iPhone if needed.
All of these apps have their own unique features and capabilities, so you may want to try a few of them to see which one best fits your needs.