What to Do If iPhone Battery Is Draining Fast after iOS 15/16 Update
"I'm facing little faster battery draining after the new update 15.4.1. Apple was ensuring battery improvement after new release but I felt it became worse than before. Can anyone tell me please why is my iPhone battery draining so fast all of a sudden?"
Apple has been committed to extending the battery life of iPhone with each new generation. Be that as it may, most iPhones hardly survive 24 hours upon a single charge. iPhone battery draining fast problem may be caused by reasons like a software update, some power-intensive apps, improper settings, etc, albeit the battery itself is a consumable item and will wear out over time. If your iPhone battery is draining fast and you are struggling to keep it alive throughout the day without charging it frequently, there are ways to extend iPhone battery life.
Part 1. Why Is My iPhone Battery Draining So Fast? Here're the Reasons:
There are a slew of factors that can be responsible for the iPhone battery draining fast problems.
A new iOS software update is draining your battery power more than usual.
Your battery is depreciating, leading to poor battery life on iPhone.
Some rogue apps are misbehaving and lead to your iPhone battery dying fast all of a sudden.
Improper iPhone settings such as Raise to wake, background app refresh, location services and more are culprits for excessive battery drain on iPhone.
Part 2. How to Fix Fast Battery Draining on iPhone?
Fix 1. Wait for a New Software Upgrade.
iPhone users are reporting a variety of iOS 16 problems, one of which on the list is the abnormal yet fast battery draining on iPhone all of a sudden, a common issue that happens each time when Apple pushes new software update to the iPhone.
It's normal for iPhone to reindex its databases and caches in the background, and therefore needs some battery life to adjust after an iOS update. Generally, excessive battery drain can be normal up to 48 hours after an iOS update. But if you are over the 48 hours wait that Apple recommends and there are nothing wrong with your battery itself, your apps, or others, it may be the problem with the iOS 16 itself. How to fix bad ios 16 battery life?
You can update to new iOS version. Go to Settings > General > Software Update. If the iOS 16 update causes a widespread problem, Apple may release a new version to fix it. Just wait for a new software update.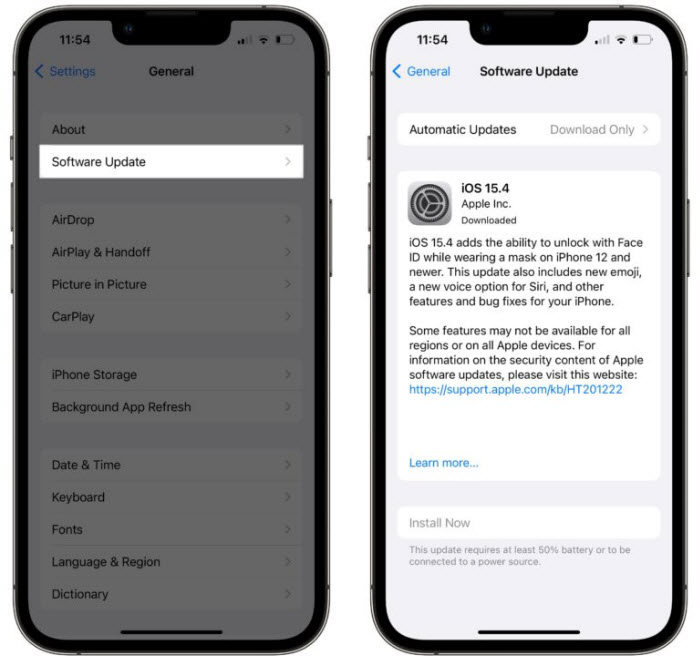 Fix 2. Restart Your iPhone.
If your iPhone is overheating and the iPhone battery starts draining in just a few hours unexpectedly, a simple restart almost always helps. Most often restarting your iPhone won't fix the battery draining problem completely, but it at least gives it a bit of a boost.
If you run into the battery issue with your iPhone X/XS/XR/11/12/13/14 (Pro/Max), you can follow the steps below to restart your iPhone: Hold down the Side button and either the up or down volume button until your see the shut down screen, swipe to turn iPhone off. Wait for a minute, and then hold the Side button again until the Apple logo appears to restart.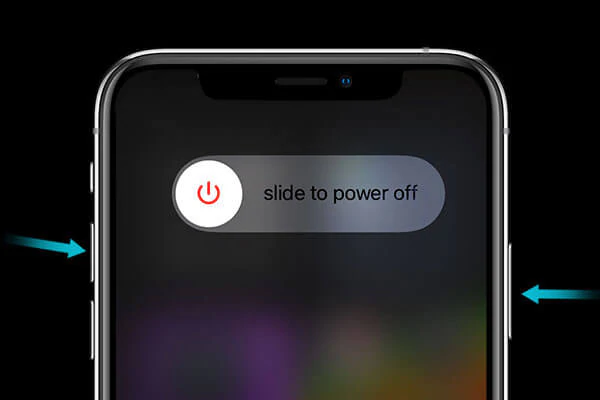 If you are annoyed by the fast battery draining problem on your iPhone SE/6/7/8, please do the following steps to start your phone: Hold down the Side button until the slider appears on the screen. Swipe the slider to power off your phone. Wait a minute, and then press the Slide button again to restart it.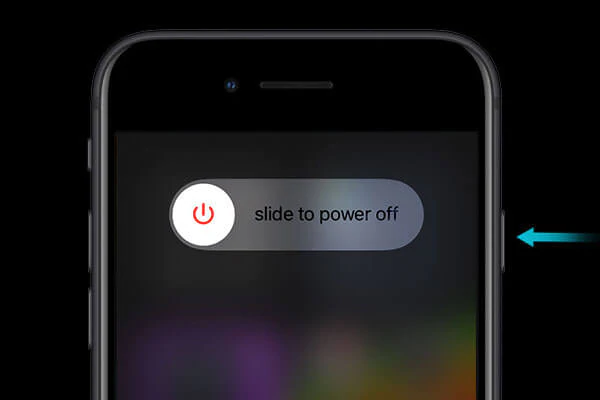 Fix 3. Check Battery Health.
iPhone battery draining fast problem can be as a result of the aged battery itself. As a rule of thumb, the battery of an iPhone that is more than one year or two old cannot hold an all-day charge. If you've upgraded to iOS 14 or above, you'd better to check the battery health of your iPhone – measuring how much of your battery's original charge it still has, and then replace your battery to regain its top form. You can follow the steps below and check your battery's health.
Open the Settings > scroll down and tap Battery > tap Battery Health. Note: Battery health option is available in iOS 14 or newer version.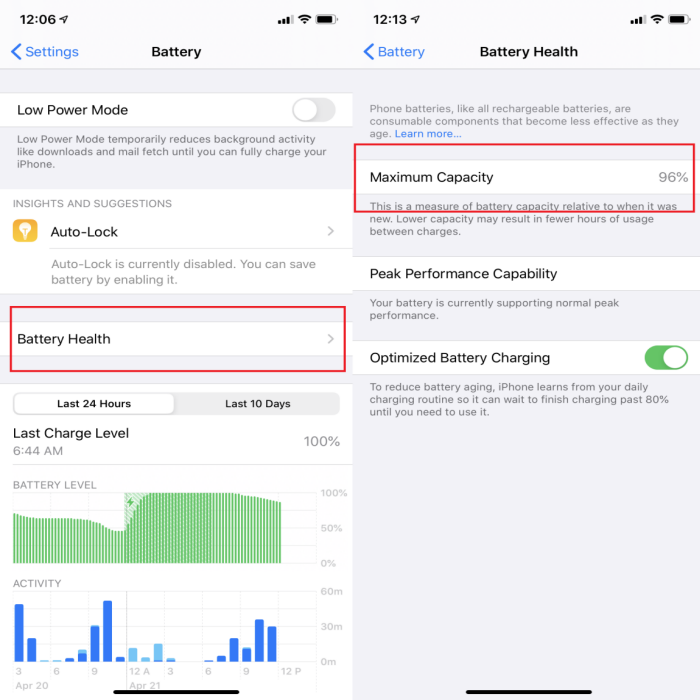 Then you are suggested to change some settings to improve the battery life on the next screen. Just tap on each suggestion as per your needs.
Generally, the lower your battery health, the less charge it can hold and thus the shorter the battery life. Apple mentions the battery in iPhone is designed to retain up to 80% health after 500 complete charge cycles. It is suggested to get the battery replaced when the number drops below 80%, and if your battery is due to be replaced, iOS will alert you.
If there isn't any battery life suggestions, it means you don't have to improve battery life via settings. And you can move on to the other solutions to troubleshoot the iPhone battery fast draining issue.
Fix 4. Check if Some Apps Drain Your iPhone Battery.
It is universally acknowledged that some apps are extremely power-intensive. Running these apps can give rise to excessive battery drain on iPhone. So another way to fix the iPhone battery draining fast problem is to stop these power-hungry apps. To do this you need to first check which guilty apps exhaust the most power. Here are the detailed steps.
Go to Settings > tap Battery > screen down to Activity and the Battery Usage by App underneath the Battery Level chart > check which apps are running your battery down the fastest. If there are some apps you've recently downloaded from app store and they are secretly sucking away at your iPhone battery, it can be the problem with the app, you'd better delete the apps until they get a fresh update.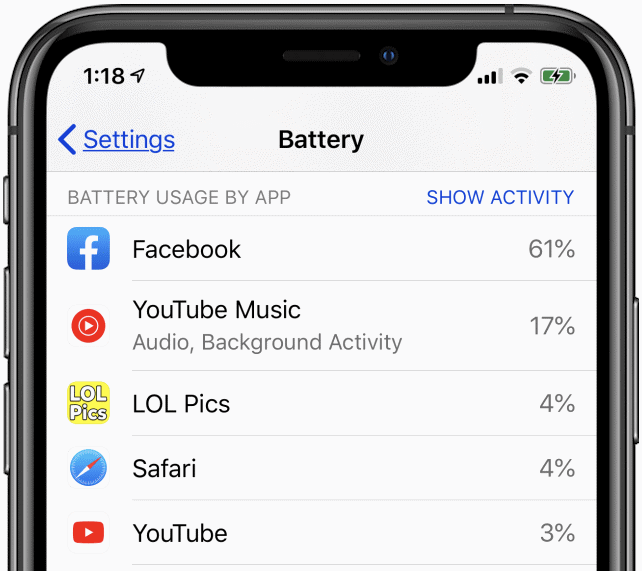 Fix 5. Turn off Background App Refresh.
'Background App Refresh' allows app to work in the background as a move to save loading time, check new content, or retrieve new data even when it is not in use. However allowing apps to continually work in the background is blamed for causing iPhone battery draining fast all of a sudden.
Therefore, it's wise to turn off the Background App Refresh feature in order to prevent battery from going down fast on iPhone or iPad. Follow the steps to disable the Background App Refresh.
Go to the Settings > screen down and tap General > tap Background App Refresh > turn off the apps you seldom use from refreshing in the background in order to save a significant amount of battery life on your iPhone.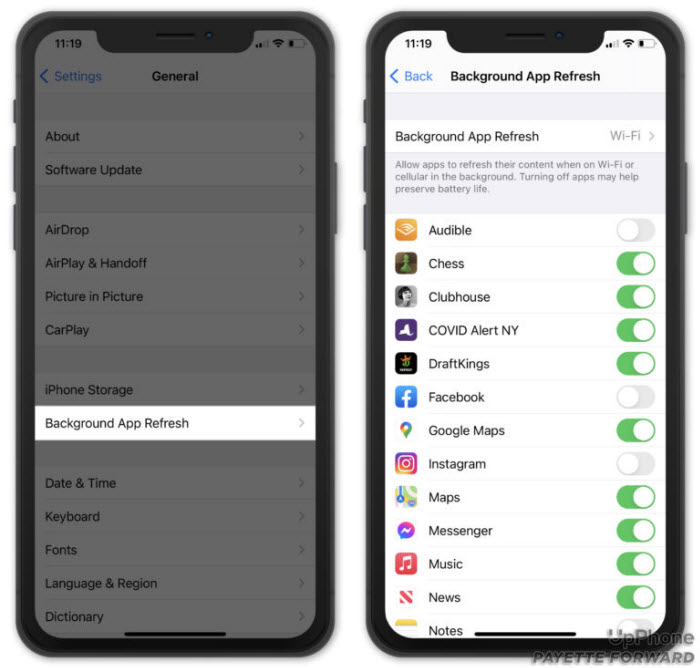 Fix 6. Update Your Apps.
If there are apps that are out of date, they may perform unstably and are prone to be rogue ones, especially when you updated to the new iOS (16). Consequently, these apps may lead to adverse symptoms, one of which can be the massive battery draining on iPhone. Generally, you can update your apps manually in order to prevent the power consumption and extend your battery life for your iPhone. Here is the solution:
Open the App Store.
Scroll down to the bottom and tap on Updates. A new screen containing a list of apps with pending updates will be displayed.
You can tap Update button next to the app to update individual apps, or tap Update All button on the upper-right side of the screen when several app updates are available.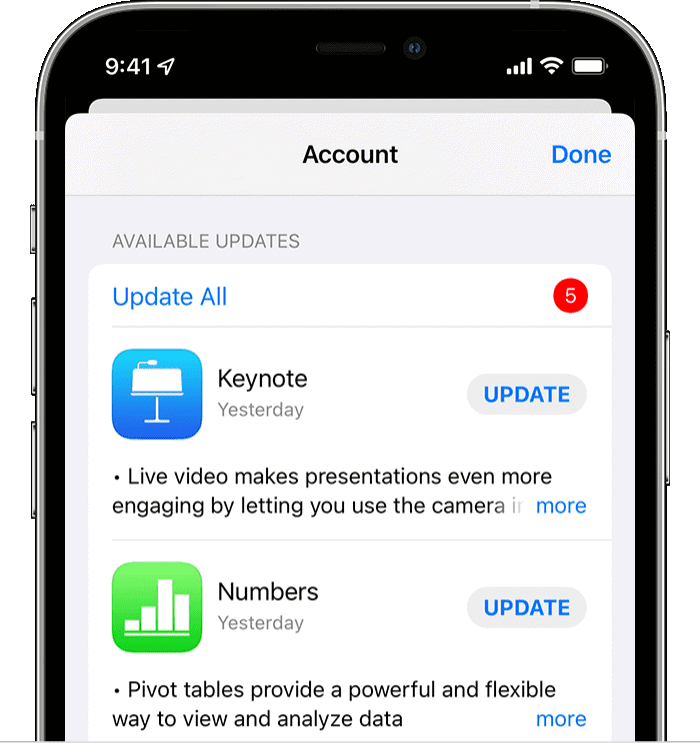 Fix 7. Disable Location Services.
Despite location services offer location-specific information and features using GPS, Bluetooth, Wifi hotspot, mobile tower location, etc, they are notorious for draining iPhone's battery fast. If you don't need the location service right away, you'd better turn it off to stop iPhone battery from draining quickly. You can do the following jobs:
Go to Settings > Privacy > Location Services > scroll down to see the apps that allow for location access, tap to change the permissions of each. Here are 4 options available, including Never, Ask Next Time or When I Share, While Using the App, and Always.
If the doesn't require your location and can still function fully, go ahead and select Never. You can also enable the location service while using the app on the iPhone. You can also toggle off Precise Location to avoid massive battery drain on iPhone.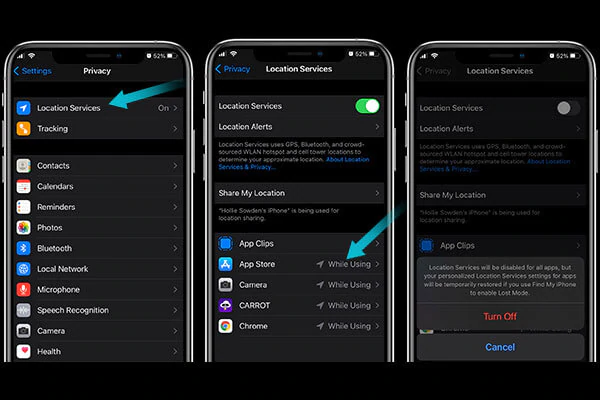 Fix 8. Adjust Your Screen Brightness.
It is reported that keeping iPhone's screen at full brightness all the time is another culprit for iPhone battery draining fast problem. You can keep the screen as dim as possible in order to improve your battery life.
Pull down the Control Panel from the top right of the screen > Drag the Brightness slider down.
Or you can disable the Auto-Brightness by go to Settings > tap on Display & Brightness > turn off Auto-Brightness and adjust the brightness to a lower level as per your needs.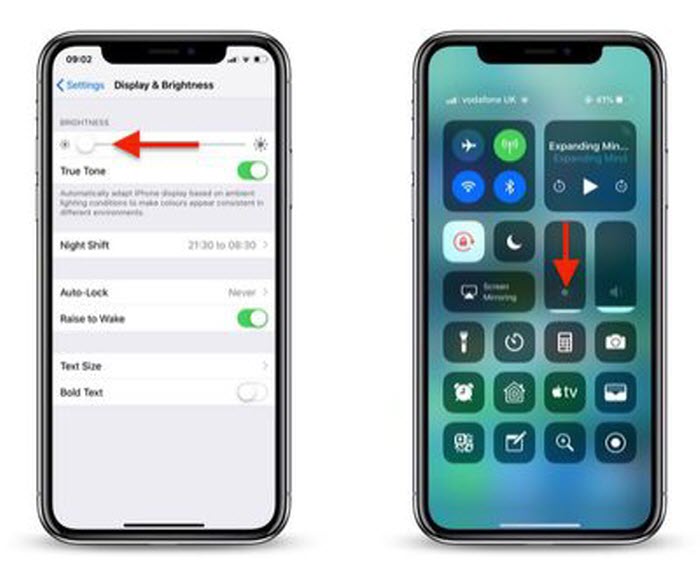 Fix 9. Use Do Not Disturb.
Each time you receive a notification, it wakes your iPhone and illuminates your iPhone screen. And the more notifications, the greater impact they will have on iPhone battery draining. But with Focus in iOS 15 and iPadOS 15, you can turn on Do Not Disturb to silence notifications, alerts and calls when your iPhone iPad is locked.
To turn on Do Not Disturb with iOS 15 or iOS 16, you can do the following jobs.
Go to settings > Focus.
Tap Do Not Disturb.
Select your custom options for notifications. Alternatively, you can open Control Center on your iPhone, tap Focus, and tap Do Not Disturb.
In addition to stop notifications coming in, you can also place your iPhone face down in order to prevent your iPhone from waking the display when there is any notifications.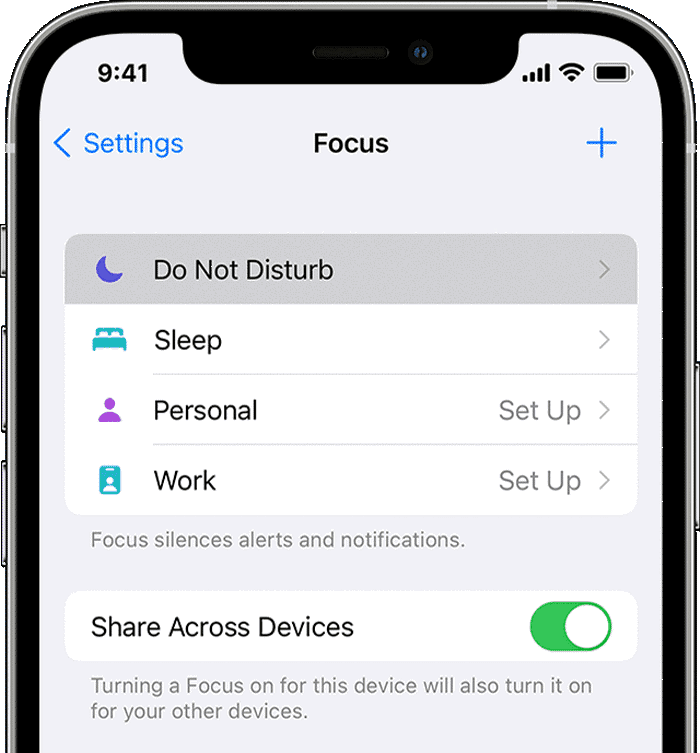 Fix 10. Disable Raise to Wake.
Very few of iPhone users know that there is a Raise to Wake option turned on by default in iPhone settings. This feature is available in all iPhone models, which can automatically wake the lock screen every time your raise your iPhone to look at it. From there, you can check access Control Center, check your notification, swipe left to take a photo, and more. However, this feature is also proven to be guilty when it comes to iPhone battery draining fast problem. You can turn of Raise to Wake to save iPhone battery life.
Go to settings > Focus.
Scroll down and tap Display & Brightness.
Scroll down and toggle Raise to Wake off. When the toggle goes gray, it means the option is disabled.
In addition to stop notifications coming in, you can also place your iPhone face down in order to prevent your iPhone from waking the display when there is any notifications.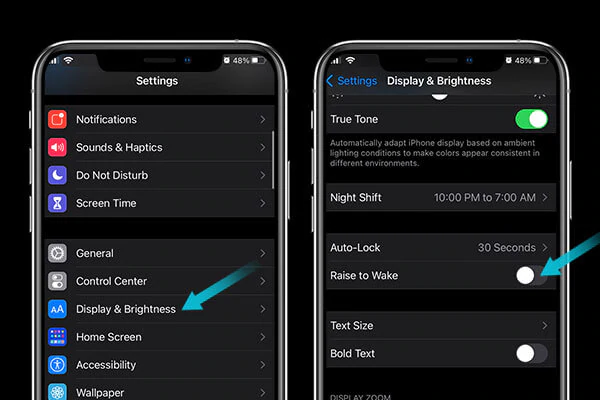 That's all about the troubleshooting steps to fix iPhone battery draining fast error. If you still have any questions, please let us know by emailing us.