How to Make Free Ringtone for iPhone (12/11) from Songs without iTunes?
iPhone ringtone

make ringtone

Posted by Estrella H.| Last Updated: September 11, 2019
Can't make iPhone ringtone from MP3/AC3/WMA/WAV/FLAC songs for free without iTunes? This guide will help you out.
Many iPhone users are desperately in need of making ringtones for iPhone. Why change the default ringtone and make custom ringtones for iPhone 8, iPhone 7 or other iPhone? Before cutting to the chase, please allow me to share a story:
I have a 60 years old Mom, and she is a trendy lady and quick learner. So I bought her an iPhone two years ago. She told me she was very satisfied with iPhone for the smooth performance, beautiful and concise design and everything. The only complaint from her is the always-can't-be-heard coming call since the ringtone is "so low key". Unfortunately, she missed a lot of calls, and some from me. "Why can't I download a louder music and set it as my iPhone ringing tone?" she asked. For her, iTunes is too complicated to understand and lousy for asking to pay songs piece by piece.
There are also other demands and situations when one wants to make ringtones for iPhone. The following guide will make your dream come true no matter you are music buffs who've just found exhilarating new songs from favorite singers, an aficionado who has recorded cherished clips from concerts, a caring parent who wants to set your child's laughter or babblings as the ringtone, a stylish person who want to personalize the rings, or an ordinary man who thinks the soundtracks from some movies are unforgettable. Get immediate help on:
1. How to Make Ringtones for iPhone from Existing Songs?
2. How to Make Ringtones for iPhone from YouTube?
3. How to Make Ringtones for iPhone from Voice Memos?
Apple wants to sell you a ringtone from iTunes Store – NO WAY!

Auto convert music to iPhone MP3/AAC; support any audio formats.
One-click solution: create custom ringtones easily by waveform cropping.
Make & sync ringtones at one go with original audio quality.
New: Likewise, iPhone 8 Does Not Allow You to Edit Ringtone.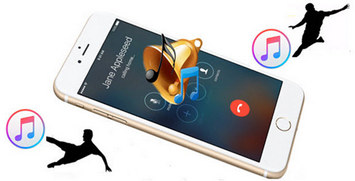 Is iPhone 8 worth it? It doesn't matter at all if you have bought or decided to buy one. All in all, it has plenty of splendid features. But it is still a pity that it is not designed to allow user to make a song from music library into a ringtone at free will.
That's because the developer wants to sell you a ringtone from the iTunes Store. Besides, iTunes has many other disadvantages that make it more and more undesirable. For example, iTunes always urge you to update to the latest version for normal use, it runs slowly on many computers, especially Windows ones, it has poor performance in managing music files, strictly audio formatted to mp3 and m4a only and it doesn't allow you to view the content.
However, most people hold the wrong view that the other third-party app or software cannot truly access the ringtone folders on the iPhone and therefore can't add a self-made ringtone to the tones list. It is totally a misunderstanding because WinX MediaTrans is such an amazing program that is excel at making customized iPhone ringtones easily and transferring any ringtone to iPhone to set as the default coming call ring without the need of using iTunes anymore.
How to Make Free Ringtones for iPhone from Existing Songs?
WinX MediaTrans is one of the top 3 iPhone ringtone makers by which you can set the start and stop times of any existing music files in a 40-second (or less) loop.
To begin with, please make sure that you've installed iTunes on your computer, and allow your computer to access the photos and videos on your iPhone. Then, follow the step-by-step instruction below:
The previous example is based on making the existing songs from computer to iPhone. What is there is no desired audio file on the device? In this case, you need to download one from YouTube, Soundcloud or other online video audio sharing sites with the help of a free YouTube music/video downloader before run into the ringtone creation with the iTunes alternative.
How to Create Custom Ringtones from Voice Memos not Using iTunes