How to Make Free Ringtone for iPhone from Songs without iTunes?
Can't make iPhone ringtone from MP3/AC3/WMA/WAV/FLAC songs for free without iTunes? This guide will help you out.
I have a 60 years old Mom, and she is a trendy lady and quick learner. So I bought her an iPhone 2 years ago. She was very satisfied with iPhone for the smooth performance, beautiful and concise design and everything. The only complaint from her is the always-can't-be-heard coming call since the ringtone is "so low key". Unfortunately, she missed a lot of calls. "Why can't I download a louder music and set it as iPhone ringtone?" she asked. For her, iTunes is too complicated to understand and lousy for asking to pay songs piece by piece.
There are also other demands and situations when one wants to make ringtones for iPhone. The following guide will make your dream come true with top 3 iPhone ringtone maker software to set a song as iPhone ringtone without using troublesome iTunes.
Apple wants to sell you a ringtone from iTunes Store – NO WAY!
Make ringtone for iPhone with WinX MediaTrans
Auto convert music to iPhone MP3/AAC; support any audio formats (even iTunes DRM-ed M4B M4P to MP3).
One-click solution: create custom ringtones easily by waveform cropping and sync ringtones to iPhone at one go!
iPhone music manager to create music library, edit song/album info, delete songs in bulk, sync songs between iOS and PC/Mac.
New: Likewise, iPhone Does Not Allow You to Edit Ringtone
Is iPhone worth it? It doesn't matter at all if you have bought or decided to buy one. All in all, it has plenty of splendid features. But it is still a pity that it is not designed to allow user to make a song from music library into a ringtone at free will.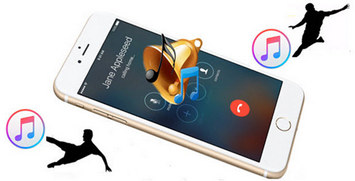 That's because the developer wants to sell you a ringtone from the iTunes Store. Besides, iTunes has many other disadvantages that make it more and more undesirable. For example, iTunes always urge you to update to the latest version for normal use, it runs slowly on many computers, especially Windows ones, it has poor performance in managing music files, strictly audio formatted to mp3 and m4a only and it doesn't allow you to view the content.
However, most people hold the wrong view that the other third-party app or software cannot truly access the ringtone folders on the iPhone and therefore can't add a self-made ringtone to the tones list. It is totally a misunderstanding because WinX MediaTrans is such an amazing program that is excel at making customized iPhone ringtones easily and transferring any ringtone to iPhone to set as the default coming call ring without the need of using iTunes anymore.
Part 1. How to Make Ringtones for iPhone with WinX MediaTrans [No iTunes]
WinX MediaTrans is one of the top 3 iPhone ringtone makers by which you can set the start and stop times of any existing music files in a 40-second (or less) loop. And it supports you to extract audio from YouTube video and create it as iPhone ringtones, as well as make voice memos as your iPhone ringtone at high audio quality 128/256/320 kbps.
To begin with, please make sure that you've installed iTunes on your computer, and allow your computer to access the photos and videos on your iPhone. Then, follow the step-by-step instruction below:
1.1 How to Change a Song as iPhone Ringtones from Existing Songs?
Step 1. Free Download and install WinX MediaTrans on your Windows PC. Allow the iPhone ringtone manager to get access to your connected Internet.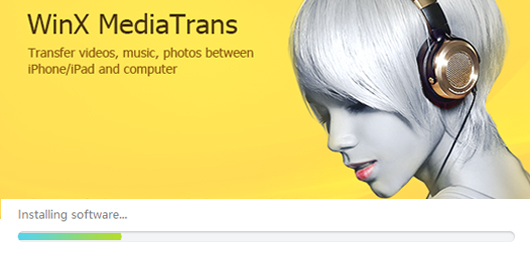 Step 2. Tap "Voice & Ringtone" item on the interface, and stay at the "Ringtone" category.
Step 3. Click "Add Ringtone" option on the top and open the song or music file from your computer. Theoretically, the ringtone maker for iPhone supports all audio formats.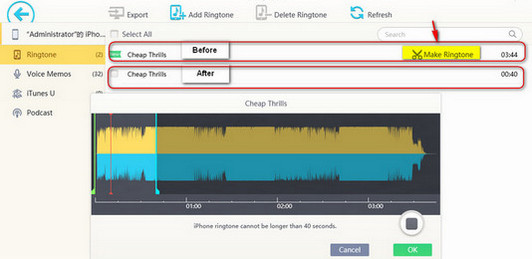 Step 4. Click "Make Ringtone" and a ringtone making window will appear. The music will play automatically and you can pause it, or listen and figure out the fragment frame you want to crop. Then you can set the start time and stop time in 40 or less than 40 seconds by dragging the time frames. After done, click "OK". Note: You can click "New" flag before the song item to remove it before syncing.
Step 5. Select the ringtone(s) and tap "Sync" to start transferring the created ringtone(s) to iPhone. Afterwards, you can find the new ones in ringtone folder and set one as the ring.
1.2 How to Make Ringtones for iPhone from YouTube?
The previous example is based on making the existing songs from computer to iPhone. What is there is no desired audio file on the device? In this case, you need to download one from YouTube, Soundcloud or other online video audio sharing sites with the help of a free YouTube music/video downloader before run into the ringtone creation with the iTunes alternative.
Step 1. Download and install the best free YouTube music downloader.
Step 2. Find a proper music or MV online (such as YouTube, Facebook, Twitter, Vevo, Vimeo, and Soundtrack), copy the URL on the browse and paste it to the blank address column on the YouTube downloader. Step 3. Click on "Analyze", select one built-in video/music format, and hit "Download". Note: If what to download is a video, please check "Auto Convert" feature and convert the video to an audio before downloading.
Step 4. After completing the free download of the music file from online site, go and run WinX MediaTrans as shown previously.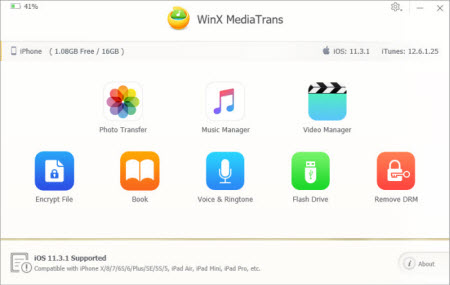 Step 5. Click "Music Manager", tap "Add Music" tab on the top and browse in the computer to choose and add the downloaded music file. You can add several files at one time.
Step 6. Move the mouse onto each song, and an iPhone-shaped icon will appear. Click it to "Make Ringtone" directly.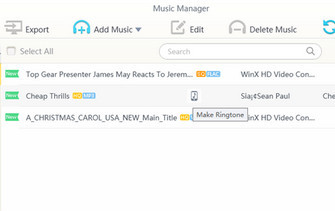 Step 7. Start "Sync" the newly created rings to the ringtone folder of iPhone. By this, you've succeeded in creating polyphonic ringtones for iPhone 14 or older models.
Note: if the music files are not in the native formats of Apple, the iPhone ring builder app will convert them to MP3 or AAC files.
1.3 How to Set a Song as a Ringtone for iPhone from Voice Memos?
Not directly, but WinX MediaTrans does have the power of turning and personalizing any of your recorded voices into your phone rings.
Step 1. Launch this iPhone file manager, click "Voice & Ringtone", and tap "Voice Memos" on the left. Select and check the memos you need and start to "Export".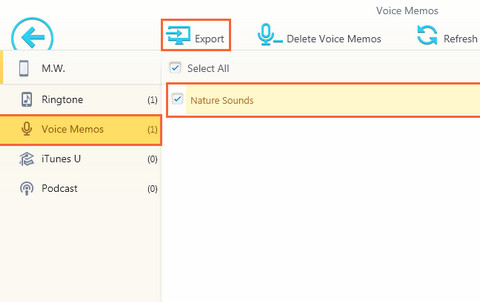 Step 2. Go back to the main interface of the software: Voice & Ringtone -> Ringtone -> Add Ringtone -> Make Ringtone -> Sync;
Or, Music Manager -> Add Music -> Make Ringtone -> Sync
Part 2. How to Download Ringtones Straight to iPhone?
You can make your own ringtone directly on iPhone without computer or iTunes. Ringtones Maker app for iPhone cuts the buck, helping you free download ringtones straight to iPhone or extract audio from video and convert audio to ringtone MP3 or M4R format on iPhone. It also supports ringtone custom like fade-in fade-out setting within 1-5 seconds. Thus, your ringtone won't sound too abrupt. The audio file from other 3rd party apps like Tik Tok, soundcloud is also supported here. Check how to set a song as iPhone ringtone if you're interested:
Step 1. Open this ringtone maker app on iPhone > head to "Ringtone sharing" section.
Step 2. Find your favorite ringtone from the display list and click the download button (downward arrow).
Step 3. Choose "My Ringtone" after the download is completed > play your desired ringtone to have a preview or tap "Clip" button to cut your ringtone if you need to edit ringtone.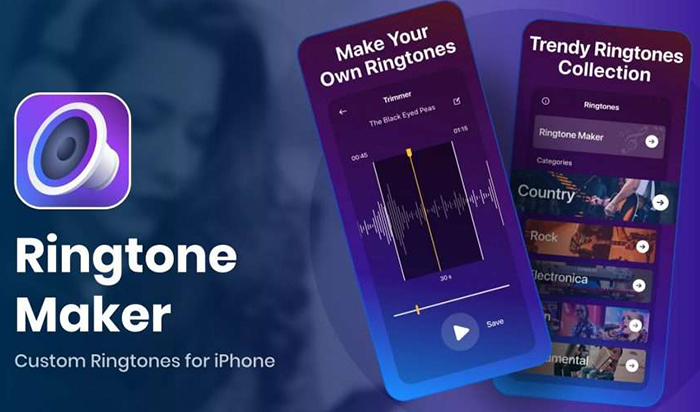 Note: if you wanna import existing ringtone from iPhone to this ringtone maker app for editing, just tap the "Add file" button (plus icon in purple) to add ringtone from your iPhone local file.
Step 4. Free set the Start point and End point by moving the slide bar. Optionally, toggle Fade in or Fade out button to purple light if needed. When the ringtone adjustment is done, tap OK and it will be saved to My Ringtone. Go to Settings on iPhone to change iPhone ringtone.
Part 3. How to Custom Ringtones on iPhone without Computer?
Beyond the iPhone ringtone maker app mentioned above, there is another popular ringtone maker app for iPhone - GarageBand. This app will help you to create a custom ringtone, in the best way that Apple allows it to happen. The process is not so easy as Ringtones maker app, but the app goes above and beyond to assist you, to precisely trim your audio length within 30 seconds and gives further options to select ringtone format you desire. And you need to leave at least 1.6GB space for this app if you wanna get it installed on your iPhone. After all things are ready, you can dive right in:
Step 1. Open GarageBand on your iPhone > swipe and choose an instrument (any instrument is fine) > tap Editor icon at the upper left corner of the user interface.
Note: This free iPhone ringtone maker app only supports you to load unprotected music songs, the DRM protected Apple Music excluded.
Step 2. Click the Loop icon > tap Music option at the top of the menu > click Songs to select music song you wanna import.
Step 3. Drag the selected song into GarageBand > trim your audio track at your willing via dragging the yellow lines. 30-second duration is the maxinum length.
Step 4. Click the downward arrow button > choose My Songs to save your trimmed song > click and hold the song and tap Share from the pop-up menu list.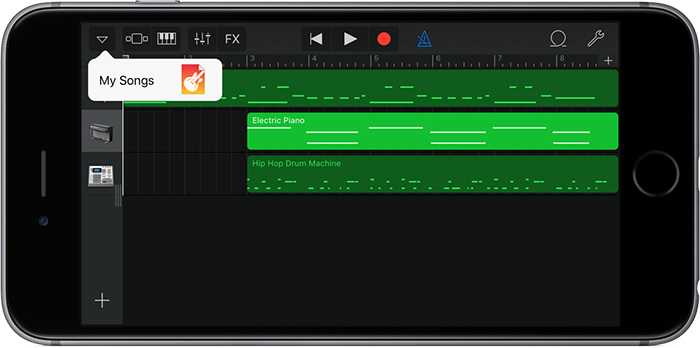 Step 5. Tap Ringtone option to save your song as ringtone format > name your ringtone > choose "Use sound as..." after it's exported. Step 6. Choose ringtone type from the 3 options: standard ringtone, standard text tone, assign to contact. Generally, just pick up standard ringtone > tap Done. Now, your job is done. You have created new ringtone for your iPhone.