How to Make Ringtones on iTunes for iPhone on Windows
Want to personalize your iPhone ringtone and don't want to purchase a ringtone on iTunes Store? Love a song so much and wonder how to make ringtone on iTunes with this song for iPhone? The fact is iPhone still can't do the simple thing as Android phones were capable of doing several years ago: to freely set any favorite song as a custom ringtone for phone just with a push of a button.
Luckily, you can use iTunes to make free ringtones for iPhone. Check the detailed tutorial below for how to make ringtones on iTunes for iPhone. The process may be a little bit complicated. Therefore, we also provide a much easier way to create free custom iPhone ringtones for you.
Note: iTunes cut apps and ringtones management functions since version 12.7 released in September 2017.
Part 1. How to Make Free Ringtones on iTunes for iPhone
Preparation: Make sure you've installed the latest version of iTunes (currently 12.8) on your Windows computer. Check the song is available in iTunes. Then follow the steps below to make free ringtones for iPhone in iTunes.
Step 1: Launch iTunes on your Windows computer. Find the song in iTunes library you want to turn into a ringtone. Right click the song and click "Get Info".
Step 2: Tap "Options" and tick "Start Time" and "Stop Time" boxes to set starting time and ending time to extract a segment of the song. And click "OK".
Tips: Before setting a Start Time and Stop Time of the song, please first listen to the song and figure out which part of the song you'd like to trim as a ringtone. An iPhone ringtone can't be longer than 40 seconds.
Step 3: Right click the song again and click "Create AAC Version", and this will create a new music file with the segment you trim in step 2. You can now see a song with the same name but new length listed below the original song.
Step 4: Next right click the generated new song and click "Show in Windows Explorer" (for Mac computer, click "Show in Finder"). The new song will pop up in a new window as an .m4a file.
Since iTunes ringtone's file extension is .m4r. Now you need to rename the extension of the music file from .m4a to .m4r. Do not close the Windows Explorer window since you'll need it again.
Step 5: Go back to iTunes and delete the short AAC song you created. Click "Delete Song" and "Keep File" in the two pop-up windows.
Step 6: Go back to Windows Explorer and double-click the .m4r ringtone file and it will be auto copied to iTunes Tones library.
Step 7: Connect your iPhone with iTunes. Select "Tones" column and click: Sync All Tones > Sync/Apply.
Step 8: On your iPhone, go to Settings > Sounds > Ringtone. The new created ringtone with iTunes is on the top of the built-in ringtones. You can also set the new ringtone as your iPhone text, voicemail tone.

Part 2. Errors and Problems Using iTunes to Make Free iPhone Ringtones
From the above, we can see making free iPhone ringtones in iTunes is very complicated. And from some users' feedbacks, there are also some troubles and errors when using iTunes to make free ringtones for iPhone. Besides, iTunes also has many other errors (>> Common 100 iTunes errors, FAQ and solutions page).
1. "Honestly speaking ITunes is a big failure, the creator thought that all people around are that smart and tricky in IT. You have to simplify it. Since 1 day ago and I'm suffering in having a ringtone with iTunes on my new iPhone."
2. Some Windows users may find that they can't change the file extension. For instance, "I have Windows 10, and it won't let me change it from an m4a to an m4r."
3. "I have the latest version of iTunes on my PC running Windows 7 Professional, but iTunes only has the option of "Create MP3 version." Anyone know what I need to do now?"
4. "When I try to delete the song, there's no option to "keep file." Any suggestions?"
5. "There is no Tones option on iTunes 12.6."
6. "The new created ringtone wasn't updated to the Tones."
Questions about making ringtones in iTunes have a lot more. To get rid of the troublesome errors and circuitous operation of using iTunes to make free ringtones for iPhone, some people quit iTunes and turn to other top iPhone ringtone makers, among which WinX MediaTrans is well-received.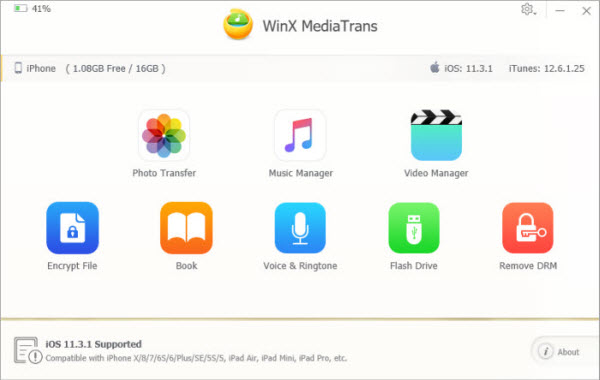 Part 3. Unable to Make Ringtones in iTunes? Try WinX MediaTrans to Make Free Ringtones for iPhone
WinX MediaTrans comes to help you if you can't make ringtones for iPhone using iTunes. As the easiest iPhone free ringtone maker, it can help you create free iPhone ringtones from any favorite songs (incl. downloaded music from online sites) in 3 simple steps. Easy, fast, stable and smooth. This program can also flawlessly do the following:
1. Transfer ringtones, music, videos, movies, photos, iBooks, voice memos, and more between Windows (10) and iPhone/iPad/iPod without losing data.
2. With built-in video/audio convert function, it can auto convert almost any video to MP4, audio to MP3/AAC compatible with iPhone iPad iPod.
3. Unique: This tool can export iTunes music, movies, audio books from iPhone to Windows (10) computer with DRM removal, and output regular MP4, MP3 files. Thus, you can play iTunes movies/music with no restrict.
How-to Guide for Making Free Ringtones for iPhone on Windows
Free download and install WinX MediaTrans on your Windows computer, and follow the 3 simple steps below to make free ringtones for iPhone without iTunes, with no data loss.
Step 1: Launch the best iPhone ringtone maker and connect your iPhone with computer via USB cable. Click "Voice & Ringtone" on the main interface.
Step 2: Click "Ringtone" category on the left column and click "Add Ringtone" icon to import the song you'd like to set as ringtone for iPhone into the program.
Then click "Make Ringtone" next to the song to create iPhone ringtone. You can listen to the song and drag the timeline to freely set start time and end time. iPhone ringtone should be less than 40 seconds.
Step 3: Select the created ringtone and hit "Sync" to add the new ringtone to iPhone with no data loss. Then you can set your favorite song as ringtone on your iPhone.
Using WinX MediaTrans to make free ringtones for iPhone is much easier than using iTunes to make free iPhone ringtones. Better still, it will not cause any data loss of your iPhone.