Top 10 iPhone File Managers for Windows 10/11 Free Download
No matter what capacity iPhone you purchase, the storage space is limited after years of use. To keep your iPhone out of cluttered, cramped or even stuck and overheadted, you need an iPhone manager to back up files, transfer music/video between iPhone and PC, and sync media across devices. This article introduces the top 10 iPhone file manager software to help you organize various files on your iPhone 13 / Pro (Max) / mini or the earlier.
WinX MediaTrans - Best File Manager for iPhone 13/Pro (Max)/mini Free Download
Easy manage your iPhone by adding, deleting & editing media files.
Transfer music from iPhone back to PC which iTunes doesn't.
Use your iPhone as a flash drive, storing ALL kinds of files for later.
For some reasons, Apple doesn't allow you to easily access or manage the files on your iOS devices. And the so-called iPhone file manager iTunes Apple invented is so shit that always make Apple users frustrating. By using iTunes as the iPhone file manager, it can make you accidently erase all your data on iPhone, automatically sync the files from PC to iPhone that you are not able to delete on your iPhone and so on. Even if you have read or watched thousands of How to use iTunes tutorials, it still helps nothing but to only make things worse. Anyway, whoever uses iTunes to manage or transfer media files on iPhone, all had a painful experience.
Hence, the real iPhone file manager software or apps come into being, which allows you to easily manage your iPhone files without iTunes and without jailbreak. Ready to release your miseries from iTunes, let's breath some fresh air here – top 10 iPhone file manager review!
Part 1. Top 5 iPhone File Managers to Manage Your iPhone Data on Desktop
1. WinX MediaTrans
As a versatile iPhone manager, WinX MediaTrans has the extremely easy-to-navigate user interface and there is warm notice on each step that you should pay attention to. As you can see in the picture below, this iPhone file manager manages iPhone photo, iPhone music, iPhone video and the Flash Drive function is for you to easily export any files from computer to iPhone.
Same as other iPhone file manager, WinX MediaTrans supports the latest iPhone, iOS and iTunes. But what makes WinX MediaTrans stand out from the crowd of iPhone file managers is not only the straightforward interface, but also its ability to manage playlist: add, edit, delete music playlist on iPhone, edit and modify music information, and rotate videos, etc. >> Check WinX MediaTrans Review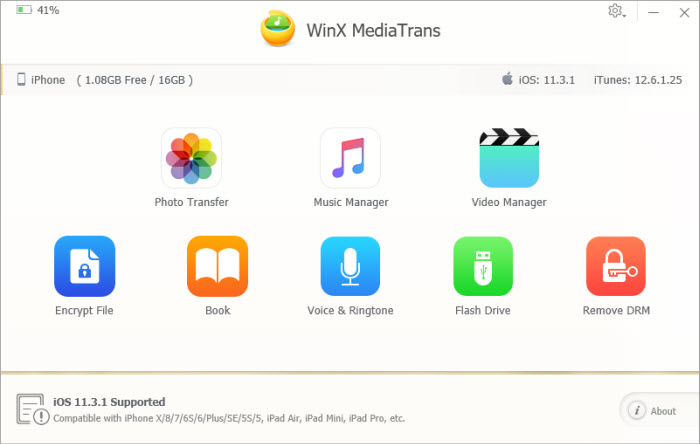 2. iExporler
Even if iExplorer is recognized as the most popular iPhone file manager, it is still maintaining the basic function such as transfer music between iPhone and PC, backup pictures, etc. And iExporler does not support syncing videos between iPhone and computer which makes it less attractive to the majority iPhone users.
Besides the non-complete iPhone file management function, this file manager for iPhone iPad also has frequent pop-ups and some crashing issues, but as soon as you purchased the pro version of this iPhone file manager, those problems will leave it alone.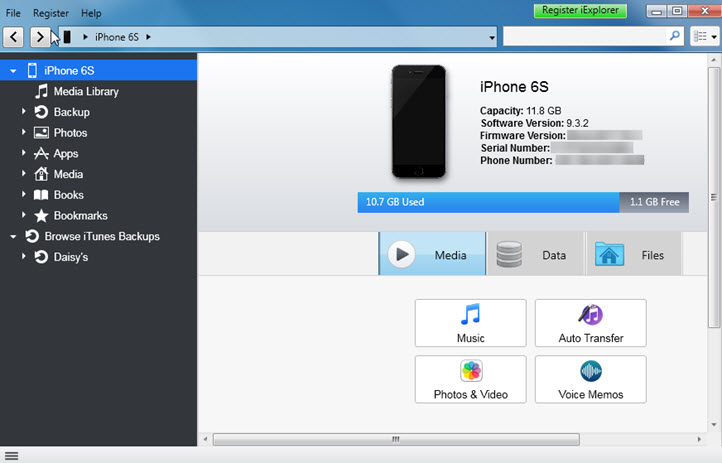 3. iMazing
iMazing is an all-purpose iPhone file manager that almost covered all files on iPhone management, which including iPhone apps, video/music/pictures, contacts, messages, etc. It connects your iPhone to PC not only with USB cable but also via Wi-Fi, wirelessly connect your iDevices with multiple devices simultaneously to realize iPhone file management wirelessly.
But such an amazing file manager on iPhone and iPad still has cons: iMazing only allows you to free use it for 15 days and then you'll have to purchase it, and the after-sale service is not responsive, users find that iMazing doesn't reply users' problems regarding the software not working.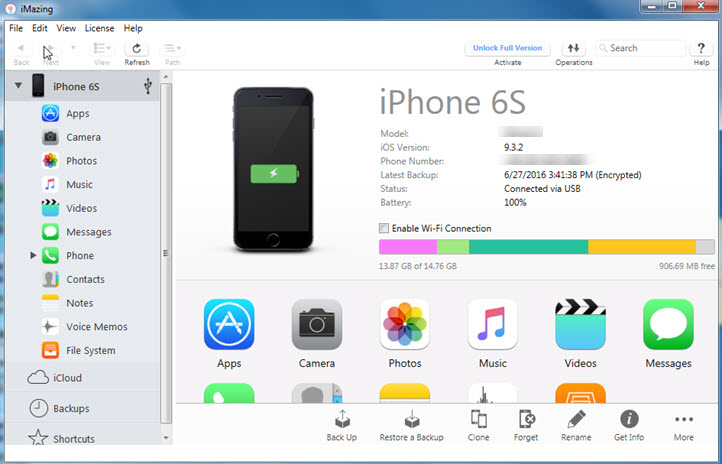 4. AnyTrans
Compare to WinX MediaTrans, AnyTrans is rather more embracive. As an iPhone manager, Anytrans supports managing your personal info, Apps and documents as well as other data migration on your iOS 13. But from the testing, this iOS file manager takes:
20 seconds to export 20 music from iPhone to PC;
500s to export 1000 photos from iOS.
Amazingly, it also supports converting videos to iOS compatible format when transferring video from PC to iPhone, but this iOS file manager fails to support video converting from Mac to iPhone.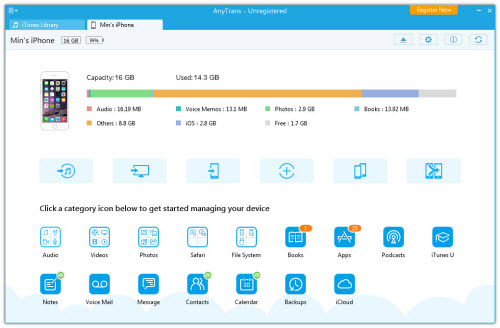 5. TunesGo
With TunesGo, you can easily manage videos, contact, music and SMS/MMS messages on your iOS 13 devices. Faster than AnyTrans but still a great deal slower than WinX MediaTrans, Wondershare TunesGo needs:
14s to export 20 songs from iPhone;
300s to export 1000 photos.
Better still, this iOS file manager converts video as well. From the testing, 650s needed to convert a 396MB MKV video to iOS compatible MP4, while WinX MediaTrans takes only 140 seconds to convert the same file.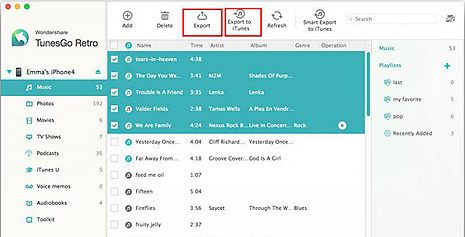 Part 2. Top 5 File Managing Apps to Work on iPhone and iPad
6. Documents by Readdle
Documents is a file manager app for iOS devices, that will let you manage almost everything on your iPhone. With Documents app, you're able to access the entire Apple Music library, Photos, iCloud files, etc., and then organize them such as add, delete, sort and transfer your iPhone files. This iOS file manager also supports ZIP files, so you can easily extract and open .zip file on your iPhone.
Apart from organizing files on iPhone, Documents app can be used as a media player to listen to audio files, read PDF files and view images. Also, it comes with a number of services, such as the ability to integrate cloud services like Dropbox, Onedrive, and Google Drive, create FTP server to use any FTP clients to your choice, and browse the web or download files into the app through the built-in web browser.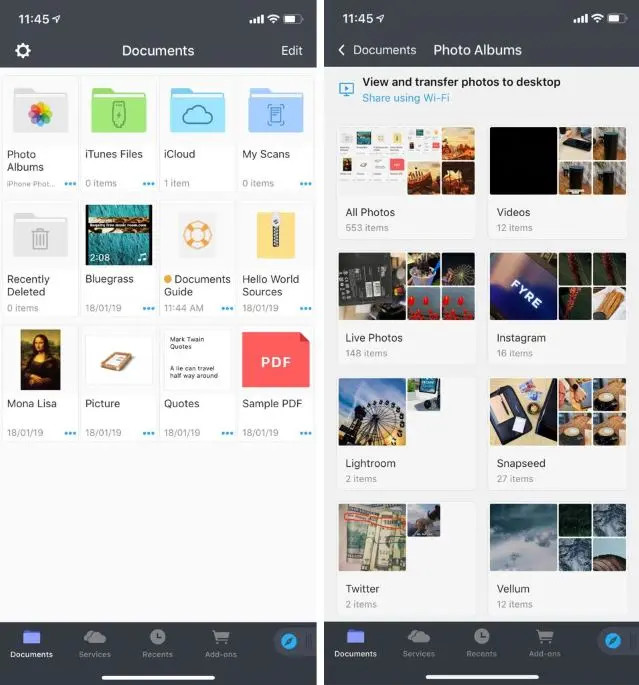 7. FilesApp
FileApp is another iPhone & iPad file manager and document viewer. It comes with a great interface, allowing users to organize files automatically by type, date, and even display the recent files. In this concise file manager for iPhone and iPad, you can create new images, audio recordings, and text files as you need. Moreover, FilesApp is available to view images, read PDF files, and play audio and video media files.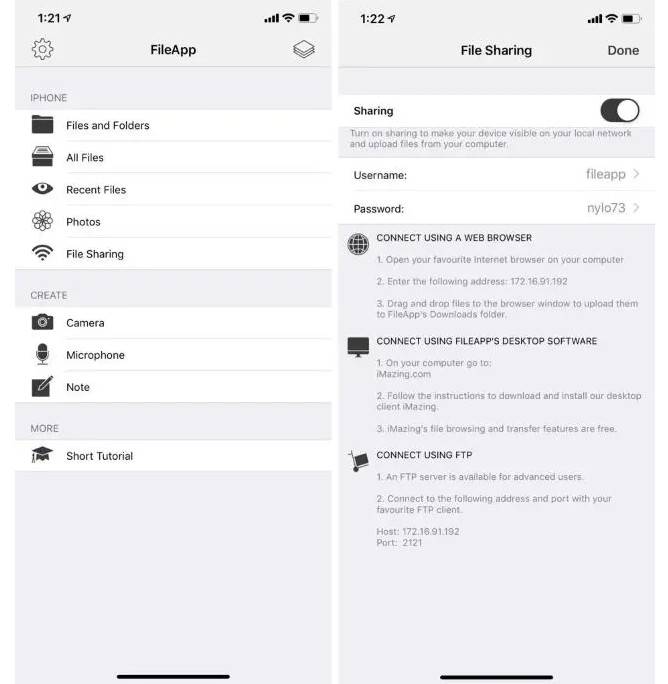 8. File Hub by imoreapps
File Hub offers a decent way to exchange, store, broswe files on your iPhone and iPad devices. It's an all-in-one iOS file manager, allowing users to create, rename, copy, delete, move files over 40 file types, extract ZIP, RAR, 7-zip, CBZ, CBR, TAR, BZ2, GZ file, and access general cloud services like Dropbox, Onedrive, Google Drive, iCloud, Box etc. Even more, it also can be used txt viewer, PDF reader, photo viewer, music player, and video player etc.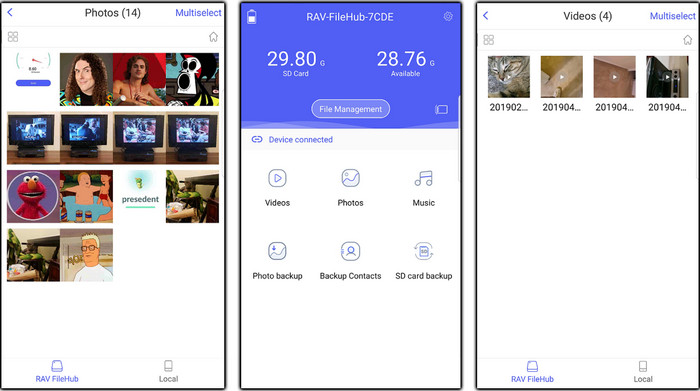 9. File Manager
File Manager is a ultimate tool to organize files on iPhone and iPad. As an iPhone file manager comparable to Windows Explorer and Mac Finder, File Manager is accessable to the files in iTunes, Dropbox, Email or from other apps. It has an intuitive interface, allowing iOS users to copy, mov, create, and zip/unzip files. Also, it can be used as a file viewer to read PDF files, view photos, open documents like .doc, .xls, .ppt etc., and play audio and video files.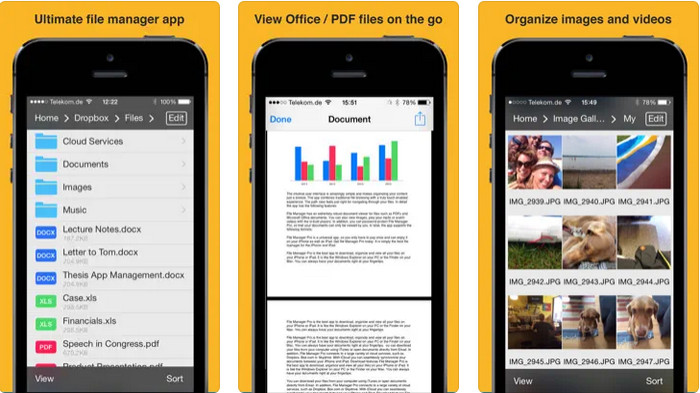 10. Send Anywhere
As the name implies, Send Anywhere is a simple app to recieve and send images, videos, contacts and other files. It allows you to access all your photos and videos. On the Send tab, you select the images you want to send, then the app will give you a six-character key, a QR code, and a link. The recipient you're trying to send photos to can then use either the link or the QR code to head to the image and download it.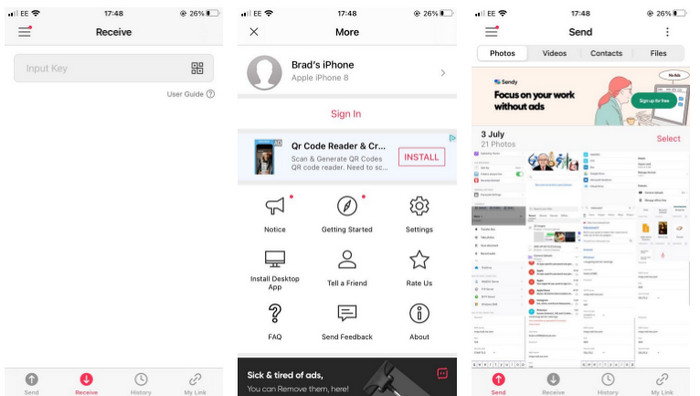 There you go, the best 10 iPhone file manager Windows software is listed up above, and the specifics are also loud and clear for you to compare, you just need to figure out which file manager for iOS 16/15 that suits you the most.
Part 3. FAQs
1. Does iPhone have a file manager?
Yes. On your iPhone or iPad, you can manage your files by Files app. When you make changes of your files on one devices, it will be automatically sync to every device with iCloud drive.
2. How do I manage files and folders on my iPhone?
Touch and hold the file or folder, then choose an option: Copy, Duplicate, Move, Delete, Rename, or Compress. To modify multiple files or folders at the same time, tap Select, tap your selections, then tap an option at the bottom of the screen.