iOS 16 Supported Devices: iOS 16 Drops Support for iPhone 6S, 7, First-gen SE and iPod touch
WWDC22 was held as promised on June 6, 2022, bringing out iOS 16, iPadOS 16, macOS 13, and watchOS 9, and also unveiling the second generation of its own computer chip - M2, as well as hardware such as a new MacBook Air and a MacBook Pro with a new core. Here, we'd like to talk about the highly anticipated iOS 16, covering iOS 16 supported devices and new features.
Part 1. What Devices Does iOS 16 Support?
Compared to iOS 15, iOS 16 has dropped support for the following devices:
iPhone SE (first-gen)
iPhone touch (7th-gen)
iPhone 7 / 7 Plus
iPhone 6S / 6S Plus
As for iOS 16 drops the support of iPhone 6S and iPhone 6S Plus, much of that was expected. But for iPhone 7 and 7 Plus, it's more or less a little out of the blue. Actually, early indications were that 4-inch screen would be abandoned in iOS 16, namely first-gen iPhone SE and 7th-gen iPod touch which worked in A9 and A10 chip relatively. Natually, other iPhone models used A9 and A10 would also be abandoned likely, be it iPhone 6S / iPhone 6S Plus and iPhone 7 / 7 Plus.
iPhone models that support to upgrade to iOS 16:
iPhone 13 / 13 mini / 13 Pro / 13 Pro Max
iPhone 12 / 12 mini / 12 Pro / 12 Pro Max
iPhone 11 / 11 Pro / 11 Pro Max
iPhone XR / XS / XS Max
iPhone X
iPhone 8 / 8 Plus
iPhone SE (2nd-gen / 3rd-gen)

As above, iOS 16 starts to work in iPhone 8 (2017) or newer. However, this doesn't mean every feature in the update will be available on your iPhone, though, as some features like Live Text work only with iPhones powered by an A12 Bionic chip or newer.
Part 2. What Are the New Features of iOS 16?
iOS 16 beta version is available now. Many of you may be swaying on upgrade to iOS 16 or not. Before the decision, you could better know more about iOS 16 features and the differences between iOS 16 and iOS 15. Now let's check the general overview of iOS 16 new features.
1. Brand-new Lock Screen
The newly iOS 16 brings users a brand-new lock screen experience. It redesigned the lock screen, making the biggest change ever. iOS 16 lock screen has a new font, background and clock, and allows users to add widgets such as calendars, temperatures and fitness data.  The lock screen is not confined to one single screen. You can set a portrait photo as the lock screen and swipe it to change it.  
Users can also personalize the colors, backgrounds, and fonts. The weather lock screen displays the current weather. And when you recieved a new notification, it will be rolled in from the bottom of the lock screen. The new live event notifications also allow the home screen to automatically update notifications for live events like sporting events and Uber.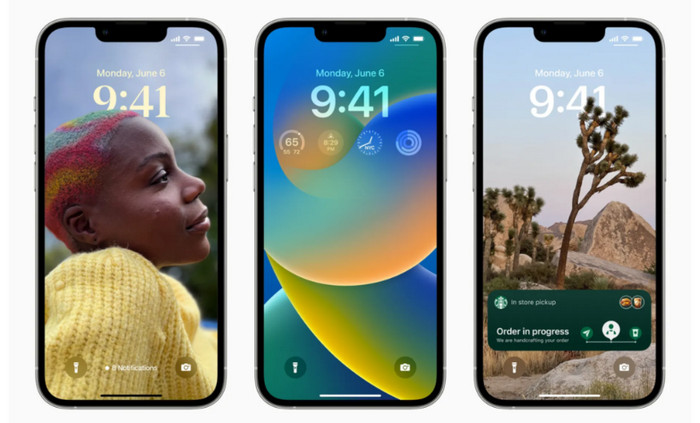 2. Editable Messages Even for Sent Ones
Another noticeable feature of iOS 16 is the Message. User are able to edit the sent Messages, undo send the messages, and even mark the message as unread. Also, Apple added SharePlay support to the Messages app. You don't need to FaceTime a friend just to watch a synced movie together. Instead, you can start the action in the Message app and chat with synced video and shared playback controls. Moreover, Message app makes an improvement on dictation.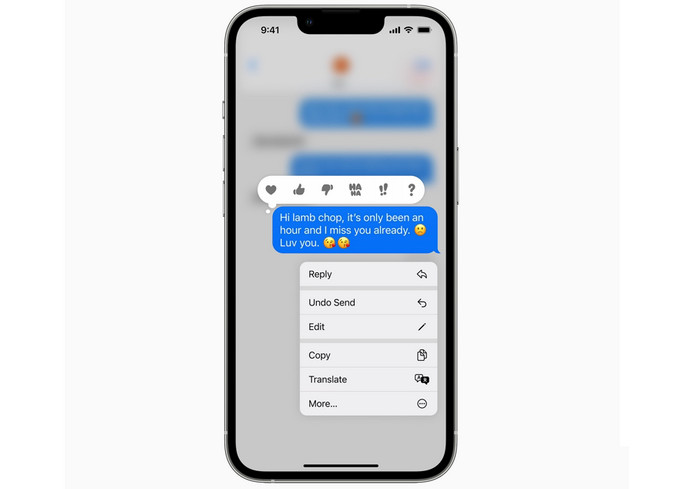 3. Apple Pay Later
Apple is barreling ahead with Apple Pay Later service, which allows you to split the cost of an Apple Pay purchase over four equal payments spread over six weeks with zero interest and no fees. Anyway, to some degree, it eases inflationary pressure of COVID-19. This service is available everywhere Apple Pay is accepted online or in-app.  
4. Share Your Family Photos
In iOS 16, you can now set up an iCloud Shared Photos Library, which is similar to the Shared Photo Libraries in Google Photos. Then add up to five family members to the library and each of them can edit the photos in the library. You can choose which photos to share, share based on start date or face detection. Additionally, in the camera app, you can turn on the toggle to automatically send the photo captures to the shared library.
5. CarPlay
CarPlay could be the biggest surprise in iOS 16. The next-gen CarPlay covers all of a drives screens for a cohesive experience. That includes a customizable odometer, buttons to control every facet of the car, and a unified interface. The first cars to launch with this new experience will be announced late in 2023.
The iOS 16 features surely are not end. By upgrading to iOS 16, you can enjoy more on your iPhone, such as:
Live activities for more intuitive notifications
Improved focus mode
Apple Maps with Look Around
New Home app ready for Matter standard
Safety Check for victims of stalking or domestic violence
Live Text
Safari tab groups and passkeys. Moreover, Safari supports AV1F in macOS Ventura and iOS 16.
...
WinX MediaTrans – Fast Data Synchronization Ensures a Worry-free Upgrade to iOS 16
Before upgrading to iOS 16, trying WinX Mediatrans to sync significant data on your iPhone to ensure a safe and secure upgrade. It allows you to back up all photos camera roll, live photos, burst, screenshots, etc fast without freezing, and transfer videos, music, voice memos, and more files without data loss.