iOS 16 vs iOS 15: Is It Worth Upgrading from iOS 15 to iOS 16
At WWDC 2022, Apple unveiled its new iOS mobile operating system – iOS 16. The public release of iOS 16 will be around September 2022. What improvements and features does iOS 16 bring? Is it better than iOS 15? Is it necessary to upgrade from iOS 15 to iOS 16? Now, let's compare iOS 15 with iOS 16.
Check differences between iOS 16 and iOS 15:
1. iOS 16 vs iOS 15: lock screen
The first difference between iOS 16 and iOS 15 is the lock screen. Compared with iOS 15, iOS 16 has a big change in the style of the lock screen interface. On the new lock screen, we can change fonts and wallpaper, and even put widgets on the lock screen. Therefore, once we light up the screen, we can see the information presented on the widget.
And users are not only allowed to customize pictures but are also offered a wallpaper gallery to create a more personalized lock screen interface.
In iOS 16, notifications will appear at the bottom of the lock screen and will be stacked together so that it is more convenient for users, especially big-screen Max users, to operate. One-click hiding is supported.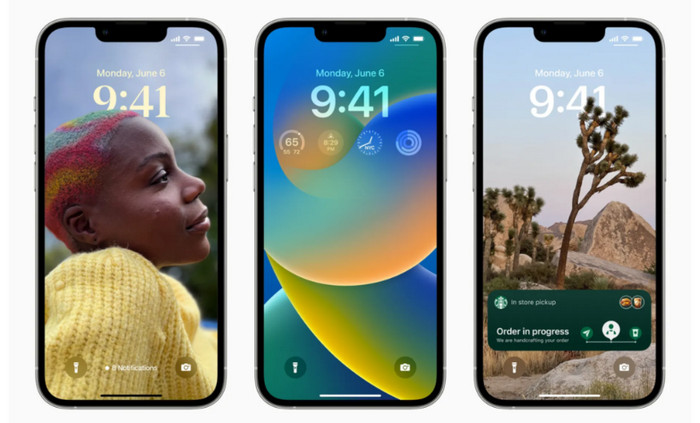 2. iOS 16 vs iOS 15: Live Text
Live Text is one of the most impressive additions to iOS 15. And now it gets further enhancement in iOS 16. You can now even check the exchange rate of goods directly with the Camera. You'll also be able to copy, translate, and query text in a video, but this feature is only supported in devices powered by an A12 or higher chip, namely iPhone XS, iPhone XR, and later models.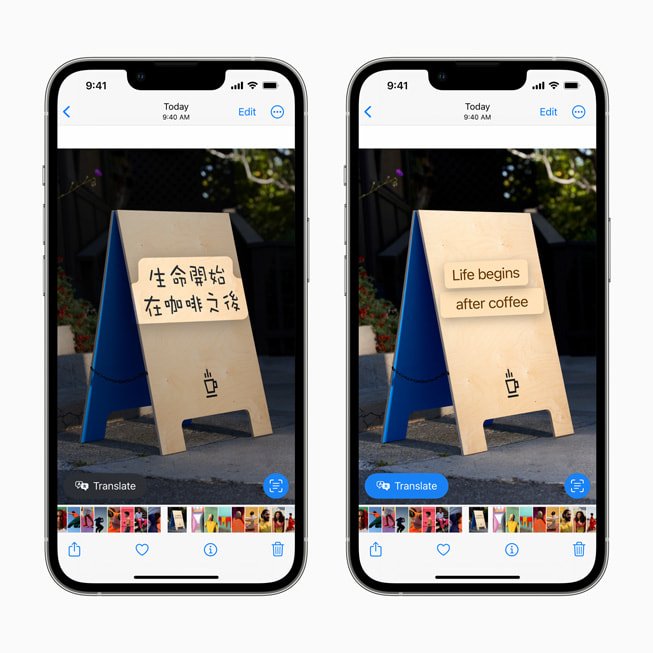 3. iOS 16 vs iOS 15: Photos
Photos in iOS 16 get a few updates. The first one I love is that it can detect and delete duplicate photos so that I don't need to install an iPhone cleaner app to clean up similar photos on my iPhone.
The second is one-click image matting. You just need to tap and hold on the subject, and then the subject will be "cut off" and pasted in notes and other interfaces at will.
The third new feature is called iCloud Photo Library. Users can create a photo library and share it with family. It works like a shared network drive. Other members can edit a photo.
Another improvement is that the recently deleted and hidden albums in iOS 16 cannot be accessed unless the Face ID is verified, meaning that you can password protect hidden photos on iPhone easily.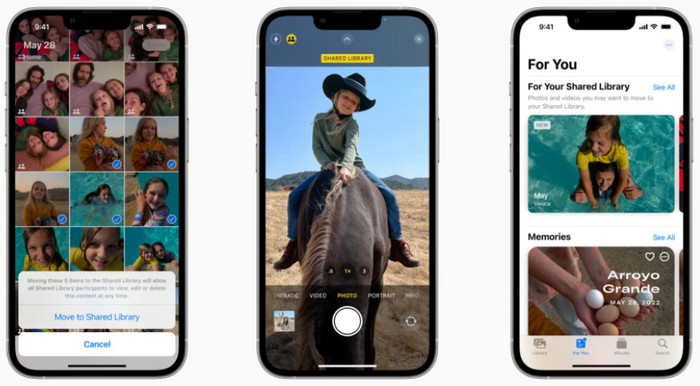 4. iOS 16 vs iOS 15: Mail
iPhone users often prefer to use third-party mail apps rather than Apple's Mail app. But with the arrival of iOS 16, some users may change minds. iOS 16 brings a couple of new features to the Mail app.
It allows users to set scheduled emails so users can send an email at a certain time. And it will send a notice to users before the scheduled message is sent.
Users can move a received email back to the top of inbox.
When you try to send an email, it will scan it automatically and alert you when something important such as an attachment is missing.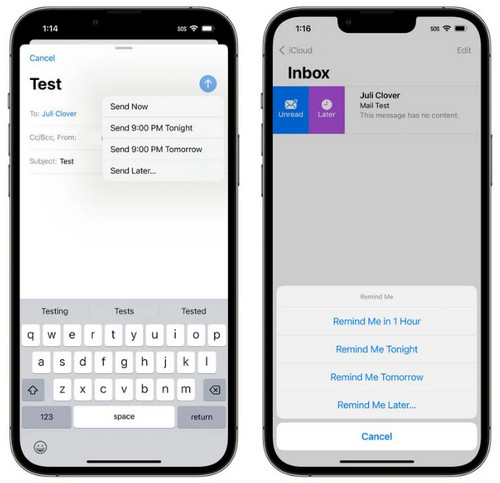 5. iOS 16 vs iOS 15: Messages
The other big update to iOS 16 is the ability to edit and delete the messages that have already been sent. Note, however, that there is a 15-minute time limit for retracting message, and if the recipient's iOS version is lower than iOS 16, the recipient will still be able to see your retracting content.
In addition, messages that cannot be replied in time and need to be processed at another time can be marked as unread.
In iOS 15, the content sent from your friends - links to music, movie, and interesting articles, and so on – will be automatically placed in the relevant app. To check them, you need to close the Messages app and open other apps. But in iOS 16, you don't need to go to other apps to check the content that your friends send to you. You can check them directly in Messages. You can play the content while chatting.
What's more, you can also share memos, presentations, reminders, Safari TAB groups, and more for instant collaboration in the Message app of iOS 16. You can check the latest progress of shared projects in conversations, and quickly connect with collaborators without switching apps.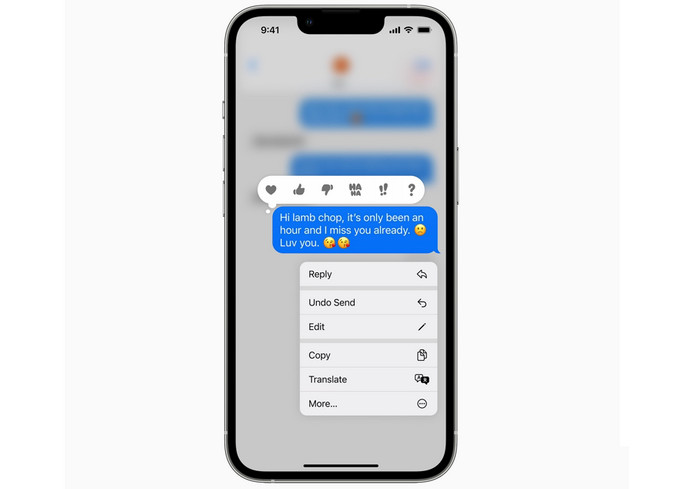 6. iOS 16 vs iOS 15: Maps
The Maps app in iOS 16 has been redesigned. Compared to iOS 15, the interface is much cleaner and the function is more powerful. iOS 16 Maps app supports multistep routing. Users can plan journeys with up to 15 different stops along the way. And thanks to the new transit features, it can predict the cost of a journey.
This app also adds new data for 11 countries and regions. Seven cities including Las Vegas now have highly detailed scenes.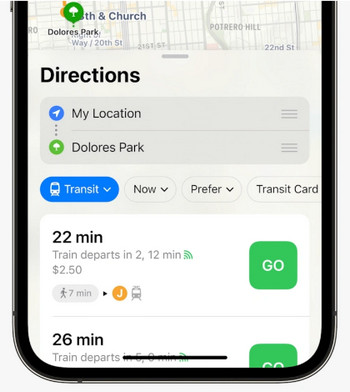 7. iOS 16 vs iOS 15: Safari
Apple's own browser also receives a fresh update with iOS 16. It is now more secure than ever thanks to security features like passkeys. Instead of being stored on a web server, the passwords stay on the device, which can prevent hackers from stealing them in a data breach.
Another new feature is called Shared Tab Groups. Users can share tabs and bookmarks, or send messages directly from Safari. Users can share all their tabs in one place. Users' friends can also add tabs to it.
And with the release of the third developer beta of macOS Ventura and iOS 16, Safari gets the support for AVIF which is a next-generation image format designed to supersede WebP, JPEG, PNG and GIF.
Another new feature that is added to the third beta version of iOS 16 is a new Lockdown Mode. This is an optional security feature designed to protect users from private companies developing state-sponsored spyware. Although it is designed for a small minority of users such as journalists, activists, and government employees, it can be enabled by any user.
In addition to those, there are a few other minor updates to iOS 16. For example, once authenticated, you can see the password of the Wi-Fi your iPhone is connecting to, and you can copy the password using the one-click copy function.
Overall, iOS 16 isn't much of an update to iOS 15. But these small additions and modifications bring great convenience to our daily life. iOS 16 is a worthy upgrade. However, users are not suggested to upgrade to the Developer Preview on their main device, as a number of apps are known to have glitches and incompatibilities. Also, before upgrading to iOS 16, be sure to backup your iPhone data to avoid unnecessary trouble.
Backup iPhone before upgrading to iOS 16
One of the best iPhone data backup tools is WinX MediaTrans. It can backup all your photos, videos, and more files on iPhone to computer. It is easy to use and works fast. No data loss. What's more, WinX MediaTrans can transfer files from computer to iPhone/iPad, make ringtones for iPhone, encrypt files, etc.