Why Do You Need a Photo Backup App?
1. Backing up photos is a necessity.
First of all, you need to back up your photos. If you have a mini size iPhone storage space, say 16 G, then it's not even enough to contain the most commonly used Apps, not to mention your large size of tons of photos or videos. Second, maybe you have the largest storage iPhone and you don't have to worry about how many pictures you can save but, what if, what if your phone just dead, broken, or lost, you pictures, videos that full of memories will also be gone. So, it is important to backup photos, backup videos or any other media files that matter.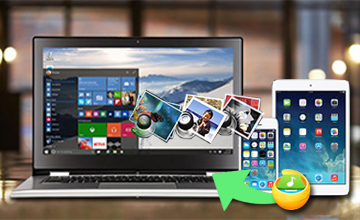 2. Photo backup app is the best solution to backup photos
There are several ways to back up the pictures from your iPhone. Backing up photos online, backup photos via photo backup services such as iCloud, and the best way - backing up photos with a clean and free photo backup app.
Backing up photos online is a good option, it's free and instant. As long as you have your account and password, you can access your private photo collection but you have to make sure it won't jeopardize your image pixel, you don't want to get bunch of fuzzy pictures back when you lost the original ones right?
2. Backing up Photos via photo backup service is probably the most popular way to backup photos nowadays. What is the most popular photo backup service that people use, say iCloud, yes! But it's not free! And internet is needed, without the internet or WiFi, you won't be able to back up your photos. And if the WiFi breaks off while the whole photo transferring process is ongoing, you will have to start anew when the WiFi is back.
Using a standalone photo backup app is convenient, clean, and the most important is that it will never damage your photo quality. Internet-free makes the photo backup process more secure and free from hassles, just simply transfer the original pictures from your iPhone to computer. Hence, using a photo backup app is the safest way to copy photos, it is just between your iPhone and PC.