How to Transfer Music/Songs from iPod to iTunes on Windows PC
Mobile entertainment is uber-popular. We often stream or download full movies on iPhone to watch on the go, shoot crisp but large images, 1080p slo-mo or 4K @60fps video clips for sharing on Instagram/WhatsApp, and may also record long gaming screen for uploading to YouTube or other sites. Only large videos eat limited storage up easily, not to mention there may be piles of other stuff, like 4K/HD photos, music playlists, apps, books and podcasts. Then how to transfer large video or other files off iPhone to PC to free up space? Let's check 3 general ways in the followings.
How to Fast Copy Giant Files from iPhone to PC?
Use bonzer iPhone File Manager with hardware acceleration support - WinX MediaTrans
Sync any large media files on iPhone to PC, selectively or entirely.
No file size limit, as long as your iPhone memory can hold it.
Faster speed than uploading & downloading with online services.
FThe only standalone iPhone file manager, no need to install iTunes.
Table of Contents
Way 1. Transfer Large Files from iPhone to PC with WinX MediaTrans
As an all-sided iPhone file manager, WinX MediaTrans allows to copy whatever media files off iPhone 13 or any earlier models running on iOS 7-15 to Windows PC effortlessly, be it (4K) videos, photos, music or books, the purchased DRM-locked ones included. Well, please follow the fairly simple steps below to move hefty files from iPhone to PC right away in a flash. Please FREE download and set WinX MediaTrans up in a few clicks beforehand.
Step 1. Connect iPhone to WinX MediaTrans on PC
Take a working lightning cable out to connect iPhone to PC successfully. After that, when you open up WinX MediaTrans, your iPhone will be recogonized by it with phone information shown in the UI.
Step 2. Choose Source Large File(s)
Click to enter into a specific file manager control according to the file type:
Video Manager - Home Video, Video Recorded, TV Show, Music Video, Movies etc.
Photo Transfer - Camera Roll photos, Screenshots, Selfies, WhatsApp photos etc.
Music Manager - All music & playlists, DRM music.
Book - All EPUB books, PDFs, and Audio Books.
Voice & Ringtone - All ringtones, voice memos, iTunes U files and podcasts.
Remove DRM - All purchased videos, music and books .
And then choose any large media file or a batch of them to proceed. If you wish to duplicate iTunes-bought, say, movies or TV series to computer, you can access to select from either "video manager" or "remove DRM". With DRM removal capability, WinX MediaTrans will output DRM-free file once it synced successfully, for instance iTunes M4V to MP4.
Step 3. Sync Large File(s) to PC Effectively.
Start the large file transferring by following the user-oriented interface and tap "Sync" button. Since data transferring with physical USB (3.0/2.0) cable is much faster than Wi-fi transferring, a majority of people choose to backup large file up to computer with cable, but not Wi-fi. WinX MediaTrans not only make the use of cable transferring, but also supports hardware acceleration to boost the speed once again.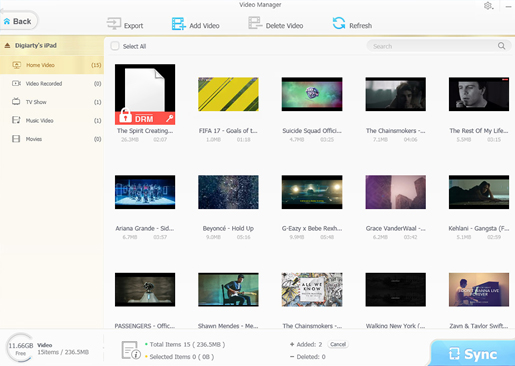 Way 2. Transfer Large Video/Photo Files from iPhone to PC with Google Photos
For Windows users, the system provides a default app, Windows 10/11/8 Photos app or Windows 7 AutoPlay, to import external iPhone video and picture files manually. Here are the steps to backup and save large files from iPhone to PC with Photos.
Free download Google Photos app from Apple's App Store.
Open Google Photos on your iPhone, tap the profile icon > go to Photos settings > Back up & Sync > turn on Backup & sync.
Enter Google Account if asked.
Open the Google Photos on your device, click the three-dot and select Download, which you can then download the specific file.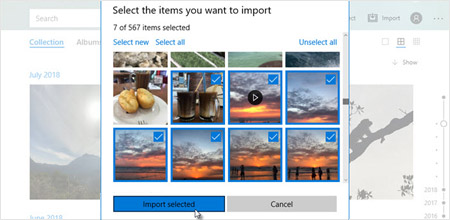 Way 3. Transfer Large (Media) File from iPhone to PC Wirelessly Online
Generally, we can turn to cloud service (such as iCloud, DropBox, Google Drive), file transfer app for iPhone, email to accomplish the wirelessly large file transferring from iPhone to PC.
To transfer large file with cloud services like Google Drive, you can follow the steps: Open Google Drive app and sign in with your account, tap the + icon and upload photos and videos as per your needs, then you can upload them to Google Drive. You can share the link of the video to yourself via email and check it on your PC, or open a browser on your computer to check the file via Google Drive.
To transfer large file with email, the steps are quite simple: login cloud service or email -> upload large file from iPhone to it -> check the service or email from computer where you need the large file to be downloaded.
To transfer large file with file transfer app, it is a little bit different: make sure iPhone and PC are connected to the same wifi network -> open file transfer app on iPhone and choose transfer mode properly -> enter into the IP address shown on app from PC browser -> choose to download large file immediately from iPhone.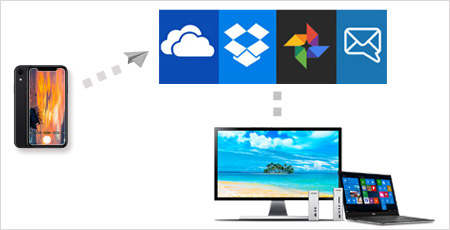 The methods do bring about much convenience when it comes to iPhone to PC file transfer. No matter where you are, you can access and get large file downloaded to local hard drive of any computer. However, wireless syncing is both a strength and weakness. For one thing, it usually takes long to upload and download big files. For another, some tools may still have file size / type limited or do compression to downgrade quality, just to set a few examples online:
How to download a very large video file from iPhone to PC? It's a 30 min 4K HEVC video with over 5GB file size, too big for iCloud.
Wanna send a big file (high-res presentation video) by email. But it keeps popping back unsent with an "attachment too large" message!
I have such a big problem on downloading a 1.2GB movie from my Dropbox onto PC. I'm connected to my router with a fibre-optic connection of 50/50Mbps, and I've tried many times already, but the download is either ridiculously slow or stops altogether. I'm on Dropbox Pro, I have plenty space on my laptop hard drive, and I'm not doing anything else on computer at the same time.
I need to upload a lot of stories from my iPhone to Instagram for work related things. Unfortunately I'm getting a lot of comments on the quality of my uploads as they seem really bad.
Sum up
Each of the 3 processes has its own pros and cons. In short, if you already have a cloud account with enough space remained, wireless transferring is more appropriate. If you expect a faster file transferring speed, using a cable to transport large files from iPhone to PC via third-party iPhone manager, not iTunes, is more recommended. In addition, if you want to shrink huge video size while keeping the good quality still, you can ask help from 2022 Best video compression software.