How to Convert iTunes Movies in DRM-ed M4V to MP4 Quickly
Remove DRM from iTunes Movies and Convert Them to DRM-free MP4 Without Quality Loss on PC/Mac
Have you ever come across a scenario that you're rejected to play movies purchased from iTunes Store on a non-Apple device or an Apple product without the specific account signed in? Quite annoying, right? How could this happen?
Actually, this is because Apple uses M4V to encode movies, TV shows and other videos purchased from iTunes Store and normally embeds Apple's FairPlay DRM copy protection into those M4V files to restrict illegal distribution. Despite that, there's still an easy way to remove DRM from iTunes movies, TV shows, and documentary videos, and convert these M4V files to DRM-free MP4 for playback on any device you like.
How Can I Convert iTunes M4V Movies to DRM-free MP4?
You need - WinX MediaTrans (iTunes movie & muisc DRM removal tool)!
Support DRM removal and video conversion of iTunes movies.
Also kill DRM of iTunes music & audio books and convert to MP3/M4A.
Fast speed. No quality loss. Easy to use.
Can We Convert DRM-laden M4V iTunes Movies Using Handbrake?
When it comes to video conversion, Handbrake may be the first thing to come to mind. Handbrake boasts that it can convert video from nearly any format to MP4 and MKV. So, can it cope with DRM-ed iTunes movies? The answer is no. Handbrake works when you need to convert DRM-free M4V files, but can't load copy-protected M4V files let alone converting. When you add iTunes movies to Handbrake, it will come back with en error message "No Valid Source Found" and shows nothing under the Title column.
Which Program Can Convert iTunes Movies to MP4?
If you want the best, easiest, and fastest way to convert DRM protected iTunes movies in M4V to MP4, WinX MediaTrans is the tool of choice. This iTunes M4V converter is a Windows-based iOS file manager, bundled with DRM removal feature. With this tool downloaded on PC (Windows 10 or lower supported), you can remove DRM from movies, music, and audio books bought from iTunes Store as simple as ABC. Furthermore, it can convert iTunes movies from M4V format to MP4 at super fast speed, thanks to its support for hardware acceleration technology.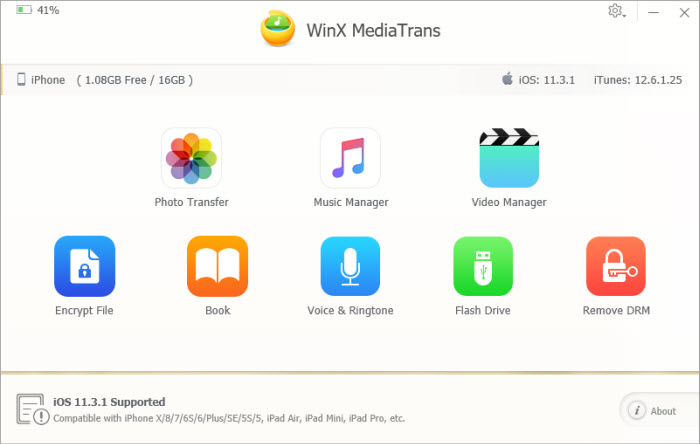 How to Convert iTunes Movies to MP4?
First of all, download

and install WinX MediaTrans or its Mac version. Open it when you get ready. And then you'll see seven function modules in the main interface, among which two are available to remove DRM from iTunes movies, "Video Manager" and "Remove DRM" respectively. The first one is used to remove DRM off iTunes movies on your iPhone or iPad, while the latter is designed to kill DRM in iTunes movies stored in iTunes library.
Part 1. How to convert iTunes movies on iPhone/iPad to MP4
Step 1. Connect iPhone to PC via a USB cable. If your iPhone can't connect to PC, check the fixes now. Then, click on "Video Manager". It will load video files in your iPhone in no time and meanwhile prompt a popup suggesting you to disable iTunes auto sync to avoid data loss.
Step 2. Find out and select the iTunes movies you want to convert to MP4 from the file list. A lock-like icon will be attached to a DRM-protected file. And then you should click "Export" in the top bar. It will export a DRM-locked copy to computer and comes back with a pop-up dialog saying that the video file is encrypted and asking whether you want to decode them.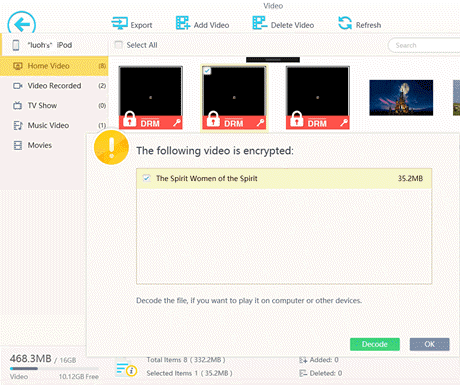 Step 3. Click on "Decode" button. Then iTunes will appear requiring you to enter the Apple ID you used to purchase the iTunes movies. Type in it and then MediaTrans will begin removing DRM from iTunes movies instantly and will convert them to MP4 intelligently. Make sure iTunes is on to the last minute.
People also read: Convert iTunes Music to MP3, Best Free DRM Removal Software
Part 2. How to convert iTunes movies in iTunes Library to MP4
Step 1. Click "Remove DRM" option in the main screen. Open iTunes and login into your Apple ID, go to Edit -> Preferences > Advanced tab, and then tick the box before "Share iTunes Library XML with other applications".
Step 2. Click "Add File" in the top bar and select the iTunes movies you want to convert to MP4.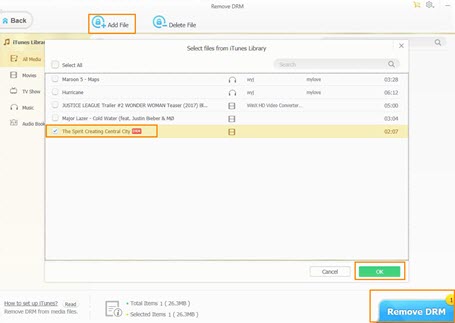 Step 3. Hit "Remove DRM" at the bottom right. If iTunes is launched by yourself and it is still open, a message will pop up asking you to turn off iTunes first. Then this tool will open iTunes and begin converting DRM-ed iTunes movies to MP4.
Further Reading: M4V vs MP4
M4V: The M4V file format is a video container format developed by Apple and is very similar to the MP4 format. The primary difference is that M4V files may optionally be protected by DRM copy protection...
MP4: MPEG-4 Part 14 or MP4 is a digital multimedia container format most commonly used to store video and audio, but it can also be used to store other data such as subtitles and still images...
Still have problems about how to easily remove DRM from iTunes movie and change format to MP4? Please feel free to Mail Us >>