M4V Converter: Convert iTunes M4V Movies/Videos to MP4 (DRM Free)
M4V Converter: Convert iTunes M4V to MP4, Make Purchased Movies/Videos DRM Free
If you are a regular Apple media purchaser, you'll not be strange with M4V format. Yes, it is an Apple video format, or more precisely, an iTunes format. When you buy a video, TV episode or movie from iTunes Store, it will be strictly encrypted using FairPlay DRM copyright protection. The resulting file will be in .m4v. Those purchased or rented M4V iTunes content will not be played back on unauthorized PC, Mac, iPhone, iPad, iPod touch, PSP, Xbox and any other devices that are not authorized. That's why an M4V converter is badly needed.
Please note: Any M4V file encoded using HandBrake (e.g. rip DVD to x264) won't be accepted by iTunes and cannot be added to iTunes library.
Want to Play iTunes DRM Videos on Any Device?
Download the Best M4V Converter - WinX MediaTrans
- Convert any M4V to MP4 format on Windows.
- Convert iTunes movies/TV shows/MVs for iPhone and iPad.
- Remove DRM from iTunes purchases (movies, music, audio books).

Note: It can remove DRM from part of iTunes videos only.
Part 1. Can iTunes Itself Convert M4V to MP4 AVI MOV?
iTunes can be used to convert an uncompressed audio format to a compressed one, e.g., AIFF or WAV to MP3. But iTunes does NOT support converting between compressed and uncompressed video files. That is to say, iTunes is not an M4V converter at all to convert an uncompressed to a compressed video format to save disk space, nor convert M4V to MP4 or other format that has better compatibility or that your iPod/iPhone/iPad/Xbox/PSP/Kindle Fire would recognize.
When playing an M4V movie, I bet you will be painful and frustrated to meet the following situations:
- I can't playback M4V files sent by one of my friends.
- VLC Media Player won't play M4V videos in Windows 10 64-bit.
- Just got my new AppleTV today and was excited to use Plex on it. But whenever I try to play an M4V movie, I get the spinning loader for about 30 seconds, then it quits and says "Loading...", and just goes back to the details screen.
Similar things will happen, such as can't play M4V files on iPad, iPhone, Nexus 7, on Mac or Windows, in Firefox, QuickTime, and so on and so forth. In details,
1) If playing an iTunes M4V video on Windows Media Player, you may see a pop-up window saying WMP might not support the file type or codec, like: 2) Even if you want to play the M4V file with your own iTunes, you are required to get authorized. Precisely, to watch this movie or video, you have to authorize this computer to use the movie that is purchased using your Apple ID. If the M4V file was purchased by other people, things will get more complex. Each Apple ID can only authorize up to 5 computers. Besides, deauthorizing computers is an uphill work.
3) If you are trying to playback the purchased M4V videos with some other (third-party) player apps like VLC, it will get no response.
In a word, these files with the .m4v file extension are not allowed to be played randomly using your own players. It could only be played on authorized computers in iTunes. Worse still, you are not allowed to copy and convert any iTunes M4V movies even you've purchased them. Otherwise, you might get an error message like: "Some of the items in the iTunes library were not copied to the iPad because you are not authorized for them on this computer."
The reasons are:
- All devices you are to play the M4V files should have the same store ID and authorization.
- All items you'd like to sync should have purchased with the same Apple ID. Otherwise, you have to enter both passwords from time to time for each item. During the process, it is possible to lead to painful and invocatable data (file) loss.
Part 2. How to Convert iTunes Video M4V to MP4? Is There Any M4V Converter?
There seem boatloads of M4V converters in the market, some are even free. But please note: M4V Converter ≠ DRM Remover
As a matter of fact, the majority of M4V converters, although they look like capable of converting video formats, realize M4V conversion only by changing the file extension from .m4v to .mp4.
It is OK on the premise that your M4V files are not encrypted with DRM copyright protection (since some unprotected M4V files may be recognized and played by some video players after the file extensions are changed to '.mp4'). Otherwise, even though those files are "successfully" converted (to MP4, for example), they still cannot be played on unauthorized device or iTunes, all because of the annoying DRM copy protection.
It is regret to tell that there are few real M4V converters so far. But few doesn't mean none. There is still some trustworthy iTunes video converter like WinX MediaTrans.
At first sight, WinX MediaTrans is an iPhone iPad file manager running on Windows OS, but deep down inside, it is also an M4V to MP4 video converter for Windows 11/10/8/7:
WinX MediaTrans can:
Support any iTunes M4V files as input, including movies, TV shows, music videos and iTunes Extras purchased from iTunes Store.
Convert iTunes movies for iPhone and iPad, with adjusted resolution, to fit to device's screen for playback.
Remove DRM from iTunes purchases, decode M4V to DRM-free (unprotected) files, helps users play iTunes protected M4V videos without limitations legally.
Also decode music, songs, and M4B/M4A audio books that are purchased from iTunes Stores; make more iTunes purchases freely playable and shareable. Learn: How to convert and transfer DRM protected media files >>
With respect to converting M4V video files, WinX MediaTrans has at least the following highlights:
• No Quality Loss: 5.1 Audio Track Kept
Its M4V conversion is 100% 1:1 duplication in video and audio quality (5.1 surround sound effect kept). After converting M4V to MP4, there will be no quality loss.
• No iTunes Account or Apple ID Needed
With this M4V converter, you can transfer iTunes purchases to non-DRM files without the need of signing in your Apple ID or iTunes Account. Better still, no iTunes is ever needed in the whole process.
See: iTunes alternative for Windows 10 >>
• No Risk in Data Erasing or File Loss
Unlike iTunes for file syncing, WinX MediaTrans will never put you into trouble of data loss. It is the safest way to transfer media files between iOS device and Windows computer.
• Free M4V Converter for Windows (10)
Although not freeware, WinX MediaTrans enables every unregistered user to export 30 photos, 30 music files, 10 videos, 30 books, 30 ringtones, 30 Voice Memos, 30 iTunes U and 30 Podcast every single day from iPhone/iPad/iPod touch for free use. It also opens free door for importing 30 audio files, 10 videos, 30 books, 30 ringtones, 30 iTunes U and 30 Podcast from PC to iPhone or iPad per day.

How to Convert M4V to MP4 and Get Rid of DRM on iTunes Movies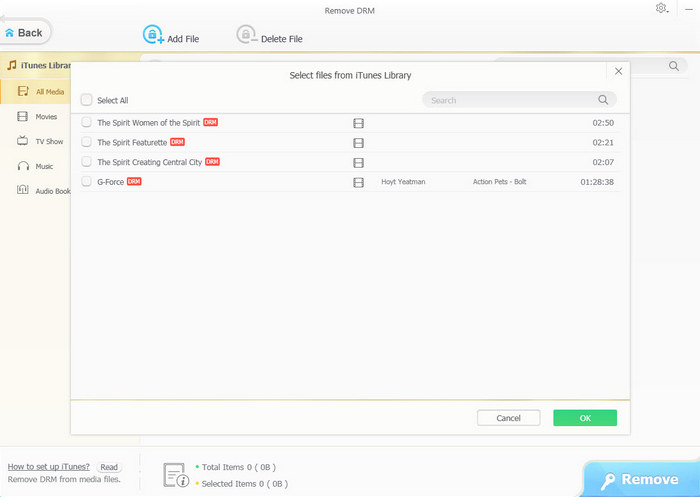 Warning: Not all DRM M4V videos are supported by the software. As the protections on M4V get stronger, WinX MediaTrans is not able to remove powerful DRM. But the ability will be enhanced in the near future. BTW, it's still one of the best music DRM remover.
Full Feature List of WinX MediaTrans
Convert M4V to MP4, convert AAC/M4B/M4P to MP3; remove DRM from iTunes purchases (movies, TV shows, music videos, songs, audio books).
Transfer photos, videos, music, e-books, etc, between iPhone iPad iPod and computer.
Edit music info (title, album, artist, year, composer), create playlist, add songs to playlist, delete single songs or whole playlist, and make ringtones from any audio files for iPhone.
Delete photo albums synced from computer as well as remove videos, e-books, Voice Memos etc, from iOS devices.
Turn iOS devices as flash drive to store all types of files, Word, Excel, PowerPoint and more.
Related External Source
M4V [1]: M4V is a video container format developed by Apple and is very similar to the MP4 format...
Disclaimer: Digiarty Software does NOT advocate removing DRM from iTunes/Apple Music files for any commercial purpose and suggests referring to copyright laws in your countries before doing so. Still have some trouble about how to this best iTunes video converter? Please feel free to Mail Us >>
Part 3. Best M4V Converters for Converting Unprotected M4V Files
Not all M4V files are copy protected. To check whether your M4V file is protected or not, just follow this: right-click your M4V file, select Properties, navigate to the Details tab, and then look for Protected. If you see Yes, then it means your M4V file is protected. If you see No, then congratulations, it is non-protected and can be easily converted to desired format with the following M4V converters.
WinX HD Video Converter Deluxe
WinX HD Video Converter Deluxe is one of the most popular desktop-based video converters in the market, thanks to its broad support, fast speed, great quality, and high compression rate. It supports over 370 input formats and 420 output profiles, including the file format we mention here – M4V. With the support for level-3 hardware acceleration, it converts M4V videos or other files at 47X real-time faster speed, which is 5X faster than similar products. When you get the resulting file and play it, you will not notice any quality loss. Now, you can free download WinX HD Video Converter Deluxe and follow our guide below to convert M4V video to MP4, AVI, MKV, MOV, or other file format you need.
WinX HD Video Converter Deluxe is a versatile tool with video conversion, compression, and editing features.
Step 1. Launch WinX HD Video Converter Deluxe and click the + Video button to load the M4V file you want to convert.
Step 2. When the Output Profile window shows up, just scroll down and choose desired output format. For example, you can go to General Profiles and select MP4 Video.
Step 3. Hit the RUN button at the bottom right and begin converting M4V video to specified format.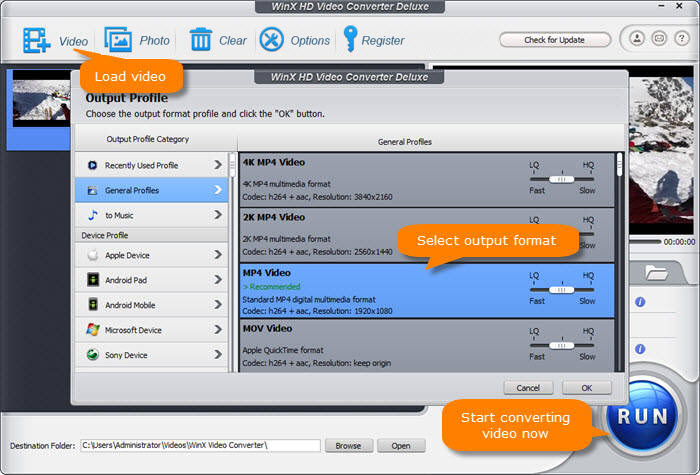 CloudConvert
CloudConvert is an online video converter. If you don't want to download and install software to perform M4V conversion, you can give it a try. This tool allows you to convert M4V to MP4, AVI, FLV, MKV, MOV, WMV, and WEBM. Files less than 1GB can be converted for free. Otherwise, you need to buy a package. Now, let me show you how to convert M4V online.
Step 1. Open any web browser you like on your computer or mobile and then head to CloudConvert M4V Converter page.
Step 2. Now import the M4V video you need to convert by clicking the Select File button. it allows you to import file from your computer, Google Drive, OneDrive, Dropbox, and by URL.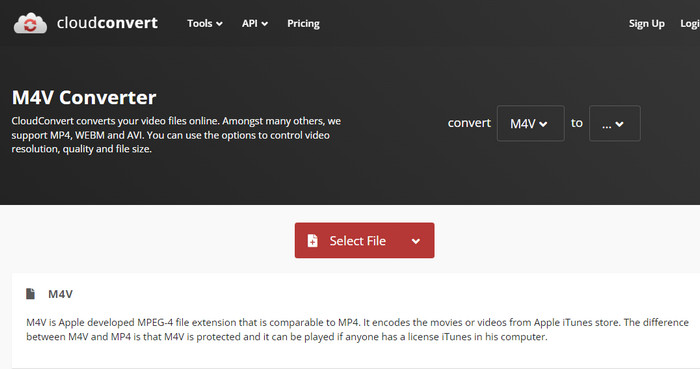 Step 3. Choose which format you want to convert M4V file to. And, you can click the wrench icon to find the options to control the video resolution and output quality.
Step 4. Hit the Convert button to begin uploading and processing your video.
Step 5. Once finished, a player window will pop up. Here you can preview the resulting file. If you're satisfied with the result, just click the Download button to save the output file.
Part 4. FAQs about M4V
How do I know if my M4V is DRM protected?
Right click on your M4V file and select "Properties".
Select the "Details" tab, and then scroll down and find "Protected" field that will say "Yes" or "No". "Yes" means the file is DRM protected while "No" means it is DRM-free.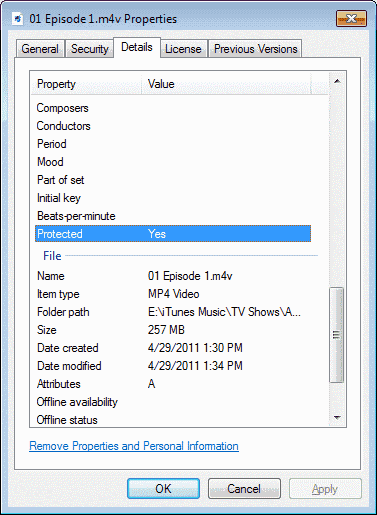 How can I play a protected M4V file?
If you want to play a protected M4V file, you need to make sure your computer is authorized to do so. Otherwise, you'll be unable to play it unless you remove the DRM in advance.
If your device is authorized to do so, you can use iTunes or QuickTime to play protected M4V file.
To use iTunes: open iTunes, then you will find your purchased or rented movies/TV show episodes under the "My Movies" list or "My TV Shows" list. Just click the movie, then you can play it with iTunes easily.
To use QuickTime: open Quicktime, then click File > Open File to choose the M4V file you want to play. The iTunes M4V content will be loaded in no time in Quicktime. Just click Play to begin watching DRM protected M4V videos with Quicktime.
Can I convert M4V files for free?
Yes. WinX HD Video Converter Deluxe free trial version allows you to convert 5-minute videos for free. To process longer videos, you can find a giveaway version. And most online tools allows you to do this for free as long as your file doesn't exceed the maximum file size limitation.